Powder room vanity ideas – 10 ways to bring a sense of order to this small space
Bring order to your powder room with a vanity unit or washstand for your basin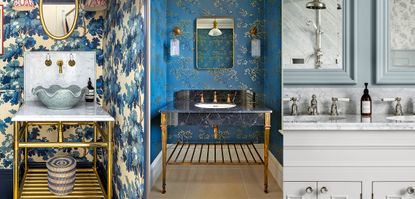 (Image credit: Future / Drummonds)
Powder room vanity ideas are a useful addition to any design because they combine basins and storage space in a single piece of furniture.
From wall-mounted to floating and freestanding designs, powder room vanity ideas come in a range of styles so they are an easy way to bring some individuality to your space, whether big or small.
If you are nervous about bringing color and pattern into your powder room or you don't know how, a bold vanity can be a perfect jumping off point.
Powder room vanity ideas
Here are some other smart powder room ideas and bathroom storage ideas that will show you what to consider when designing a bathroom vanity and how to incorporate a stylish vanity into your powder room.
1. Decorate in a palette of uplifting colors
A good bathroom color scheme is essential for creating the look, feel and design you want in your powder room. Adding a bright and beautiful hue to your powder room will really lift your whole home, bringing this functional space into line with the rest of your decor.
'A powder room is the perfect space to inject a little color and pattern,' says Mary Maloney, owner and principal interior designer at Bee's Knees Interior Design. You really can't go wrong with "birds and butterflies," a happy and classic print from Schumacher and the perfect complement to the cheerful blue vanity.'
2. Go for something entirely different
'We love to retrofit furniture that isn't intended as a vanity for powder rooms,' says Caroline Brackett, founder and principal interior designer at Caroline Brackett Studio of Design. This is an example of a chest of drawers that we had plumbed to serve as a vanity. Also, even though it takes more time, thought, and planning, we love wall-mounted faucets with a vessel sink. It is that extra effort that often sets good design apart from the rest and makes it more special. And, as always, a beautiful statement wallpaper is always a must in our powder rooms!'
3. Include a freestanding vanity
'A freestanding vanity adds a layer of sophistication, and gives the impression it could have been collected at a local antique shop – the perfect vibe for this beach house,' says Karen B. Wolf, creative principal at Karen B. Wolf Interiors. This one provides ample storage while maintaining a small footprint.'
Not only is a freestanding vanity more affordable than a traditionally fitted one, it's an easy way to update an existing one. And if you're looking for modern powder room ideas with character and personality, adding freestanding elements will take the space from looking functional to fantastic.
4. Embrace the beauty of wood
Look to the beauty of natural timber for warmth – and a luxury bathroom feel. Wood is now the material of choice for its natural beauty and warmth; it conjures the quiet luxury of a spa.
'Powder rooms are a great space to use either a found piece of furniture or have a custom piece made instead of opting for a store bought vanity,' says Margaret Ash, principal & owner at Margaret Ash Design. 'In this room in Napa we wanted to use a light wood but didn't want it to look too rustic, so we did a custom vanity incorporating a horizontal scallop and semi-gloss sheen finish to give it a contemporary look.'
5. Invest in a bespoke vanity
Where traditional powder room ideas and remodelling a space might once have been a straightforward project anchored in practicality, we now approach the task with a lot more care and consideration, with the aim to create a more welcoming space.
'A vanity is the focal point of any bathroom design, so it is critical to determine in advance the style that you are looking for,' says Mary Dimichino, senior designer at Bakes & Kropp. 'This vanity was custom-created for a client's guest bathroom. They wanted a vanity that felt like a piece of furniture and had a vintage, but modern feel. We achieved that by using antique mirrored doors, an iron vessel sink, and a classic white painted finish.'
6. Create contrast with your vanity
'If you have a highly decorative or colorful basin in your cloakroom then it is best to opt for a more neutral vanity stand, to allow the basin to really shine,' says Anna Callis, founder and designer at London Basin Company. 'Our vanities are available in a range of finishes, each chosen to maximize the impact of our basins. Conversely, if you have opted for a white or muted basin design, then you can add drama and interest by choosing a more decorative vanity stand.'
7. Mix modern – and luxurious – materials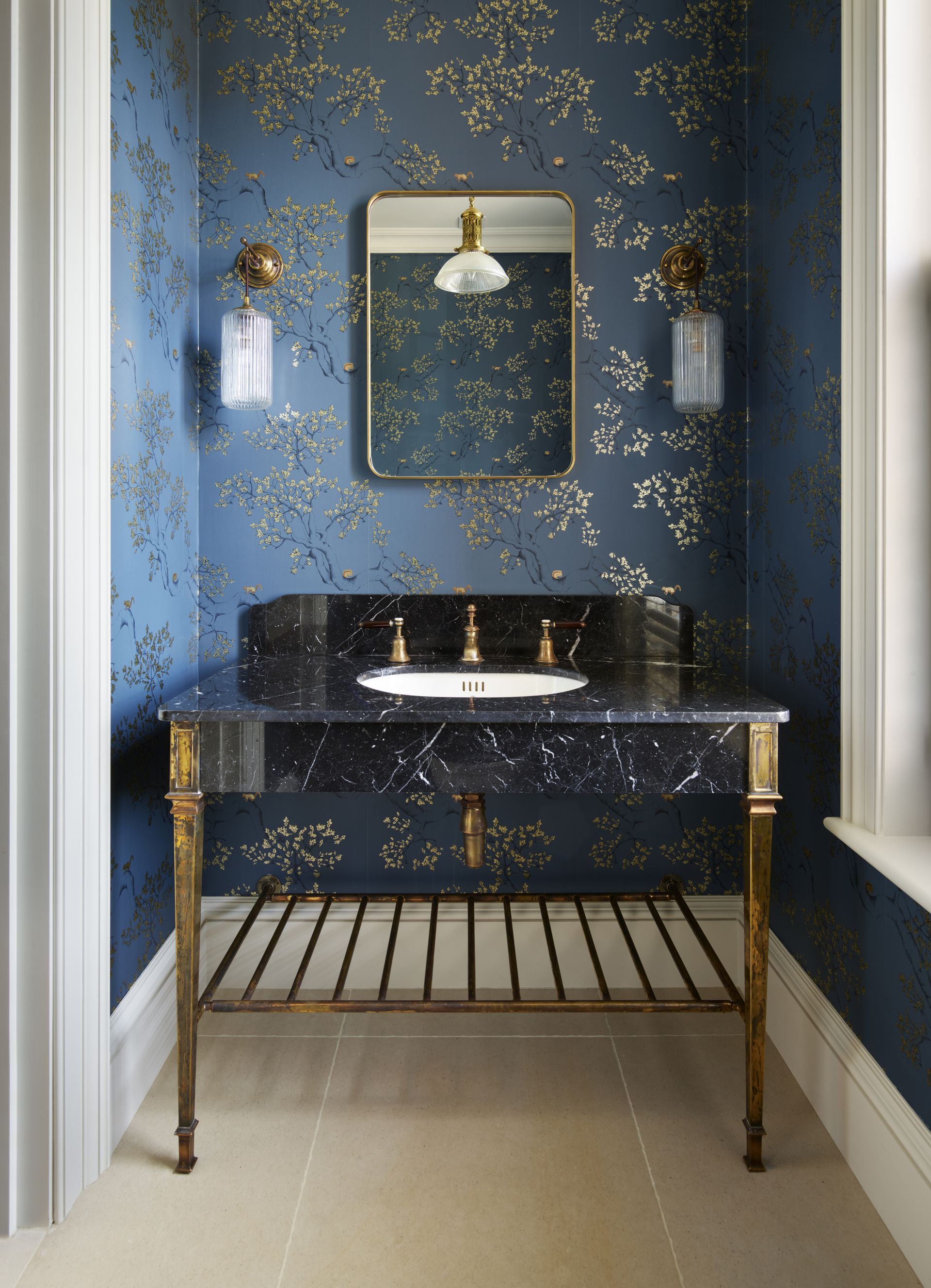 If you are looking for next-level luxury in your powder, exotic stone surfaces are the way to go. Marble is naturally water-resistant and adds a luxurious spa-like feel to a powder room whether you have a modern space or a more traditional one.
'This beautiful powder room is made all the more special by the mix of modern and traditional materials,' explains James Lentaigne, creative director at Drummonds. 'The black marquina marble on the vanity top lends a dramatic feel to the room, and the antique brass finish on the vanity stand and wall lights enhances and picks up on the decorative gold pattern in the wallpaper. All in all, it's a wonderful mix of materials and finishes.'
8. Put the focus on lighting
Smart bathroom lighting ideas are an integral design element that should be planned at the start of a powder room remodel project. A successful plan will combine three types of lighting: ambient, to illuminate the space; task, for specific functions; and accent, for a special touch.
'Waterproof lighting is now available in more on-trend styles than ever before, so you no longer need to sacrifice style for safety,' says Marketa Rypacek, managing director at Industville.
'Try choosing copper or pewter designs to create a relaxed, cozy environment, or glass for a brighter, luxurious look. When it comes to placement, vanity wall lights should be symmetrical and placed either side of your mirror to avoid an uneven glow. Brass designs work really well with dark bathrooms, which have become very popular recently as the brass really stands out against dark tiles.'
9. Factor in storage opportunities and hide pipework
There's no excuse for disorder in the bathroom with a custom-made vanity unit. 'This powder room vanity has a plethora of hidden storage ideas for guest hand towels and candles – and most importantly for us, one of the key items was to not show the pipes below the sink,' says says Ashley Canty, founder and principal designer, Interior Solutions Design. Practically speaking, fitted furniture is low maintenance as there are no dust traps and it offers a range of small bathroom storage ideas in the available space, too.
If you're in need of a helping hand, then consider some vanity organizers to help keep things neat and tidy — and categorized.
10. Curate a uniform, symmetrical scheme
'A symmetrically designed powder room vanity unit helps create a calming sense of balance. Take the symmetry up a level with perfectly spaced mirrors and wall-mounted bathroom lighting ideas, as shown above,' says Irene Gunter, director, Gunter & Co.
'Swapping a pedestal basin for a vanity unit provides extra countertop space, and in some instances handy storage under neither where you can artistically arrange your spare toiletries and towels,' explains Barrie Cutchie, design director at BC Designs.
'To bring all the elements together, look for small details that marry up the various products. A great starting point is the finer details and subtle pops of color. Metallic accents, from vanity unit handles, the brassware, lights and elements on your sink, can make everything feel as it has always belonged together.'
How do I choose the right powder room vanity?
'Choosing the right vanity unit depends on the size of the room, color scheme and materials, as well as who will be using it,' says Kyra Cotgrave, home designer, Neptune. 'For a large powder room think about a double unit with plenty of storage.'
'Wooden units often require drilling on site to create a hole for waste so take time to work out exactly where you want to position the basin,' says Colin Roby-Welford, creative director, Fired Earth. 'Also, consider tap positions and mirror, too.'
Sophie has been an interior stylist and journalist for over 20 years and has worked for many of the main interior magazines during that time, both in-house and as a freelancer. On the side, as well as being the News Editor for indie magazine, 91, she trained to be a florist in 2019 and launched The Prettiest Posy where she curates beautiful flowers for modern weddings and events. For H&G, she writes features about interior design – and is known for having an eye for a beautiful room.