How to eliminate empty space in your bathroom – 7 moves to master your layout
Make your bathroom more practical with these seven ways to use up dead space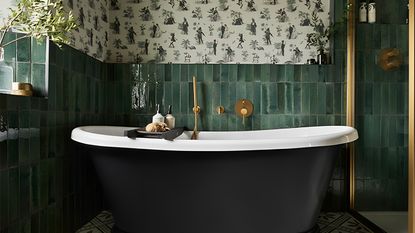 (Image credit: BC Designs)
Sign up to the Homes & Gardens newsletter
Decor Ideas. Project Inspiration. Expert Advice. Delivered to your inbox.
Thank you for signing up to Homes & Gardens. You will receive a verification email shortly.
There was a problem. Please refresh the page and try again.
By eliminating empty space in the bathroom, you can create a room that delivers in terms of function and practicality for everyday life. Bathrooms large enough to have empty areas could be seen as a luxury, but we recommend using up every inch of real estate to make these rooms more than just a wash spot.
With a few space-savvy design tweaks, you can transform a bathroom into a well-thought-out out spa retreat with plenty of storage.
Here, interior designers have offered up their tips for eliminating empty space in a bathroom, from adding in new bathroom storage to creating a luxurious bathing experience.
How to eliminate empty space in your bathroom
The best way to eliminate empty space in your bathroom is to consider how you use the room, and what practical demands your home is failing to meet. Being a damp, humid room, it is not a great place for some lush seating – but it could be a great area to add in a linen closet, or style out a bathroom laundry room.
1. Squeeze in secure storage with a recesses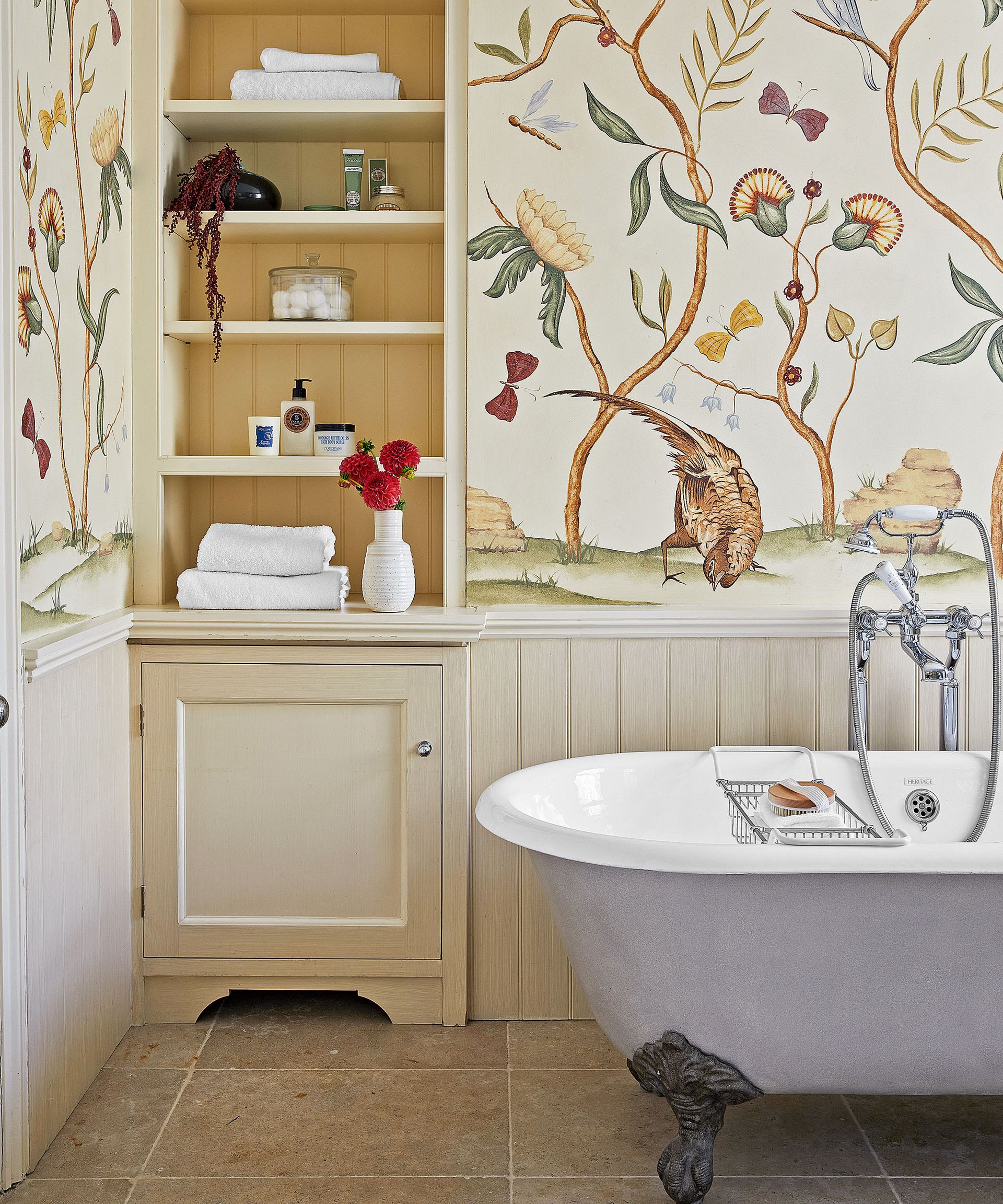 The first solution is to add extra storage. This can be harder if you have a small bathroom or limited floor space. However, Samantha Pratt, principal designer and founder of Samantha Ashley Designs suggests adding in recessed alcove shelving. These niches make use of often forgotten-about wall cavities and provide a secure storage spot that you are unlikely to accidentally knock things off of in the busy morning rush to get out of the house.
'We look for opportunities like this in areas where we know there's unused space behind the wall (even if it's just a few inches). Nooks like these become great spots for glass jars that hold cotton balls or Q-tips and even better when you can roll a towel up and use the shelving for the extra linens.
'It is equally as amazing for kids who share bathrooms,' she adds. 'That additional space is so helpful! Not only does this add storage but it becomes a nice decorative element too.'
Samantha is an experienced interior designer with a history of working in textiles and ceramics industry, having started her career in set design for theatre. She started her design company nearly four years ago, with a goal of carrying the skills she had learned in the past to her own business and developing her style.
2. Add open shelving to store supplies like a spa
If going back into your walls is not an option, then adding open bathroom shelving directly onto your walls is your next best bet, says David Janovic, founder of RJ Living, the laid-back furniture maker and design studio.
'Using open shelving can help to nail that spa bathroom feel, allowing you to use practical items like fluffy towels, candles, and high-end bathroom products as decorations,' he says. 'Enhance the aesthetics with decorative elements and plants for a truly relaxing and visually appealing space.'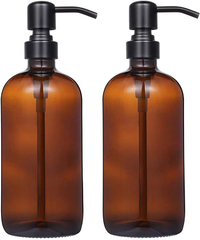 Amber Glass Soap Bottles | Was $19.99, Now $13.99 at Amazon
Upgrade your hand soap and shower products with some amber glass dispenser bottles to make any bath product look like it came right from the spa.
3. Give everyone their own towel rail
Towel racks and rails are for more than just storage – they are also essential for helping towels dry completely between uses, banishing the damp towel smell and make a home smell nice. If multiple people are using one family bathroom, then having multiple towel rails can also help to differentiate whose towels are whose, says Nicole Gabai, how organizer at and founder of B. Organized, and the author of The Art of Organizing: An Artful Guide to An Organized Life, at Amazon. This can help to fill out some of that empty bathroom wall space in a practical way.
If you do not want to block off the whole wall with towel rails, then hooks can be a great alternative, continues David Janovic, of RJ Living. 'You can also use them to display some decorative items like baskets for stylish storage or some hanging plants,' he adds.
Nicole founded B. Organized over 20 years ago and is a Golden Circle member of NAPO – the National Association of Productivity & Organizing Professionals. She's also the author of the best-selling book The Art of Organization.
4. Add tub side storage for bathtime essentials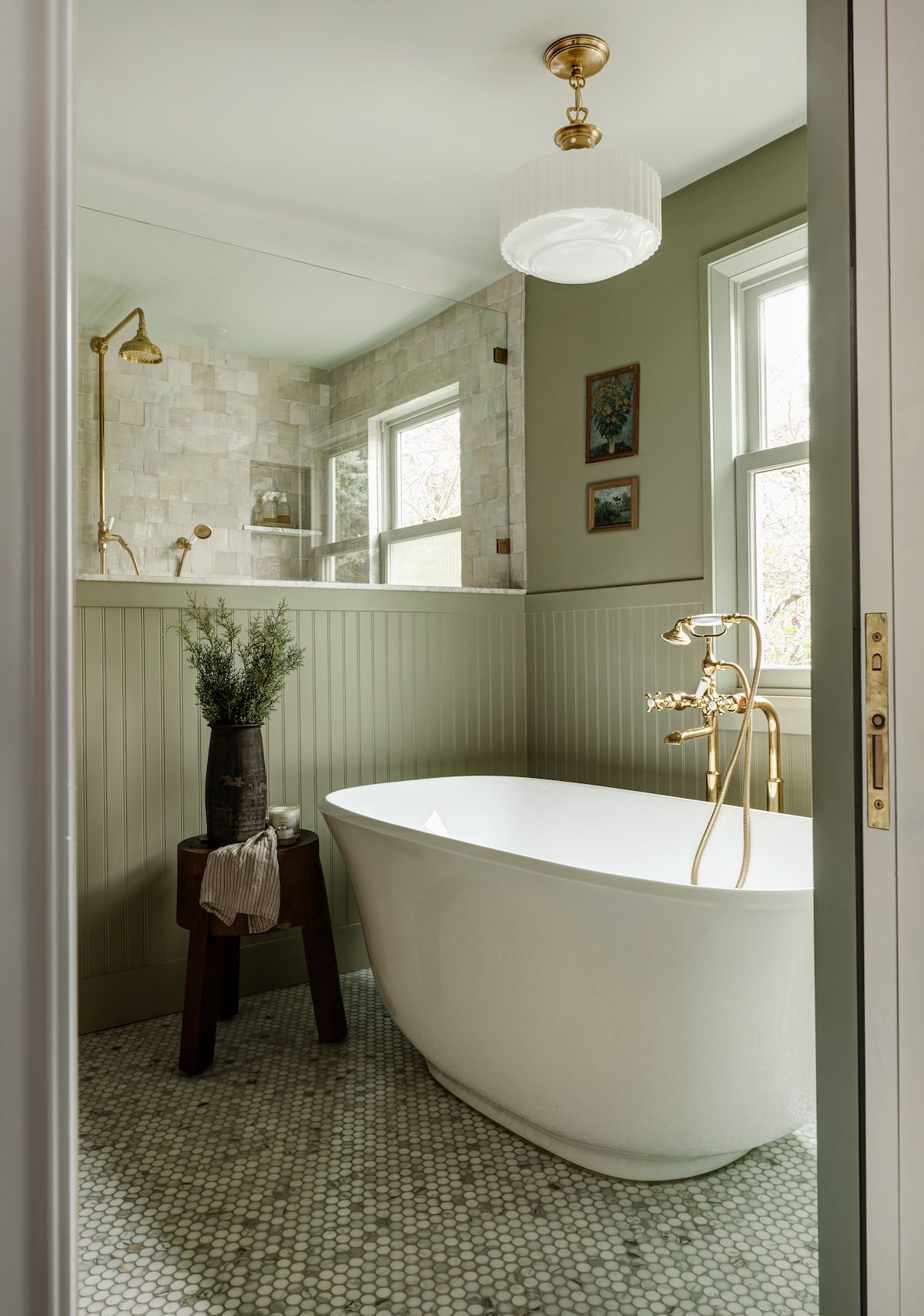 If you have a bath, then consider filling out some floor space with a bath side storage unit or table to offer a place for essentials while bathing – whether it be a book, drink, or your favorite bath products.
This is a great solution if you are looking to inject some life into your bathroom too, adding a decorative element as well as a functional surface. Pick something that matches the vibe of your bathroom, whether it is a modern side table or an antique stool that can double as seating when moisturizing after your soak.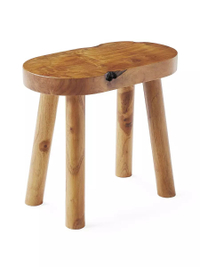 Teak Oval Stool | Was $128, Now $118 at Serena & Lily
This teak side stool is perfect for resting some bath essentials on while you soak in the tub and acts as a great little rest spot when drying off, moisturizing, or bathing pets and children too.
5. Fill corners with bathroom plants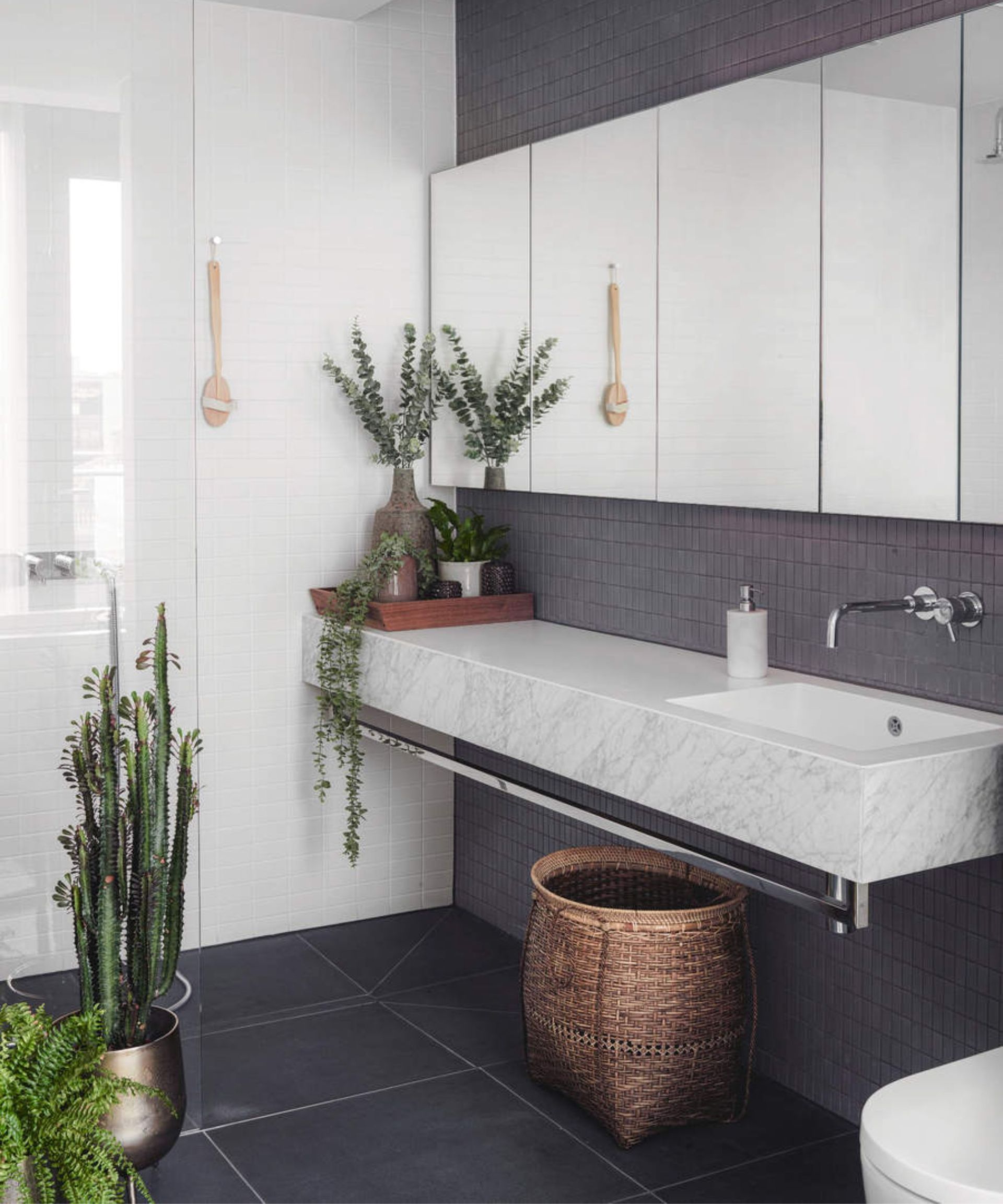 The best bathroom plants can act as both floor fillers and light dehumidifiers, making them an excellent choice for eliminating empty space in a bathroom, says David Janovic, of RJ Living.
'Turn the empty space into the focal point of your bathroom and bring a touch of nature and tranquility with a very large potted plant, or collate a bunch of different sized plants for a living, jungle corner.'
6. Fill out empty walls with statement mirrors
You likely already have a bathroom mirror, but upgrading to a larger statement mirror is a great way to fill empty wall space that is otherwise unused and add some flair to your sinks, suggests Leigh McAlpin, of Classic Architectural Group. You could even add in a standing floor-length mirror, at Wayfair, if you want to fill out your floor plan.
'What's more, if your bathroom leans a little on the darker side, adding larger mirrors will make it appear lighter and more inviting. Wall-mounted mirrors with cabinets are a versatile solution if you need more storage,' she adds.
7. Incorporate a laundry spot in larger spaces
'A bathroom is a great place to add in a laundry spot if you don't have a designated laundry room elsewhere in your home,' recommends Jennifer Ebert, deputy editor (digital) for Homes & Gardens. 'It already has all the water fittings you need for a washing machine, and electricals for a dryer – especially if you have a larger space.
'When incorporating a laundry area into your bathroom, follow the same rules as designing a small laundry room or consider a laundry closet to conceal your appliances behind closed doors to keep a sleek bathroom appearance and block out some noise.'
Jen is the Deputy Editor (Digital) of Homes & Gardens online. Before starting this position, she had completed various interior design courses at KLC Design School, as well as working across Ideal Home, LivingEtc, 25 Beautiful Homes and Country Homes & Interiors as an interiors writer.
FAQs
What is considered dead space in a bathroom?
Dead space in a bathroom is generally considered any significant area of floor or wall in your bathroom that is not being used for storage or another practical purpose. This might be an awkward gap below or above a boiler in a closet, under a standing sink, small gaps between fixtures and walls, or empty walls.
How do you fill an empty bathroom wall?
There are a few good solutions to filling an empty bathroom wall, from adding bathroom shelving to provide more storage to decorating with a larger gallery wall, mirrors, or lighting. Consider how you use your bathroom to decide on the best approach. If you find that you are struggling to find homes for some of your bathroom essentials, then prioritizing storage may be your best bet. Otherwise, the decorative route can be a good placeholder.
---
Not using up our bathroom's dead space is a common bathroom storage mistake that often makes our daily routines a little bit more difficult. Using up the negative space in the room to fill a need or want will help to make your day-to-day run smoother.
Sign up to the Homes & Gardens newsletter
Decor Ideas. Project Inspiration. Expert Advice. Delivered to your inbox.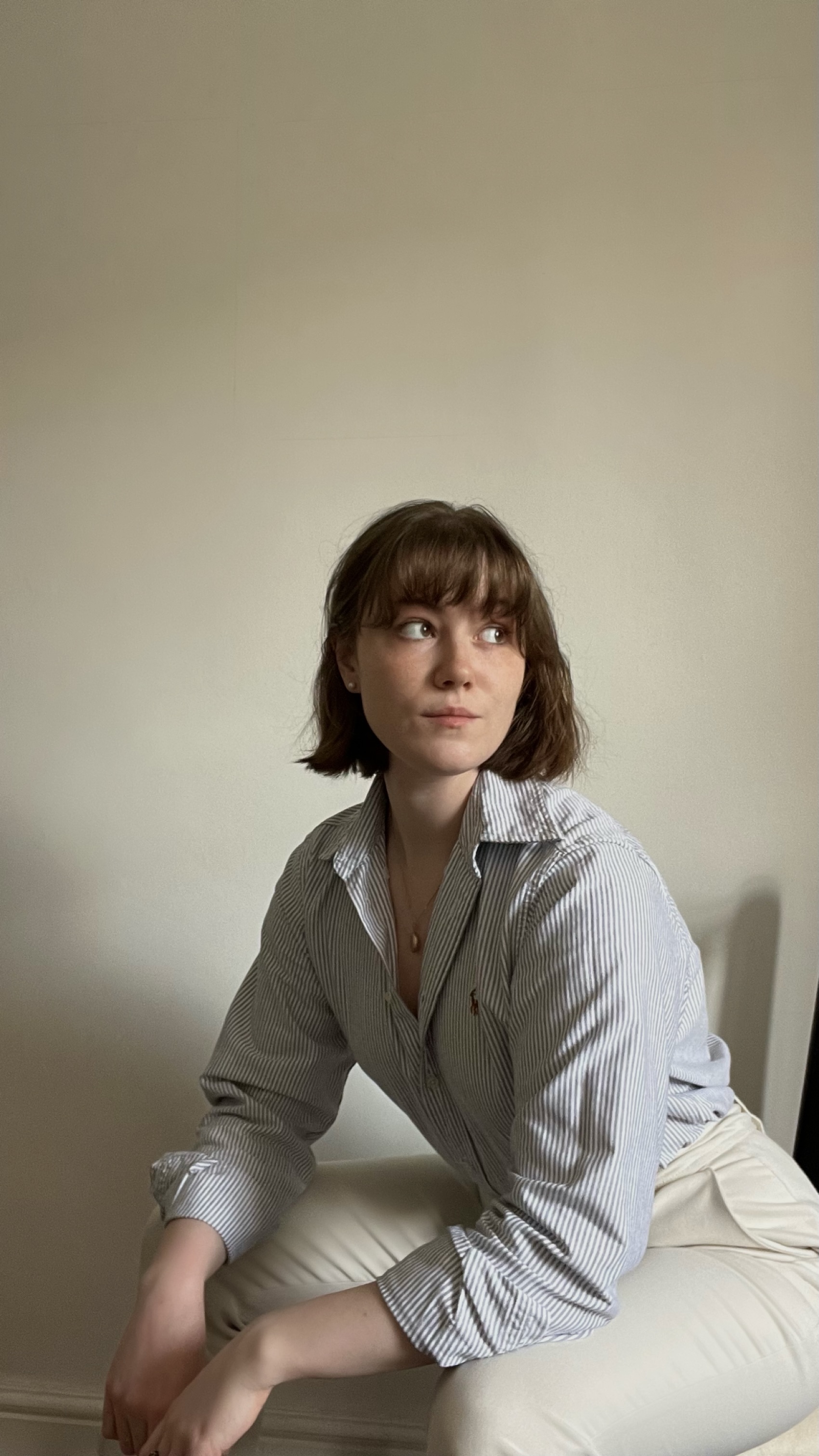 Chiana has been at Homes & Gardens for a year, having started her journey in interior journalism as part of the graduate program. She spends most of her time producing content for the Solved section of the website, helping readers get the most out of their homes through clever decluttering, cleaning, and tidying tips – many of which she tests and reviews herself in her home in Lancaster to ensure they will consistently deliver for her readers and dabbles in the latest design trends. She also has a first-class degree in Literature from Lancaster University.