Best coneflower varieties – 15 pretty echinaceas for versatile daisy planting
Choose from 15 appealing coneflower varieties and transform beds, borders, containers and pathways with a prairie planting favorite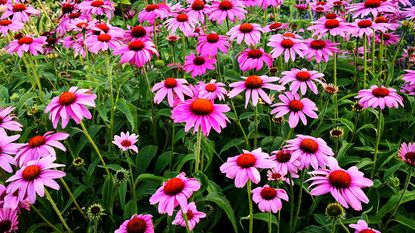 (Image credit: Photo Video Graphers / Shutterstock)
Sign up to the Homes & Gardens newsletter
Decor Ideas. Project Inspiration. Expert Advice. Delivered to your inbox.
Thank you for signing up to Homes & Gardens. You will receive a verification email shortly.
There was a problem. Please refresh the page and try again.
Selecting coneflower varieties is a tricky decision – but a beautiful one. This prairie queen of flowers is a dynamic choice for helping a backyard transition from summer into fall, and new breeds are extending the range in colors, shapes and planting potential. While classic types of cornflower are a clear fit for naturalistic landscaping and wildlife plots, others are right at home in cottage gardens, drought-tolerant flower bed ideas, container-based borders, modern gravel designs and wellness gardens.
Echinaceas are members of the daisy family Asteraceae and share the typical flower form on upright stems. The defining characteristic is of petals backswept from a central cone. But in the last few decades, plant breeders have had fun crossing plants from key species, extending the list of echinacea varieties. You can now choose from double-petalled styles, enhanced cones and unusual hues including lime green, brilliant white and burnt orange. The classic coneflower has evolved into myriad variations.
With a long flowering season and strong winter silhouettes, coneflowers will sustain interest well into the winter months. They offer plenty of interest for pollinators and birds with their large central seed heads. They also don't need staking, so they make a good low-maintenance choice. Grown in drifts, amongst summer-flowering perennials and ornamental grasses, or cultivated in compact pops of uniform color, the choice is yours. Here are the best coneflowers to grow in beds, pots and borders.
15 stunning coneflower varieties for late season color
Many coneflower varieties fill a plot with movement and easy color. North American natives, they excel in quiet areas and poor conditions. Like all the best perennials, most types of echinacea have great versatility both in planting options and partners. They complement beautifully with plants like globe thistle (Echinops), sea holly (Eryngium), ornamental grasses, canna and Leucanthemums. Meanwhile, vibrant new cultivars like 'Tomato Soup' and 'Green Envy' add interest to both classic and modern plantings.
1. Echinacea pallida
Hardiness: USDA 4-9
Height: 30in
Spread: 18in
Good for: Pollinators, wildflower gardens
One of the best coneflower varieties, Echinacea pallida is ideal for wildlife plots. This species is the source of many newer cultivars, with its graceful, fine pale pinky purple petals. It's easy to grow from seed and it produces lots of long elegant flowers that attract bees, as well as being amongst the best plants for a butterfly garden or display. The flowers are good for cutting and last for a couple of weeks indoors.
2. Coneflower 'Magnus Superior'
Hardiness: USDA 4-9
Height: 30in
Spread: 18in
Good for: Classic themes, prairie planting
If you are looking for dynamic purple plants, this is one of the most traditional types of coneflower you can grow. Plant this echinacea a good distance apart from each other so they can establish comfortably. Also, make sure they are planted away from spots that suffer with wet weather over winter. Classic pale purple 'Magnus Superior' is sturdier than its relative 'Magnus' (below) with larger flowers.
3. Echinacea tennesseensis
Hardiness: USDA 5-6
Height: 36in
Spread: 18in
Good for: Drought-tolerant planting
The native Tennessee coneflower (Echinacea tennesseensis) is ideal for those difficult corners with poor, stony soil conditions and full sun. If you are looking for pretty drought tolerant landscaping ideas this is one of the best coneflowers to try. It is best grown from seed, as it's not as easy to find in garden centers as some of our other coneflower varieties. Plant with shorter grasses such as Sesleria autumnalis or Nasella tennuissima.
4. Coneflower 'Magnus'
Hardiness: USDA 3-8
Height: 36in
Spread: 18in
Good for: Birds, pollinators, large gardens
Another older cultivar that's easy to find, Echinacea 'Magnus' is one of the best plants for pollinators and also one of the most charming plants for birds as it is a lovely source of winter food for goldfinches. Said to be one of the most reliable winter hardy coneflower varieties. Good for larger planting areas, so try a large swathe of 'Magnus' next to a similar sized block of steely blue Panicum 'Heavy Metal'.
5. Coneflower 'Art's Pride'
Hardiness: USDA 4-9
Height: 30in
Spread: 24in
Good for: Ornamental grasses, small spaces
This is one of the most vibrant types of coneflower in our selection, and ideal for hot color schemes. With their rich sunset tones, these late summer flowers look delicate in appearance but they are tough, resilient and ideal for smaller spaces. The slender flowers of 'Art's Pride' arch dramatically back from the cone, and look good planted in groups of three, five, or more. Match with the russet tones of Anemanthele lessoniana.
6. Coneflower 'Green Twister'
Hardiness: USDA 3-9
Height: 3ft
Spread: 24in
Good for: Container planting, bi-color flowers
Echinacea 'Green Twister' is one of the most dynamic-looking coneflower varieties. It's ideal for unusual garden color schemes thanks to its unique pink and pale green bicolor petals, with edges that deepen in tone as the flower matures. It's a good choice for containers and looks lovely teamed with Gaura lindheimerei and Pennisetum in a large pot. Echinacea 'Sweet Sandia' also shares this unusual color variation.
7. Coneflower 'Tiki Torch'
Hardiness: USDA 3-9
Height: 24in
Spread: 24in
Good for: Gravel planting, container gardening
As well as being one of the best echinacea varieties for a gravel garden, this coneflower is another vibrant pick for a hot color scheme. It is a compact cultivar, so it is also good for planting in containers. Echinacea 'Tiki Torch' has shapely orange daisy-style flowers and looks lovely planted alongside shorter grasses such as Stipa tenuissima.
8. Coneflower 'Tomato Soup'
Hardiness: USDA 4-9
Height: 3ft
Spread: 3ft
Good for: Hot color schemes, dahlia companions
Echinacea 'Tomato Soup' is one of the most dramatic coneflower varieties and the perfect addition to fiery summer borders. It's reportedly vigorous, with flowers that are present in a hot poker red. If you like to grow rudbeckia or vibrant types of dahlias, this is one of the best coneflowers you can partner up with, and it also looks great alongside cannas for a sunny border zing.
9. Coneflower 'Strawberry and Cream'
Hardiness: USDA 3-9
Height: 3ft
Spread: 24in
Good for: Mid-border planting, wildlife gardens
For anyone after something more unusual, Echinacea 'Strawberry and Cream' is one of the best coneflowers you can try. These double-flowering types of coneflower are a recent introduction from plant breeders. Perfect for modern garden ideas as well as a low-maintenance border, its flowers have an oversized 'mop top' central cone and shorter surrounding petals. Yes, the blooms really do look a bit like an ice cream.
10. Coneflower 'Marmalade'
Hardiness: USDA 3-9
Height: 28in
Spread: 24in
Good for: Helenium partners, container gardens
Echinacea 'Marmalade' is another of the 'fancy' new double coneflower varieties with lush burnt orange hues and the 'mop top' center. You might have to challenge visitors to 'spot the echinacea' as these double cultivars look very different from their relatives. They are another fine choice for container gardening ideas as they are slightly more compact. Team with heleniums and eryngiums for a striking display.
11. Coneflower 'Blackberry Truffle'
Hardiness: USDA 3-9
Height: 24in
Spread: 24in
Good for: Cutting gardens, container planting
If you are interested in food-themed coneflower varieties, you'll love Echinacea 'Blackberry Truffle'. This coneflower cultivar is a sensory garden delight, with its pompom of fluffy double flower heads in rich magenta, offset by deep maroon stems. For lovers of cutting garden flowers, this is one of the best coneflowers. It is compact so can also be grown singly in containers, with just a froth of erigeron around the base.
12. Coneflower 'Green Jewel'
Hardiness: USDA 4-9
Height: 30in
Spread: 18in
Good for: Repeat flowering, ornamental grasses
Echinacea varieties capable of making a splash don't come much more dazzling than 'Green Jewel'. This cultivar really is a gem with its huge pale, short-petalled flowers, softly tinged with green. If you wish to deadhead coneflowers once they start fading, this selection is good for repeat flowering. Plant with taller ornamental grasses such as miscanthus. To get it through winter, make sure it receives a heavy mulch after cutting back.
13. Coneflower 'Green Edge'
Hardiness: USDA 5-9
Height: 30in
Spread: 18in
Good for: Cottage garden themes, white color themes
This is one of the most charming coneflower varieties for cottage garden ideas and wildlife garden designs. If you are a lover of white garden themes, this echinacea is also ideal. 'Green Edge' is a sturdy cultivar with a green-tinged edge to the flowers. You could also try partnering this coneflower with Calamagrostis 'Overdam' or Miscanthus 'Morning Light' for their subtle white variegations.
14. Echinacea paradoxa
Hardiness: USDA 5-9
Height: 3ft
Spread: 2ft
Good for: Gold color themes, ornamental grasses
Also known as the Ozark coneflower, Echinacea paradoxa is one of the best coneflowers if you want backyard landscaping ideas that are big on sunshine yellows and dazzling golds. Its shuttlecock form sets this tall echinacea apart from similar-looking rudbeckias. Partner with a medium-height grass like green Deschampsia cespitosa 'Gold Tau' or Molinia caerulea 'Poul Petersen'.
15. Coneflower 'White Swan'
Hardiness: USDA 5-9
Height: 3ft
Spread: 24in
Good for: Winter hardiness, container gardening
If you are looking for quaint, old-fashioned cottage garden plants that still stand out in late summer displays, 'White Swan' is one of the most breathtaking coneflower varieties. This classic white form blooms from July through to October. It is reliably winter-hardy and looks lovely in containers, too. Team with pale green coneflower cultivars such as 'Green Jewel' for a cooler tonal scheme.
FAQs
Where is the best place to plant coneflowers?
These different types of coneflower thrive in deep, well-drained and humus-rich soil with full sun. Whether you wish to add your coneflower varieties to a cottage garden border or as a graceful edging to a garden path, large borders are the best setting. That said, compact cultivars can work in smaller spaces. Prepare soil thoroughly before planting, adding in large amounts of well-rotted manure or compost. Growing conditions should mimic this plant's natural habitat: open and free-draining. Cold, wet winters do not favor echinaceas. Adding extra drainage will help, so mix some grit and sand into your organic matter.
Do coneflowers return every year?
The best coneflowers do come back, as they are perennials. However, sometimes they don't make it through winter – not because of the cold, but as a result of waterlogged ground. It can help to grow your coneflower varieties in a sloping garden or a raised part of the plot. Also, once established, echinaceas don't like having their roots disturbed and being moved. To insure against losing echinacea varieties, harvest coneflower seeds or propagate from root cuttings in late fall, once a plant is dormant. Carefully lift mature clumps and take cuttings from the side. Grow these on and place in a heated propagator in spring.
---
Don't forget you can also grow echinacea varieties in containers. Several of these coneflower varieties are perfect drought-tolerant plants for pots and tubs, as well as raised beds. Just use a well-drained, fertile compost mix and choose a generous container. These late-flowering plants like plenty of space, so don't cram in too many. Also, keep the pot in full sun. After flowering, you can choose to cut stems back for a second flush of blooms, or leave the flowers standing for their winter silhouettes.
Sign up to the Homes & Gardens newsletter
Decor Ideas. Project Inspiration. Expert Advice. Delivered to your inbox.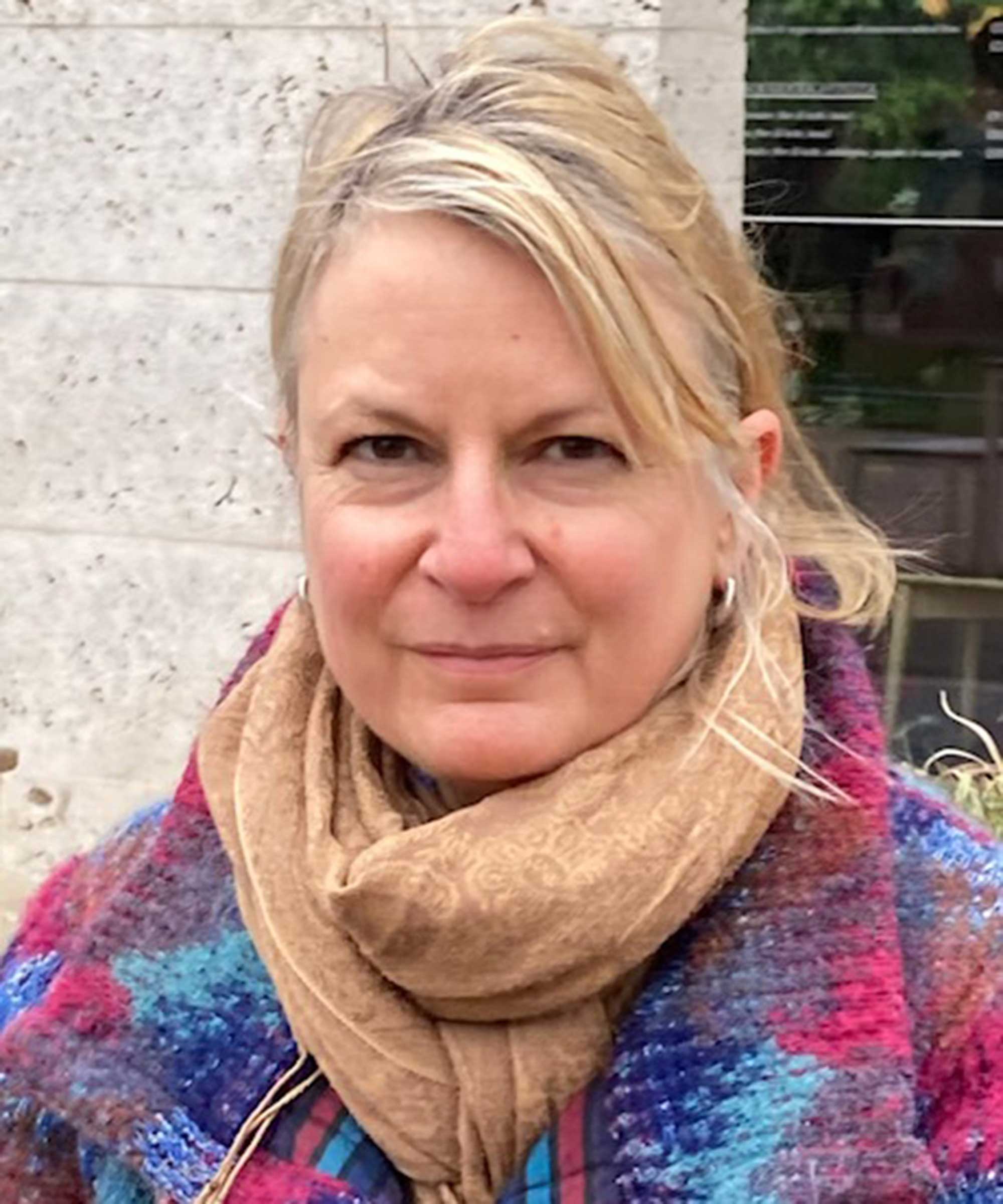 In her years of gardening, Camilla has designed planting schemes for gardens large and small in and around London, written about plants and how to grow them, and worked on BBC gardening TV shows in the UK. She's also works as a therapeutic horticulturist, teaching growing for wellbeing and mental health.