8 of the best fruit trees for small gardens – slight in size yet full of fruit
Many fruit trees are suitable for small yards and can provide a great crop of fruit in a mini space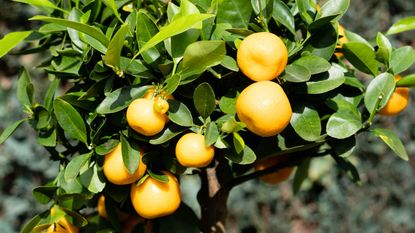 (Image credit: Getty/Andreas Steidlinger)
Modern advancements when it comes to fruit trees now mean they can be enjoyed by gardeners in spaces of any size. Many dwarf types are now available, grafted onto rootstocks that will keep them reduced in size. This restricts their growth, reducing their overall size and vigor, and that makes it possible to now grow fruit trees in smaller spaces.
It means that fruit trees can now be part of anyone's small backyard ideas, offering delicate and beautiful blossom in spring followed by a great crop of tasty fruits. Some of the best small fruit trees can be a standout feature in the garden and will attract wildlife and beneficial pollinators into the yard too.
The likes of apples, peaches, cherry, citrus, and olives are all perfectly suitable for growing in small gardens. Whether they are in pots or in the ground, they can be integrated successfully into many backyard designs.
8 of the best fruit trees for small spaces
Not all trees will be suited to small areas and poor consideration over sizes is a common small backyard mistake not to fall foul of. When thinking of the best trees for small gardens, consider the ultimate height and spread to make sure they will not dominate the space. If you are not blessed with lots of space, choosing these dwarf varieties open up many more possibilities.
In terms of planting fruit trees, all of the ones listed below can thrive in both the ground or can be grown as a fruit tree in pots. Using them in a container garden can be beneficial, as the likes of citrus trees can benefit from being moved to a protected area during the colder winter months.
1. Bonanza Patio Peach Tree
Height: 4-6 feet
Spread: 5-8 feet
Aspect: Full sun
Harvest Period: Summer
Peach trees have long been thought of as crops that you need a greenhouse to grow them in. However, new cultivars are ideal for cooler climates and these modern types on dwarfing rootstock allow you to have ripe and juicy apricots even in a small backyard.
The Bonanza Peach Tree, available from Fast Growing Trees, offers the opportunity for a plethora of peaches either in the ground or in a container.
Place your peach tree in a sunny and sheltered site and keep it well-watered and fed to ensure lots of delicious fruit. The plants can benefit from being covered in late winter and early spring to combat peach leaf curl.
Any peach tree pruning will be reduced due to the dwarf variety, however pruning to ensure an open framework in the center will be an important maintenance task.
2. Fignomenal​ Fig
Height: 3-5 feet
Spread: 3-5 feet
Aspect: Full sun
Harvest Period: Summer
A fig can give any backyard, even a smaller one, a Mediterranean vibe, yet they can still give a good crop of figs even in cooler climates. Growing figs also offer structural design elements in a space, thanks to their large and lobed foliage.
A Fignomenal Fig, available from Burpee, is a dwarf fig tree and one of the best fig trees for a small space. It offers a great fig harvest of medium-sized fruits, perfect for being used fresh or baked.
Plant your fig in a full sun position in well-drained soil. Figs benefit from feeding with a liquid tomato feed while fruits are developing and also mulching around the plants. Compact trees make fig tree pruning simpler, which needs to be done as fig trees produce fruit on one-year-old wood.
3. Improved Meyer Lemon Tree
Height: 5-7 feet
Spread: 5 feet
Aspect: Full sun
Harvest Period: Varies
Lemon trees are ideal for small spaces and are another tree that can bring a Mediterranean feel to a space. The highly fragranced flowers and fruit thrive in bright and sunny spots, and lemon trees can both have flowers and fruit at the same time.
An Improved Meyer lemon tree, available at Burpee, is a self-fertile tree and a hybrid between a lemon and an orange. The lemons are sweet and aromatic and this compact variety is capable of producing a large crop of rounded fruits.
Lemons are frost-tender and do need protection from temperatures below 45˚F. Pruning lemons takes place from their second year to keep them in shape and, if you are unsure when to prune a lemon tree, the best time is in late winter to early spring.
4. Espalier Grafted Apple Tree
Height: Varies
Spread: Varies
Aspect: Full sun
Harvest Period: Late summer into fall
Apple trees are one of the best trees to espalier and growing fruit in such trained forms is a great way to get lots of fruit in small spaces. Another modern variation in fruit growing is a family apple tree, where multiple varieties are grafted together onto one tree.
The Espalier Edible Grafted Apple Tree available from Nature Hills has six different apple varieties grafted onto one trained tree, namely Granny Smith, Gravenstein, Honeycrisp, Red Delicious, Rome, and Red Fuji. That means a lot of different delicious apples in a small space by training the tree against a wall or fence – so much fruit you may need to think about how to store apples.
This self-pollinating tree can offer a unique design feature to any small backyard and takes advantage of space otherwise often not used. The time to plant apple trees is during the winter and early spring and apple pruning routinely takes place in winter - it is the same timeframe when pruning espalier apple trees.
An alternative trained form of apples that can work in small yards is the Columnar Scarlet Sentinel from Burpee, with this dwarf vertical tree offering lots of fruit without taking up much space.
5. Carmine Jewel Dwarf Cherry Tree
Height: 6-7 feet
Spread: 3 feet
Aspect: Full sun
Harvest Period: Summer
Cherries are now commonly available on dwarfing rootstock so allow you to grow sweet and juicy fruits in even small backyards. The Carmine Jewel cherry tree available from Nature Hills is a dwarf variety that produces a crop of deep red-to-purple fruit in summer.
The other advantage of cherries, as well as their fruits, is the stunning spring blossom, where the white and pink blooms will cover your dwarf tree. Cherry trees like a sunny and sheltered site and to get a good mulch of homemade compost each winter.
The best time to plant cherry trees is in the spring or fall and to prune a cherry tree you work to open up the center of the tree after the harvest is finished in summer.
Cherry trees are one of the best fast-growing fruit trees and you may benefit from covering it with netting when fruits are ripening to stop birds stealing all of your crop.
6. Dwarf European Olive Tree
Height: 6 feet
Spread: 2 feet
Aspect: Full sun
Harvest Period: Fall
Olive trees are drought tolerant and love to bask in warm sunshine and they have become a popular backyard idea in the hotter areas of the US. Fully-grown olive trees can grow large, however, dwarf varieties make them suitable for small backyards, and olives can be kept smaller through regular pruning.
Olives offer silvery foliage throughout the year and small, white scented flowers in spring. A dwarf olive tree, available from Walmart, can be damaged by hard frosts, so needs to be brought undercover or wrapped in fleece unless you live in US hardiness zone 8 or warmer.
To prune olive trees, tip the plants back to keep them in shape and you complete this task in spring or summer.
7. Dwarf Pomegranate Tree
Height: 2-4 feet
Spread: 2-4 feet
Aspect: Full sun
Harvest Period: Summer to fall
A pomegranate is an attractive little flowering shrub that has young coppery-red leaves that then transform to bright green and finally to a yellow come fall. They also produce colorful orange-red flowers in summer that are followed by spherical orange-yellow fruit.
The dwarf pomegranate tree, available at Walmart, wants to grow in lots of sun in well-draining soil and is drought-tolerant once established.
8. Calamondin Orange Tree
Height: 8 feet
Spread: 5 feet
Aspect: Full to partial sun
Harvest Period: Summer to fall
Growing citrus trees such as oranges means you can enjoy the fragrant spring bloom and then delicious tangy fruit. The Calamondin Orange Tree, available from Fast Growing Trees, is a hybrid between a mandarin and a kumquat and produces small yellow-orange fruit.
A calamondin orange is one of the most cold-tolerant varieties of orange, down to 23˚F, but will still benefit from protection during the colder months. It is one of the best fruit trees to grow in pots, so you can move it indoors in winter.
Plant the orange tree in free draining and slightly acidic soil, keep it well-watered and prune citrus trees in spring to thin out the center of the plant.
---
There is now a great selection of fruit trees that are suitable for growing in small spaces. And the likes of apples, peaches, figs, and cherries are all suitable for growing up walls or fences in trained forms to take advantage of commonly under-utilized spaces.
It is a realistic ambition to get a great crop of fruit to feed your family in a small backyard, with the added bonus of great blooms, strong fragrances, and a sense of structure that trees can bring to a garden design.
If you are wondering when to plant fruit trees, it will depend on how you purchase them. Bare root fruit trees are usually planted during the winter months ready to start growing when spring comes around, while container-grown fruit trees can be planted year-round.
Sign up to the Homes & Gardens newsletter
Decor Ideas. Project Inspiration. Expert Advice. Delivered to your inbox.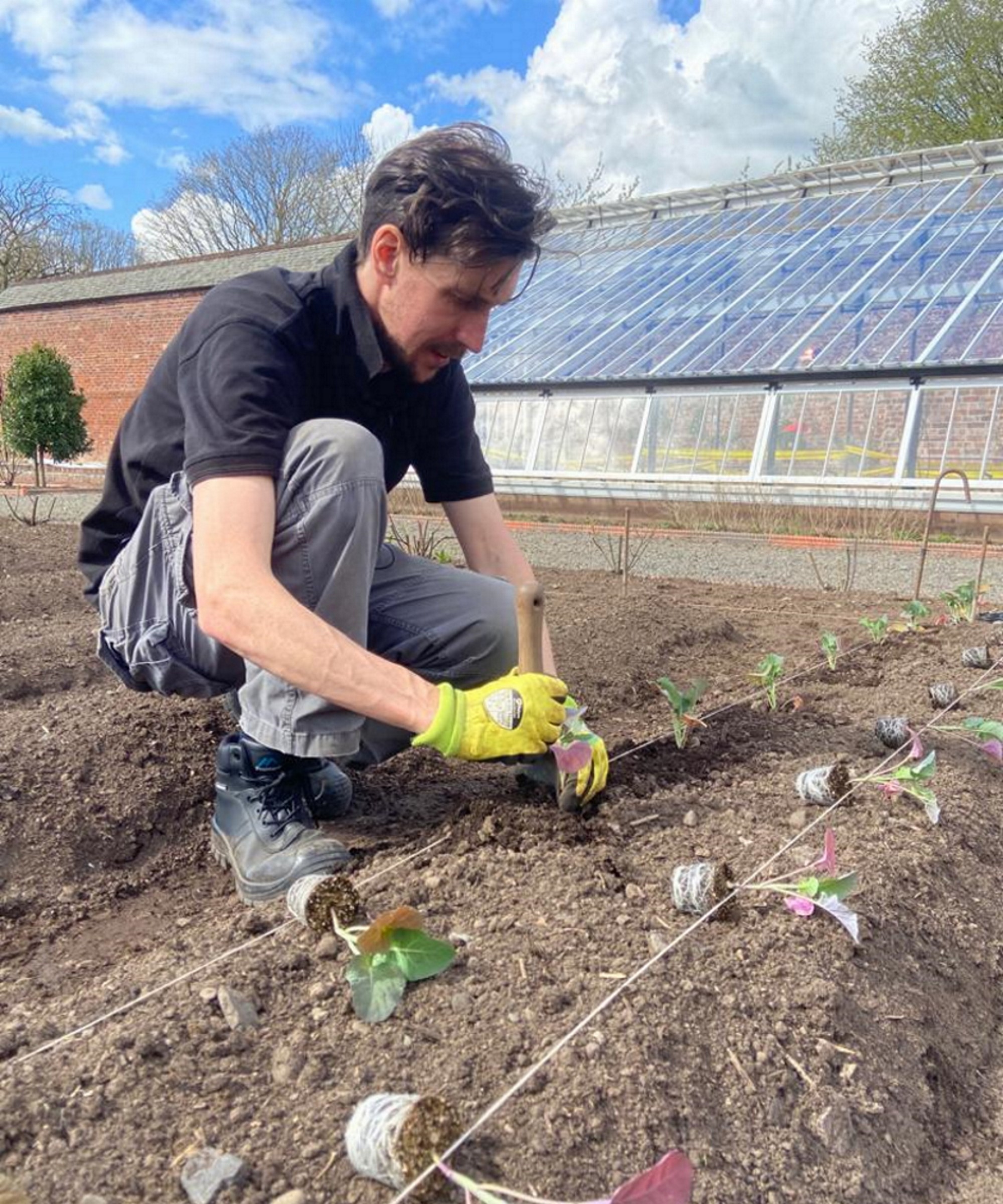 Drew's passion for gardening started with growing vegetables and salad in raised beds in a small urban terrace garden. He has gone on to work as a professional gardener in historic gardens across the UK and also specialise as a kitchen gardener growing vegetables, fruit, herbs, and cut flowers. That passion for growing extends to being an allotmenteer, garden blogger, and producing how-to gardening guides for websites. Drew was shortlisted in the New Talent of the Year award at the 2023 Garden Media Guild Awards.