Best privacy trees for small backyards – 10 compact choices for screening your space
Create a beautiful and private outdoor sanctuary with these leafy choices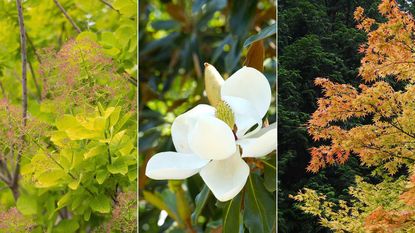 (Image credit: (From left to right) Gina Kelly / Alamy Stock Photo – BIOSPHOTO / Alamy Stock Photo – Naturefolio / Alamy Stock Photo)
Sign up to the Homes & Gardens newsletter
Decor Ideas. Project Inspiration. Expert Advice. Delivered to your inbox.
Thank you for signing up to Homes & Gardens. You will receive a verification email shortly.
There was a problem. Please refresh the page and try again.
Whether you want to block a next-door neighbor's view of your patio or screen a courtyard from windows up high, trees can be an effective – and attractive – solution. However, if you're working with a smaller space, you may be wondering if there are any compact varieties that live up to the job – without being overbearing. Fortunately, there are plenty.
Plus, small trees won't just provide that garden screening needed for a more relaxing, private space. They can also add color, structure, wildlife benefits, and shade from the summer sun, too.
10 privacy trees for smaller outdoor spaces
This selection of trees for small gardens will provide privacy and style in your plot.
1. Dappled willow
Height: 8-10ft
Width: 4-6ft
Hardiness: USDA 5-9
Best for: Colorful spring leaves
Willows are magnificent privacy trees with their elegantly arching branches, but they are generally unsuitable for smaller spaces. However, the dappled willow (Salix integra 'Hakura Nishiki') is an exception, growing up to 10ft tall once mature. This beautiful specimen offers foliage in hues of green, white, and pink as it emerges in spring. And in winter, they still bring interest to the garden with their attractive red stems.
Grown as a standard tree or planted in rows to form a privacy hedge, dappled willows create a vibrant spectacle in a small yard. They can also be grown as privacy trees in pots.
Plant them in full sun or partial shade, prune them annually to keep them neat, and keep them well-watered – particularly if they're in containers. You can buy dappled willows from Nature Hills.
2. Acer 'Coral Bark'
Height: 20-25ft
Width: 15-20ft
Hardiness: USDA 5-8
Best for: Fall color
Japanese maples are one of the best fall plants for privacy due to their striking color, but they also make attractive screening solutions for many other months of the year.
There are lots of varieties to choose from, but Fern Berg, the founder of Tree Vitalize, particularly recommends the compact and upright-growing 'Coral Bark', available from Nature Hills. 'This cultivar is low-maintenance, requires very little pruning, and is also heat- and drought-tolerant and adaptable to most soil types,' she says.
'With this lovely Japanese maple, you will get to enjoy the shade and privacy that the dense canopy of light green leaves provides during the spring and summer,' she continues. 'In autumn, you will be treated to a fantastic display of color as the leaves turn bright yellow before being shed.'
In winter, the bare, coral-red branches will allow sunlight to once again filter into your windows or yard, she adds – while still providing a sense of privacy due to their denseness.
Fern is the founder of Tree Vitalize and has planted and currently cares for over 100 different native and exotic fruit, nut, and ornamental trees. She also cultivates an extensive vegetable garden and several flower gardens and cares for an ever-growing happy family of indoor plants. Fern has a special interest in biodynamic farming, food production, and closed-loop agriculture and is currently in the process of becoming an IARC-certified horticulturist.
3. Magnolia 'Little Gem'
Height: 15-20ft
Width: 8-10ft
Hardiness: USDA 7-9
Best for: Fragrant flowers
Like willows, magnolias are often not the best trees for smaller yards. However, the compact and columnar 'Little Gem' magnolia, from Fast Growing Trees, is perfect.
It's an evergreen tree, meaning you can enjoy its natural screening all through the year. But the real beauty of this plant is its long-lasting, creamy-colored blooms that emit a pleasing fragrance.
Although it's easy to look after (and drought-tolerant once established), it is happiest if planted somewhere sunny. Feed it in early spring with a balanced fertilizer for the best results.
4. Espaliered Fig
Height: 10-15ft
Width: 12-15ft
Hardiness: USDA 5-9
Best for: Delicious fruit
Arborist Ned Cromack is a fan of espaliering trees to create backyard privacy. 'It's a bit of a project to start with, but once it's established, it's not much work at all to maintain,' he says. 'They're a great solution for hiding a wall while creating extra height.' Alternatively, combine them with a trellis to create a screen.
'Figs are an excellent option for this method,' Ned continues – 'and, of course, you can enjoy the fruit as a bonus.' You'll just need to make sure the planting position gets plenty of sun.
'Brown Turkey' figs, from Nature Hills, are a popular variety for this technique. They also do well in containers. Note that winter protection is often needed in cooler climes.
Ned is a qualified arborist and Founder of The Bristol Tree Medic. Starting his career in one of the UK's leading tree nurseries in 2010, he went on to spend over a decade as a tree climber across the UK, Europe, New Zealand and Australia. For him, arboriculture has always been more of a fascination than a job, and an industry that never ceases to inspire.
5. Bay Laurel
Height: 10-15ft
Width: 8-10ft
Hardiness: USDA 8-11
Best for: Cooking with
Bay laurels (Laurus nobilis) – available at Fast Growing Trees – are ideal for growing in containers or in the ground to up the sense of patio privacy.
The aromatic, evergreen leaves can be used as a flavor enhancer in the kitchen. And, in the summer, the black berries will attract birds to your yard.
They can be pruned to stay at a certain height, and can even be used as topiary. Generally pest- and disease-resistant, they are undemanding to look after – just ensure they're in a well-draining site.
6. Carolina Cherry Laurel 'Compacta'
Height: 8-10ft
Width: 6-8ft
Hardiness: USDA 7-10
Best for: Attracting bees
The Carolina cherry laurel is a recommendation from Blake Watkins, Operations Partner at Monster Tree Service and ISA Board Certified Master Arborist.
A broadleaf evergreen, it's an excellent choice for shady areas, he says. Its appeal is heightened by its offering of dense, glossy foliage year-round, and small fragrant flowers in spring.
Go for the 'Compacta' variety for its manageable size, although they respond well to pruning if you want to trim them back further. Plant them in well-draining soil in full to partial sun.
Blake Watkins is a Board Certified Master Arborist who specializes in urban forestry. His work in arboriculture began in non-profit organizations where he coordinated and led volunteer tree planting and pruning projects. Serving as the Operations Partner for the Western Region of Monster Tree Service, Blake comes equipped with extensive experience in multi-year tree management plans, hazardous tree assessments, production crew supervision, and tree protection during construction. He recently became a Registered Consulting Arborist with the American Society of Arboriculture.
7. Cotinus
Height: 8-15ft
Width: 6-15ft
Hardiness: USDA 5-9 (depending on variety)
Best for: Interesting flowers
Cotinus, also known as smoke trees or smoke bushes, are prized for their eye-catching, fluffy flowers that resemble clouds of smoke.
Their dense canopy of large, deciduous leaves is also attractive, and provides different colors depending on the variety. 'Royal Purple' (from Fast Growing Trees), has a deep reddish hue, for instance. Meanwhile, 'Golden Spirit' has bright yellow-green leaves that turn orange in the fall.
Due to their compact height, they are good privacy options for smaller yards, and are easy to look after, performing best in full sun.
8. Redbud 'Ace of Hearts'
Height: 9-12ft
Width: 10-15ft
Hardiness: USDA 5-9
Best for: Pink spring blossoms
If you're looking for a flowering tree, a redbud, with its profusion of pink springtime blossoms, may fit the bill. And while the classic eastern redbud tree is generally too large for small plots, there are a handful of compact varieties to try.
One option is the 'Ace of Hearts' redbud, available from Fast Growing Trees. Its dense clusters of flowers will bring vibrant color to your spring garden. These are followed by plenty of lush, green, heart-shaped leaves in summer, which then turn yellow in the fall.
Not only are they pretty to look at, but they're also relatively easy to maintain, being drought-tolerant once established. Any pruning necessary should be carried out once flowering has finished.
9. Holly 'Sky Pencil'
Height: 4-10ft
Width: 1-3ft
Hardiness: USDA 5-8
Best for: Columnar growth habit
Hollies can be grown as trees or shrubs, and provide evergreen foliage and often, fall berries. For small plots and container gardens, 'Sky Pencil' holly (from Fast Growing Trees) is well-suited, due to its neat and columnar structure. It's especially effective when grown in rows. What's more, it's deer-resistant.
Plant it in full sun, in a spot with well-draining, ideally slightly-acidic, soil. These plants also benefit from mulching.
10. Hicks Yew
Height: 8-12ft
Width: 2-3ft
Hardiness: USDA 4-8
Best for: Dense, evergreen screening
'Those looking for a functional and tidy privacy tree for a small yard should consider the versatile hicks yew,' says Fern.
It's a dense evergreen that provides a bushy barrier, she says – great for keeping out prying eyes and creating natural fencing. But its highlight is its vibrant red berries that emerge in fall, adding color to your landscape, she adds.
'Hicks yew is an unfussy plant that will grow in full sun or shade and in soil of any type, provided it is well draining,' Fern continues. They are also very long-lived, and disease-, pest-, and pollution-resistant, she adds.
They can be used as singular specimen trees, or planted 3ft apart to create a privacy hedge, Fern says. They grow to a mature height of 12ft, but respond well to pruning if you would like to maintain a more manageable height, she adds. You can buy hicks yews from Nature Hills.
FAQs
What are the best small privacy trees for shade?
Japanese maples will usually tolerate partial shade, as will redbuds and cherry laurels. Alternatively, there are many privacy shrubs that can be planted in the shade, including hydrangeas, camellias, and mahonias.
What are the best evergreen small trees for creating privacy?
If you're looking for leafy screening all year, try the 'Little Gem' magnolia, hicks yew, bay, or smaller varieties of holly and cherry laurel. Some types of cotoneaster can also be effective in these situations, as can junipers and strawberry trees.
---
When choosing a tree for a small space – or any privacy plant, for that matter – always remember to check the mature height. And even then, be aware that often, some pruning may be required to keep growth under control and for them to look their best.
Aside from this, newly planted trees benefit from regular watering, even if they are drought-tolerant once established. But, if looked after properly, they'll provide a beautiful, practical focal point for many years to come.
Sign up to the Homes & Gardens newsletter
Decor Ideas. Project Inspiration. Expert Advice. Delivered to your inbox.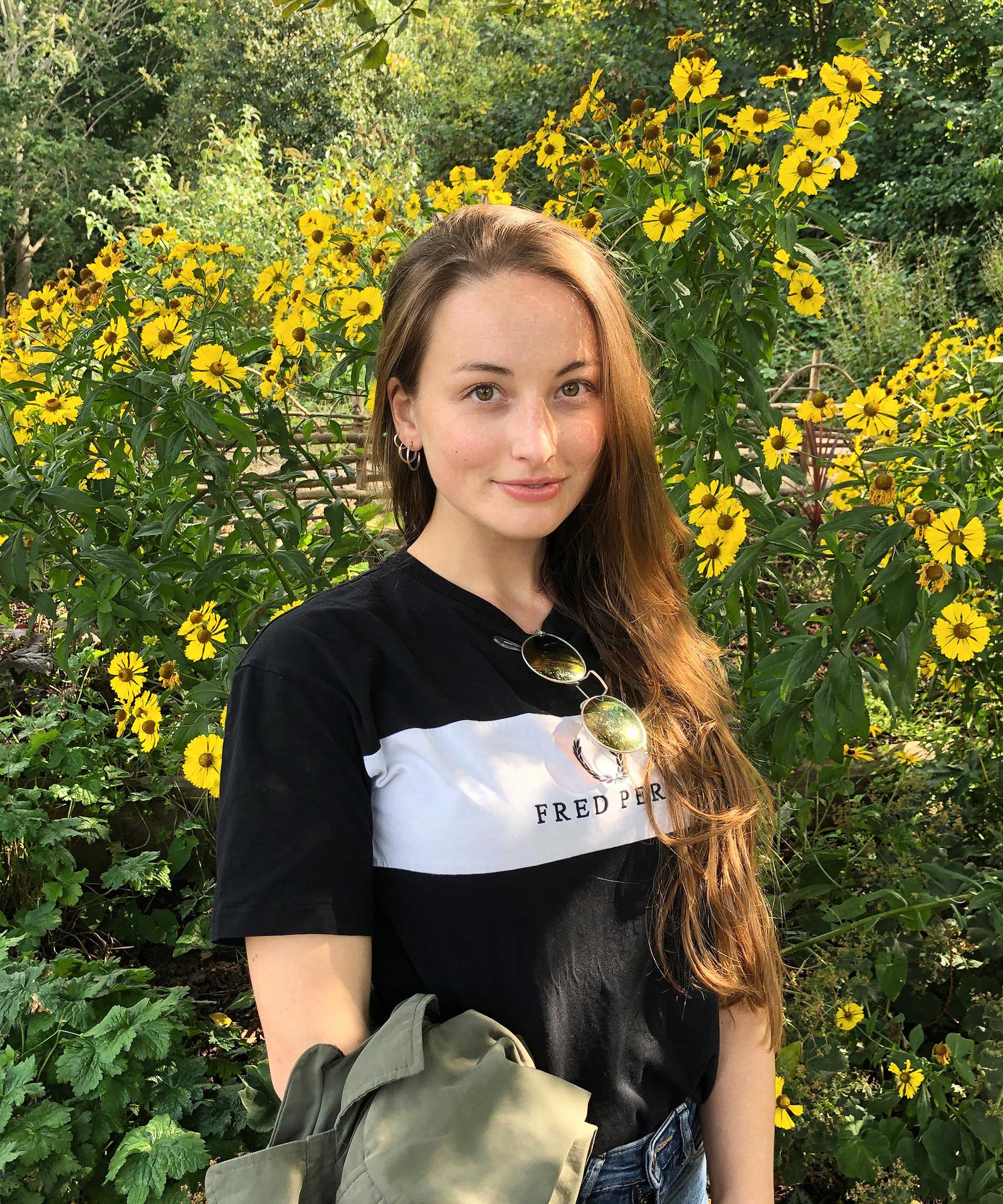 The garden was always a big part of Holly's life growing up, as was the surrounding New Forest where she lived. Her appreciation for the great outdoors has only grown since then; over the years, she's been an allotment keeper, a professional gardener, and a botanical illustrator. Having worked for Gardeningetc.com for two years, Holly now writes about plants and outdoor living for Homes & Gardens.