Best fall plants for privacy – 10 pretty picks for screening your outdoor space
From colorful shrubs to lofty, late-blooming perennials, these choices will brighten up your garden while making it feel more private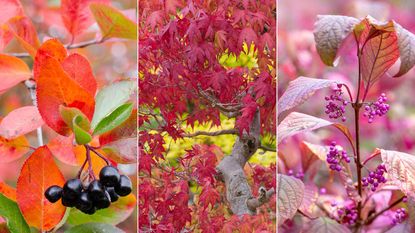 (Image credit: (From left to right) Jari Juntunen / Alamy Stock Photo – Tim Gainey / Alamy Stock Photo – Jacky Parker Photography / Moment / Getty Images)
Sign up to the Homes & Gardens newsletter
Decor Ideas. Project Inspiration. Expert Advice. Delivered to your inbox.
Thank you for signing up to Homes & Gardens. You will receive a verification email shortly.
There was a problem. Please refresh the page and try again.
If you're looking to update your garden this fall with some new planting picks, then why not go for options that are multipurpose? There are many beautiful choices that not only add color, texture, and even wildlife benefits to a backyard, but will also screen the space from view of others, making it feel more private.
From garden shrubs and perennial flowers to vibrant, compact trees, there's a natural backyard privacy solution for every type of plot. With these recommendations, it's easy to create a stunning backdrop for stylish alfresco living – before the temperatures drop.
10 plants that provide privacy and beauty to a fall garden
Update your fall garden with these gorgeous plants for privacy.
1. Chokeberry
Chokeberry bushes, also known as Aronia arbutifolia, can be used to create a tall, deciduous privacy hedge. In spring, their pretty white flowers will attract pollinators, while the berries that follow are great for birds. And these shrubs look stunning in the fall, when the foliage turns a fiery red, turning it into a seasonal spectacle.
These resilient shrubs can be planted in either full sun or partial shade, and should be pruned when they're dormant.
You can buy chokeberry bushes from Nature Hills.
2. Miscanthus
Height: 3-10ft
Spread: 2-6ft
Hardiness: USDA 4-9
Best for: Modern schemes
Miscanthus, a type of ornamental grass, is a lovely choice for surrounding a fall patio. Cultivars provide height, movement, and texture, and are particularly well-suited to contemporary backyards and prairie-style planting.
Try 'Silver Feather', from Nature Hills, which, as its name suggests, has silvery, feathery plumes. Meanwhile, 'Fire Dragon' (also from Nature Hills) turns orange and red in the fall. Plant them in full sun in well-draining soil to help them thrive.
Rather than cutting back dying foliage, leave it to stand to develop a reflective, light-brown hue to cheer the winter garden, advises gardening expert John Negus. 'Then, in early spring when leaves loosen and blow about the garden, 
cut them back to 4in from the base.' He also recommends fertilizing ornamental grasses from mid-spring until early fall.
John has been a garden journalist for over 50 years and regularly answers readers' questions in Amateur Gardening magazine. He has also written four books and has delivered many talks over the years on horticulture.
3. Japanese anemone
Height: 2-4ft
Spread: 1-3ft
Hardiness: USDA 5-8
Best for: Late-season flowers
Japanese anemones bring a profusion of neat, pink-or-white flowers with yellow centers to the late summer and fall garden, atop long stems. Planted en masse, they are effective at creating a light screen around a seating area – and they can be planted in containers to give them extra height.
'There is no need 
to prune them, as Japanese anemones 
are robust herbaceous perennials that die back to ground level in winter and return next summer,' says John. Grow them in well-drained but moisture-retentive soil, ideally in partial shade, for the best results.
Try 'Whirlwind', from Nature Hills, for white, semi-double blooms.
4. Acer
Height: 4-25ft
Spread: 4-25ft
Hardiness: USDA 5-9 (depending on variety)
Best for: Colorful trees
One of the best trees for fall color, the more compact varieties of acer are ideal for adding privacy to a patio, whether planted in a nearby border or in a strategically placed pot.
'Red Dragon', available from Fast Growing Trees, is a beautiful choice that grows to 8-12ft once mature. In the fall, it creates a dense canopy of feathery, crimson foliage. Plus, it's disease-resistant. 'Waterfall', also from Fast Growing Trees, is another gorgeous option, growing to similar heights with yellow and orange fall leaves.
5. Sunflower
Height: 3-12ft
Spread: 1-3ft
Hardiness: USDA 2-11
Best for: Tall flowers
Another pretty flower that lasts well into fall, sunflowers can be planted in a row to create a tall screen.
Personally, I've had great success with a packet of 'Velvet Queen' to create a screen marking the boundary of a vegetable garden. The deep crimson and burnt orange tones are a delight amongst other autumnal hues. 'Chocolate Cherry' sunflowers, from Burpee, have a similar appearance and grow up to 7ft tall.
Once the blooms have faded, you can harvest the seeds of these annuals to grow more next year, or leave them for the birds to enjoy.
6. Katsura tree
Height: 40-60ft
Spread: 20-30ft
Hardiness: USDA 4-8
Best for: Fragrant foliage
Once mature, Cercidiphyllum japonicum, or the Katsura tree, will provide both privacy and shade to your outdoor living space.
It has heart-shaped foliage which turns a beautiful spectrum of fiery hues in the fall. Not only this, but these leaves also omit a fragrance similar to caramel throughout the season.
These wide-spreading, disease-resistant, deciduous trees thrive in full sun or partial shade, in well-draining soil, and benefit from mulching.
7. Beautyberry
Height: 3-6ft
Spread: 4-6ft
Hardiness: USDA 6-10
Best for: Colorful berries
These gorgeous shrubs are well-loved for their clusters of jewel-like berries produced in the fall. These often hold on throughout winter, even when the leaves have dropped, attracting birds.
They are disease, pest, and deer resistant, and – as a bonus – are also known to help repel mosquitoes. They can be planted in containers or in the ground to create a natural screen.
'They're relatively easy to grow, preferring slightly acidic soil,' says landscape designer Ward Dilmore. Regular pruning will maintain their shape, he adds.
Beautyberry shrubs are available to buy from Fast Growing Trees.
Ward Dilmore is a landscape designer and Founder of Petrus Landscape, redefining outdoor spaces in the Bay Area, California. With an unconventional blend of horticulture expertise and international relations background, Ward brings youthful innovation and sustainable creativity to his designs. Ward's commitment to merging beauty with eco-conscious practices marks him as a dynamic artist in the industry, carving a path of bold, fresh perspectives in the world of landscaping.
8. Camellia
Height: 4-15ft
Spread: 6-10ft
Hardiness: USDA 7-9
Best for: Large, fall flowers
For privacy year-round, opt for an evergreen shrub. And if you want flowers throughout the colder months, too, then camellia is the perfect choice.
Some varieties, such as Camellia japonica 'Debutante', available from Fast Growing Trees, produce their large, showy blooms from fall onwards, amongst dark, glossy foliage.
They like acidic soil and a sheltered spot that isn't too sunny, and should be watered using harvested rainwater during periods of drought. But, other than that, they're easy to care for.
9. Fothergilla
Height: 2-6ft
Spread: 2-5ft
Hardiness: USDA 5-10 (depending on variety)
Best for: Pollinator-friendly spring flowers
A recommendation from Ward, fothergilla displays brilliant orange, red, and yellow fall foliage. In the spring, these shrubs' fragrant flowers attract pollinators, adding another layer of beauty to your garden, he says.
'They thrive in acidic soils and appreciate a good layer of mulch to conserve moisture,' Ward adds.
While some are more compact, 'Mount Airy' fothergilla from Nature Hills can reach heights of 6ft, making it a useful shrub for creating privacy.
10. Blue Mist Spirea
Height: 2-4ft
Spread: 2-4ft
Hardiness: USDA 5-9
Best for: Container flowers
Blue mist spirea (Caryopteris x clandonensis) is a compact shrub that offers striking blue flowers in late summer and early fall, attracting butterflies and bees, says Ward. It's also known as blue beard.
Some cultivars reach up to 3ft or more in height, such as 'Dark Knight' from Nature Hills. This makes them a good low-hedge option for privacy, as Ward points out. Like Japanese anemones, they can also be planted in raised containers for extra height to screen a seating space.
It's a relatively low-maintenance plant, Ward adds, requiring well-drained soil and occasional pruning to shape it.
FAQs
What are the best fall privacy plants for pots?
Large containers filled with lofty plants are an effective solution for creating privacy in a smaller space.
Most of the plants above do very well in pots. A compact variety of acer, for instance, makes a striking addition to a fall patio. Tall and hardy evergreen herbs, such as rosemary or bay, are other good choices and are useful in the kitchen, too.
What are the best fall privacy plants for shade?
As well as beautyberry, Japanese anemones, and acers, try oakleaf hydrangeas which have colorful fall foliage. Many evergreen shrubs also do well in less sunny spots, including holly, box, and varieties of viburnum.
---
Many of these can be planted together for a truly stunning display that spans different heights. And if you want to maintain a sense of garden privacy throughout the winter – when many of the plants will drop their leaves – consider planting an evergreen hedge behind them.

Alternatively, you could install a sturdy fence or wall, perhaps adorned with a fast-growing climbing plant or two for extra texture and color throughout the seasons.
Sign up to the Homes & Gardens newsletter
Decor Ideas. Project Inspiration. Expert Advice. Delivered to your inbox.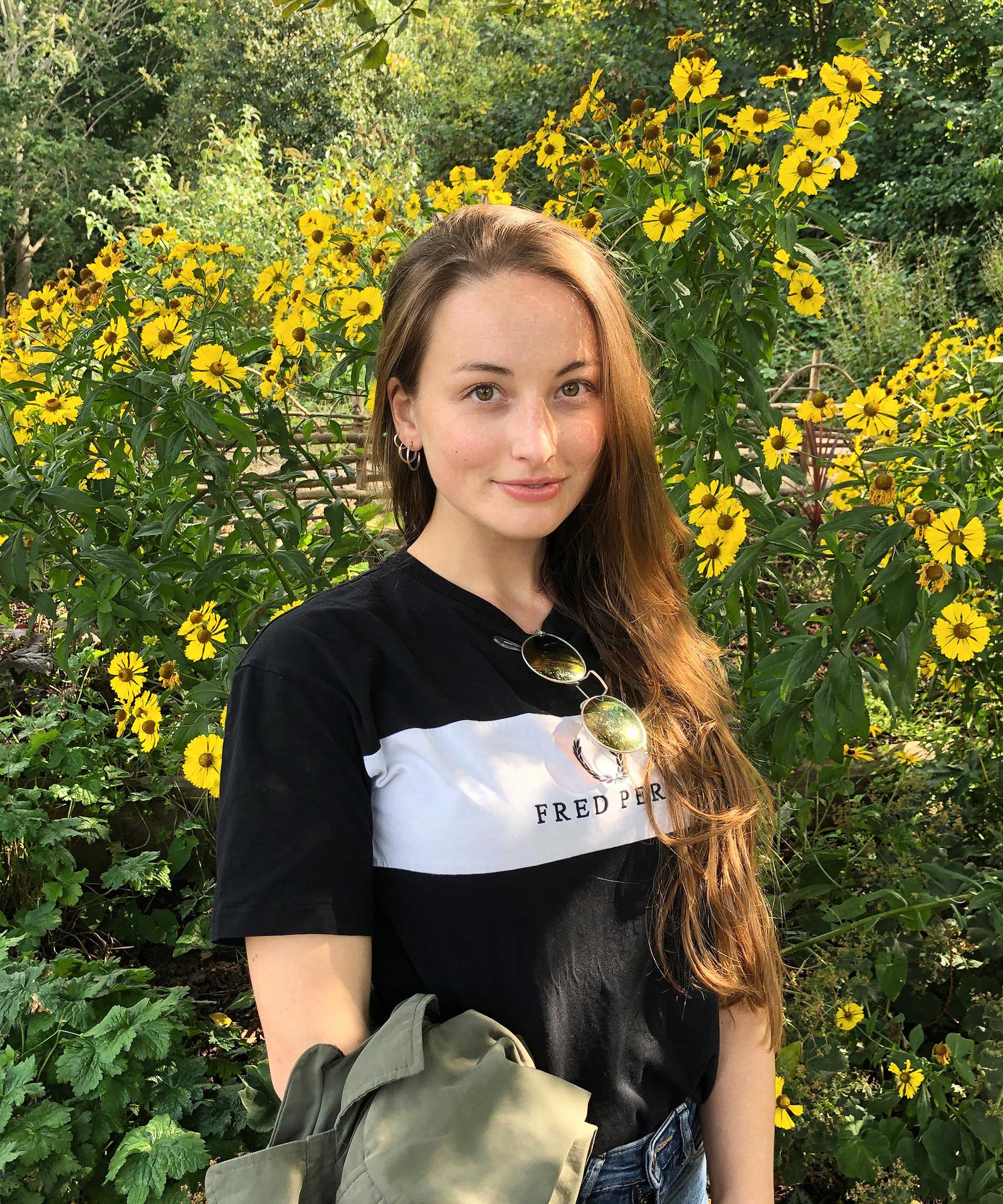 The garden was always a big part of Holly's life growing up, as was the surrounding New Forest where she lived. Her appreciation for the great outdoors has only grown since then; over the years, she's been an allotment keeper, a professional gardener, and a botanical illustrator. Having worked for Gardeningetc.com for two years, Holly now writes about plants and outdoor living for Homes & Gardens.