7 crops to harvest in October – top pickings from the vegetable garden
We take a closer look at some of the best fruits and vegetables that are ripe for harvesting this month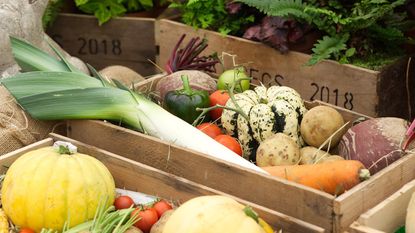 (Image credit: Alamy/Mim Friday )
October can be a time of real abundance in the vegetable garden with a long list of fruit and vegetables ready to harvest. It is a time where summer crops need lifting ahead of the incoming frosts, fall crops are at the fore, and hardier vegetables can continue to be picked throughout the transition into winter.
The vegetable gardens and productive kitchen gardens I worked in grew and harvested vegetables, fruit and herbs year-round for chefs. There was always a rich bounty of produce to be lifted during October as the mornings got colder and daylight got shorter.
Whether you are growing crops in a large dedicated vegetable garden, on a small plot in the backyard, or in a vegetable container garden, the fall months can truly be a time of rich pickings. Homegrown produce can go from garden to kitchen and be used in a range of hearty and warming fall meals.
What crops are harvested in October
A kitchen garden can be highly productive in fall and lots of crops will be ready to harvest in October. We take a look at seven of the most popular vegetables and fruit that will need picking during the month.
1. Apples
Mid-and-late season apples will be ripe and ready to harvest in October. The time to harvest apples can run from mid-August onwards, but October is often the last chance to get those precious fruits from the trees. There are many types of apples that do tend to be ready in October and, if you know your apple variety, then a bit of research will identify when they should be picked.
An apple is ready to pick when you can hold it in your hand and gently twist it off the tree, you should not need to pull hard to remove it. Knowing how to store apples properly means that you should be able to enjoy the delicious fruits throughout the winter months. You can bake, cook, puree, dry or juice them, as well as biting into the apples straight from the tree.
2. Pumpkins
When you are growing pumpkins it's worth noting they do have a long growing season, but October is the time to be picking those fruits. As well as pumpkins, October will also be the right time to harvest other winter squash, harvest any butternut squash, and also harvest gourds you may be growing.
You can know when to pick a pumpkin off the vine by looking out for signs such as the color, the hardness of the rind, and the stem turning hard and woody.
Then it is time to decide what to do with your pumpkins. There are many ways to cook with them, but also you can go wild for Halloween, there is pumpkin carving, pumpkin painting, you can decorate using your pumpkins, or even make a pumpkin planter. Whether you put pumpkins out for Halloween, or turn them into soup or pie, October is the time for pumpkins.
3. Carrots
When growing carrots, you can harvest these delicious root vegetables for such a long period - potentially from early summer right through until winter. Carrots take up to 16 weeks to grow, so maincrop carrots that you will have sown in May or June will be ready to harvest in October. Smaller varieties of carrots sown during the summer are also likely to be the right size to pick come October, while late summer sowings will be ready to harvest as baby crops.
Any time you are harvesting carrots you want to take care not to snap the precious roots, levering them out of the soil with a fork rather than just pulling with your hands. If you are growing carrots in containers in loose soil, it may be possible to push the carrots down and twist to loosen them from the compost before pulling them out.
As well as carrots, if you are growing parsnips then October is the start of the harvesting season for these root vegetables.
4. Beets
October is often the end of the season for growing beetroot, as plants left in the ground past this point can often get too large and woody. Leaving beets to grow too large is a beetroot growing mistake that makes the roots taste tough and bitter.
These earthy roots can be lifted in mid-fall and used in many ways, they can be baked, pickled, or even used in cakes. Beets lifted in October can be stored in trays of sand in a cool root cellar for several months. They are one of the easiest vegetables to grow and, when sown successionally, you can be harvesting beets for many months.
5. Swiss chard
Swiss chard is a crop that just keeps on giving and growing. It is a fast-growing vegetable that can be harvested in just over two months from sowing. It can be sown outdoors once the risk of the frost has passed and then from June, when you can start harvesting Swiss chard, the season can then continue throughout summer, fall and winter.
Chard will keep cropping throughout October and you do want to keep harvesting leaves as it will encourage the plant to keep growing more. If you wonder how to harvest Swiss chard, it is a simple process to snip leaves from the plant once they reach at least six inches. Cutting them is better than ripping them - which can risk pulling the plant out of the ground altogether. A pair of pruning shears, or pruning snips such as these at Amazon, are ideal tools for harvesting Swiss chard.
6. Lettuce
It is possible to sow and grow lettuce year-round and crops sowed in late summer will be perfect for harvesting throughout October. Lettuces are perfect for successional planting and it means you can plant lettuce in spring, summer, fall, and even winter if you have a greenhouse to grow vegetables in.
When you are harvesting lettuce, you can either take individual leaves or cut the whole head and homegrown lettuce freshly picked will taste far superior that any leaves you get from the grocery store. By removing the largest leaves from the outside of the plant, it means you can get a long succession of harvests. This way ensures the crown is intact and keeps growing new leaves, or you can use a sharp knife and cut the whole head of lettuce off at the stem.
Whether you are growing lettuce in pots, or in the ground, you can keep picking leaves throughout October into even into winter months.
7. Leeks
Leeks sown in spring are ready to harvest in October. There are many different types of leeks to grow, and October is the time when the early leeks are coming to an end and the mid-and-late types are ready to harvest from fall and into winter.
Leeks are ready to harvest when their stalks are around 18-36in tall and be between one and two inches in diameter. When harvesting leeks, always use a garden fork, available at Amazon, and gently lever them out of the soil, rather than pull with your hands and risk breaking the stem - a common vegetable harvesting mistake.
Leeks do not store for a long period, so are best harvested little and often as required. The winter types are hardy enough to sit out in the garden throughout the colder months, and the vegetable's taste can actually be improved by a frost.
FAQs
What vegetables can I sow in October?
There is a long list of vegetables that can be sown in October. The range of vegetables to plant in fall includes the likes of salad leaves, scallions, cauliflower, winter-hardy peas, fava beans, winter radish, and spinach. The month is also the ideal time to plant garlic bulbs or plant overwintering onions in the garden.
---
As well as making sure to harvest crops throughout October, the month is also a great time to mulch a vegetable garden. By adding a thick mulching layer of materials such as compost, well-rotted manure, or leaf mulch, it helps to protect the ground over winter, add nutrients into the soil for future crops, and improve the soil structure.
Sign up to the Homes & Gardens newsletter
Decor Ideas. Project Inspiration. Expert Advice. Delivered to your inbox.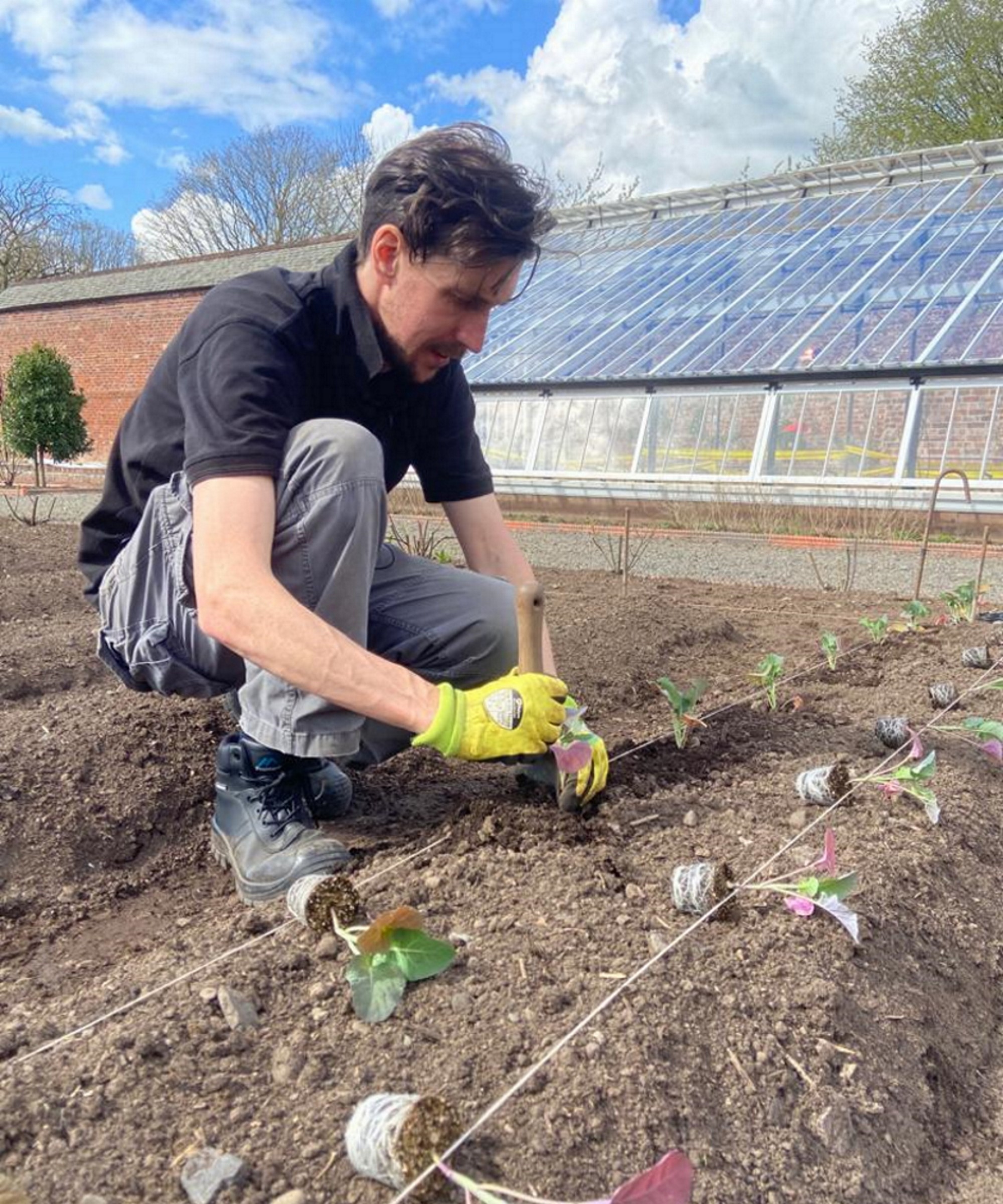 Drew's passion for gardening started with growing vegetables and salad in raised beds in a small urban terrace garden. He has gone on to work as a professional gardener in historic gardens across the UK and also specialise as a kitchen gardener growing vegetables, fruit, herbs, and cut flowers. That passion for growing extends to being an allotmenteer, garden blogger, and producing how-to gardening guides for websites. Drew was shortlisted in the New Talent of the Year award at the 2023 Garden Media Guild Awards.