Fast-growing flowering vines – 10 ideas for height and color
Introduce fast-growing flowering vines into your garden and you'll be met with a profusion of color and fragrance as well as beneficial height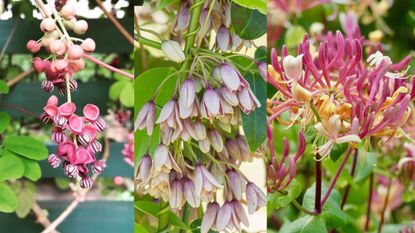 (Image credit: Getty Images)
As their name suggests, fast-growing flowering vines offer a quick way to add color, fragrance and height to your garden. Whether you grow yours on the façade of your house, interlaced with a pergola or trained up a trellis, growing a vertical vine enables you to add interest and character to your plot.
When planning your flower bed ideas, it is vital to incorporate plants that add height. Not only do fast-growing flowering vines maximize the available growing space, but they also draw the eye upwards, helping to unite different planting areas and give the illusion of more space. Growing vertically, as well as at ground-level, will help you to curate a garden that's brimming with personality.
Fast-growing flowering vines to add interest to your plot
When you are looking for the best climbing plants, it makes sense to look to flowering vines for color and scent. These plants rely on a structure on which to grow, whether that be a pergola, archway, trellis or up the house. There are lots of different pergola ideas and trellis ideas that would work brilliantly with these fast-growing flowering vines.
However, these structures aren't always the most attractive in their own right, therefore opting for fast-growing flowering vines will ensure that your structure is quickly covered by beautiful blooms.
'When planning to add fast-growing flowering vines to your garden, it is important to make sure that the support is large and strong enough to support the vine. Combining two different vines on the same support can double the floral impact or extend the bloom time,' advises horticultural expert Melinda Myers (opens in new tab).
'I like to use annual vines along with perennial vines the first few years. The annuals quickly cover the support and flower while the perennial vine becomes established. This ensures short and long term beauty,'
1. Fast-growing flowering vines for evergreen character
If your vines are to have a prominent space in your garden's architecture, then it is best to opt for evergreen fast-growing flowering vines. The Evergreen Clematis, also known as Clematis Armandii, is one of the best evergreen climbers.
Clematis Armandii have deep, leathery leaves which add year-round interest while the pink or white blooms that erupt in spring add a stunning pop of colour. 'These flowers also have a fantastic fragrance,' says Emilly Barbosa Fernandes, expert gardener and consultant at HouseGrail (opens in new tab).
When considering these fast-growing flowering vines, it is important to know how to grow clematis to ensure that your new climber will thrive. When purchasing your clematis, it is also important to note its classification as this will help you know how to prune clematis and as such will keep it in great condition for years to come.
2. Fast-growing flowering vines for containers
These unusual fast-growing flowering vines are called vigna caracalla and are characterized by their swirling blooms. Also known as snail vine or corkscrew flower, they can be grown from seed and will typically flower in their first year when grown in a warm climate.
'Requiring a minimum temperature of 59°F, Vigna caracalla is best grown in patio containers that can be moved indoors to a heated greenhouse or conservatory for the winter,' suggests the experts at seed and plant company Thompson & Morgan (opens in new tab) 'Alternatively, you can grow snail vines outdoors as an annual.'
When grown in pots as part of your patio ideas, these fast-growing flowering vines make for a beautiful and unique addition to the garden, and look especially great when paired with other container gardening ideas.
3. Fast-growing flowering vines for cut flowers
Amongst the best flowering climbers and having recently seen a surge in popularity, sweet peas are a stalwart of cottage garden ideas. This fast-growing vine is renowned for its dainty flowers and their rich perfume. If you're planning a cut flower garden, sweet peas are an essential addition. Not only do they look great in vases, but regular flower removal also encourages the plant to keep blooming.
Grown as an annual from seed, sweet peas will quickly grow to heights of around 6ft and will flower within 14 weeks of germination. If you want to grow these fast-growing flowering vines then you should start by researching how to grow sweet peas as the seeds will need to be planted from October through to March.
4. Fast-growing flowering vines for fragrance
Honeysuckle are one of the most popular fast-growing flowering vines due to their beautiful blooms and sweet perfume. 'They can enclose an area, adorn an arbour, or clamber up walls, sheds and trees – classic combinations on arbours or tunnels include honeysuckle entwined with clematis,' says PL garden expert Leigh Clapp.
If you're seeking to encourage more nature into your garden, then adding fast-growing flowering vines can be extremely beneficial. Not only do the flowers provide nectar for pollinators but they also offer protection. In fact, Ness Amaral-Rogers, science communications executive at the RSPB (opens in new tab) recommends growing 'climbing roses or honeysuckle around bat houses to encourage use'.
5. Fast-growing flowering vines for your house
Star jasmine are great fast-growing flowering vines for incorporating into your front yard flower bed ideas as they will help to perfume the approach to your home. Alternatively, they can be grown in containers and are a great addition to patio ideas as its pretty flowers will bring a sweet scent to your patio.
Despite their name, these fast-growing flowering vines are not actually part of the jasmine family. Though they have very similar flowers and a sweet jasmine scent, it is actually an evergreen woody liana vine. Regardless, their growing requirements are very similar to how to grow jasmine and the star jasmine thrives in sun or dappled shade.
6. Fast-growing flowering vines to attract wildlife
One of the best flowering climbers, the vibrant trumpet vine is characterised by its bright orange trumpet shaped flowers. Filled with nectar, the bloom of these fast-growing flowering vines are full of nectar and as such attract butterflies and hummingbirds – this makes the trumpet vine a great addition to wildlife garden ideas.
As with any fast-growing plants, they will need to be kept in check to prevent them from overwhelming the other plants in your garden.
Pruning is essential, especially with the trumpet vine. 'This is a fast-growing vine that will take over your entire garden if you're not careful. It can easily reach 30 feet, producing beautiful orange tubular flowers in the summer,' says Emilly Barbosa Fernandes.
7. Fast-growing flowering vines for tropical gardens
From the name, the broad-leaved sausage vine might seem like an unusual addition to the garden. However, holboellia latifolia are one of the best evergreen climbers and will add both color and texture to the garden. Reaching a height of 20 feet in between 5 to 10 years, they are hardy from zones 8 to 11 and as a result are better suited to warmer climes and paired with other tropical garden ideas.
Come spring, they erupt in a profusion of pinky-yellow flowers which cascade from the towering vine. 'Furthermore, these deliciously fragrant blooms evoke the sweet scent of fresh melons,' describes the experts at Monrovia Nursery (opens in new tab), 'and come the autumn the vine produces elongated, edible, purplish fruits.'
Their stunning springtime display is sure to leave you wondering why it took you so long to introduce these beautiful fast-growing flowering vines into your garden.
8. Fast-growing flowering vines for color
When growing vertically, you'll want a bloom that catches the eye. The bright colors of the Ipomoea lobata, also known as Spanish Flag, definitely fits the bill. Characterised by their red, orange, yellow and white petals, they are typically grown as annuals and are beautiful fast-growing flowering vines that will prove invaluable as part of tropical garden ideas.
Very versatile, these fast-growing flowering vines thrive in a range of soil types including chalk, loam and sand and will make a statement as it can reach 6ft tall in a single year's growth.
9. Fast-growing flowering vines for vigorous growth
If you're looking for fast-growing flowering vines, then the beautiful Akebia quinata is a great choice. One of the best climbing plants, these vines are extremely fast-growing, in fact they can grow as much as 20 feet per year before reaching their ultimate height of around 12 metres in just five years.
'This vine is impressive,' says Emilly Barbosa Fernandes, 'It produces hanging clusters of bell-shaped flowers that are either white or purple throughout May and June.' They are also known as chocolate vines due to their rich vanilla scent making them a great addition to patio ideas.
A hardy vine, they can thrive in USDA zones 4 through to 9 and will remain evergreen in zones 6 and warmer. If grown up a trellis, these fast-growing flowering vines create an evergreen screen and as such are a brilliant addition to garden privacy ideas.
10. Fast-growing flowering vines for fruit
If you want fast-growing flowering vines that bring more than just pretty blooms, then consider adding a fruiting vine to your garden.
Grapes are the conventional choice, and bring with them pretty flowers followed by delectable fruits. However, they are not always straight-forward to grow. Kiwi vines on the other hand are relatively fast-growing flowering vines that produce rose-like blooms.
'Kiwi fruit vines are vigorous, hardy and easy to grow,' says Period Living's gardening expert Leigh Clapp. 'They need plenty of space on a strong support structure and will take three to five years to fruit.' Despite taking a few years to fruit, they will grow around 6 to 12 feet a year.
For an instant vine, purchase an established plant from your garden center or online. Alternatively, if you want a challenge then learn how to grow kiwi from seed. Growing a kiwi from seed will take longer to produce fruit, but will bring with it a source of great pride.
What is the best flowering climber?
Sweet peas, Akebia quinata, star jasmine and honeysuckle are some of the best flowering climbers. These fast-growing flowering vines all erupt in beautifully colorful and scented blooms.
What is the fastest growing flowering vine?
Akebia quinata are one of the fastest growing flowering vines, adding 20 feet to its height every year. If these fast-growing flowering vines are grown in zone 6 or above, they are also evergreen making them a brilliant, permanent addition to the garden.
However, if you're looking for a quick hit of color and fragrance then sweet peas are the best choice of fast-growing flowering vines. Taking just over three months to flower from germination, they will produce beautiful blooms throughout spring and will brighten both your home and your garden.
Content Editor and Sub-editor
Having graduated with a first class degree in English Literature, Holly started her career as a features writer and sub-editor at Period Living magazine, Homes & Gardens' sister title. Working on Period Living brought with it insight into the complexities of owning and caring for period homes, from interior decorating through to choosing the right windows and the challenges of extending. This has led to a passion for traditional interiors, particularly the country-look. Writing for the Homes & Gardens website as a content editor, alongside regular features for Period Living and Country Homes & Interiors magazines, has enabled her to broaden her writing to incorporate her interests in gardening, wildlife and nature.