'I've designed our home for refuge and relaxation.' How one interior designer conjured up calm in a city center
The owners of a turn-of-the-century apartment in Helsinki have created schemes that are serene, atmospheric and full of quiet beauty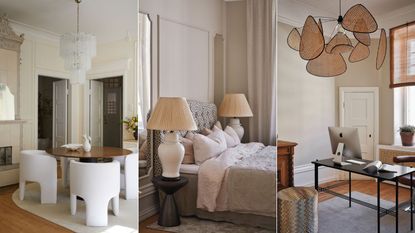 (Image credit: Krista Keltanen)
Whether or not you live in a city center, you'll empathize with the idea of designing a home as a haven of peace to retreat to. This is exactly what interior designer Annu Nykänen has done for herself and her husband Stefan Söderström.
The couple had little reason to move from their central Helsinki apartment but just two blocks away an extraordinary opportunity arose, and it's a font of inspiration for small space decorating.
'An apartment came up for sale on Bulevardi. It's one of the best-known streets in Helsinki,' says Annu, who runs interior design firm Lova Co Interiors (opens in new tab). 'It's in the middle of the city yet only a few hundred yards from the ocean. It also has a feeling of spaciousness, being 65 feet wide and tree-lined. At both ends are green spaces and the traffic isn't heavy,' she adds.
While their former apartment was satisfactory, Annu and Stefan, a partner in a global management consultancy, craved move living space in a calm setting away from the city noise.
'There were several things that really drew us in. The apartment is in a beautiful old residential building dating back to 1905. The exterior is pale orange and the whole style is decorative with arches and small statues. It's situated on the top floor overlooking the inner garden making it very peaceful.
'It has 9 foot high ceilings and windows on both the north and south sides. We loved the arch in the main space and the old fireplace was another feature that we fell for. It just felt like us from the very beginning,' Annu says.
Despite it being in a good condition, Annu quite naturally decided the move would be an opportune moment to flex her creative muscles. 'It had been renovated a year previously. Despite this, we decided to embark on a three-month renovation to make it more representative of our own style yet retain the spirit of the building.
'I like to combine different forms and materials but, above all, I always want to achieve a sense of harmony.
'We added mouldings to all the ceilings and walls and redecorated. We also sanded the floors, which had been white, to restore the original color. We changed the kitchen and invested in a few new cabinets at the entrance and in the dining room.'
Annu was eager to avoid the 'all-white' look favored in Scandinavian countries. 'I visualize colors once I'm in the actual space and think of what would work best for it specifically. Typically, I avoid strong colors but here I wanted a subtle scheme with different levels of depth, warmth and coziness.
'For this I used a cream shade with some contrast in the pale blue in the kitchen cabinets and living room. I've always preferred natural materials like linen, stone, marble and wood, which retain their value long into the future.'
Annu opted for rounded shapes in several of her furnishings, providing relief from the stricter forms of Modernist furniture. 'The seasons contrast dramatically in Finland. In the summer, the sun sets only for a few hours so the apartment is constantly full of light. During the winter the situation is flipped, so I light plenty of candles,' Annu adds.
At the heart of the home is the dining room from which the other rooms lead off. This center point allows a strong flow and social connection between rooms, rather like a hotel suite. The arrangement is perfect for intimate, close living with minimal need for privacy.
The sweeping arch, high ceilings and large windows lend a palatial and elegant grandeur. Sharing the apartment with their King Charles Spaniel, Maple, Annu and Stefan primarily use their home as a place of refuge and relaxation.
'We do have friends over but mainly it's just for us three and currently it's our favorite place in the world.'