Christmas tree themes 2021 – 10 ideas and trends for a seasonal look
To find Christmas tree themes for 2021, take inspiration from Christmases past and future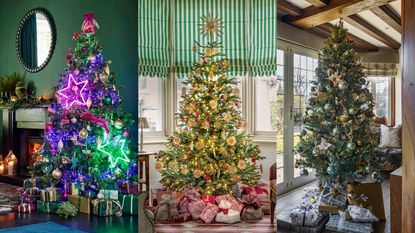 (Image credit: John Lewis/Future/Polly Eltes)
Looking for Christmas tree themes for 2021? Then look for them in both the past and the future.
Having a theme for your Christmas tree ideas helps to create a coherent look – and while it's good to keep up with trends, the most important thing is to make sure it's one that's true to your personal style and suited to your home.
'When it comes to deciding on your theme, consider what space you're decorating – is it the family room, formal dining room or kitchen?,' says Daisy Coombes, marketing manager at Sass & Belle (opens in new tab). 'Also consider the feel of that space – is it casual, sophisticated or colorful? By understanding what the space is used for, you can then decide what theme to opt for.'
Christmas tree themes 2021
Choosing a theme for this year is therefore not necessarily about keeping up with trends, but how you can make your style look and feel good right now. From sustainable decorations to reduce your holiday carbon footprint, to traditional styles that have endured for decades, take a look at these ideas for Christmas tree themes and get some expert tips too.
1. Get crafty with homemade decorations
A Christmas tree should always be personal in its design, but this year, consider making it more unique than ever before. 'The last 18 months have given many people the opportunity to learn new skills, so expect to see more handmade Christmas wreaths, table decorations, candle holders and crackers reflecting the creator's style and personality,' says Coombes.
This stunning example features numerous woven rattan snowflakes among the decorations and Christmas tree topper ideas, in a style that could easily be recreated at home with a bit of crafty know-how.
2. Keep it traditional
If you're wondering how to decorate a Christmas tree in the 21st century, there is no problem in looking into the past for inspiration. Traditional schemes that mix and match unique decorations collected over the years with baubles, bows and fairy lights in festive colors are an enduring favorite, simply because Christmas is a time to have fun with decor, rather than being too rigid about it. Pick a couple of colors that recur throughout the scheme for consistency, but embrace childlike joy otherwise.
3. Span the spectrum with a colorful theme
Christmas doesn't have to be all about red and green – if your tastes are bright and beautiful, embrace all colors of the rainbow. In this example featuring decorations by John Lewis (opens in new tab), a multicolored tree with statement neon lights spans the spectrum.
'Knowing when to go for a splash of color or keep it simple can make or break a room, so decide what pairs best with your chosen décor,' says Michael Meiser, President of Lumilum (opens in new tab). 'Our rule is that white and cream lights – which emanate a bright and pure feel – are designed to direct your attention to your eye-catching decorations. On the other hand, multicolored flashing lights are designed to be the focal point and use your existing, perhaps simpler decorations to bounce a range of colours around the room.'
Alternatively, if you're worrying about how to keep a Christmas tree alive and are thinking of going artificial, consider ditching natural green and go for a bright colored option to make a real chromatic statement.
4. Rip up the rule book with an alternative tree
This year, Christmas trees don't even have to be trees at all. Alternative Christmas tree ideas are a growing favorite among those looking either for a contemporary look or for a festive focal point that isn't quite as physically and visually domineering as a traditional conifer tree. Think outside the box, and opt for a representational tree, like this one made from Christmas cards and a string of fairy lights.
5. Go all out with a maximalist tree
Maximalism has been one of the biggest interior decor trends of 2021, so why not apply it to your Christmas tree too? Take the 'more is more' approach to your Christmas decorations this year, because cramming every branch of your tree has never been cooler.
In this example by Mind The Gap (opens in new tab), a maximalist room is given a tree befitting its pattern overload with lit garlands, baubles, streamers, orange slices and much more. If you're wondering how to make a Christmas tree look fuller, large scale decorations and bushy garlands in their abundance can also help fill the gaps in between the layers of branches.
6. Pare it back for a minimalist look
If it's the simple things in life that make you happiest, apply that to your Christmas decor ideas this year. At the other end of the scale, a minimalist approach decorated with one recurring ornament is perfect either for clean room schemes or ones where you want to balance bold design statements elsewhere. In this example, a tree decorated only with lights brings focus to how delightful such a simple addition to the room can be.
7. Stay sustainable with recycled decor
In a year where we've become perhaps more conscious of our carbon footprint than ever before, rethinking the environmental impact of our Christmas decorations is one of the biggest patterns to evolve in 2021.
'Sustainable decorations are a must have, so consider artisanal, hand crafted, wooden, recycled glass and papier-mache decorations which are fast becoming a firm favourite in many households,' suggests Coombes. 'Just because they're the sustainable option, this doesn't mean that you'll miss out on color, texture and the sparkle of Christmas. Rich hues, opulence and glitz are still on the agenda for 2021.'
8. Channel the countryside with farmhouse style
Whether you're surrounded by rolling hills or are just longing for a little bit of the countryside in your home, farmhouse Christmas tree ideas are what you need for a more rustic look. Swap the high shine decorations for matte finishes and more muted colors to fit in with rooms where wooden accents are key. In this example, natural decor such as pine cones and feathers are used to reflect the country views out the window, as well as on-trend green accents.
9. Stay up to date with a modern look
For a modern take on Christmas tree themes, keep your finishes slick with one eye on the boldest interior design trends of the year so far. In this living room, the Christmas tree fully embraces the deep Prussian blue that covers the walls and the contemporary velvet sofa. Blue is a growing trend in both year-round interiors and holiday decorations this year, so explore this scheme in your Christmas tree with some contrasting gold for a little luxury.
10. Dazzle with a metallic scheme
If Christmas for you is all about glitz and glamor, embrace a high-shine metallic scheme that runs from your topper right down to your Christmas tree skirt ideas. In this room put together by Jonathan Adler (opens in new tab), a dazzling silver-white tree is lit up and decorated with reflective silver and gold baubles.
'I know some people like to decorate their Christmas trees with new decorations every year, but consider giving perfectly functional baubles a color update with a lick of [our] Chalk Paint,' says color and paint expert Annie Sloan (opens in new tab). 'Gilding waxes and gold leaf imitate much more expensive shop bought alternatives.'
What will be the trends for Christmas 2021?
Christmas decor trends this year have been largely influenced by the way the world is changing around us. Sustainability is a hot topic in seasonal decor, so look out for recycled, sustainably sourced decorations and embrace artisan pieces that are made to last a lifetime.
The pandemic has changed our relationship with our homes too, and interior design trends towards blues, greens and natural materials that remind us of the great outdoors also have their place in Christmas decor. As we've all looked towards our homes as a source of comfort, look for Christmas decorations that enhance a sense of coziness, like fabric ornaments and festive soft furnishings.