Should bedrooms have ceiling lights? A mood-ruiner or an essential fixture – experts discuss
Ceiling lights are planned into every room, but are they really needed in a bedroom?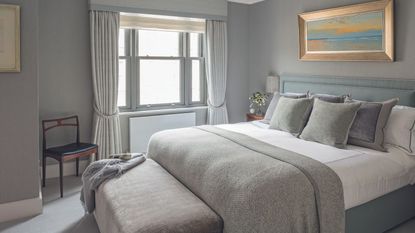 (Image credit: Mark Bolton)
Interior design is full of contentious conundrums about the layout and planning of rooms, one of which is whether bedrooms should have ceiling lights.
Although adding bedroom ceiling lights when planning bedroom lighting may seem like a no-brainer, some question whether these overhead fittings are essential for a cozy and relaxing space we go to unwind.
Here, top interior designers debate whether bedrooms should have ceiling lights and offer their advice for you to get it right.
Should bedrooms have ceiling lights?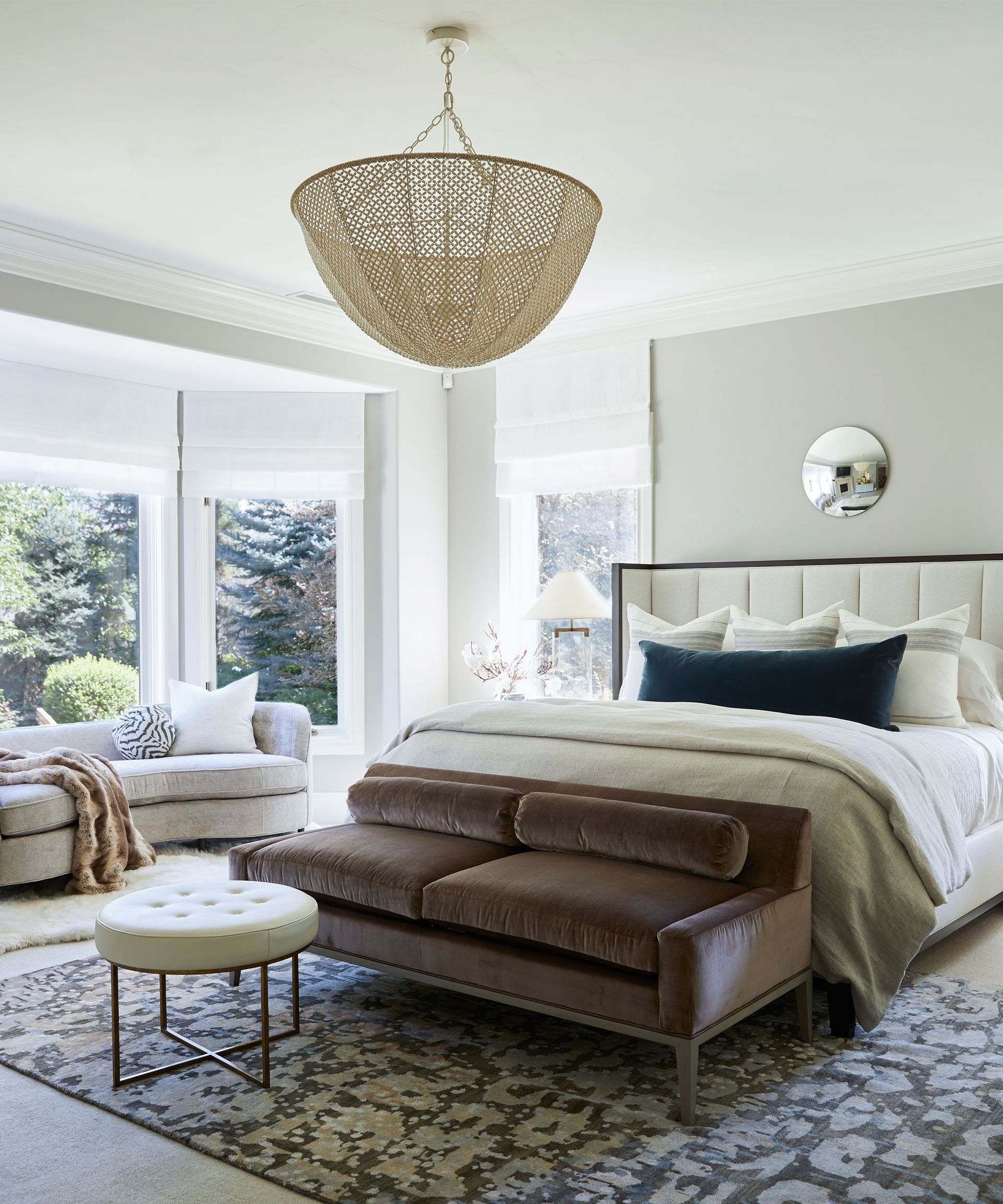 In general, the consensus among designers is that bedroom ceiling lighting is essential for several important, functional reasons.
'Ceiling lighting is so important, especially in a bedroom,' declares interior designer Meredith Owens, principal designer and founder of Meredith Owen Interiors (opens in new tab). 'If you have high ceilings this is especially nice as it can cast a nice glow from above.
'I think ceiling lights are also important in bedrooms for those times when you are getting ready and need extra lighting,' adds 1stDibs50 designer, Heidi Caillier (opens in new tab). 'This is why we recommend layers of light, which can be used in variable ways to adjust what is needed.'
Heidi Caillier Design is a full-service interior design firm, with a project portfolio spanning San Francisco, Los Angeles, New England, the Pacific Northwest and beyond. The studio works closely with architects, builders, contractors, furniture makers, and artisans to create unique spaces.
Not everyone is entirely convinced by having bedroom lighting on the ceiling, though. 'When it comes to ceiling lights, it is not necessary to have one in the room,' counters Artem Kropovinsky, principal designer and founder of NYC studio, Arsight (opens in new tab), 'but it can be beneficial for overall illumination,' he adds.
A similar sentiment is shared by 1stDibs50 (opens in new tab) designer Brigitta Spinocchia Freund (opens in new tab). 'It depends on the size of the room,' she begins. When it comes to lighting a bedroom there are other forms of lighting to prioritize, which will ensure good layering for the atmosphere, she says. 'Ceiling pendant lighting is usually used for decorative purposes over the seating area in the bedroom, or aligned centrally to the room.
'From there, you should focus on bedside tables to create low-level mood lighting, and vanity lighting to give the correct illumination on the face – precision is important. Also, projector frame lights can be important and interesting to consider – we use them to light artwork, no matter the shape or size and where it is in the room,' Brigitta explains.
Brigitta Spinocchia Freund
Spinocchia Freund is a British design company with a reputation for delivering outstanding international residential projects to discerning clients, whether private individuals, premium developers, or boutique hoteliers. Since its 2009 founding by Brigitta Spinocchia Freund, the company has introduced new levels of boutique luxury and originality to the interior design world.
Whether or not you need a ceiling light in a bedroom can also depend on the amount of natural light your space gets during the day. More often than not, at night, many of us avoid using the harsh overhead light in favor of cozier-looking lamps to help ready us for sleep, meaning the overhead light is never used.
Among younger generations especially, avoiding what is dubbed 'the big light' on ceilings entirely has become quite popular, with many younger people claiming that kitchen ceiling lighting is the only overhead lighting they have ever actually turned on in their homes marking a clear shift away from the presumed need for ceiling lighting throughout the home, but especially in a relaxed space such as the bedroom.
How to use bedroom ceiling lights correctly
If you are adding ceiling lights to your bedroom, then the one thing designers unanimously agree on is making sure to use them correctly and not wasting a design opportunity. There are four main things you should consider for the best lighting for bedrooms.
1. Use a statement fitting on the bedroom ceiling
Whether you are keen on following lighting trends or opting for a more timeless fitting, a statement ceiling light adds character to a bedroom and prevents practicality from dictating your design decisions. 'Add a chandelier to draw the eye upward,' suggests designer Lauren Sullivan of online studio Well x Design (opens in new tab), 'then add recessed or additional ceiling lights if necessary.'
Lauren Sullivan became a designer after finding herself stuck in her old career. Now, she helps her clients curate beautiful homes across the US with a focus on wellness.
2. Always add dimmers to control ceiling lights
A common bedroom lighting mistake, missing out on dimmers when setting up your lighting scheme is detrimental to the practicality of your bedroom.
'Always remember dimmers,' insists Lauren Sullivan, 'you don't need the same amount of light for every task throughout the day and dimmers allow you to adjust the ambiance accordingly.'
Dimmers will allow your bedroom to be more relaxed in the evenings or first thing in the morning to help you wake up, but brighter and more practical when getting ready to leave the house.
3. Choose warm-toned lightbulbs for ceilings
Good ceiling lights are often dictated by the lighting temperature you select. 'A light fixture is only as good as the lightbulb within it. We never go over 2700 Kelvin for bedroom color temperatures,' says Ashley Macuga, principal designer of Collected Interiors (opens in new tab). 'Ensure that the space feels warm and soothing. Not cold and bright.'
Ashley's New Orleans heritage deeply influences her design point of view and practice. Her passion lies in discovering her clients' stories and translating them into spaces that are warm, soulful, and unexpectedly modern.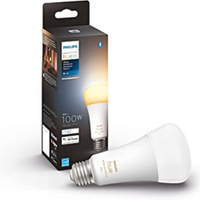 (opens in new tab)
Philips Hue White Ambiance Bulb | Was $44.99, Now $39.99 at Amazon (opens in new tab)
The Phillips Hue Ambience Bulbs can be controlled from your smartphone or smart home device, allowing a range of temperatures from warm white to daylight in one bulb.
4. Consider directional lighting over downlighting
Just because a light is on a ceiling, does not mean that it has to cast a harsh downward shadow on you and your furniture. 'Think about lighting the walls vs straight down too, directional lighting is very nice in a bedroom,' reminds Meredith Owens of Meredith Owens Interiors.
Meredith Owens focuses on designing approachable, yet luxurious homes for her clients, having been in the industry for over 10 years.
What to do if you do not have a bedroom ceiling light
If your bedroom is lacking a ceiling fixture, then there are plenty of ways to effectively light the space and keep it functional without overloading the room with standing lamps.
'If a ceiling light is not an option, you can use other light sources to make the room more functional. Don't be afraid to experiment with different lighting fixtures and bulbs to find the perfect combination for your bedroom,' assures Artem Kropovinsky of Arsight.
Opt instead for adding bedroom wall lighting, including plug-in options for practicality where needed, or layer lighting with floor lamps and table lamps. Bedroom lighting trends are leaning more towards sculptural lamps and statement lighting pieces too, making it an ideal time to experiment with unconventional silhouettes.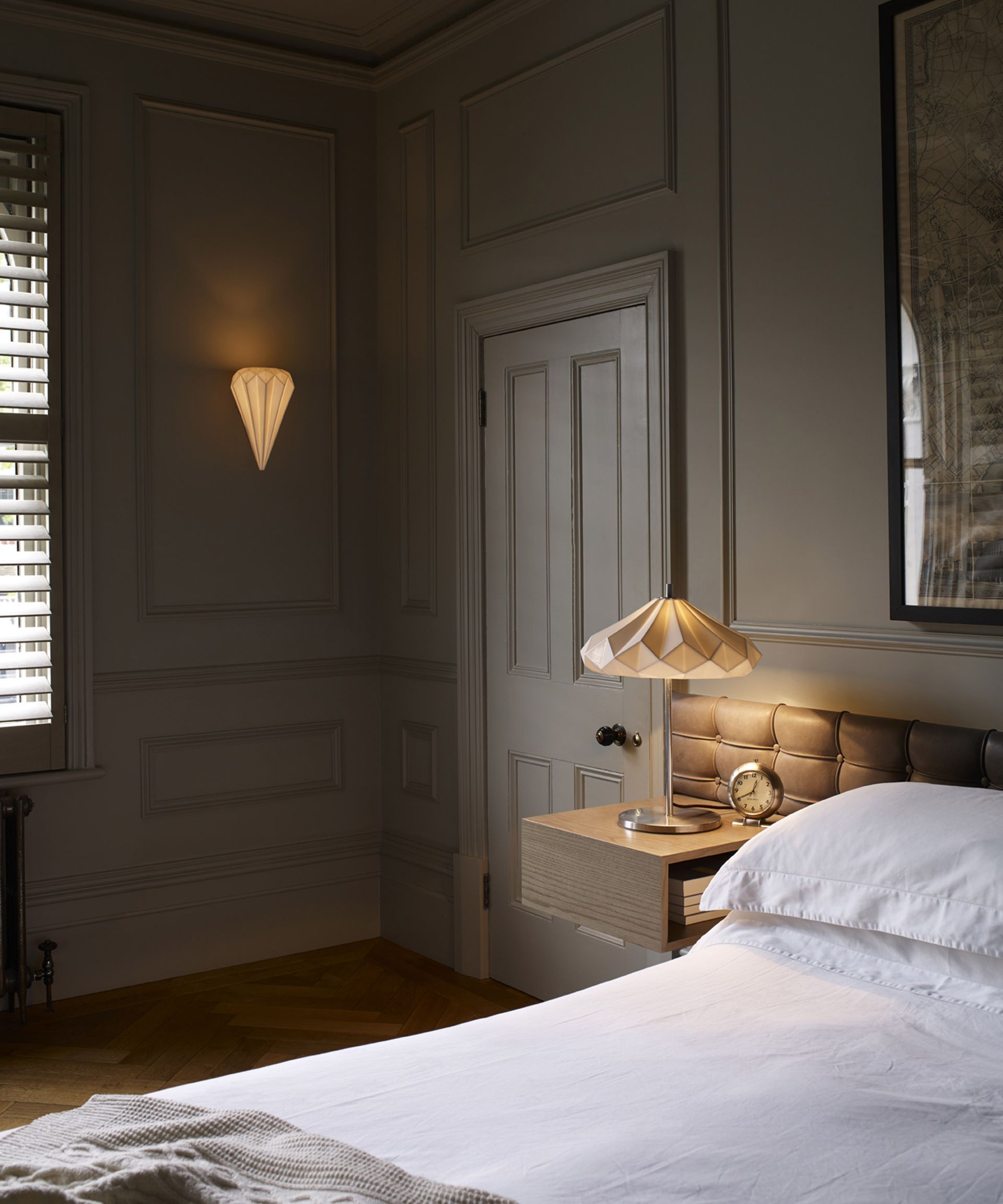 Artem Kropovinsky is the founder and principal designer of Arsight, an NYC-based company that specializes in residential and commercial spaces. With over 10 years of experience, Artem has a reputation for creating cutting-edge designs that incorporate the latest technologies.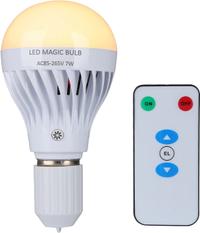 (opens in new tab)
BSOD LED Magic Bulb | $18.99 at Amazon (opens in new tab)
This small rechargeable light bulb can be easily added to any lamp or sconce, allowing you to easily add extra decorative light without hard wiring.
Where should a ceiling light be placed in a bedroom?
Usually, a ceiling light should be located in the center of the room. In a bedroom, it is also typical for a ceiling light to be located over the bed, however, this is not necessary when laying out a bedroom for optimal flow. This will usually be the case when laying out a larger bedroom, where a ceiling light may be over a seating area, or towards the end of the bed.
Chiana has been at Homes & Gardens for six months, having started her journey in interior journalism as part of the graduate program. She spends most of her time producing content for the Solved section of the website, helping readers get the most out of their homes through clever decluttering, cleaning, and tidying tips – many of which she tests and reviews herself in her home in Lancaster to ensure they will consistently deliver for her readers and dabbles in the latest design trends. She also has a first-class degree in Literature from Lancaster University.