The first thing interior designers notice in a bedroom – and why you need to get them right
If you want a designer-grade space, you must get these small details of your bedroom right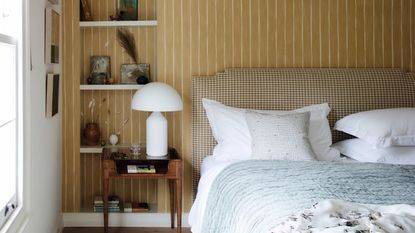 (Image credit: Future)
Sign up to the Homes & Gardens newsletter
Decor Ideas. Project Inspiration. Expert Advice. Delivered to your inbox.
Thank you for signing up to Homes & Gardens. You will receive a verification email shortly.
There was a problem. Please refresh the page and try again.
There are thousands of ways to design and decorate a bedroom, but no matter the space, there are seven simple things designers always notice – and getting them right can make or break a room.
Whether in your personal suite or a guest bedroom, acing the finer details of your bedrooms can help to create a cozy space that even the finest designers in the world could imagine spending a night in.
Here, these designers have shared the first things they notice in a bedroom, and why getting them right is essential for a designer-grade sleep space.
The first things interior designers notice in a bedroom
While it is impossible to determine just one thing that every designer notices in a room, there are a few that every designer we mentioned time and time again. Here is what you need to address in your space.
1. The bed and its bedding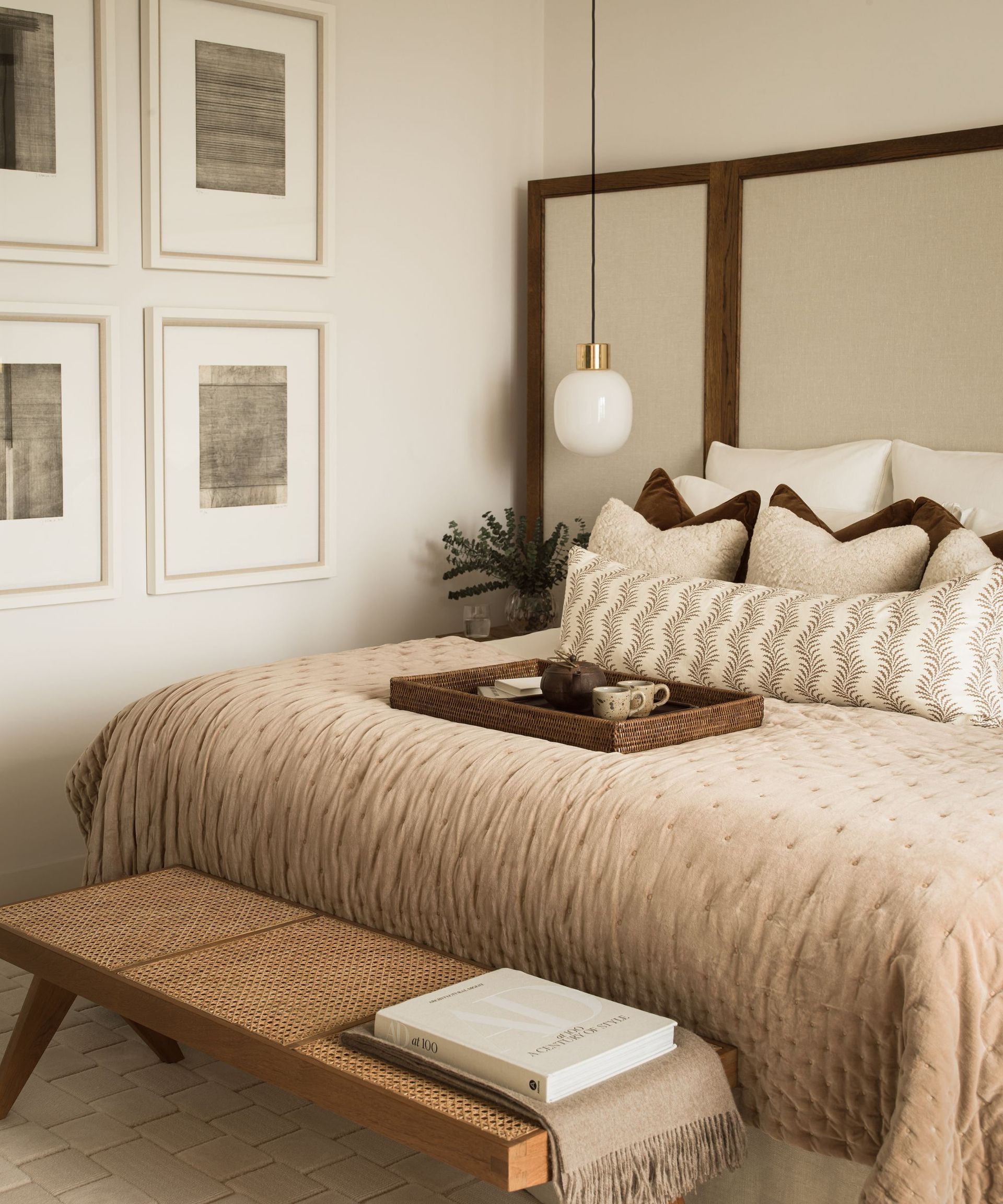 It is perhaps unsurprising that the thing most designers pay attention to first in a bedroom is beds, but given the function of the room, getting this single piece of furniture right really is essential.
'Your bed dictates the energy of the room,' says Carly Blumberg, interior and textile designer, and founder of Carly Home. 'The headboard, the linens, the pillows, the color story. It is the anchor of any bedroom, everything flows from there. Getting it right takes good placement, fresh linens, and a headboard that sits nicely in the space. 'If there is one place to splurge that often gets overlooked, it is the bedding. Go for something dreamy and high quality. The more expensive linen brands really do make a difference.'
Elizabeth Sesser, studio director of interiors at Kligerman Architecture and Design agrees: 'What really draws you in, is the bedding. What would be better than sleeping on a cloud?! I like to start with pillows and duvets that are a down and synthetic blend. They are super soft, but keep their shape so your bed is always looking put together and inviting.'
Elizabeth Sesser is the Studio Director of Interiors at Kligerman Architecture & Design. Elizabeth has been immersed in the design world since she was a child, visiting her father's architecture office. She went on to earn her bachelor's degree in Interior Design at George Washington University, then worked for Mariette Himes Gomez before joining Ike Kligerman Barkley.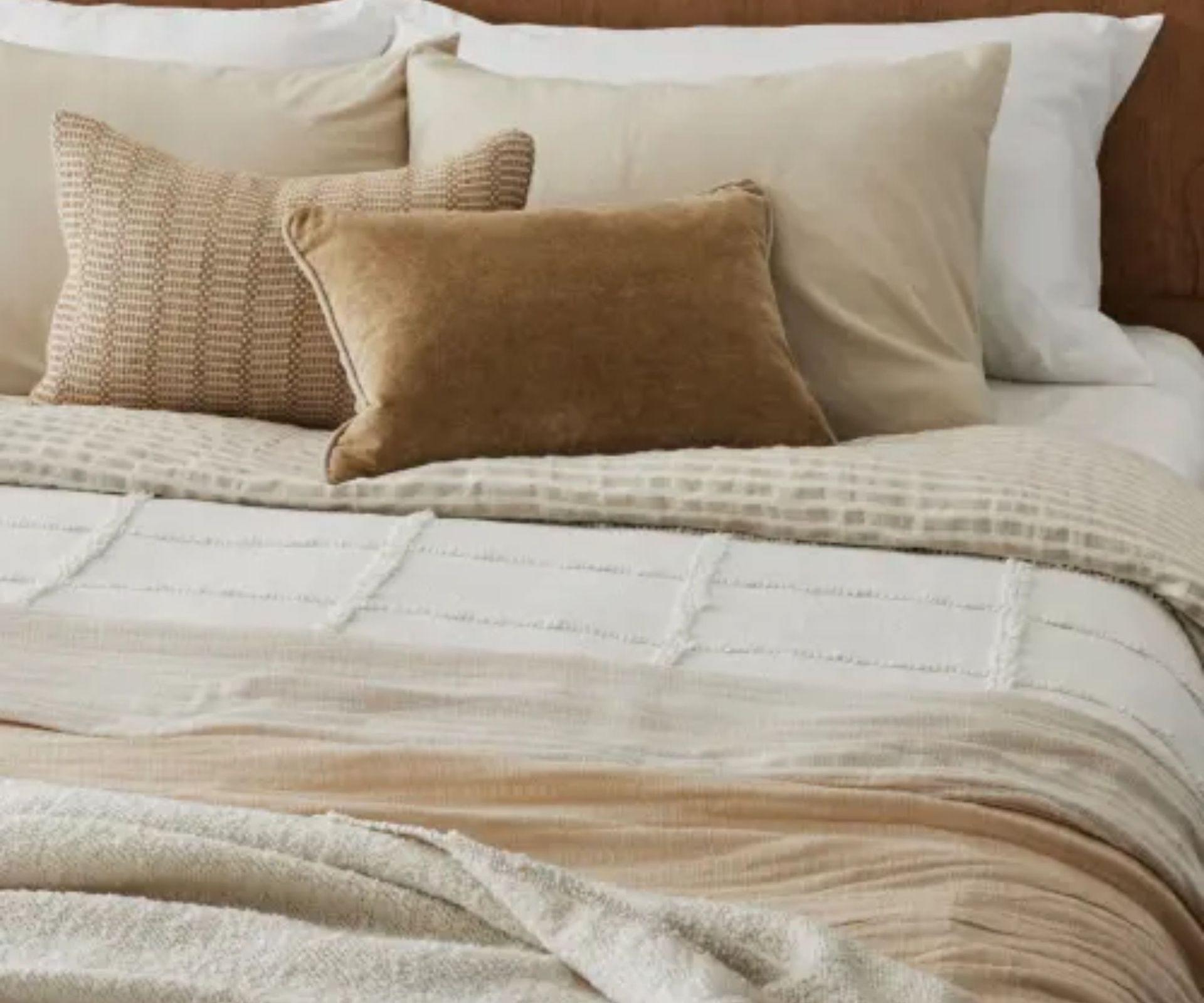 Dressing and styling the bed is one thing, but Jessica Jimenez Keenan, principal interior designer for the LA-based architecture and design firm Years reminds us that simply making a bed the right way is the essential step we should all be taking in the morning – and designers notice.
'I'll notice an unmade bed,' she says. 'I think making your bed is like getting dressed in the morning. You have to button it up if people are going to see it. It's such an intimate space already. If you don't have time for a full bed setting, do something quick and tidy – tuck the duvet under the sides of the mattress. Like tucking in a shirt – it will generally look more presentable.'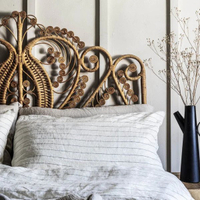 2. The overall ambiance of the room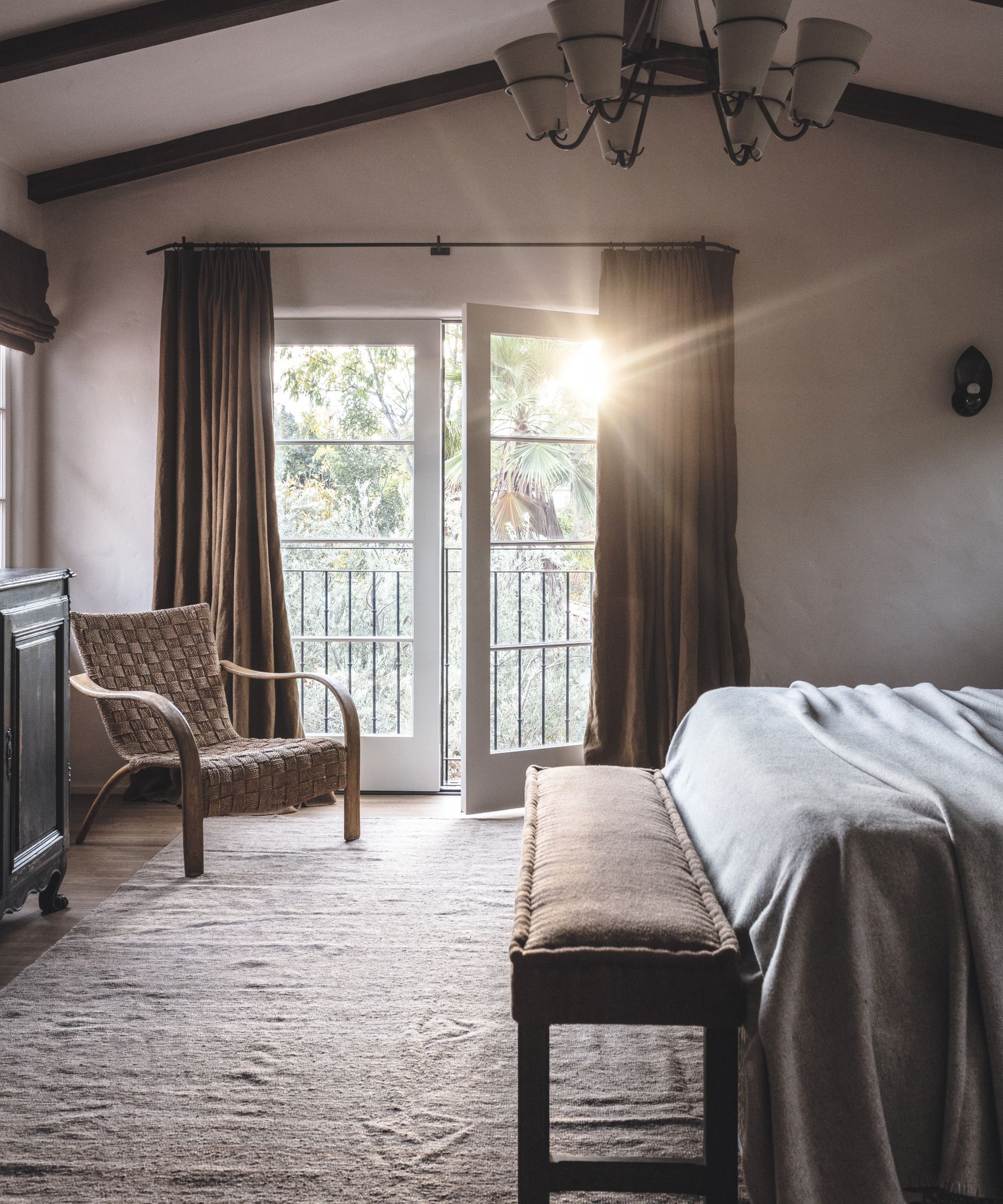 More and more of us have been striving to recreate cozy bedroom ideas and curating a room's ambiance has become just as important as putting in the essential pieces of furniture.
'The first thing I notice in a bedroom is if it is calm enough to enjoy sleeping there,' James Hunter, design director at The Wiseman Group tells us. 'Whether a guest room or a primary bedroom; will myself, my client, or my guest have a restful experience in this room? Can the room be sufficiently darkened to sleep, are there comfortable pillows and bedding? Is the lighting flexible enough to accommodate relaxation, reading, and a joyful experience upon waking up?'
James Hunter has a broad personal and professional background. He majored in Art Education at State University College in Buffalo, New York; his course work reinforced the importance of scale, color, balance, and proportion. He remained in Buffalo, obtaining a Master of Science in Art Education (magna cum laude) and completed post-graduate work in textile design and surface printing. He continues to travel globally for work and inspiration.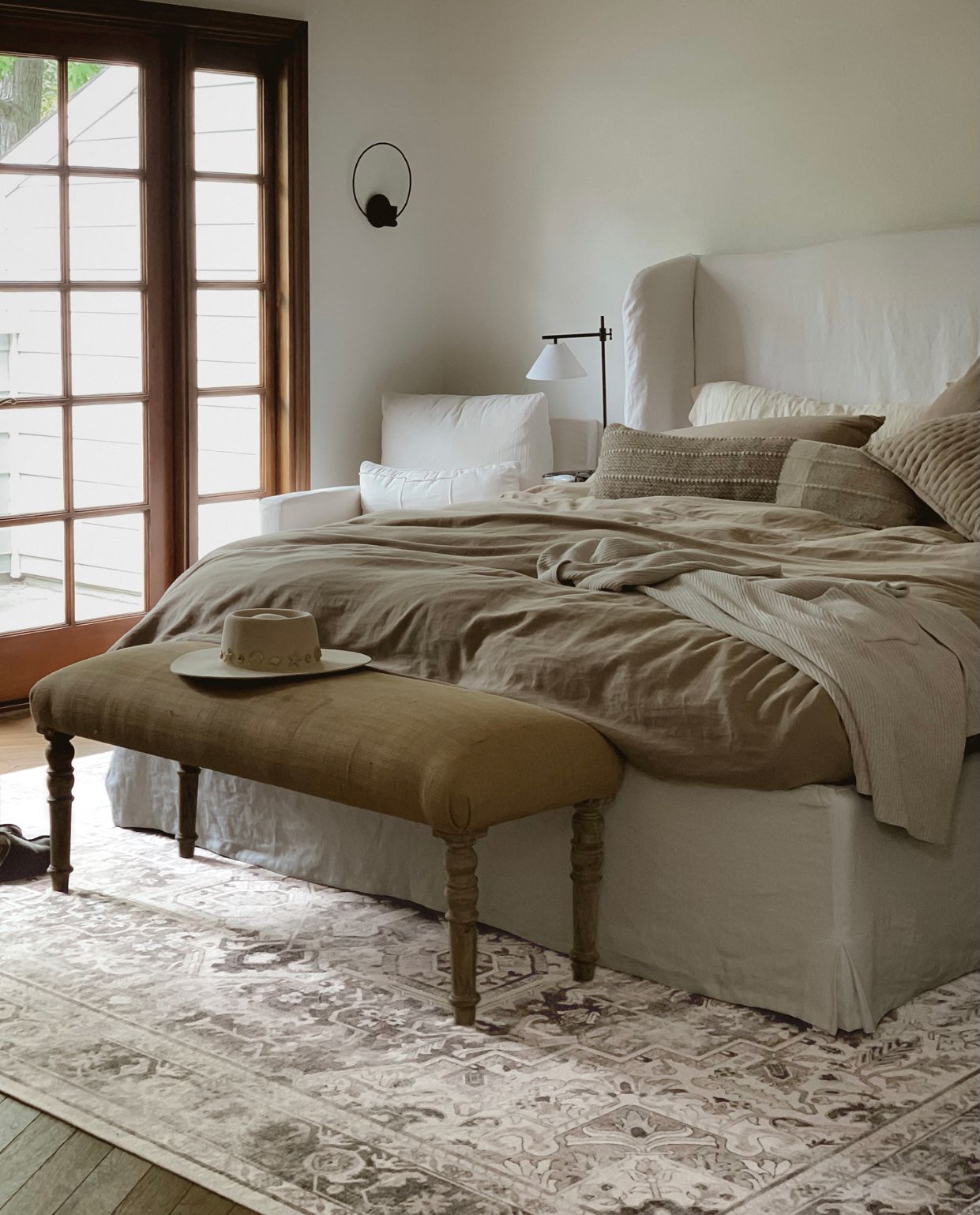 Eva Bradley and Alicia Cheung, principal designers at Studio Heimat agree that the energy of the space is an instant first hitter, but that what makes the space cozy is highly subjective. That being said, there are some simple basics that help to create a sense of serenity.
'Serenity is achieved through choice of color and materials,' they say. 'Fresh-pressed cotton sheets provide comfort and luxury. With appropriate light control, you are able to darken the room to take a nap or have appropriate lighting in the evening to read in bed.
'Just be mindful that some people might want fewer things, and others might want more to make it perfect for them, but it never hurts to start with a firm foundation.'
Eva Bradley and Alicia Cheung
As a design studio founded by international and minority women, Eva Bradley and Alicia Cheung recognize the importance of bringing diverse and modern points of view to the fore. From honoring cultural traditions to discovering new design styles, the studio looks back and ahead to meet the present moment.
3. The furniture's proportions and layout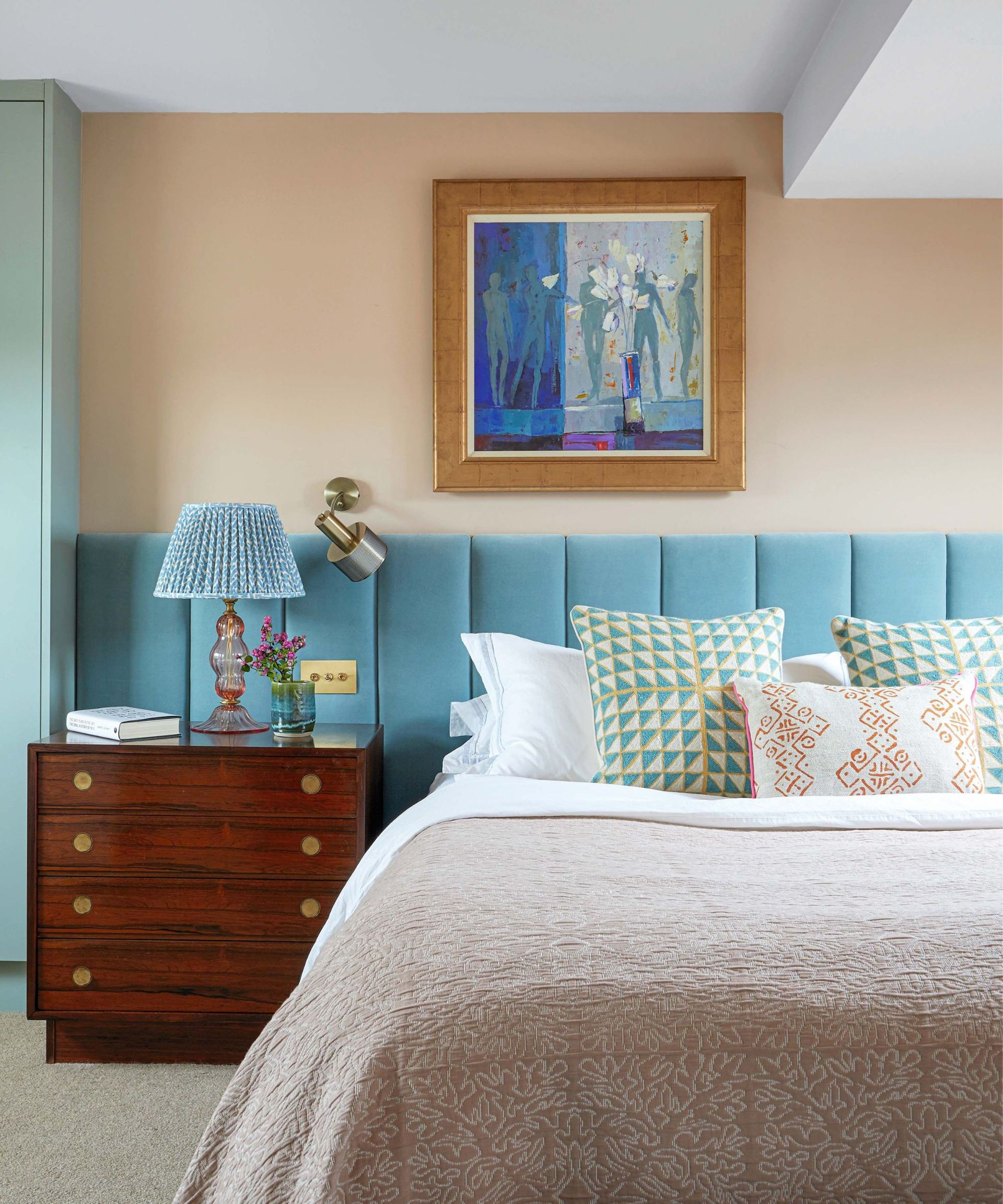 Your bedroom layout is another important aspect of the space a designer will pay attention to – especially if it doesn't flow. The key to getting it right is to use furniture that is not only in proportion to each other but also to the scale and height of the room to avoid some common bedroom furniture arranging mistakes.
'Regardless of size, it is always important to have proportions to enhance the feeling of the space seeming larger than it is,' recommends Maddison Popper, interior designer and founder of Chill Casa. 'A great trick is to use furniture with a lower profile along with flush mount lighting which will also make the space feel larger.'
'You should be able to walk into your room without furniture blocking the entrance area as well. Many people tend to buy bulky sets versus a mixture of pieces and that will always make the room feel smaller – try mixing and matching without trying to fill the space to capacity.'
4. The layers of lighting – or lack of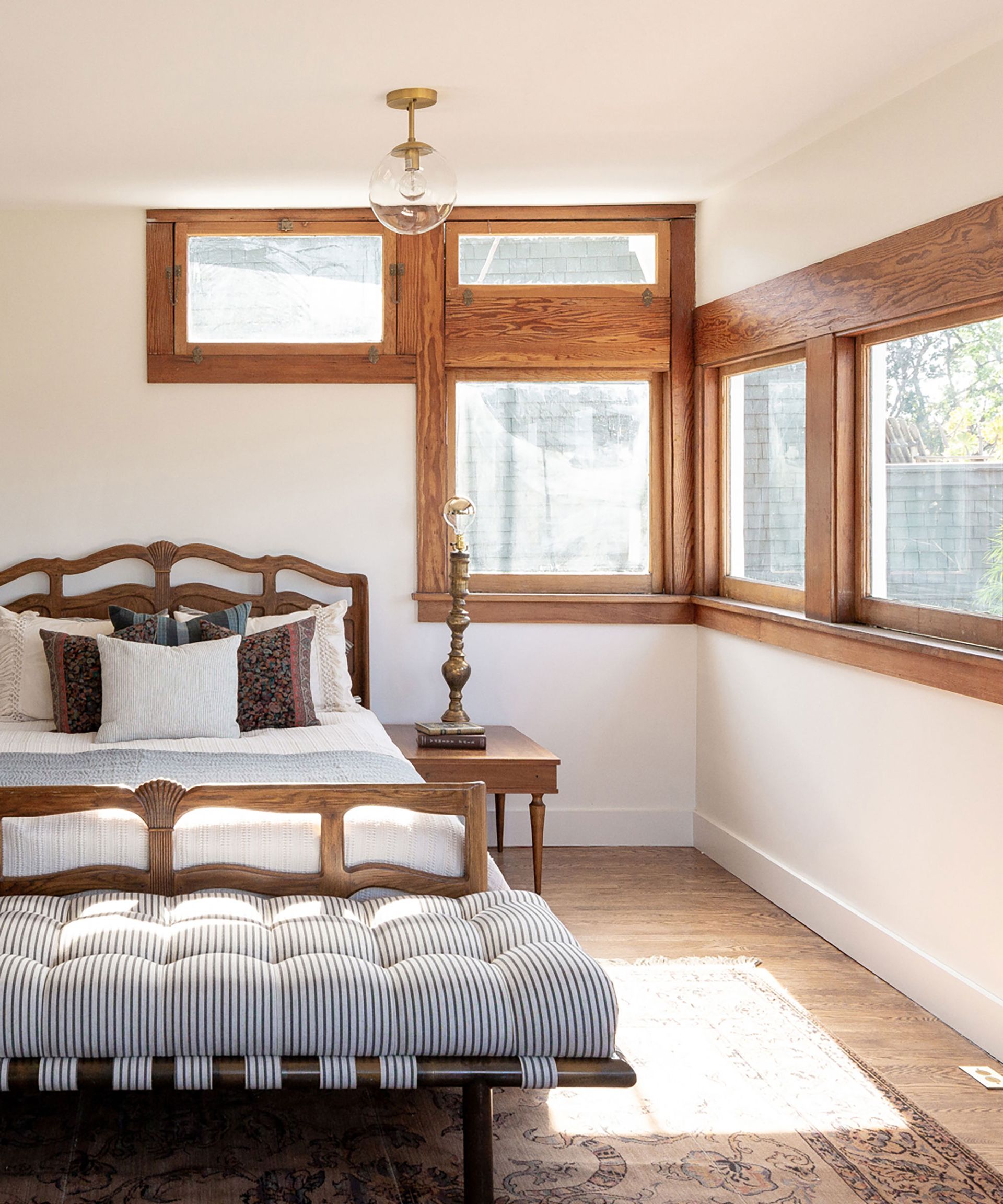 Bedroom lighting is essential to making the space functional, but it should also be designed to help set a mood too, Catherine Brooks Giuffre, designer and founder of CBG Interiors reminds us. One thing she immediately notices is not only how much natural light floods what space in the day, but whether there are several layers of lighting, both task lighting for reading before bed, and dimmable lighting, to help achieve a cozy atmosphere in an evening.
'Speaking of lighting, all hanging features like sconces and overhead fixtures should be on dimmers to best control and achieve the perfect setting,' she says. 'In addition to table lamps, I also love installing additional bedside sconces that allow the option for a soft, intimate light for reading or resting that feels warm and cozy.'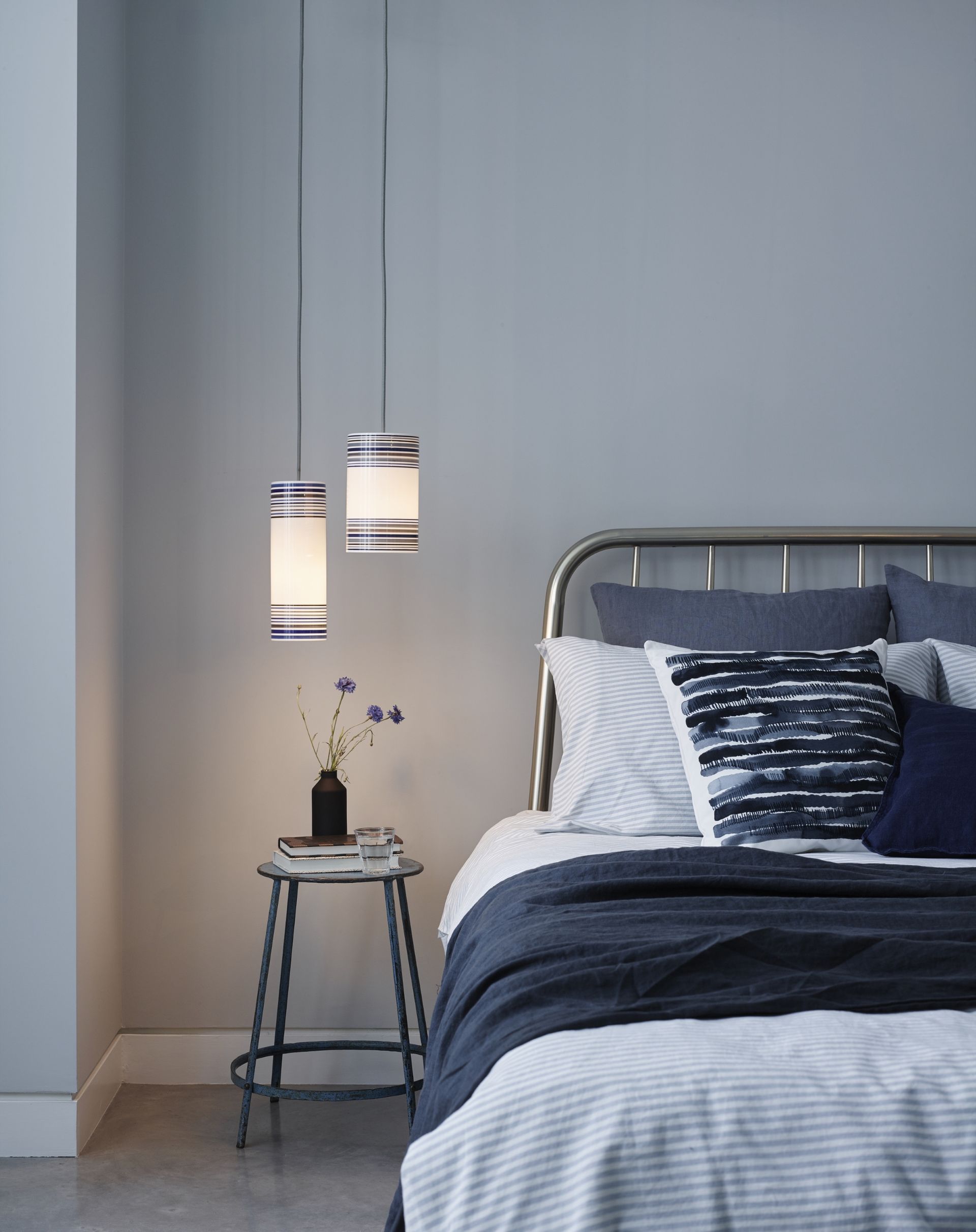 This can be aided by using the right lighting temperature for the space too, adds Jessica Jimenez Keenan, interior designer. Typically, for a soothing space such as the bedroom, you want to pick warmer-toned light bulbs, only using white or daylight bulbs around a make-up vanity or dressing mirror for practicality. Even then, these bright white bulbs should only be turned on when you are using them to protect the space's peace.
'Bad lighting in a bedroom is a killer, and it's worse if it's too bright,' she says. 'You need to get the light levels down low in the room in the evening. You can experiment with using diffuse shades and sconces that throw light onto the walls, etc., but only use warm glow light bulbs.'
5. The color palette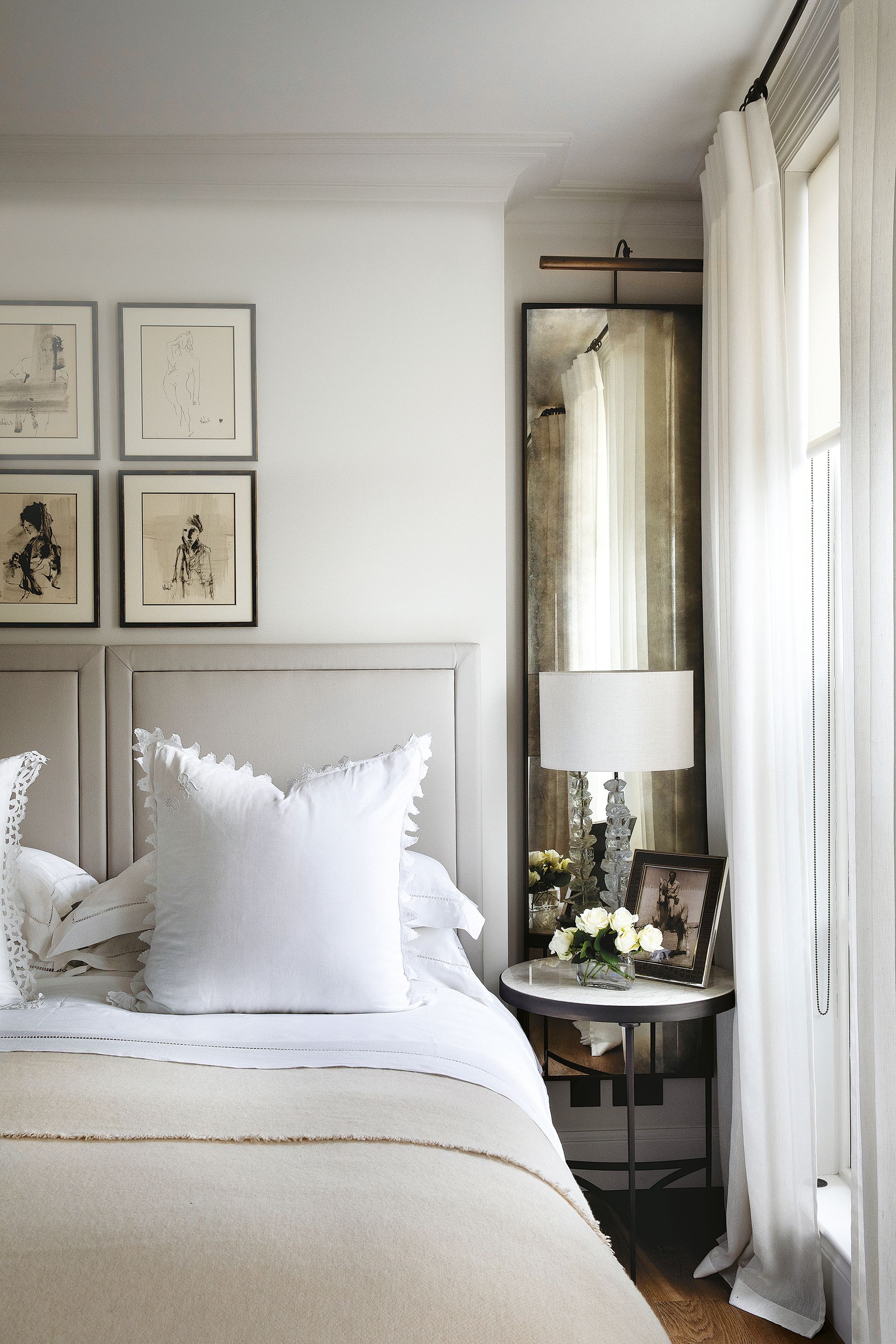 Your bedroom color ideas are the next stand-out to an interior designer and can dictate the overall ambiance of the room.
Stephanie Parisi, interior designer and founder of the eponymous design studio reveals that 'the color of the bedroom is the first thing that is noticed and actually works as non-verbal language to create psychological and physiological effects in our minds and bodies. Colors can be brought into space on walls, bedding, art, and accessories,' she says.
Stephanie always leans towards the most relaxing colors, or alternatively, neutral bedroom ideas to achieve this soothing atmosphere: 'Warm whites and taupes are subtle and create a calm comforting space. Peaceful colors of nature such as blues and greens and earthy charcoal colors are soothing and will support serene bedroom spaces. Integrating color with rounded shapes, soft tactile surfaces, and natural elements presented in art and accessories are all associated with both beauty and the science of wellbeing.'
6. Matching furniture sets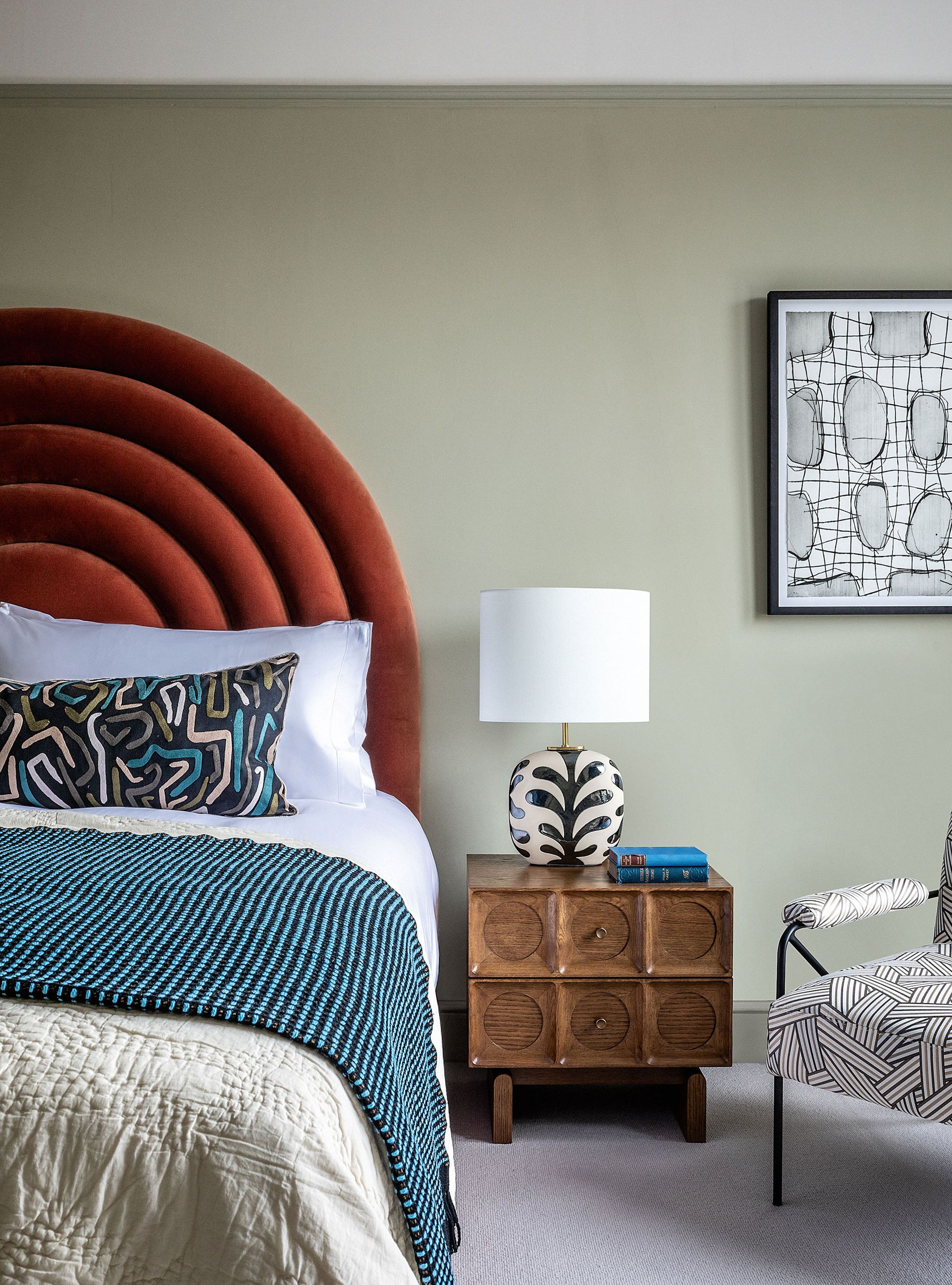 A bedroom is not a solely utilitarian space and needs some character to help make it your own. As a result, a designer will pay attention if you have used a basic matching furniture set – and not for good reasons.
'As soon as I step into a bedroom, my attention is immediately drawn to the furniture,' Patty Cassidy, director of interiors at Ike Baker Velten shares. 'Although the bed is the focal point, I believe that the supporting pieces, like dressers and nightstands, are just as important. It's when these elements complement each other that a beautiful and harmonious atmosphere is created. I tend to avoid overly coordinated bedroom sets, as I find them unexciting,' she says. 'Instead, I prefer pieces that have their own distinct character yet still blend perfectly together.'
7. The flooring material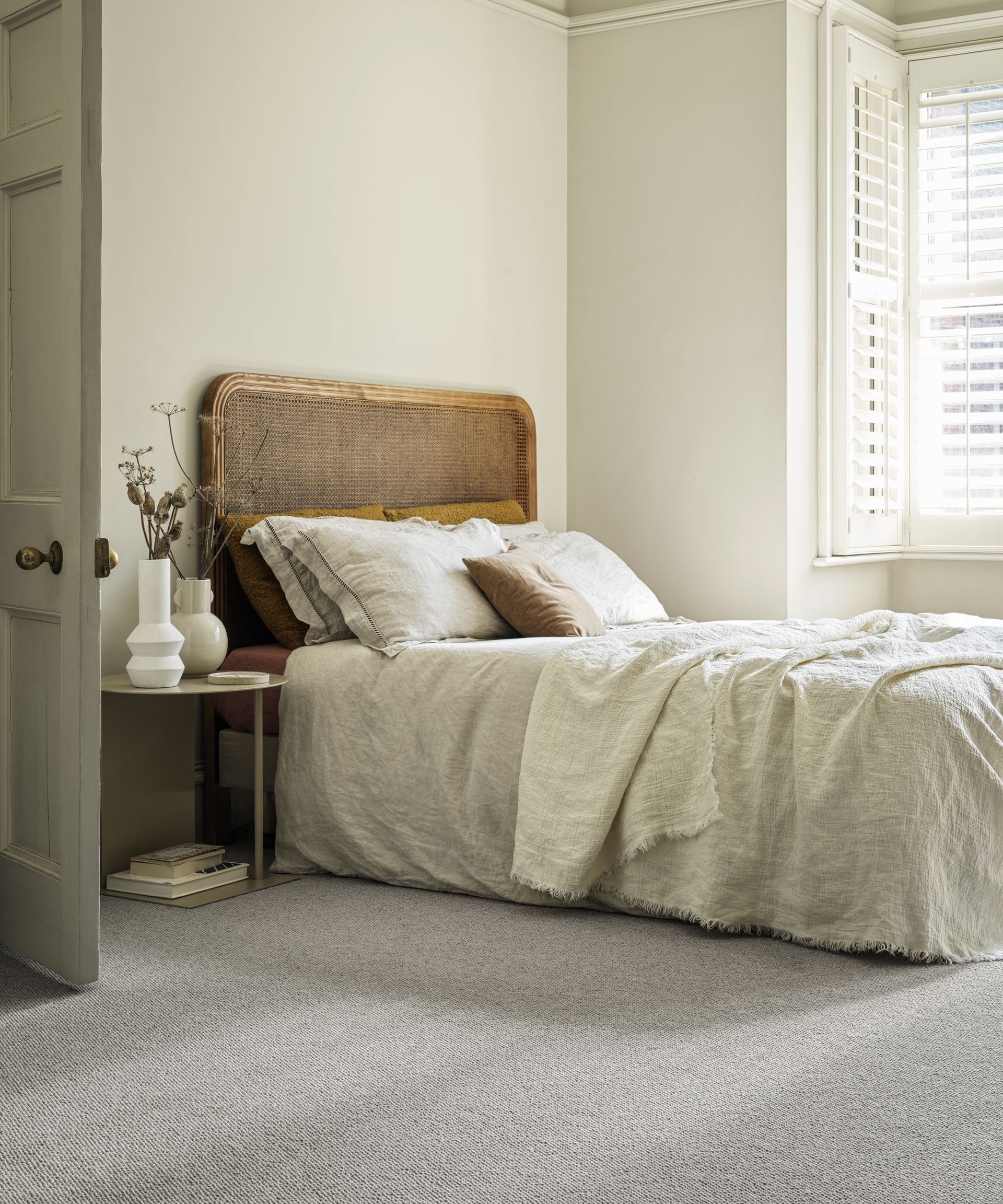 Zuni Madera, vice president at Foley & Cox believes that it is the bedroom flooring that can make or break the first impression of a bedroom – particularly if it is cold and unwelcoming.
'The moment you step into a bedroom, a rug quality that is soft underfoot creates a relaxed sense of arrival,' she says. 'A bedroom becomes an oasis by setting the foundation of the space with luxurious rug qualities such as alpaca, mohair, or a silk blend, which will evoke the sense of touch and the feeling of tranquility.
'Whether it's wall-to-wall carpet or an area rug made to fit in the bedroom, emphasis on its scale and proportion maximize softness and serenity.'
FAQs
How do interior designers plan a bedroom redesign?
When redesigning a bedroom, the first thing interior designers do is find inspiration to help visualize the final design of the space. From there, it is about picking a color palette and materials you would like to start in the room, and then moving onto the floorplan to establish what size furniture the space needs. Only then can you actually start picking out furniture and repainting or wallpapering the room.
How do you design a bedroom layout?
When planning out a perfect bedroom layout, it is important to take into consideration the walkways. There should be a minimum of two feet of space on each side of a bed to make it easy to get up and get dressed – and it should be accessible from both sides, even if only one person uses it. From there, any additional furniture added should be able to be used without having to move something out of the way. A desk, for instance, should be simple to use without having to move the chair from a different part of the room, and a dresser or closet should be openable without having to move a chair or side table.
---
When it comes to designing a bedroom, even though it may be obvious, getting the big stuff right is essential. Once that is in place, the smaller elements there to create the ambiance will fall right into place.
Sign up to the Homes & Gardens newsletter
Decor Ideas. Project Inspiration. Expert Advice. Delivered to your inbox.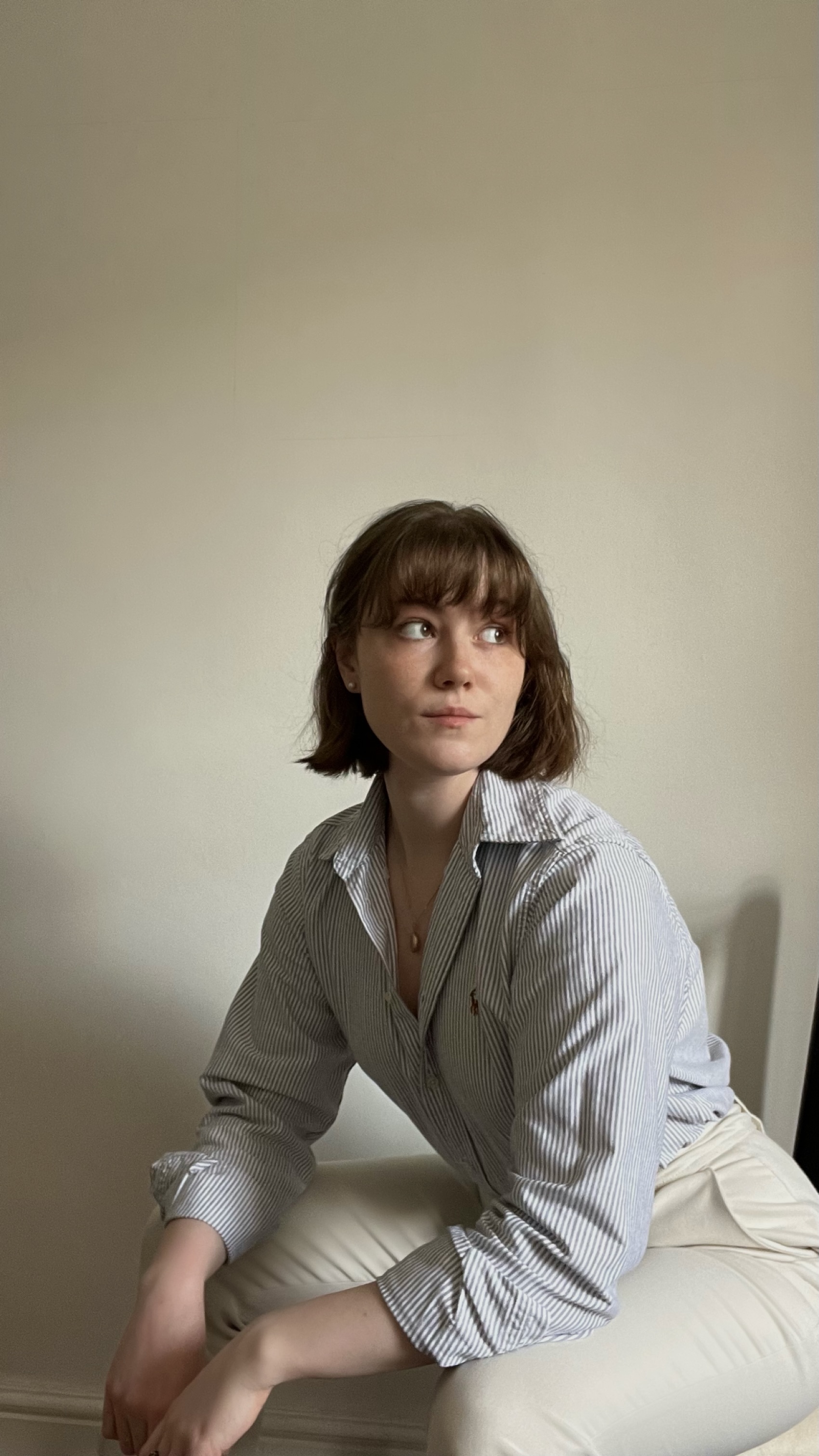 Chiana has been at Homes & Gardens for a year, having started her journey in interior journalism as part of the graduate program. She spends most of her time producing content for the Solved section of the website, helping readers get the most out of their homes through clever decluttering, cleaning, and tidying tips – many of which she tests and reviews herself in her home in Lancaster to ensure they will consistently deliver for her readers and dabbles in the latest design trends. She also has a first-class degree in Literature from Lancaster University.