Colors that go with orange – 7 perfect matches for this bold bright
If you're looking for the perfect color match for orange, these are our top picks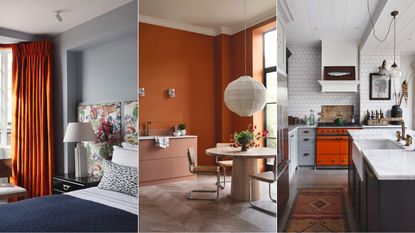 (Image credit: Alexander James / Paint & Paper Library)
Sign up to the Homes & Gardens newsletter
Decor Ideas. Project Inspiration. Expert Advice. Delivered to your inbox.
Thank you for signing up to Homes & Gardens. You will receive a verification email shortly.
There was a problem. Please refresh the page and try again.
A bold color such as orange, whether it is rich and bright, or a more sophisticated burnt shade, is surprisingly easy to coordinate with. Often the colors that go with orange with the most success are themselves muted and natural.
Decorating with orange is a great way to create vibrant rooms, especially smaller spaces, such as powder rooms, and there are so many easy color combinations to use. However, orange needn't dominate your rooms; if anything, orange is a wonderful accent color that boosts neutrals and happily steals the scene.
Below, we've talked to color experts for their take on which colors to match with orange.
What colors go with orange?
Using the color wheel is the easiest way to define the best colors that go with orange, but our experts can help you find great matches, too. First, you might want to define the best tone of orange for your room's natural light versus the proportion you intend to use it in comparison with others. This will help you decide whether to go for lighter, brighter oranges or a shade that edges towards terracotta decor.
1. Orange and pale gray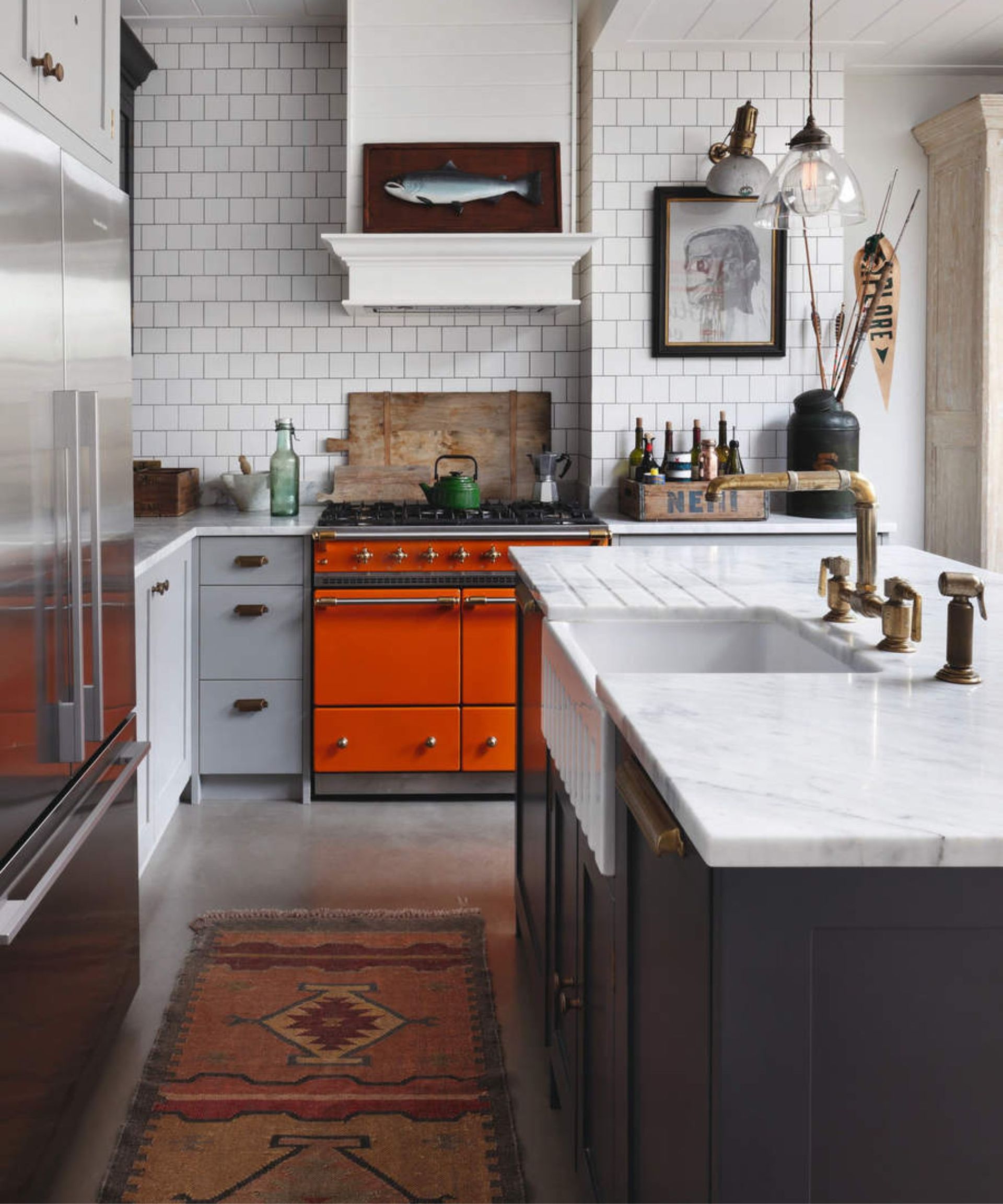 Pale gray is a wonderful color match for orange, since each will temper the other's intensity and effect. You can use orange as your main color and use touches of gray to cool down the effect, as in the room below, or, our preference, use orange as an accent color for gray.
'We choose paints that are rich in earthy pigments as they given an exceptional depth of color,' says Tom Cox, founder of interior design agency Ham Interiors. 'Once we've got the tone right, we like to disrupt it by adding a pop of vibrant color, this unexpected twist brings the scheme to life.'
2. Orange and dark gray
Decorating with gray has been falling out of fashion, with many asking which color is replacing gray post-pandemic. This is, however, because gray is often paired with other neutral room ideas that, while elegant, can feel cold. Which makes orange the perfect antidote, either as an accent or in a space such as a powder room, the perfect choice of principal color.
'It brings warmth and an uplifting energy, whether you use it on a whole wall with paint or wallpaper, or bring in pops of orange throughout,' says Emma Deterding, founder and creative director of Kelling Designs. 'I often pair orange with teals and pinks as they work effortlessly together.'
More on pink and orange, below.
3. Orange and blue
Just like using gray, decorating with blue can leave you with a cool-feeling room, unless you use teal, as suggested above by Emma Deterding. For the same reasons, whether you are using a pale blue, a navy or a very dark blue, orange can bring warmth.
'Orange is perhaps not a color people think about when designing a scheme, which is a shame as it can really stand out from, but also complement, a more neutral background as we have here with this blue and gray palette,' says Sarah Peake, founder, Studio Peake.
4. Orange and pink-peach
Decorating with pink but want to avoid saccharine? Match it with a orange to keep it contemporary.
'As Emma Deterding says above, another color that goes with orange is pink, with tones veering towards peach the most successful,' says Jen Ebert, Digital Editor, Homes & Gardens. 'In fact, if you consider the various tones you might see on a peach, this will give you an idea of what can work with orange, and which shade of orange to choose to match with the pink. It's all about getting the balance right.'
'Color will always look great when scaled and balanced correctly,' continues Tess MacGeachy, interior designer at Amber Yard. 'We incorporated orange elements in the rug in the room above, pattern on the chair and artwork to make the tangerine closet feel suitably at home in the room.'
Jen is the Deputy Editor (Digital) of Homes & Gardens online. Before starting this position, she had completed various interior design courses at KLC Design School, as well as working across Ideal Home, LivingEtc, 25 Beautiful Homes and Country Homes & Interiors as an interiors writer.
5. Orange and spice shades
'Orange is, of course, a great match for other tones of orange and all the colors that sit in the spectrum of spice shades. And while it's brave to use it as the main color in a room, the kitchen above shows that it can look smart and contemporary, assuming the rest of the room is filled with natural colors and textures and little fussy detailing,' says Jo Bailey, Editor, Homes & Gardens magazine.
'Orange is the perfect color for an open-plan kitchen, providing a dramatic yet familiar backdrop to a hive of activity,' says Andy Greenall, creative director at Paint & Paper Library. 'Rather than opt for the habitual white on kitchen cabinets, consider a warm pink hue, which will provide a playful touch when paired with orange.'
Jo Bailey is Deputy Editor of Homes & Gardens, overseeing all features for the print edition. Before joining Future PLC, she worked as an interior stylist for over ten years, specializing in commercial photo shoots for luxury clients such as; Design Centre Chelsea Harbour, Christopher Farr Cloth and Heal's. She has worked with Homes & Gardens for over a decade, having styled and produced editorial shoots and events over the years.
6.Orange and green
Decorating with green walls a little safe for you? Why not use orange on the walls and temper the boldness of the shade with green accents? As Emma Deterding says above, decorating with teal and orange works well, but this blue-green shade isn't the only option; other colors that go with orange include softer, apple greens.
The key is to match the tone of the orange with the strength of the green to create a harmonious scheme.
7. Orange and beige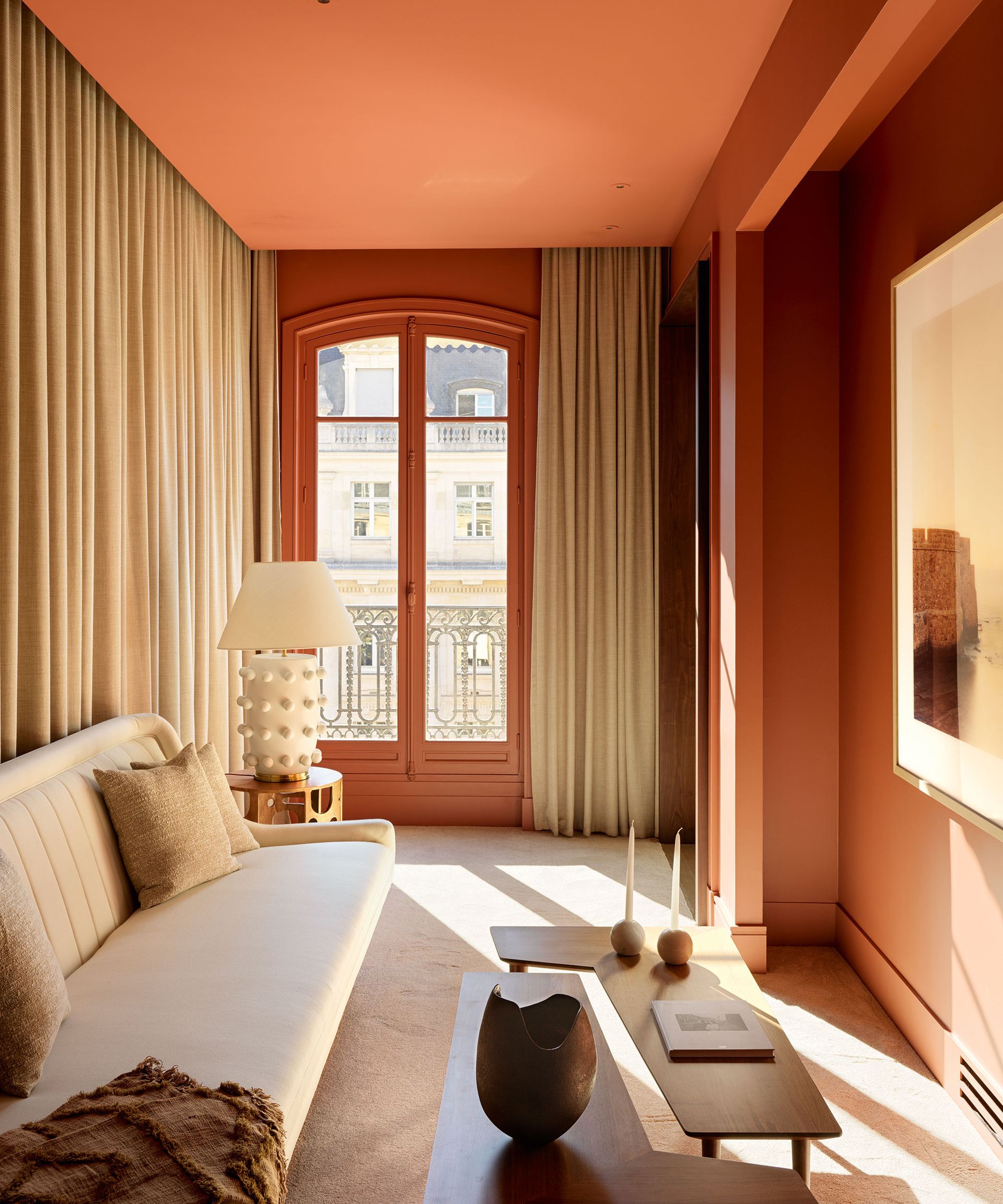 Orange and beige are natural partners, with orange one of the best accent colors for beige. It's a more comfortable fit for orange than either cream or white, though it's worth choosing earthier oranges to match with beige than brighter tones.
'Terracotta allows you to create a space offering a soft, warm light which captures the enveloping sensation of a sunset,' says Damien Langlois-Meurinne, interior designer and founder of Damien Langlois-Meurinne Studio Paris.
FAQs
What colors go well with burnt orange?
For a harmonious scheme, burnt orange is best matched with other earthy tones, so think: sage green, muddy blues, mustard yellow and dark gray. For more impact, colors that go with burnt orange include starker, clashing colors, such as bright teal, apple green, even black.
What color suits dark orange?
The color that most suits dark orange if you are looking for an accent is beige or off-white. Yellower shades of cream should be avoided; instead look to pale gray-toned ivories.
---
As you can see, there are many colors that go with orange; the trick is to choose more than one accent for an intriguing layered scheme, but to ensure, since orange is such a bright, dominant shade, that one of them is a neutral, natural color, whether brown, gray or beige. That way, your secondary accent can bring contrast to the orange.
Sign up to the Homes & Gardens newsletter
Decor Ideas. Project Inspiration. Expert Advice. Delivered to your inbox.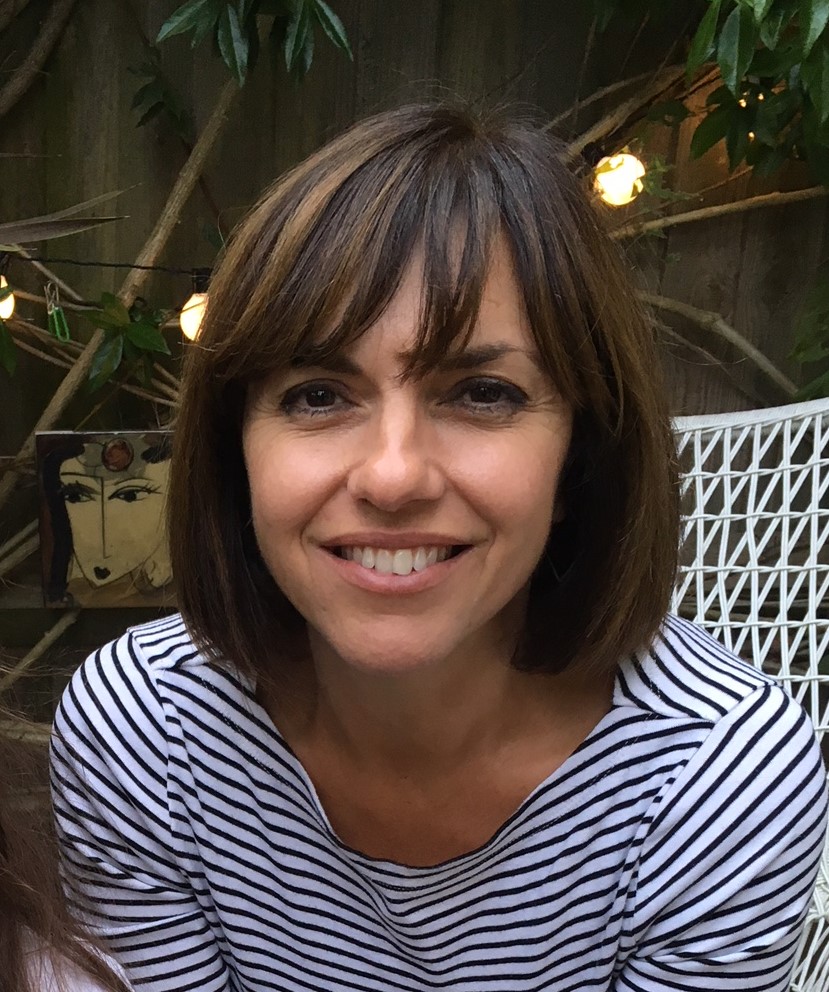 Lucy Searle has written about interiors, property and gardens since 1990, working her way around the interiors departments of women's magazines before switching to interiors-only titles in the mid-nineties. She was Associate Editor on Ideal Home, and Launch Editor of 4Homes magazine, before moving into digital in 2007, launching Channel 4's flagship website, Channel4.com/4homes. In 2018, Lucy took on the role of Global Editor in Chief for Realhomes.com, taking the site from a small magazine add-on to a global success. She was asked to repeat that success at Homes & Gardens, where she has also taken on the editorship of the magazine.