How do I make a guest bedroom look beautiful? 5 ways to create a delightful, fun, and attractive space
These beautiful guest bedrooms are dressed to impress and designed to make visitors feel instantly at home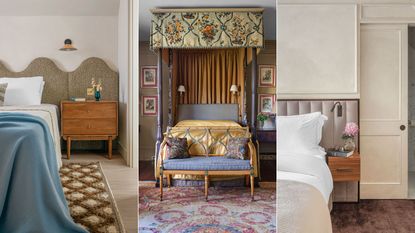 (Image credit: Martin Morrell/Own London / Simon Upton/VSP Interiors / Studio QD)
The key to making a guest bedroom look beautiful and expensive is to strike the right balance between style and comfort.
Whether you have a guest bedroom ready-prepared for surprise drop-ins, or a multifunctional space that doubles as a guest room, having a warm and welcoming space to host friends and family is a wonderful addition if you love to entertain.
If you're in need of inspiration and advice on decorating a guest bedroom then you're in the right place as we've rounded up an array of beautiful bedroom ideas and tips from the experts.
5 ways to make a guest bedroom look beautiful
When designing a beautiful guest bedroom, focus on both comfort and style to make visitors feel welcome and at ease. Making sure your guests have the best possible night's sleep should always be the priority, so investing in comfortable bed ideas and choosing the best mattress is a good place to begin.
'Finding a second wind is important, as this is the space where guests will take the measure of your home,' says Staffan and Monique Tollgård, founders of Tollgård Design. 'Textured wallpaper, a great mattress, considered and flattering lighting, soft rugs, and a statement piece – whether lighting or a great headboard – will make a lasting Impression.'
1. Paint the fifth wall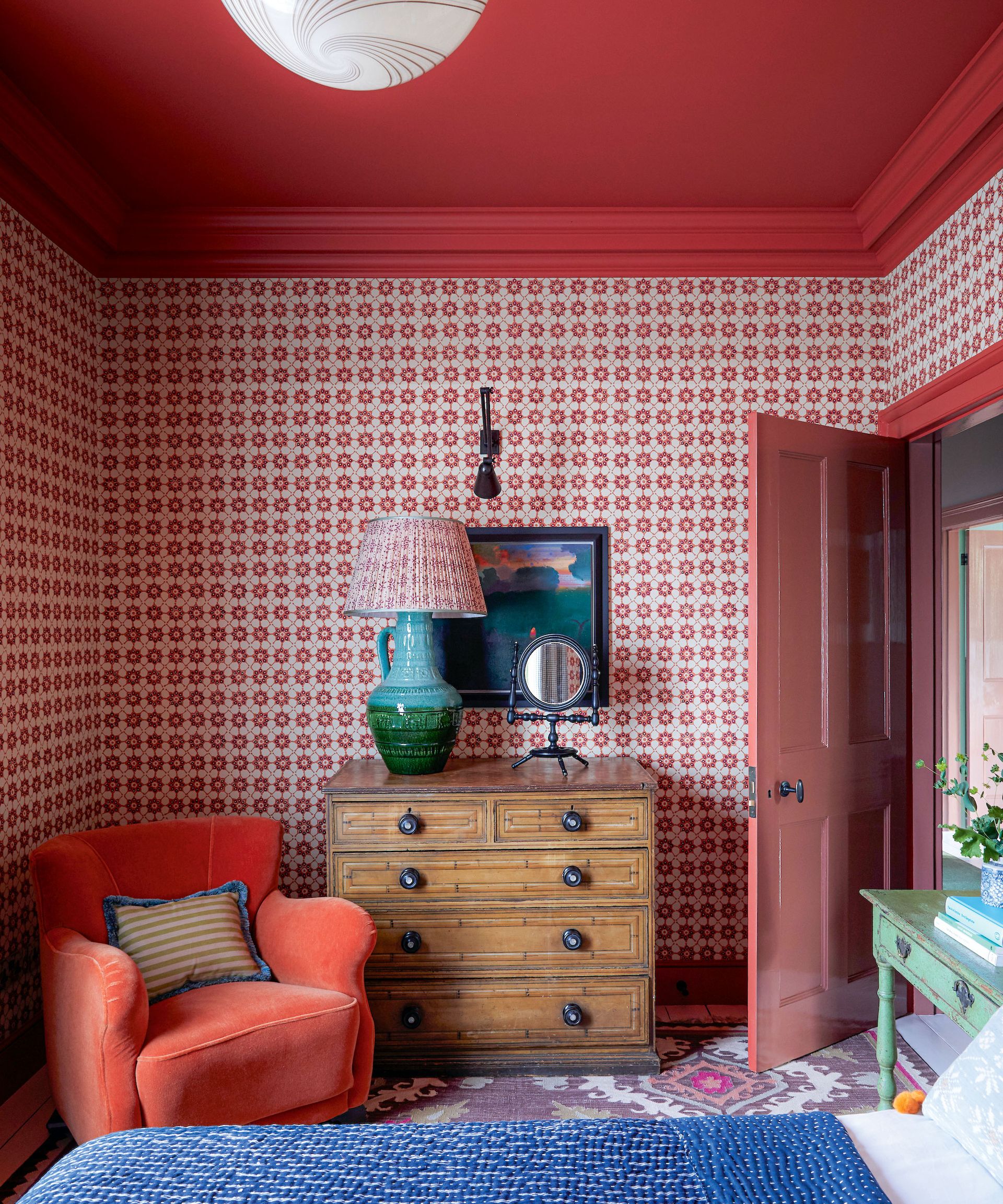 Finding the perfect bedroom color ideas are essential for curating a guest bedroom that sings.
Painting the ceiling in a small guest room can have a dramatic effect. In this guest bedroom, which has no real view and limited natural light, interior designer Nicola Harding wanted to do something impactful to compensate. Although a common fear is that painting the ceiling in a deeply saturated color will close in the room, it can actually make the space feel larger by blurring the lines and edges. Then it's a question of adding the decorative details.
'The blue and green ceramic lamp, set against the crimson bedroom wallpaper and paint, adds the perfect contrasting pop of color that also ties back to the antique bedside table,' explains Nicola.
2. Create hotel-chic space for guests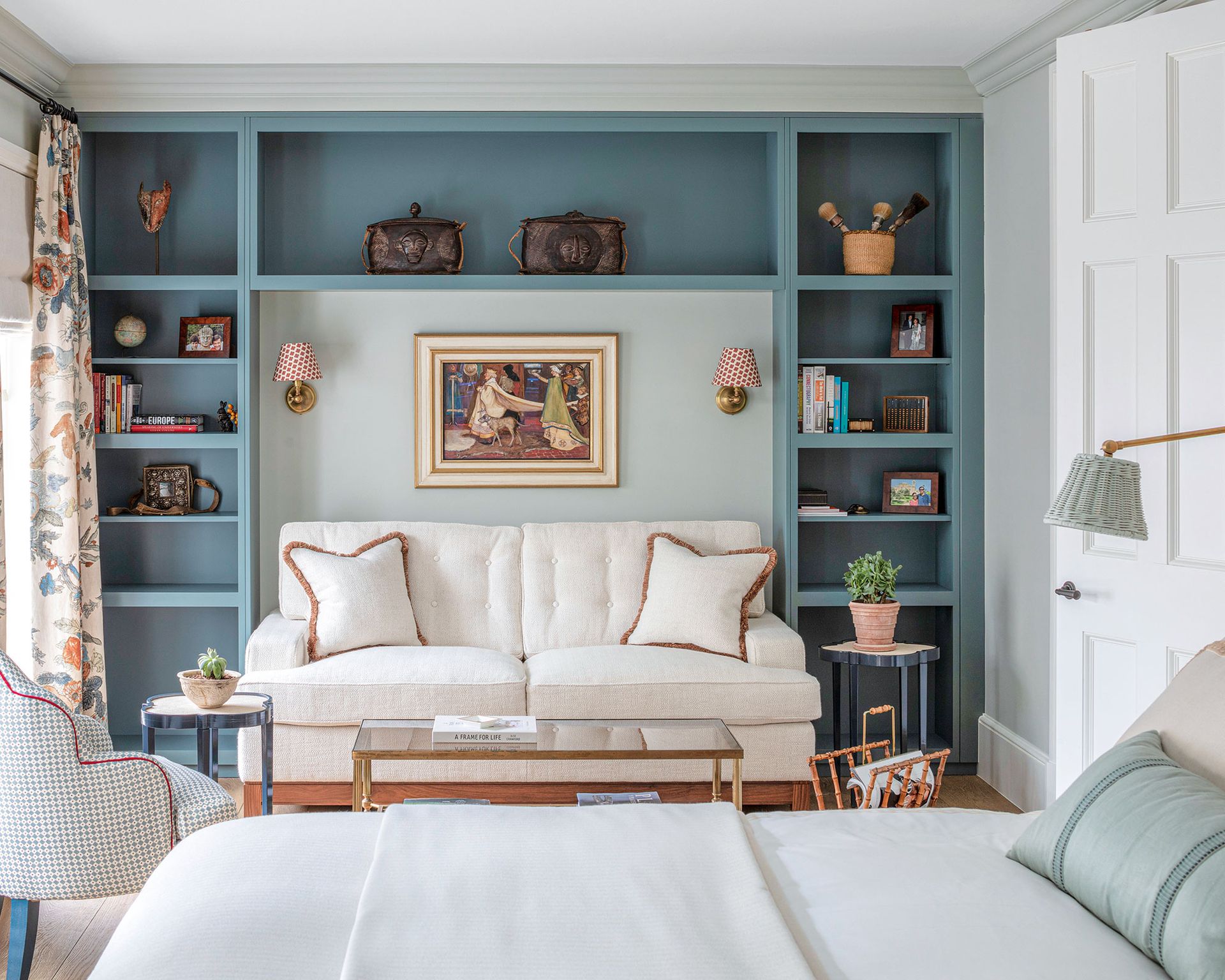 For larger guest rooms, take a cue from hotel design and include a small sitting area. It will give visitors somewhere to retreat to in comfort without feeling they are imposing on their hosts every minute of their stay. This design by Kitesgrove capitalizes on the room's generous proportions.
'The joinery niche created for the sofa bed was an effective way of using the space, while providing a cozy library and seating area,' explains head of design Clara Ewart.
The walls are painted in Farrow & Ball's Cromarty, a light green-grey that brings an atmospheric tone and softness to the room, while the joinery, in M&L's Fence Green, adds a contrast and draws the eye.
3. Provide wonder with a secret door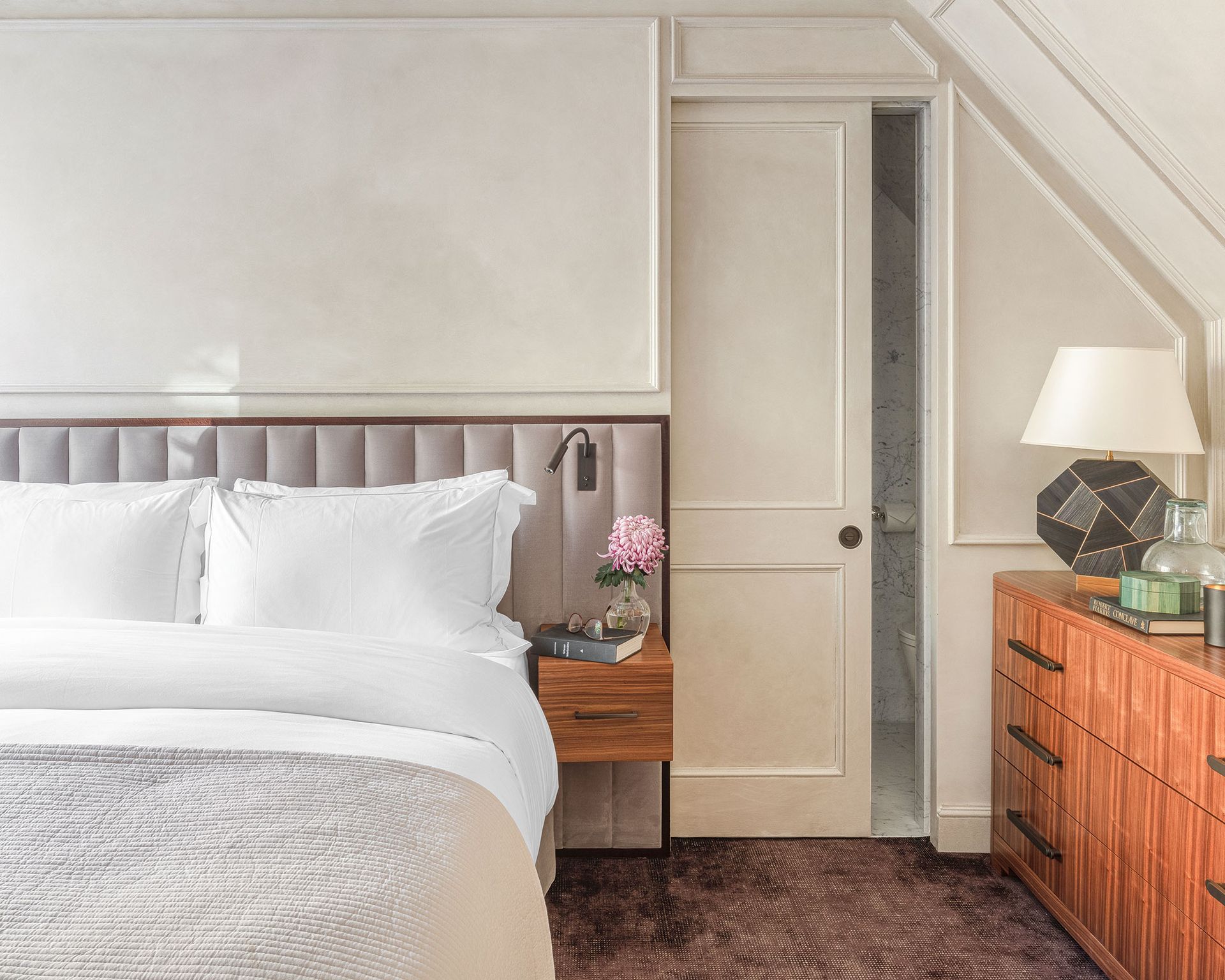 A jib door is one that is flush-mounted into the wall, meaning it has no obvious hardware so is almost invisible when closed. Here, interior designer Sean Symington was presented with the challenge of moving between eaves and pitches in this top-floor bedroom.
'We opted to build a partition to obtain storage as well as a tall, clear wall that would be the perfect place to centrally position the bed,' he says. 'To keep the room's symmetry, the jib door means that storage isn't on show. Hanging art on this secret door boosts the camouflage effect.'
The fact that the baseboard continues along the bottom of the door adds to the trick of the eye. Sean used Edward Bulmer's Granite Green on the walls for a calming ambiance and paired it with watermelon pink on the headboard.
4. Take a leaf out of country classic style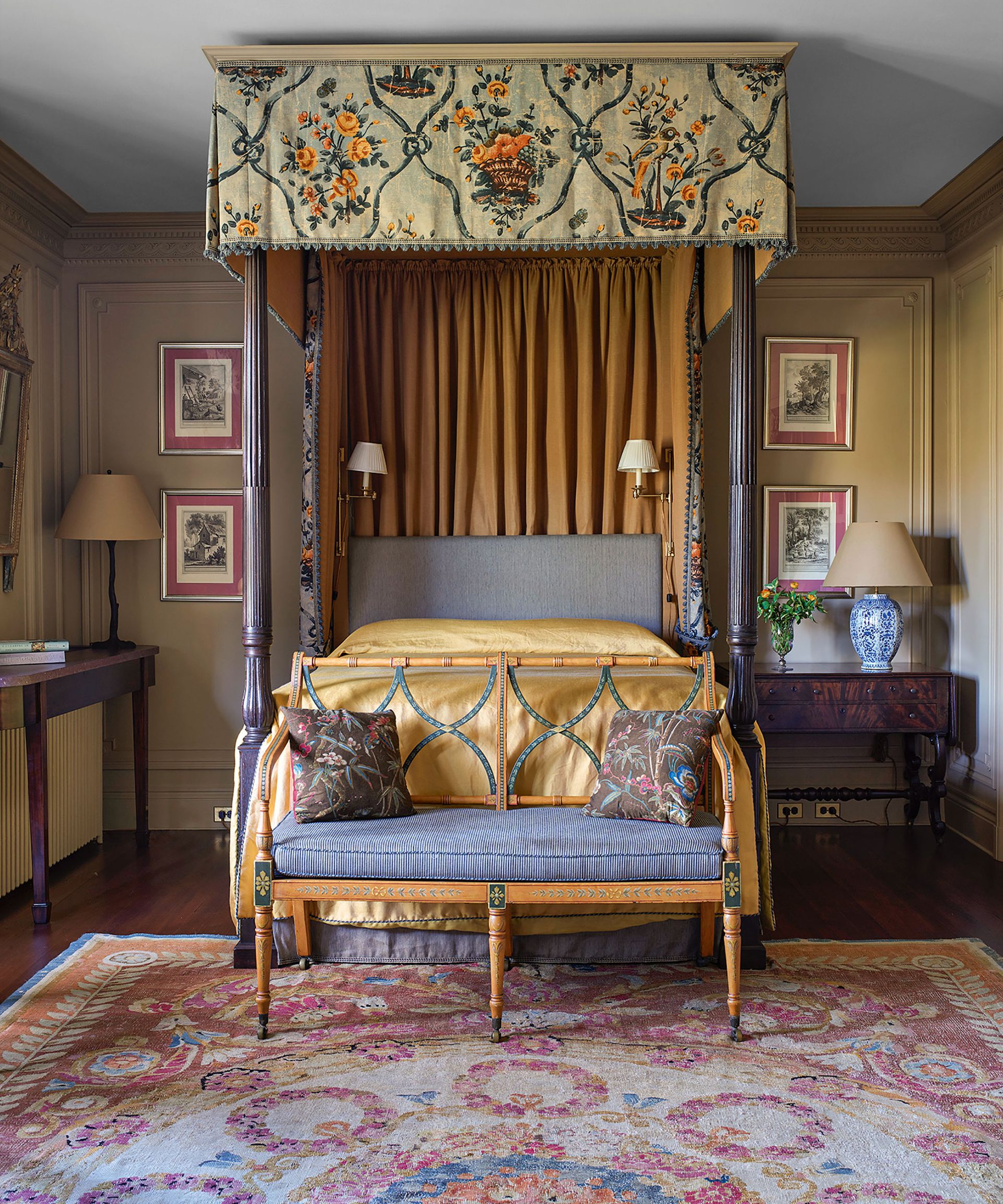 Four-poster beds are a staple of formal country house interiors and create a dramatic focal point.
In this guest bedroom, antique dealer and decorator Max Rollitt set the bespoke four-poster alongside a Regency bench (perfect for putting clothes on at the end of the day) and an Aubusson rug. Antiques bring stories with them, he muses – an appreciation of the life they've led. Many people say how well they sleep in a four-poster, which is a great compliment for a host to hear.
Decorator Henriette von Stockhausen of VSP Interiors often incorporates this style of bed: 'Whether detailed or simple and more contemporary, four-posters create extra comfort and a sanctuary, a room within a room,' she says.
5. Add interest with a unique headboard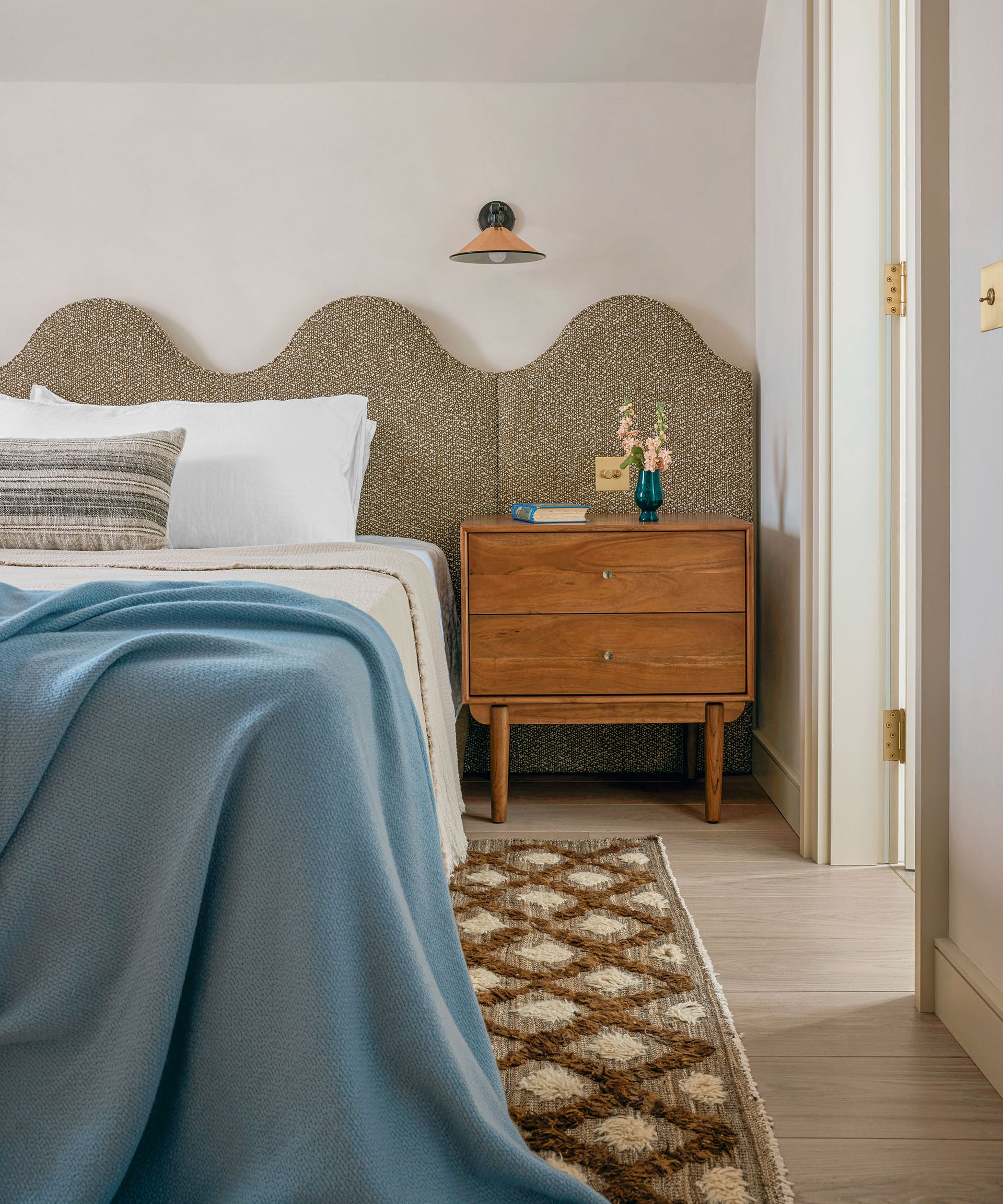 A headboard should have a height of at least 24 inches (60cm) above the mattress – enough for anyone to rest their back against it without touching the wall. If you go bigger, an oversized design will make a luxurious statement and ensure the bed is the main focal point. In this space by Own London, the headboard, with its playful wavy shape, stretches all the way across the room, enveloping the bed and nightstands like upholstered half-height paneling. The rest of the details pivot on earthy tones and warm textures.
'Don't go overboard with patterns to create a calming bedroom,' says Alicia Meireles, associate director of interior design. 'Pick one type of pattern, abstract or nature-inspired, and use it in moderation with other surfaces in the same tonal palette.' Find the perfect balance between fabrics, soft rugs and hard finishes such as wood, she adds. 'I'd suggest using natural fabrics, such as mohair, linen and wool.'
Sign up to the Homes & Gardens newsletter
Decor Ideas. Project Inspiration. Expert Advice. Delivered to your inbox.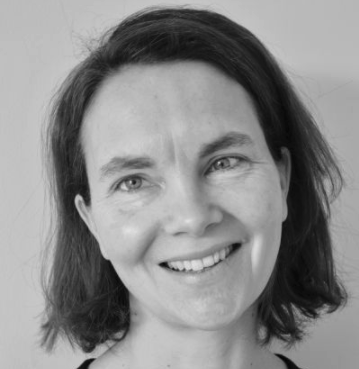 Arabella is a freelance journalist writing for national newspapers, magazines and websites including Homes & Gardens, Country Life, The Telegraph and The Times. For many years she has specialized in writing about property and interiors, but she began her career in the early 2000s working on the newly launched Country Life website, covering anything from competitions to find the nation's prettiest vicarage to the plight of rural post offices.