How to choose curtain colors for any room – experts reveal 7 trade secrets
Light or dark? Warm or cool? Coordinating or contrasting? Yes, there is a formula to guide you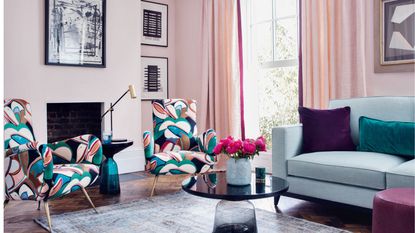 (Image credit: Simon Bevan)
Where do you even start when choosing curtain colors for any of the rooms in your home? Do you use them as the starting point of the scheme? Match them to walls? The flooring? The furniture? Or perhaps you try to coordinate patterns on soft furnishings? Or simply choose an inoffensive neutral in desperation?
Whatever, there's no denying that curtain colors play an important part in all your rooms' interior design. And the decision you make is likely to be one you live with for a long while, so investing the time to choose well is worth it. No pressure.
The colors you choose for your window treatment ideas aren't just about coordination, though. They will also influence the light filtered into the rooms, having a distinct effect on their mood; and, whether they're a standout or an understated feature, they need to complement the rest of your home's palette, too. Here, experts provide curtain ideas, tips and advice so that choosing colors is a smooth process.
How to choose curtain colors for any room
Curtain color is only one element of many in a room design, and needs to be contemplated along with factors such as wall color, and that of furniture, rugs and so on in mind. Think, too, about how curtain color will contribute to the ambience of the room, affect its perceived proportions, and frame a great view.
This is what the professionals advise when choosing curtain colors for any room.
1. Choose curtain colors that evoke the right mood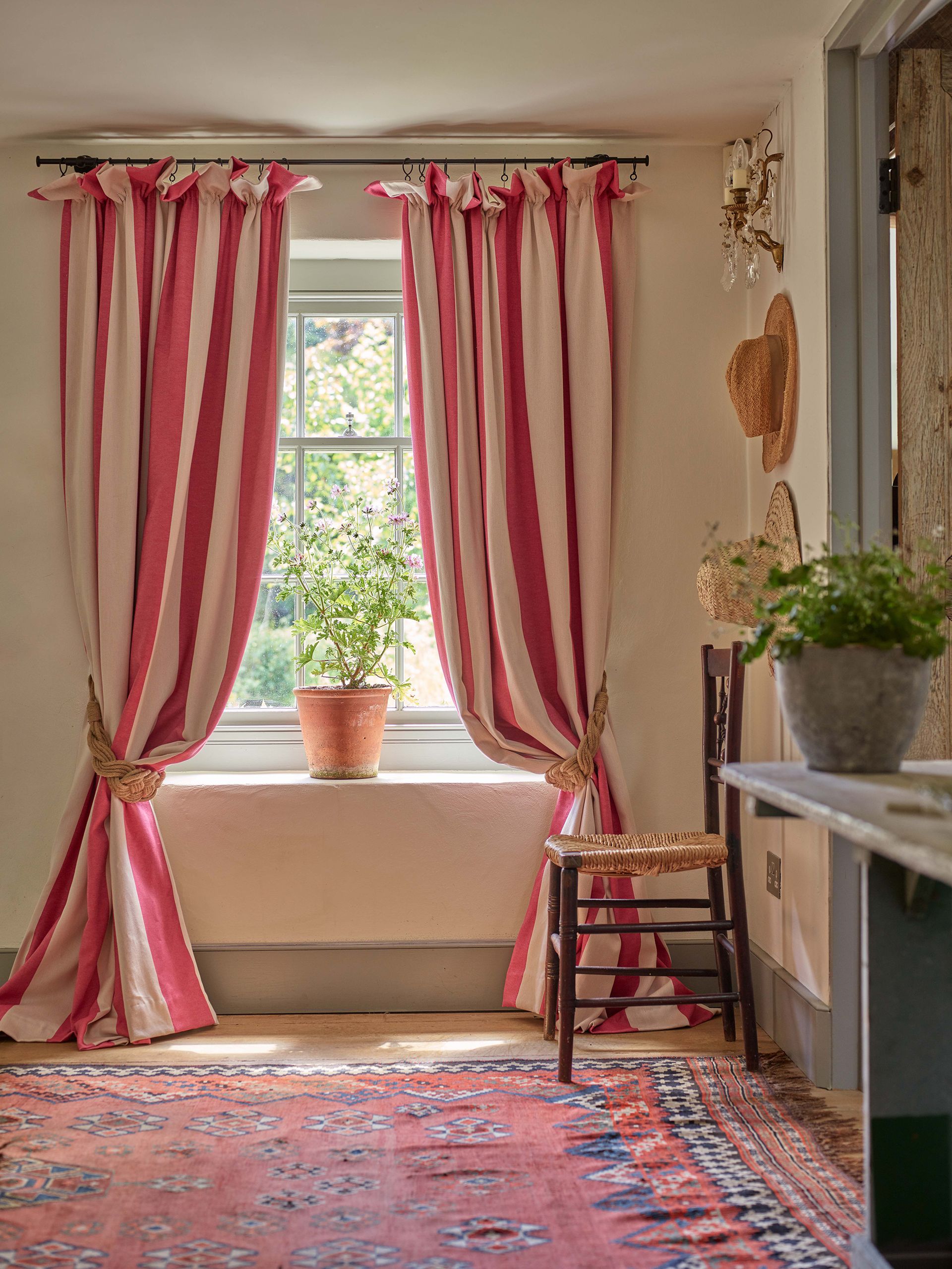 The first question any decorator asks is: what mood to I want in this room? Cozy or airy? Elegant or relaxed? The colors you select will have a major influence on its ambience, and that's no less the case when it's curtain colors in the frame.
If you are having problems even knowing where to start, consider color psychology first.
'Warm colors, red, orange, and yellow, are great choices for rooms where you entertain guests because they make your guests feel warm and energized,' explains Kelly Simpson, senior director of design and innovation at Budget Blinds, experts in blinds, shades, shutters, and drapes. 'Red stimulates the appetite, so it's a perfect choice for dining rooms.
'Cool colors, green, blue, and purple, are calming so they work best for bedrooms. Lighter colors tend to be more soothing, and darker colors are more stimulating. If you're looking for a calming place to rest and relax, consider soothing pastels such as pale blues, light pinks, or light greens. If you want to create more drama, go for darker shades such as black, burgundy, or navy.'
2. Now weigh up mood vs daylight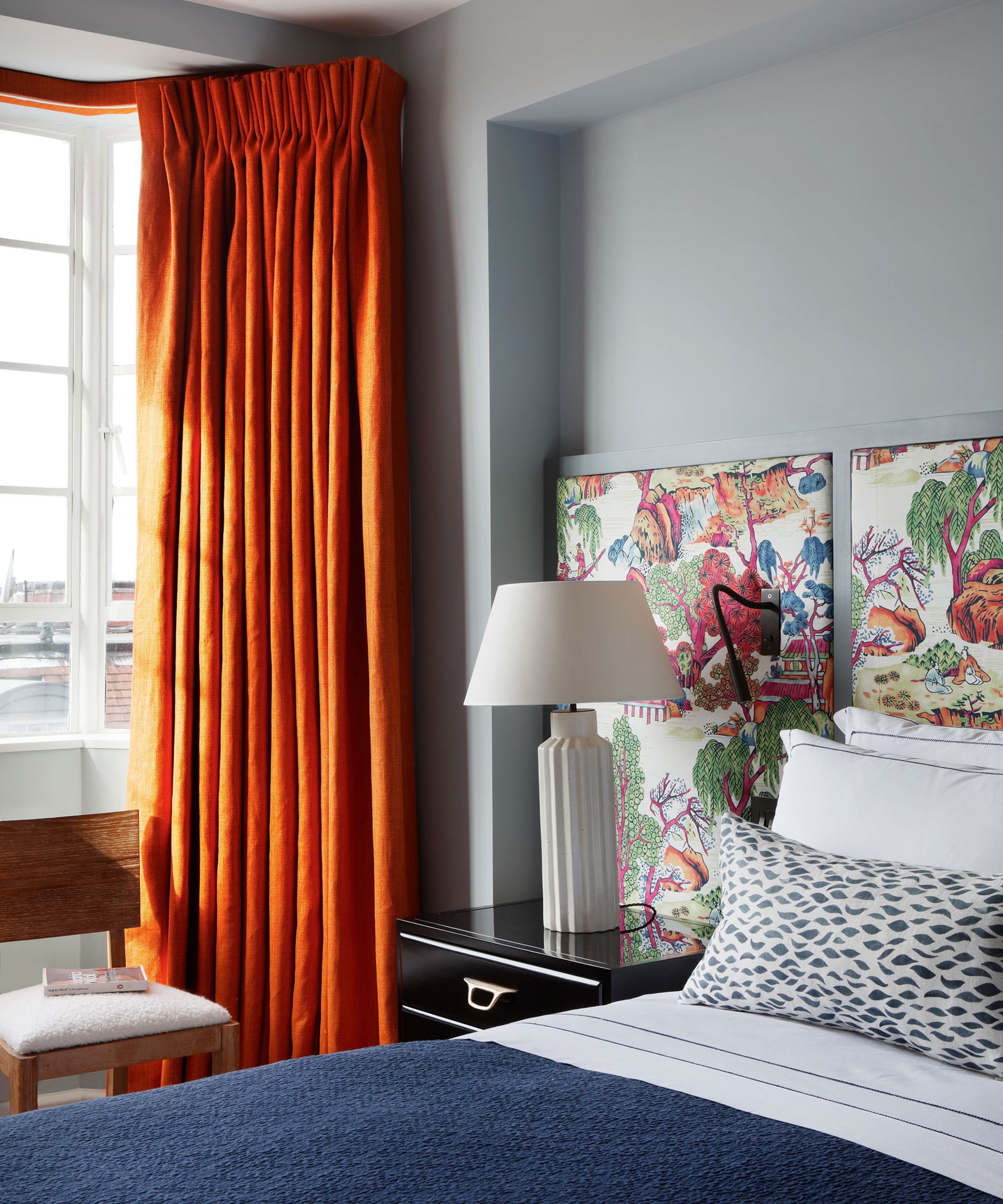 The color of the curtains you choose will directly affect the light levels in your rooms. Even pulled right back from the frame to allow the maximum amount of daylight into the room, they will bounce reflected light back into your space.
So, yellow curtains will throw a warmer light into your room than green ones, for example, while black or deep navy or brown curtains are likely to absorb much more daylight than lighter colors.
'Of course, the fabric you choose will affect this,' advises Lucy Searle, Editor in Chief, Homes & Gardens. 'Fabrics with a sheen, even dark ones, will throw more reflected, tinted light into a room than matte fabrics such as velvet.'
3. Next consider wall color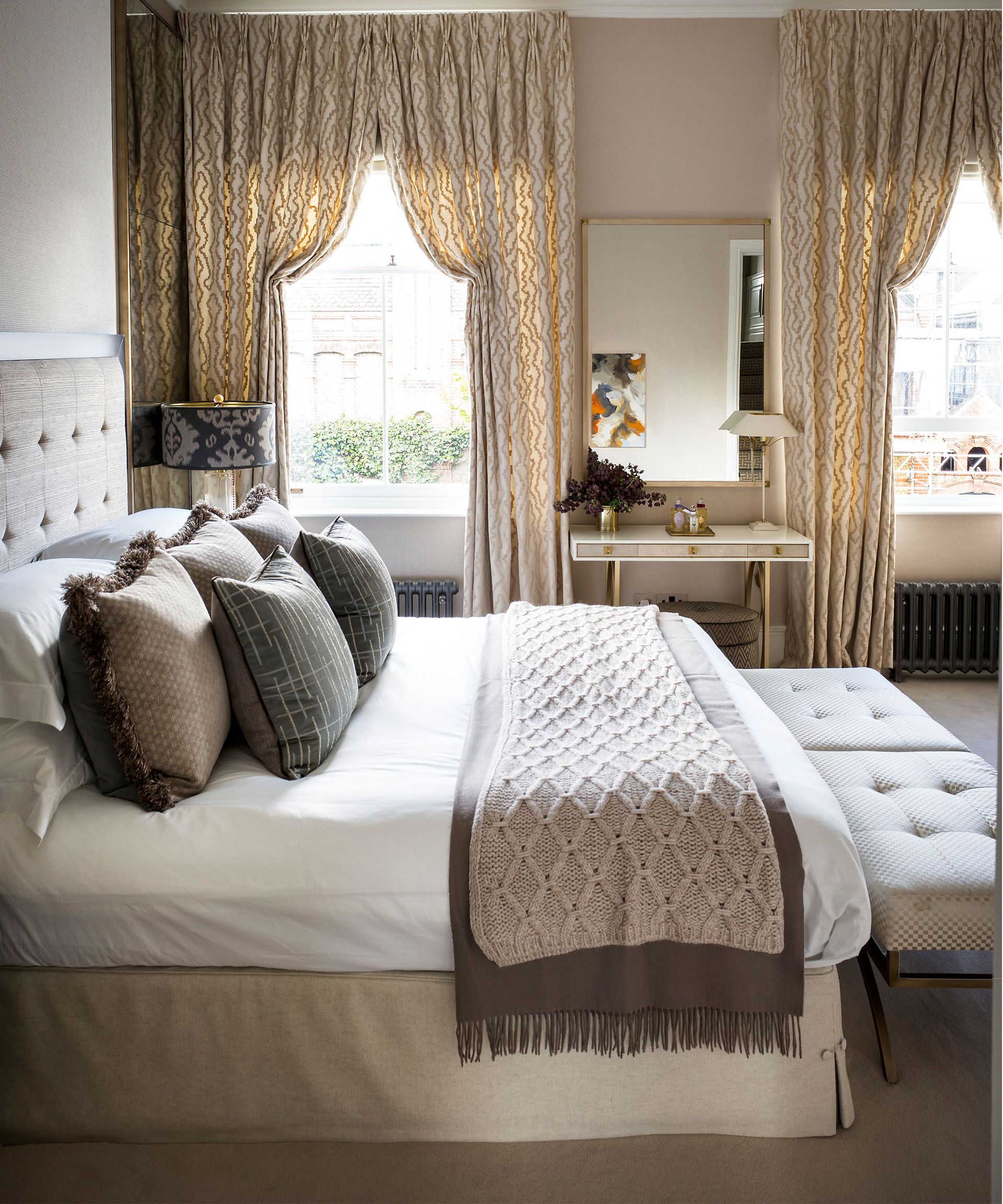 If the curtain color isn't the starting point for an interior scheme it will need to complement other choices made for the room including the wall color.
'The bigger the contrast between the wall color and curtain color, the more the curtains will stand out and the eye will naturally be drawn towards the disruption of color,' says Kelly Simpson.
4. Decide if the curtain color will inspire your scheme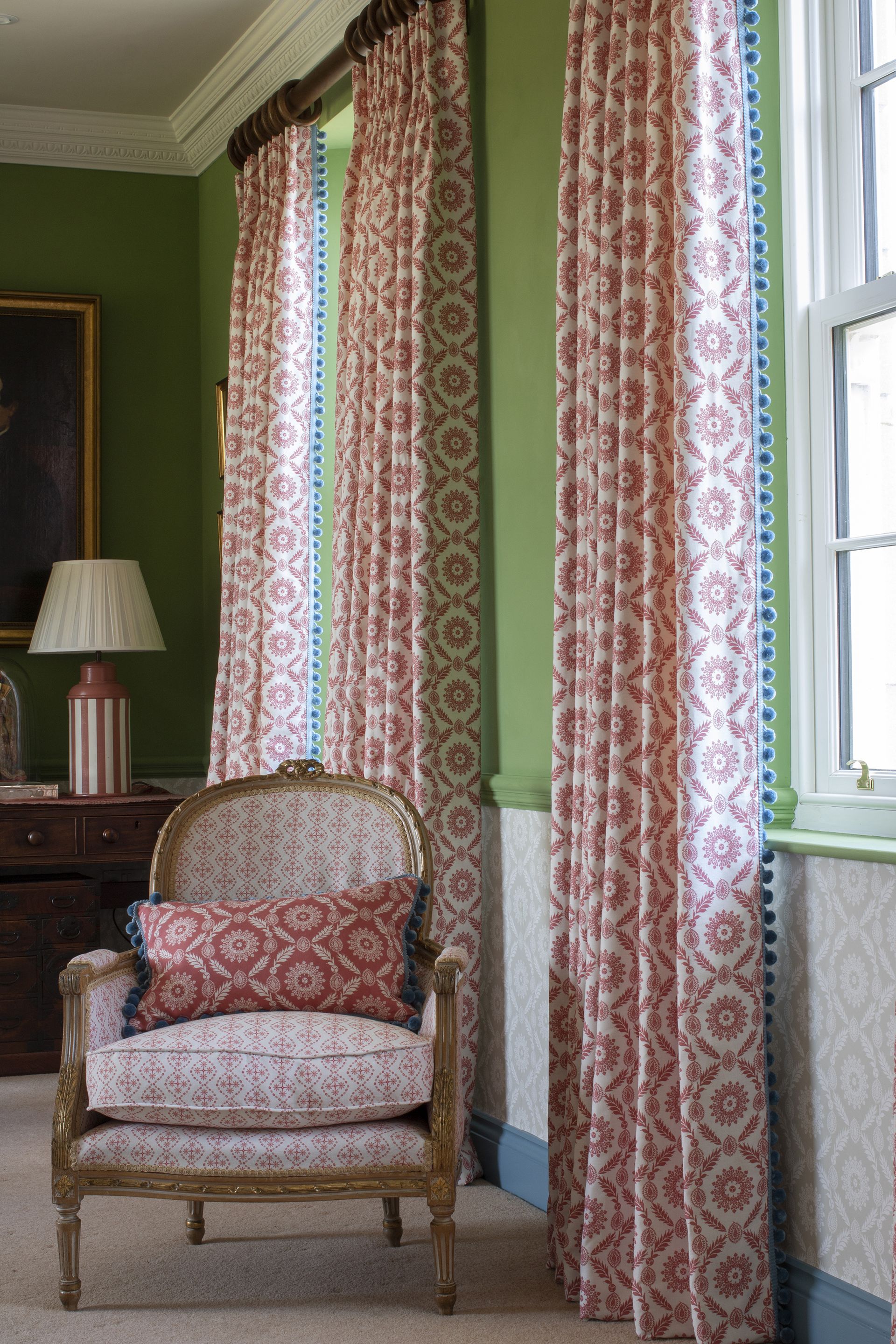 Have you fallen for a curtain color that's a must-have for the room? If that's the case, this fabric should take center stage and your other color choices for the room should follow. You can use a color wheel to plan the palette with the curtain as the starting point.
'I love the opportunity to plan a room with a drapery fabric in mind – whether that's a bold solid with sharp trim, or a beautiful large repeat pattern,' says Maggie Griffin, founder and principal designer of Maggie Griffin Design. 'The drape should feel like a planned part of the room.'
5. Weigh up patterns vs plains
Curtain color could be a solid shade that's bold and impactful, or more subtle in a neutral shade. Of course, color can also be part of a scheme where you're decorating with pattern as a single hue against the ground or an accent color in a motif in more than one shade. It can also be introduced with details such as a leading edge or trim.
Mixing patterns and prints is a great way to repeat an accent shade from the rest of the room that still keeps the room's palette in the right proportions, and makes the curtains pop. A multicolored pattern, meanwhile, can give a neutral room an attention-grabbing focal point that elevates the space.
6. Try pairing with area rugs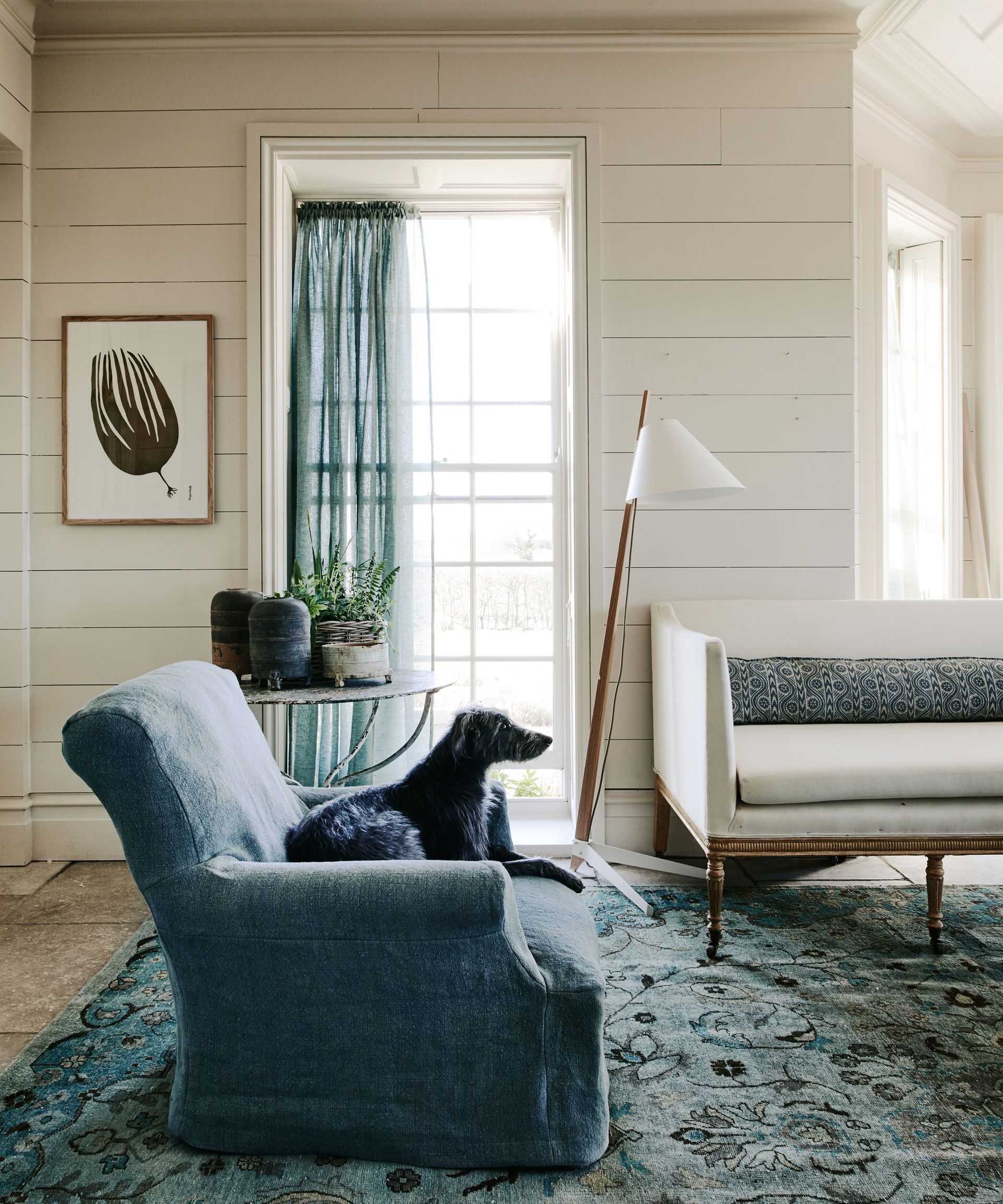 One approach to choosing curtain colors for any room is to think of them alongside area rugs. 'When it comes to finishes and color in a space I alway say to work in pairs,' says Noelle Isbell of Noelle Interiors.
'For window treatments, we often pair with the area rug. An ideal balance is created by pairing these vertical and horizontal elements.'
'Many interior designers I speak to say that choosing an area rug is the starting point for their scheme,' says Lucy Searle. 'This is because the floor is such a dominant surface – the walls and curtains are secondary to this.
'The best advice I've had is to use the golden ratio when choosing room schemes. This works on the basis that every room should be decorated with three colors. One takes up 60% of your visual space; the secondary one takes up 30%; the tertiary color takes up 10%.
'In other words, choosing your curtain colors alongside other elements, such as rugs, should be done in terms of the overall effect.'
7. Consider the number of windows in the room
The number of windows there are in the room might seem a surprising influence on curtain color. But the reason it's worth including in your thinking is because of the nature of colors to either appear closer or further away than they are.
'Warm colors appear to advance, therefore a warm color on a window will make that window appear closer,' explains Kelly Simpson. 'If there are a lot of windows in the room, warm colors can make that room appear smaller. In contrast, cool colors recede, thereby making the window appear further away. If there are a lot of windows in the room, using cool colored curtains will make the space appear larger.'
Is it better to have light or dark curtains?
Whether it's better to have light or dark curtains depends on the impact you want them to make.
'Sometimes we make the drapery the focal point, other times it's more of a subtle layer in the room,' explains Katie Davis of Katie Davis Design. 'In a room filled with a loud wallpaper and heavy pattern on furnishings, a white or cream drape can go a long way and vice versa. We use drapes as a balance to the rest of the design elements, or to bring it all together.'
Wonderful view out of the window? You might want to keep curtains light in color so the focus is on the outlook and they're the subtlest of elements.
Should you have the same color curtains in every room?
There's definitely no rule that says you should have the same color curtains in every room. Instead, plan to hang curtains that complement the room's style as well as fulfill the need to regulate light and create privacy as each space demands.
Be mindful, though, that curtains are an important element of a home's style and its color palette, so think of their color – or colors if they're patterned or have contrasting detail – as part of the color palette used as a whole. This way, the curtains will be part of a home interior that feels cohesive but also full of interest, avoiding a look that's overly matched and flat.
Sign up to the Homes & Gardens newsletter
Decor Ideas. Project Inspiration. Expert Advice. Delivered to your inbox.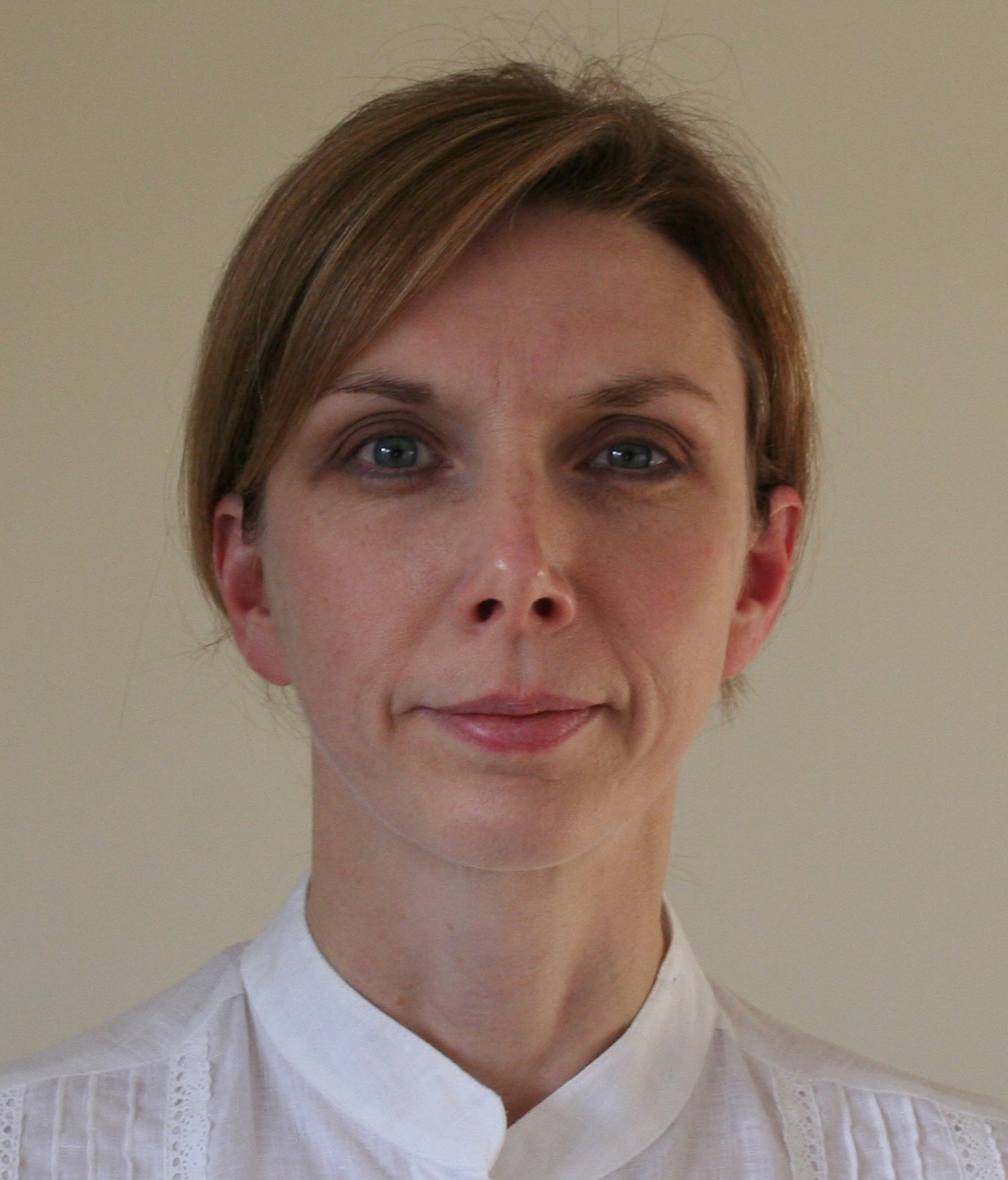 Sarah is a freelance journalist and editor. Previously executive editor of Ideal Home, she's specialized in interiors, property and gardens for over 20 years, and covers interior design, house design, gardens, and cleaning and organizing a home for H&G. She's written for websites, including Houzz, Channel 4's flagship website, 4Homes, and Future's T3; national newspapers, including The Guardian; and magazines including Future's Country Homes & Interiors, Homebuilding & Renovating, Period Living, and Style at Home, as well as House Beautiful, Good Homes, Grand Designs, Homes & Antiques, LandLove and The English Home among others. It's no big surprise that she likes to put what she writes about into practice, and is a serial house renovator.