11 space-saving organizing tips professional use in every small living room
Professional organizers share their favorite space-saving tips for small living rooms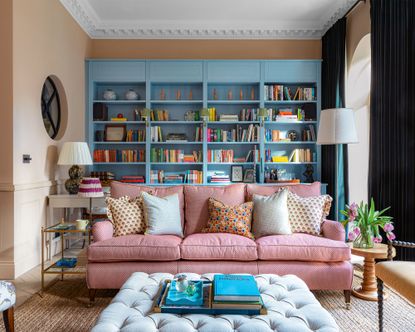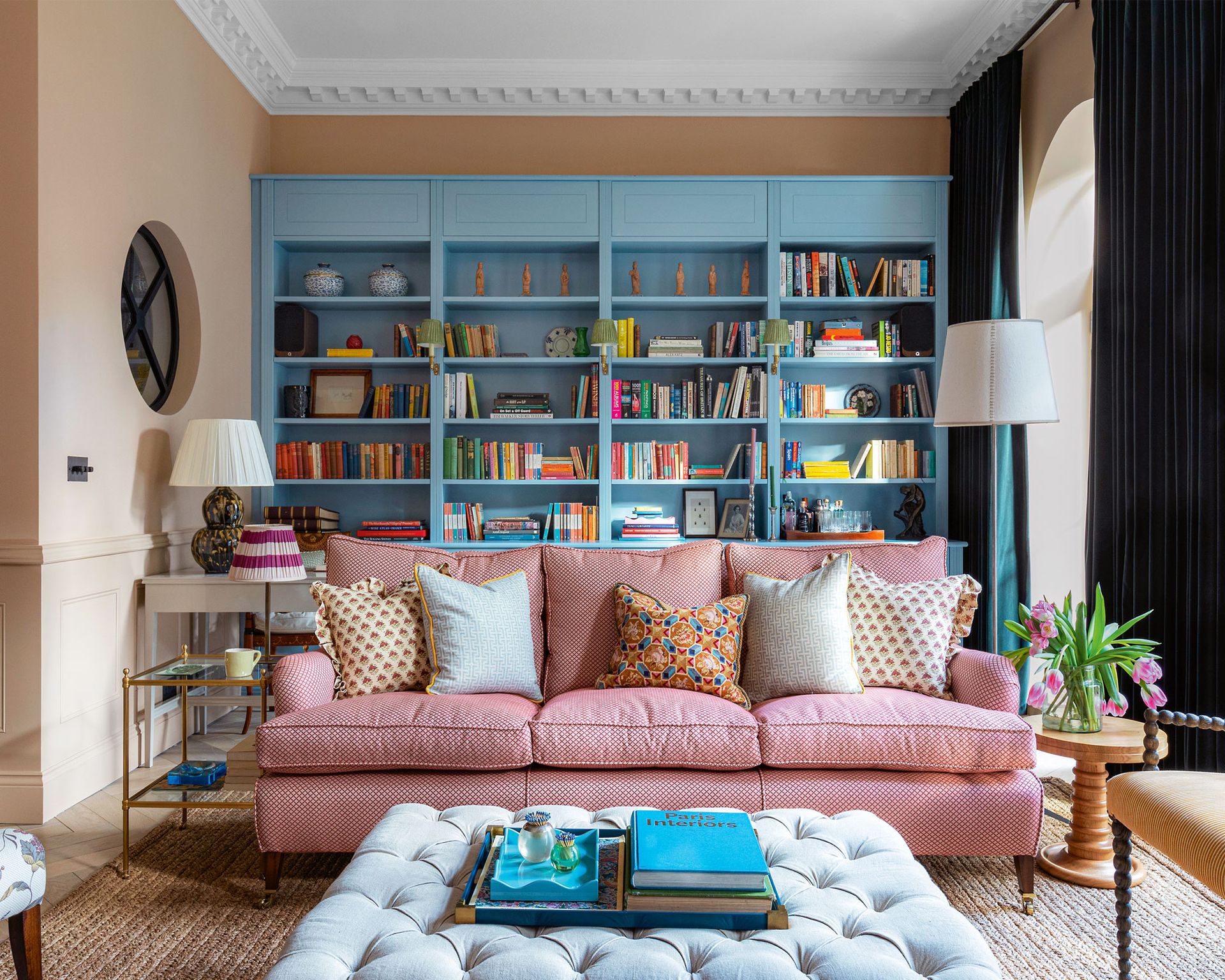 (Image credit: Sarah Brown)
Sign up to the Homes & Gardens newsletter
Decor Ideas. Project Inspiration. Expert Advice. Delivered to your inbox.
Thank you for signing up to Homes & Gardens. You will receive a verification email shortly.
There was a problem. Please refresh the page and try again.
Having a small living room doesn't mean getting rid of your prized possessions, but it does mean you might have to try some smart space-saving organizing tips to keep your space in order.
Whether you have a formal living room, or something more relaxed, organizing small spaces efficiently is essential to getting the most out of your home and keeping clutter at bay.
Here, we have rounded up eleven of the best space-saving organizing tips for small living rooms that pro organizers swear by.
Space-saving organizing tips for small living rooms
Living rooms are one of the most versatile spaces in a home. From entertaining and media hubs to relaxing retreats, it is important that even the smallest of spaces feel well organized and put together.
Going beyond every day decluttering tips, these are the organizational musts that experts say any small living rooms need.
1. Define the function of the room before jumping in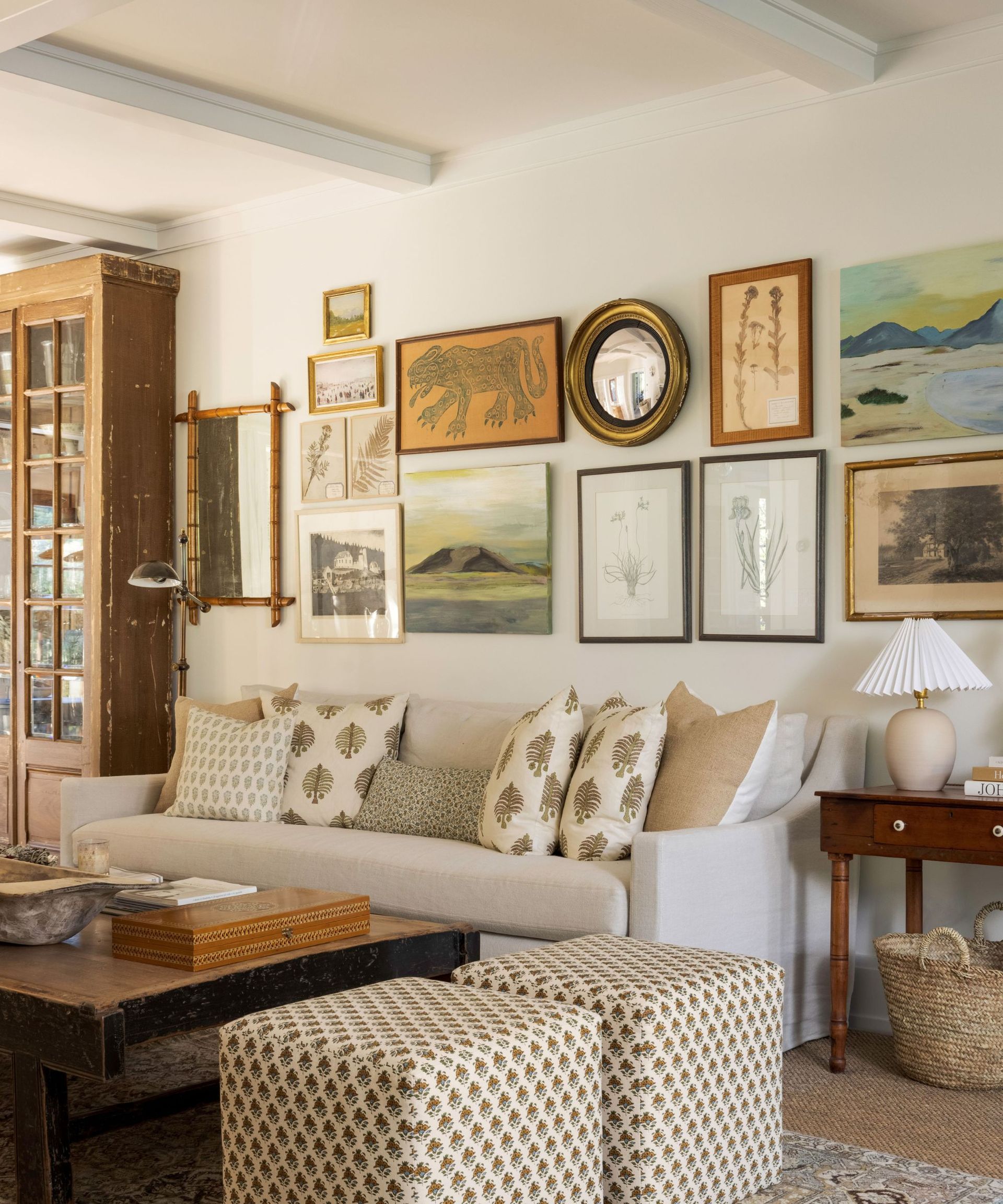 There is more to organizing a living room than putting things into storage bins and decluttering your belongings, reminds professional organizer Gillian Gudgeon, APDO member and founder of Restore the Calm. Defining the purpose of your room before diving in can help make your small living room more functional, and help you get the most out of your storage options.
'Is it just for TV, do you play games, or will it be a study area or a relaxing zone? The better you define the room and its purpose, the more the room will work for you,' Gillian says. 'You'll clearly need more storage if you have lots of games or books so consider how much you have and what will work. Don't just buy something you like the look of and hope for the best.'
Gillian helps her clients declutter their homes with peace and calmness in mind, curating a functioning home that helps them to find order in everyday chaos.
2. Question which items belong in your living room before sorting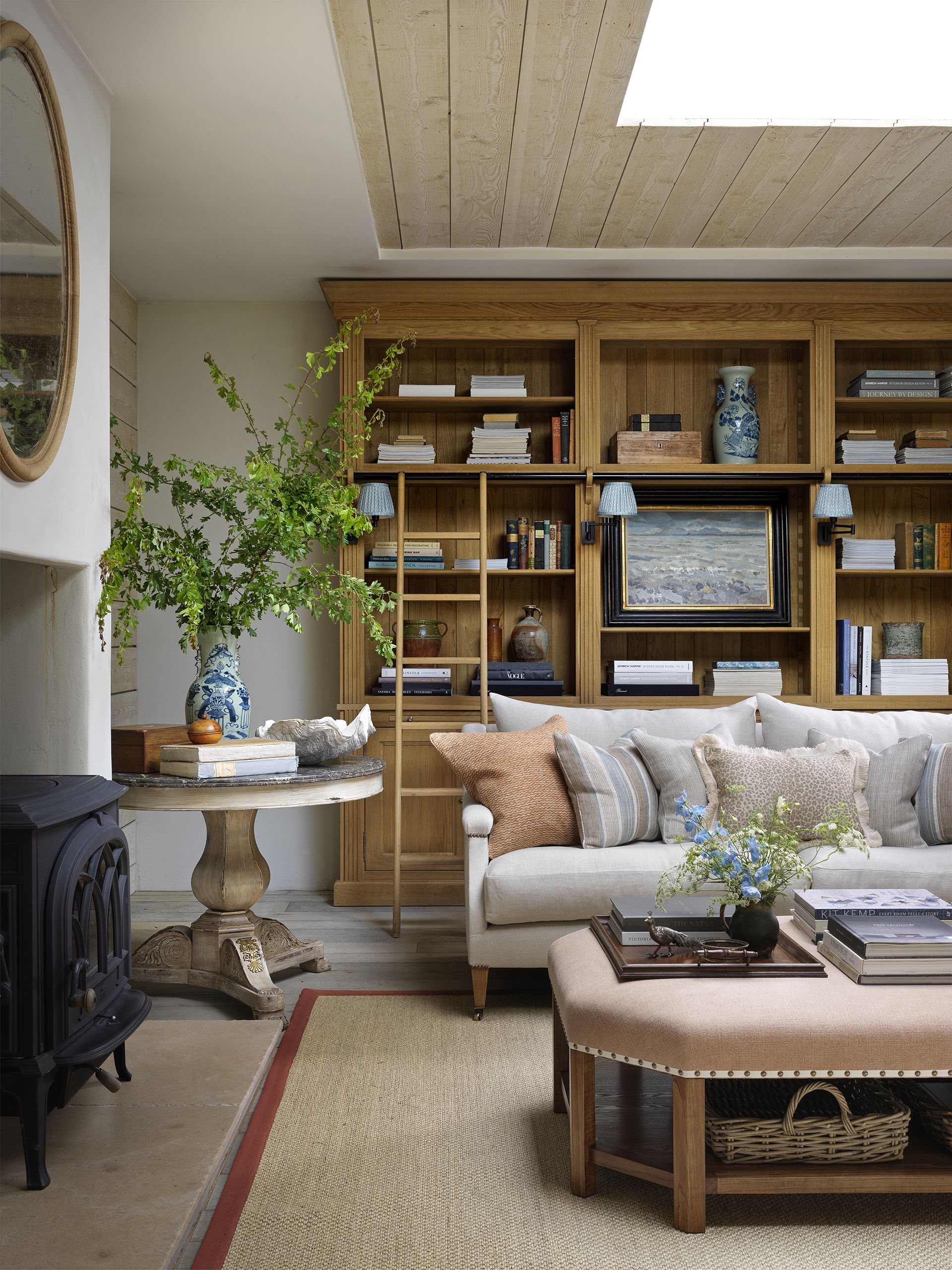 An important part of home organizing to adhere to in small rooms is questioning every item in the space before organizing or storing it.
'I know it is easy to get so used to our surroundings, we forget to question why things are the way they are,' begins Melissa Gungi, professional organizer and founder of Melissa Gugni Organizing. 'Having too much stuff in the open will make any room feel small and cluttered.
'I think sometimes people get excited about organizing supplies and buy a whole bunch of unnecessary items at Container Stores, Target, etc without thinking about the functionality of the things that they need to store and organize. More stuff is more stuff, even if it is bins and baskets,' she says.
She recommends starting by putting everything in a given room back in its 'home'. So take dishes back to the kitchen, toys to the kid's room or playroom, and have a look at what is left. 'Sometimes this process is enough to "right size" the clutter and make a room feel more spacious. If not, we start asking questions. Were the kids' books stored in the living room because of convenience when they were toddlers, but now that they are older could be moved into their own room?'
Melissa Gugni is the owner and lead organizer of Melissa Gugni Organizing, based in the San Francisco Bay Area. She is also co-owner of Union Larder, an award-winning wine bar and Little Vine, a wine and cheese shop also in San Francisco.
3. Consider your layout – and organize furniture for functionality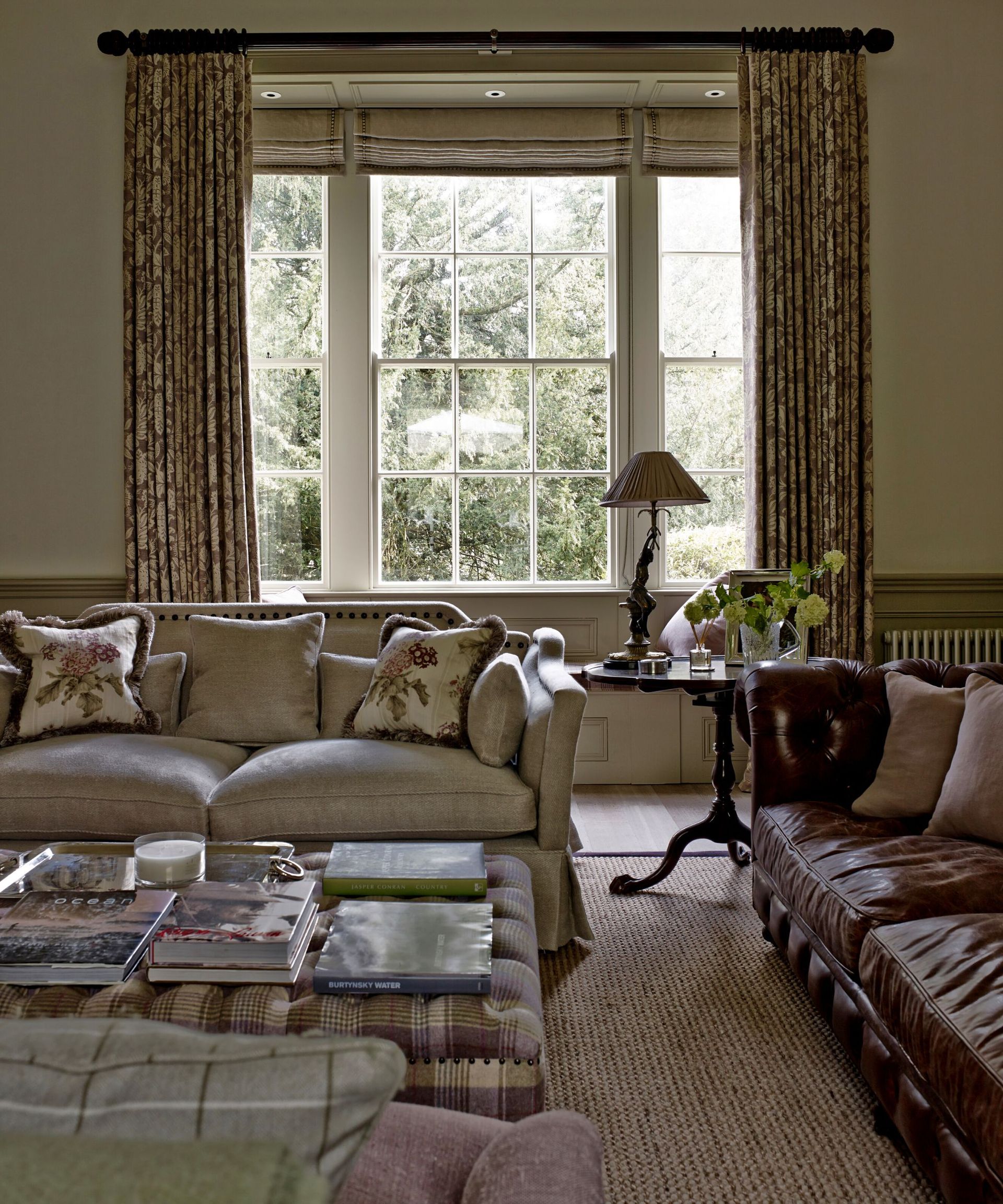 One of the biggest living room organization mistakes is forgetting to consider rearranging your furniture, experts say. Just because something like a sofa can't go in a storage bin, doesn't mean you couldn't organize it into a new, more functional location, for example, or opt for a smaller piece in its place.
'Living rooms can feel smaller if people try to cram in too much furniture or furniture that is too large for the room. L-shaped sofas, for example, can very quickly fill a room and offer no flexibility in terms of being able to arrange your furniture in different configurations,' explains Gillian Gudgeon of Restore the Calm.
'Try and consider what you use the room for and therefore what your exact furniture and storage requirements might be rather than fixate on what you want. Possessions that don't fit your living space remit should be housed elsewhere in the home.'
'Try and avoid pushing every piece of furniture you have up against a wall as the lack of visible wall space can make a room look cramped,' Gillian continues. 'Are you able to rotate a sofa or armchair 90 degrees so it sits across the width of a room? Contrary to what you might think, this can break up a room giving the illusion of space.'
4. Designate a 'home' for every item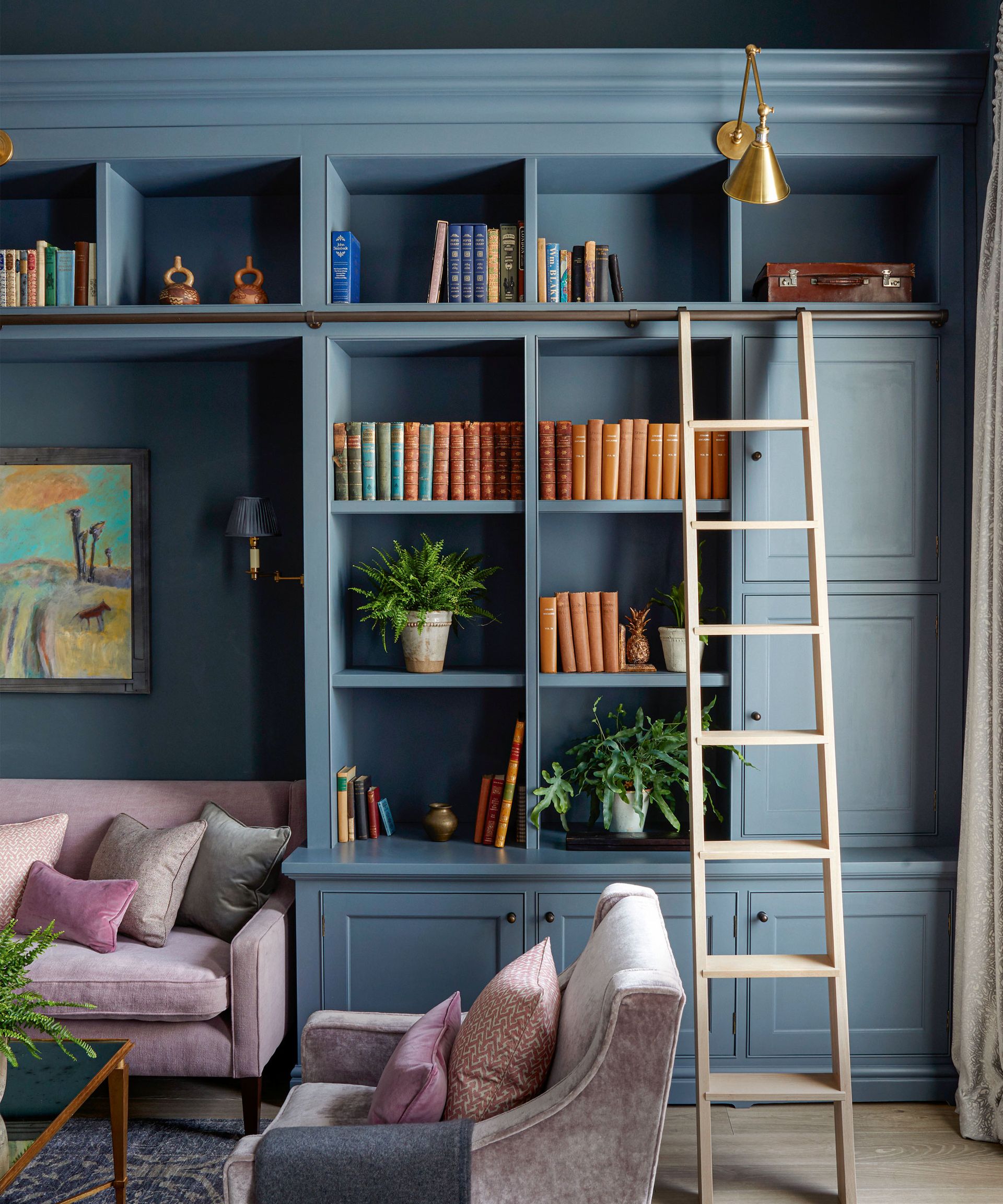 One of the best space-saving tips for smaller living rooms is to find a home for every item, and remove anything you cannot find a logical place for, suggests Lucy Wahl, organizer and founder of LMW Edits. 'To create more calm, make sure there is a place for everything in the living room that is not a flat surface,' she says.
'When our tables, counters, and floors are cluttered, it stresses us out! But you can't just sweep clutter into a bag or closet and call it good, because then you're creating another mess you have to deal with. Instead, make sure everything has a designated location and get the entire family involved in tidying things back into order on a regular basis.'
Lucy Milligan Wahl originally created LMW Edits for her successful friends to help them get their homes as organized as her own. She has since developed her company to help busy high achievers living in smaller urban spaces achieve the organized home of their dreams alongside their demanding careers.
5. Opt for specialized storage furniture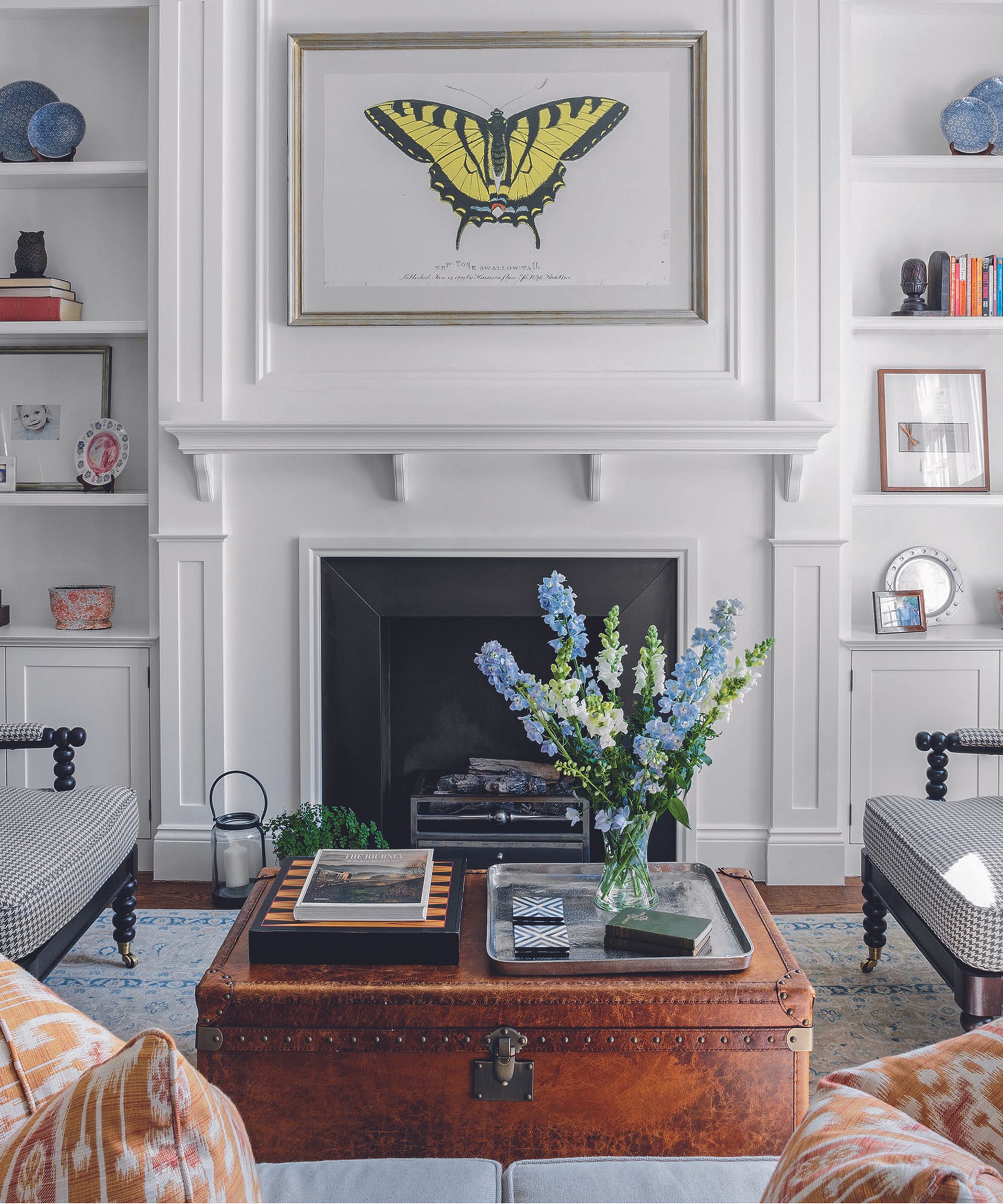 The easiest way to organize a smaller living room to increase functionality is to opt for clever space-saving storage furniture. Luckily, there is a vast range of options for every space.
'To make a living room feel calmer or more spacious, use furniture with hidden storage space, such as a coffee table with drawers, a storage ottoman, and shelving with both open shelves and closed drawers,' reminds Susan Santoro, home organizer and founder of Organized 31. 'This allows you to store away items out of sight which provides a visually calmer space.
'Use as much vertical space for storage as possible to allow you to get items up off the limited floor. For example, choose floor-to-ceiling storage shelves over shorter bookcases.'
'Avoid nonfunctional furniture pieces like a side table with no storage,' warns Jamie Hord, founder of Horderly Professional Organizing.
A veteran, parent educator, and mother of three, Susan is also a certified organizational specialist helping people to declutter and downsize, and organize homes in tough times.
6. Don't buy storage until you have fully assessed your space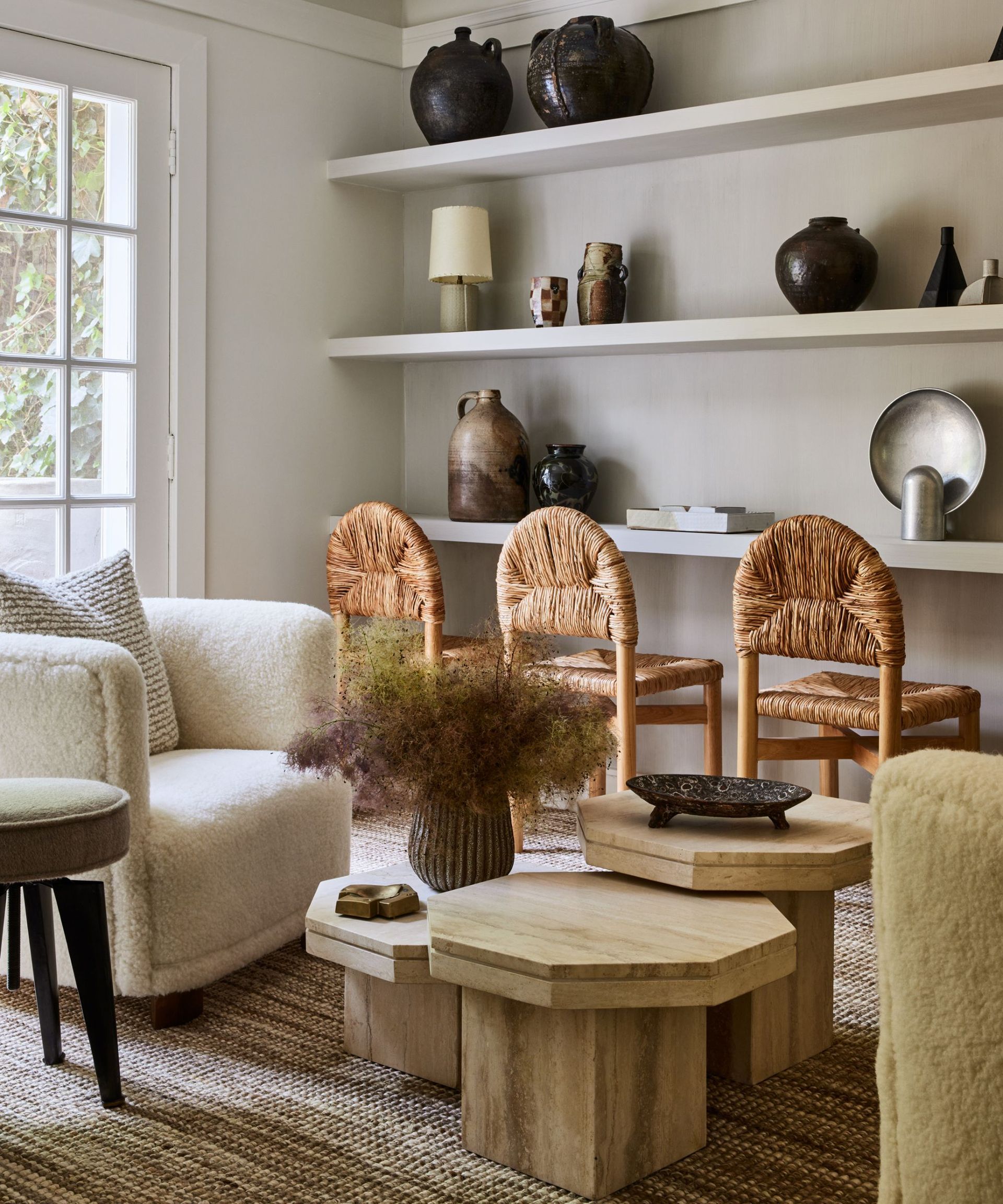 'Buying storage before you have assessed your items is a big decluttering mistake,' warns Amanda Biggs, APDO's membership director and founder of Professionally Organised. 'It's easy to buy more than you need which just adds to further clutter around your home. Always declutter first, once you know what you definitely want to keep, measure up for storage that fits the space that you have.'
7. Use decorative bins for multifunctional storage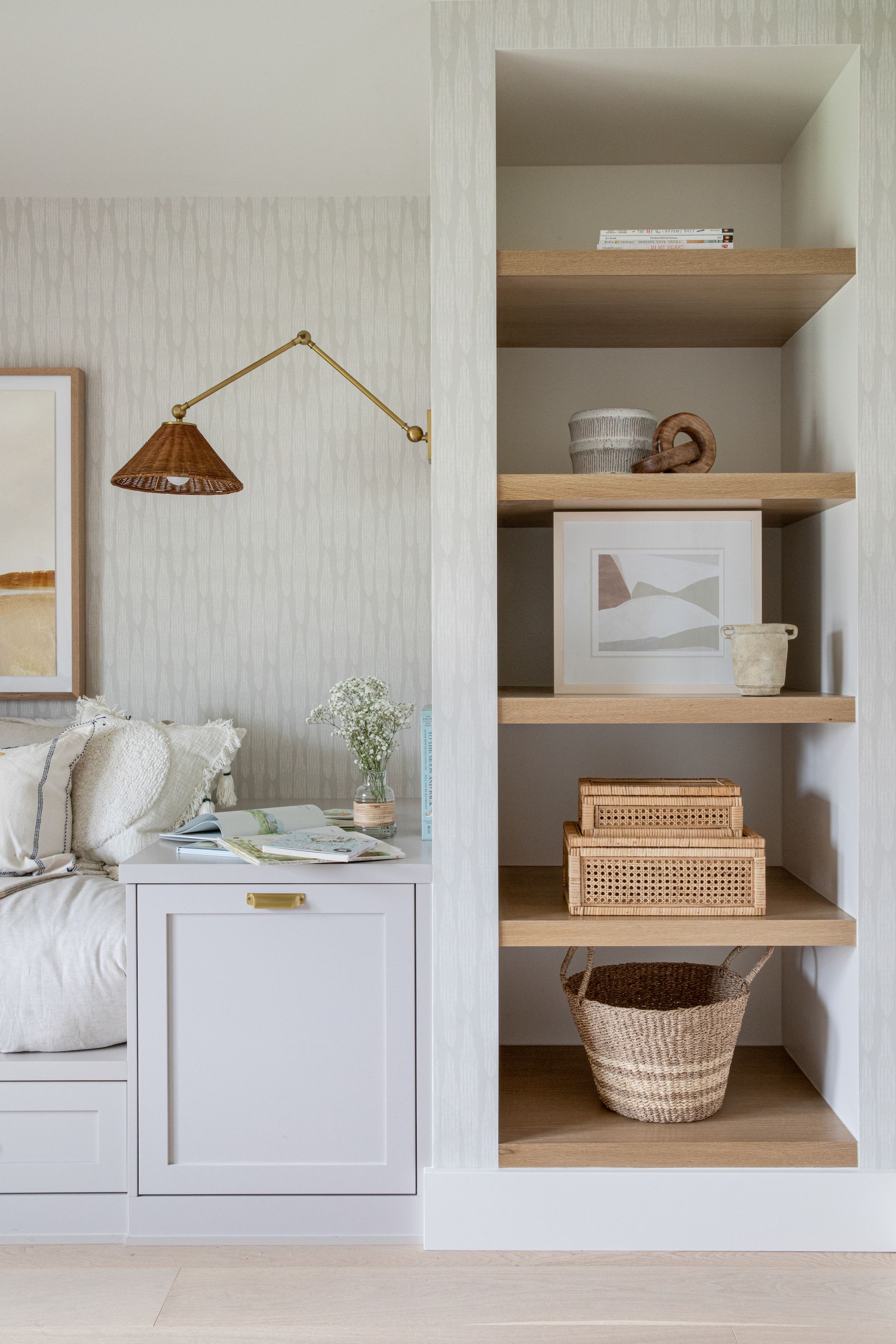 When organizing a small space, every inch matters, so choosing decorative storage containers and allowing them to sit proudly on display will not only help to get your room in order but make it look better too.
'Lots of small things make a room feel smaller. Instead of a lot of drawer units, consider one larger shelving unit with labeled bins,' suggests Lucy Wahl or LMW Edits. The trick is to ensure these baskets are not overflowing, however, Lucy adds - 'A basket piled with throw blankets can be a pretty accent in an otherwise uncluttered room, but when you have lots of baskets that are overflowing with stuff, it makes the space feel small and cramped.'
'We always recommend labeling the baskets so you know what is in there,' adds Juliana Meidl, professional home organizer and founder of Serenity at Home.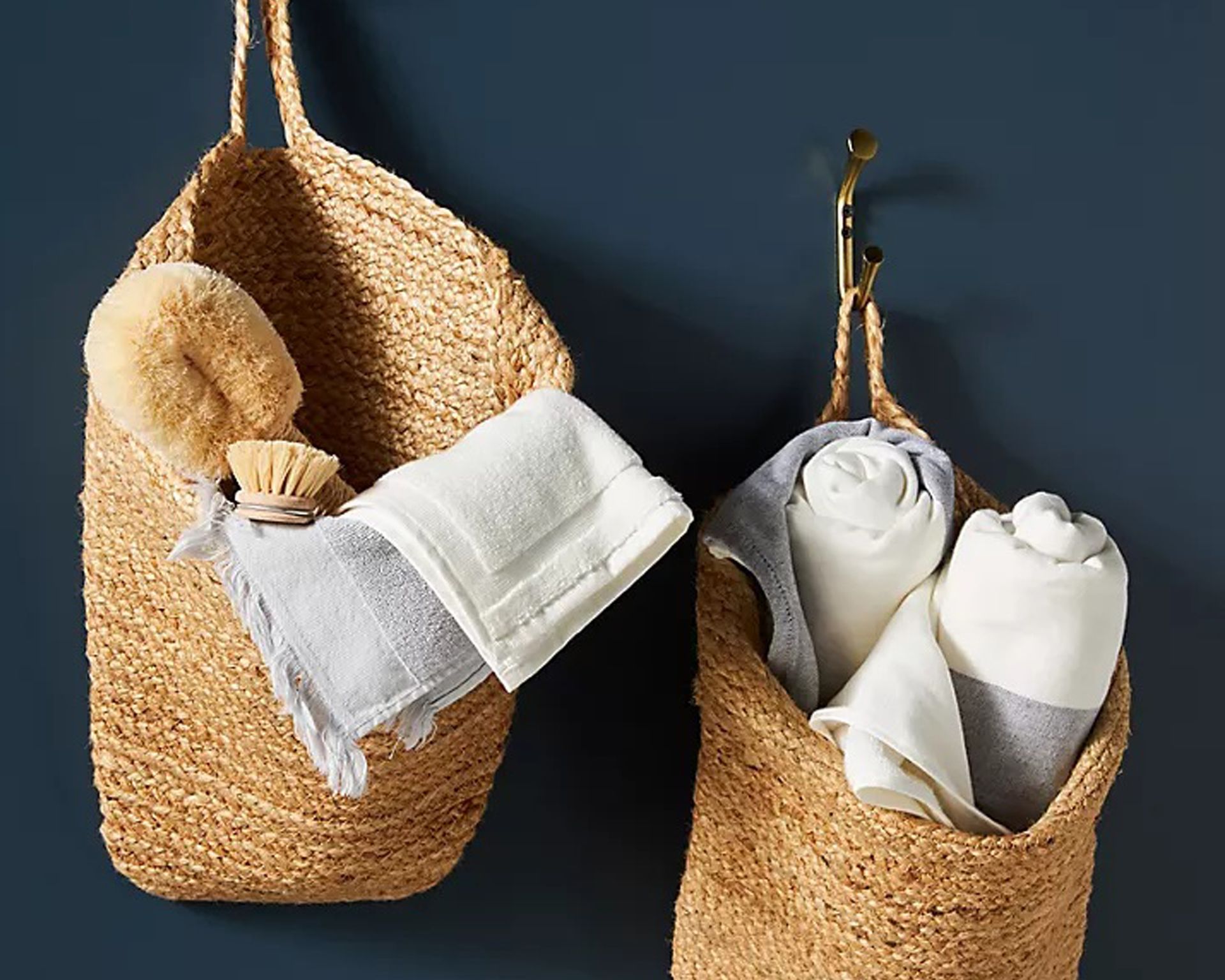 Created to maximize any space's storage potential, these hanging baskets are a must-have.
9. Think vertically when looking for storage opportunities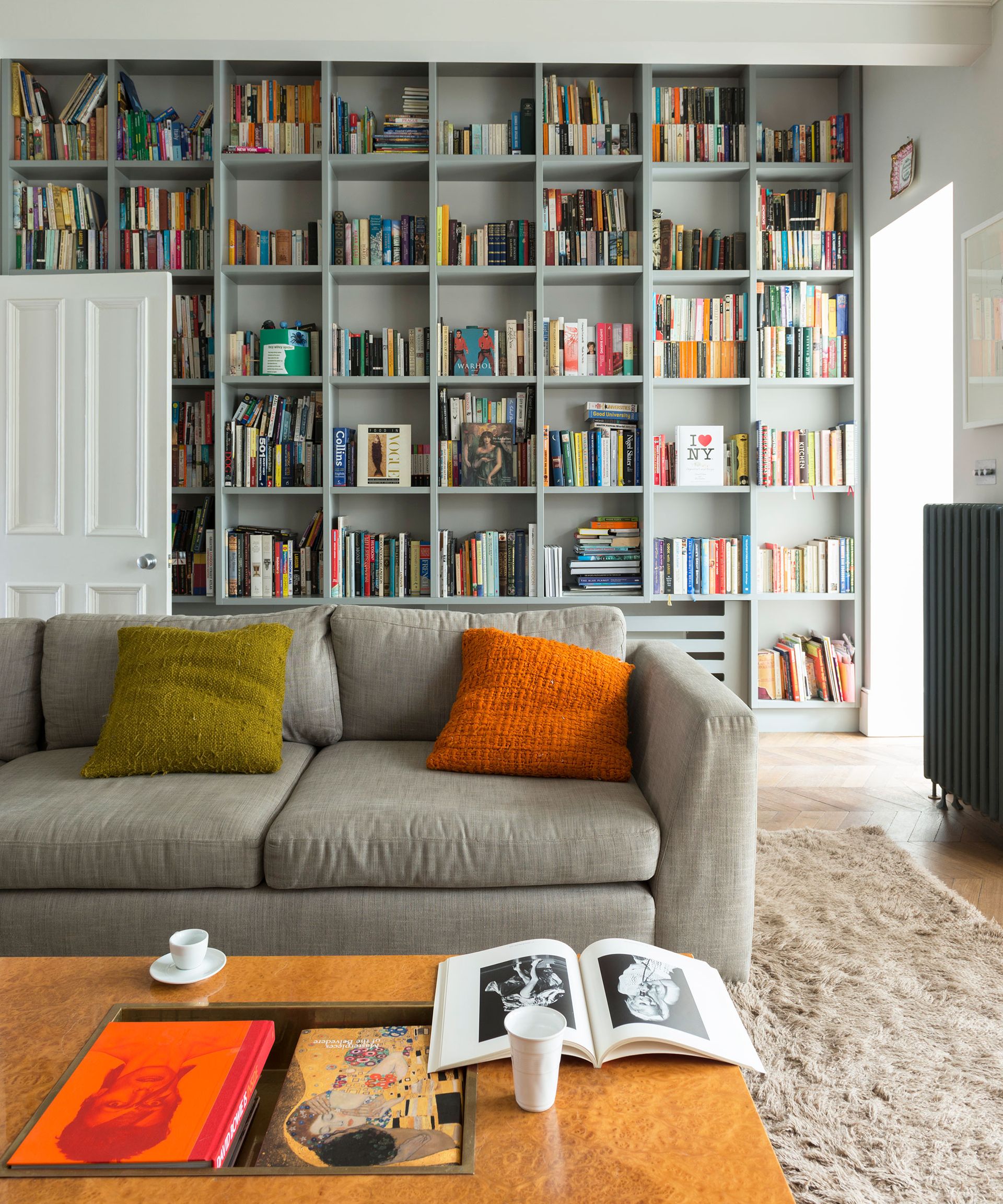 Whether you invest in bespoke joinery for your smaller living space or opt for conventional living room storage pieces, always aim to take your storage up towards the ceiling to both make your small living room look bigger and make use of vertical height and free up floor space. 'If you're in need of more storage, think vertically and work your way up the wall by getting taller storage rather than spreading out,' Jamie Hord, founder of Horderly Professional Organizing recommends.
Jamie is the co-founder of Horderly, a professional organizing company that brings order to countless homes and offices, from the most cluttered New York City apartments to some of the largest homes nationwide. The team's goal is to make their clients' lives clutter-free, streamlined, and more functional.
10. Invest in storage for under furniture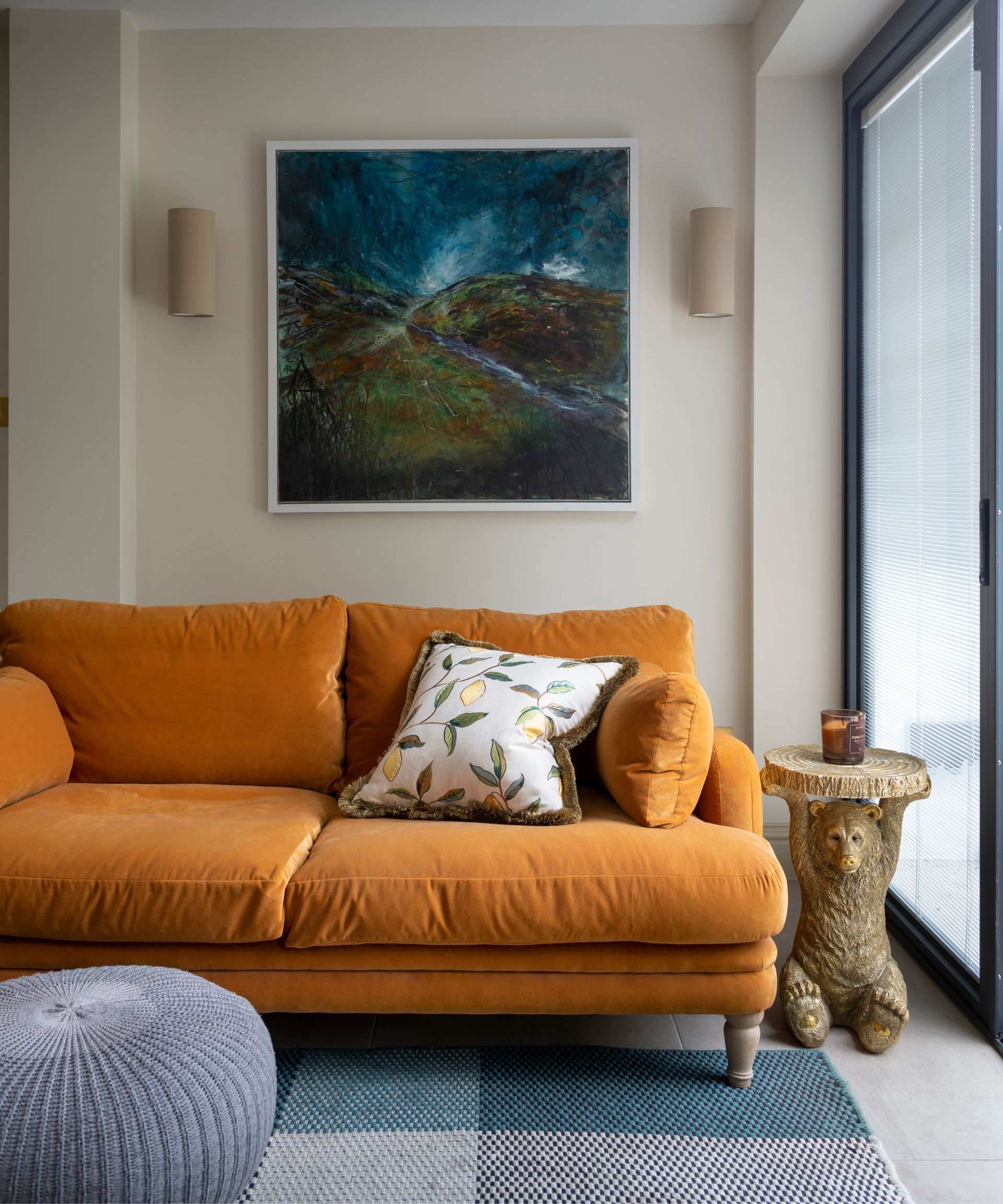 If you already have perfectly functional living room furniture, then adding small living room storage solutions underneath such as pull-out bins under or behind sofas can add some hidden storage for lesser-used items while making use of all available floor space. In the same vein, consider opting for nesting tables to allow for more surfaces when guests visit without cluttering your living room from day to day.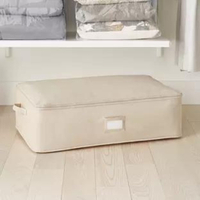 Underbed Zippered Storage Bag Natural | $24.99 at The Container Store
Depend on this smart, durable storage bag to keep seasonal items protected and out of sight until needed.
11. Alternate decor pieces to prevent clutter and maintain surface space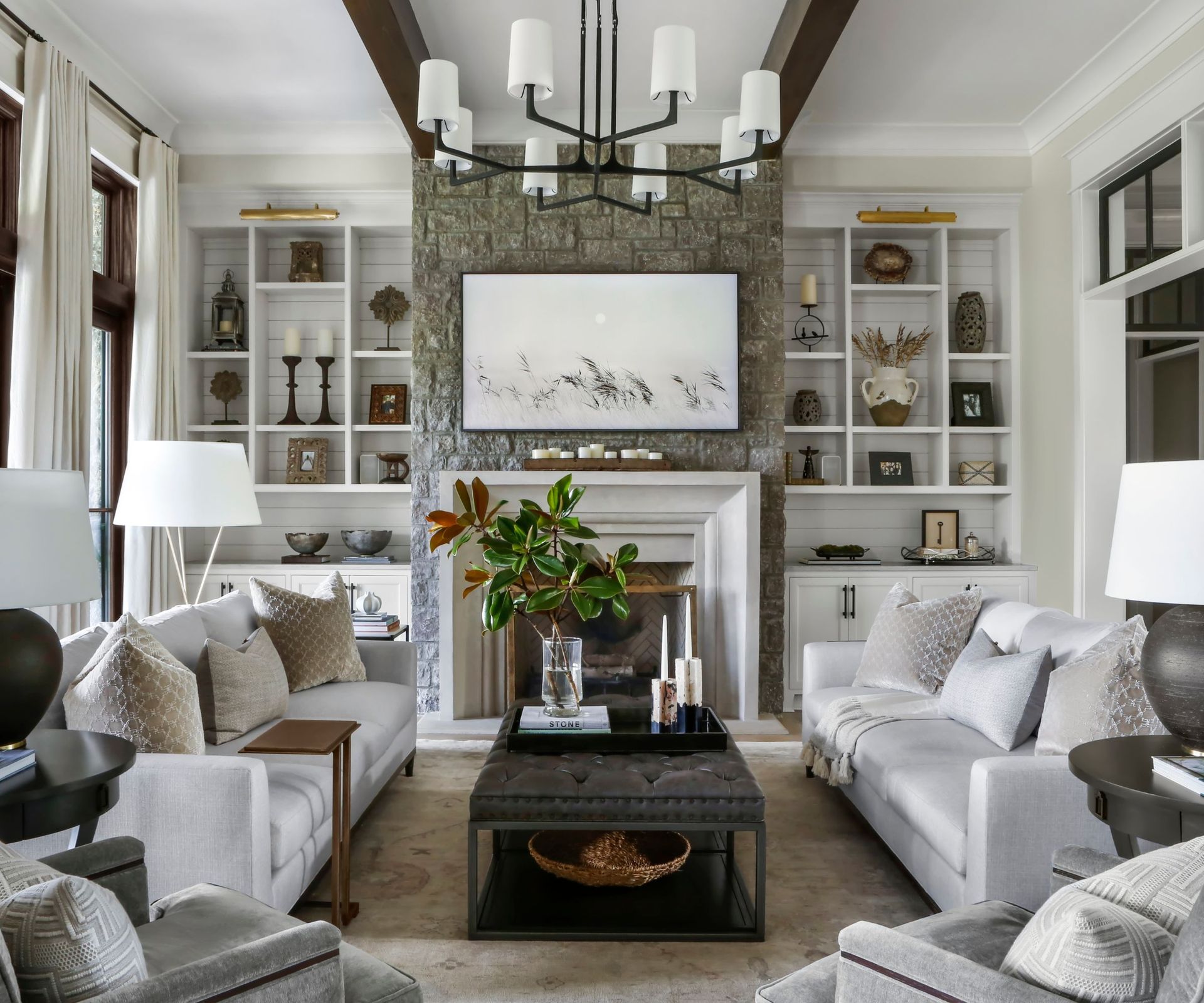 'Decor, trinkets, and tchotchkes can quickly add up in family rooms which creates visual clutter and can generate stress, anxiety, or depression. Instead of putting all of your decors out at once, display only a few at a time and store away the rest, suggests Jamie Hord, of Horderly. 'You can then switch it out seasonally which will be a great refresh to your space! You can also try exchanging any bright colors with earthy, calming hues to create a more calming space.'
How do you simplify a small living room?
A small living room can be made a little simpler by getting rid of clutter through clever use of storage units and avoiding over-accessorizing, focusing on mainly functional decor pieces and accessories to both make the space look and feel cozy without it becoming overwhelming. Consider using natural fibers and interesting textures in throws and pillows to help add visual interest, and invest in high-quality art to mitigate the need for bold decor on vital shelving and table space that could be used for storage. Remember to maintain layering in the room, however, by adding layered lighting, candles for added scent, and window treatments.
Sign up to the Homes & Gardens newsletter
Decor Ideas. Project Inspiration. Expert Advice. Delivered to your inbox.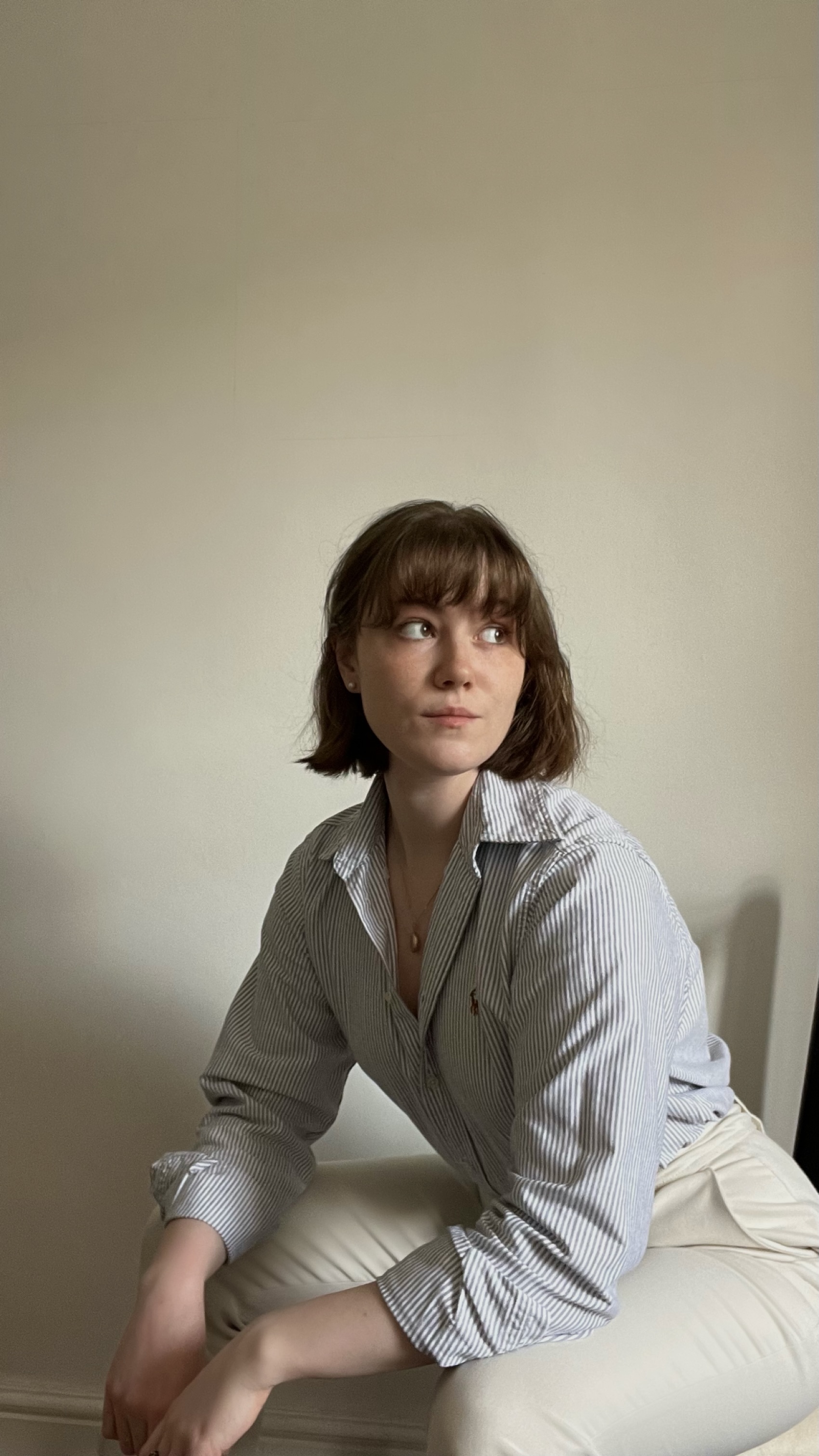 Chiana has been at Homes & Gardens for a year, having started her journey in interior journalism as part of the graduate program. She spends most of her time producing content for the Solved section of the website, helping readers get the most out of their homes through clever decluttering, cleaning, and tidying tips – many of which she tests and reviews herself in her home in Lancaster to ensure they will consistently deliver for her readers and dabbles in the latest design trends. She also has a first-class degree in Literature from Lancaster University.