As a style editor, these are the outdated fall decor trends I will not be bringing into my home this year
Say goodbye to plastic pumpkins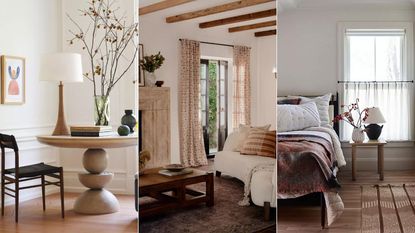 (Image credit: Anthropologie)
Sign up to the Homes & Gardens newsletter
Decor Ideas. Project Inspiration. Expert Advice. Delivered to your inbox.
Thank you for signing up to Homes & Gardens. You will receive a verification email shortly.
There was a problem. Please refresh the page and try again.
When it comes to fashion, I am all about spring and summer, but in the world of interiors, fall is when I get most excited to switch up my decor. As the nights draw in and the air starts to feel crisper I love to bring out those thicker furnishings, the chunky throws, the warmer rugs, the cinnamon-scented candles, and gradually get my home ready for cozy season.
But much like a seasonal wardrobe refresh, I also use this change in the weather to take stock of what I actually want to achieve with my fall decor ideas. And again, similar to fashion I find there are trends I loved last year that I won't be taking with me into this season. There are some fall trends that to me now seem, outdated.
Mostly I avoid anything too trend-led anyways, especially with seasonal and holiday decor. They don't have longevity so I tend not to invest. Also, so many fall trends are specific to one particular style it can be tricky to know how to make them work in my home.
So these are the outdated fall trends I won't be embracing this year, and what I will be doing instead to still give my rooms a cozy update.
What fall decor trends are outdated?
Fall trends come and go, and the ones you choose to let stick is personal. These are the trends that I am ready to leave behind, and what I'll be doing instead to cozy up my home. My efforts this year are focused on being more sustainable and considered in my shopping, and picking our decor that I will either bring out year after year or can be used in my home all year round.
1. Going too heavy on the theme
Kitschy signage is something I can not get on board with. I understand this kind of fall decor is very popular, and it does bring me joy when I see 'Hello Pumpkin' signs hung up in a window, but in my own home. It's a trend I am going to avoid.
You'll notice a theme here, that anything too overtly fall, it's the aesthetic that I avoid with my fall decor. But I do like nods to sweater weather here and there, Anthropologie's fall collection this year is filled with kitsch-cute pieces that would happily adorn my shelving and mantle pieces with. But I think the subtler the better.
Editor of Homes & Gardens, Lucy Searle agrees 'Fall decor doesn't need to be all about the obvious seasonal symbols. Make sure your fall decor still reflects your own personal style and feels unique to you. Signs and gimmicky pillows don't add as much character to a room as choosing beautiful rich colors and cozy textures. There are subtler ways to celebrate fall.'
Lucy Searle has written about interiors, property and gardens for over 30 years. Lucy is a serial renovator and also owns rental properties in the UK and Europe, so brings first-hand knowledge to the subjects she oversees, especially when it comes to forecasting the latest trends.
2. Plastic – look to nature instead
It's the same with every holiday. You can fill your home with plastic decor, plastic garlands, and plastic pumpkins and while you can get some really authentical looking fake fall wreaths, and pumpkins that look like they have just been picked straight off the pumpkin patch, this year I am looking more to nature for my decor.
Get out and look for decor in your own backyard. It sounds cliche but there is so much beautiful foliage around at this time of year that the fake stuff just can't beat. Branches with changing leaves look so beautiful just placed in a large vase and placed on a dining table or kitchen island for a rustic update. And if nature isn't proving all that much for you, go and see what your flower store has in, you could combine some fall blooms with bare branches.
I'm also going real with my pumpkins and gourds this year. Look out for the ones that you can cook and will actually taste good, and before they start to go bad, cook them into a fall recipe.
3. Switch plaid for softer vintage prints
The only reason I am against this design trend is because it's so synonymous with one style. That woodsy, cabin vibe is, of course, perfect for this time of year, perfect in an Airbnb for a cozy weekend, but for my own home, I prefer softer, lighter prints. It's also an incredibly seasonal pattern, you might be able to drag it out into your holiday decor but it has an expiration date of around Thanksgiving.
Vintage florals and bucolic toile patterns in soft neutrals are far more subtle ways to give your home a fall update. Rather than bring in these patterns in pillow form, I like to update my wall decor with new, more fall-appropriate prints and frames. Pressed dried flowers, landscape paintings, and soft line drawings always seem more fall-like to me and look lovely all together as part of a gallery wall.
4. Giving all the attention to the porch
I know that this time of year is all about the fall porch decor. I do intend to embrace this trend with a couple of pumpkins of course, I'd be banished from the neighborhood for having a bare step. But generally, I like to give more attention to what's going on inside the house. Fall table decor is my front porch. I love tablescaping and prefer to put my efforts into creating beautiful table displays that both I and my guests can enjoy once we are inside the house.
Pick a tablecloth as a base that you can keep out all of the time. Something like a brown and white gingham (I know I said no plaid but gingham is ever so slightly different and softer) and then add a tray in the center that you can use to add decor – books that feel seasonal, a vase of foliage, a candle or two. You can then add more layers when you have guests and bring in a runner and some textured placemats in something like rattan or jute. Bring in even more foliage too and some mini gourds to run along the center.
'The table really becomes the center of the home at this time of year,' says the editor of Homes & Gardens, Jennifer Ebert. 'It deserves some extra attention. So switch out your tablecloth for something seasonal and always have some kind of flowers or foliage going on to make it more of a focal point. When guests come over, add a few candle sticks (I love vintage brass pieces for fall) with tapers to give the table a more formal, occasion feeling.'
FAQs
When should you start decorating for fall?
I say anytime from now you can start bringing in subtle hints of the changing seasons. How I start decorating for fall is by adding in some heavier materials and textures. The chunkier throws come out and a few extra pillows, and then around mid-September, I start to bring in more fall-like orange foliage and the pumpkins.
Sign up to the Homes & Gardens newsletter
Decor Ideas. Project Inspiration. Expert Advice. Delivered to your inbox.