6 bedroom paint colors going out of style for 2024 – and the colors to use instead
Interior designers reveal the bedroom paint colors to avoid next year – and what we should choose instead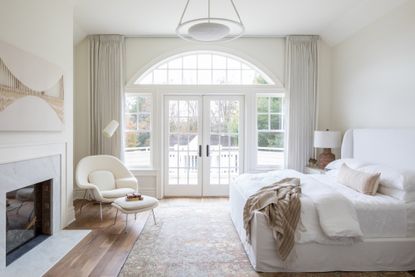 (Image credit: Ursino Interiors/Raquel Langworthy)
Sign up to the Homes & Gardens newsletter
Decor Ideas. Project Inspiration. Expert Advice. Delivered to your inbox.
Thank you for signing up to Homes & Gardens. You will receive a verification email shortly.
There was a problem. Please refresh the page and try again.
For anyone planning changes to a bedroom scheme, a little insider knowledge on which bedroom paint colors are going out of style in 2024 will be invaluable. When you're looking for bedroom ideas for a new look, changing your bedroom paint is one of the easiest updates to achieve. However, no one wants to repaint their bedroom walls only to find out their chosen color will soon be so last year.
That's why we've asked interior designers for their expert help. They've shared their predictions below for the bedroom colors going out of style in 2024. You might be surprised by some of the shades that experts are saying have had their day, so if you're about to do a bedroom refresh consider this essential reading.
As always, though, room color choices are a highly personal thing and bedrooms are personal spaces. We're not going to call you out if you want to go right ahead and choose any of the bedroom colors going out of style. We do, however, have some great advice to pass on from the experts on how you can update your space without changing everything all in one go.
Which bedroom paint colors are going out of style in 2024?
We said there were some surprising shades among our interior design experts' picks of bedroom paint colors going out of style for 2024...
Well, how about gray, dark blue, taupe, pink, white, and black?
These are some of the bedroom colors going out of style for 2024, according to the experts, yet some of these colors have been firm favorites with designers and homeowners for the past few years now. We take a closer look at the reasons why these particular shades might be on their way out for bedrooms and offer a sneak preview of the colors designers think we should choose instead.
1. Avoid cold grays for bedrooms – we're loving warmer shades instead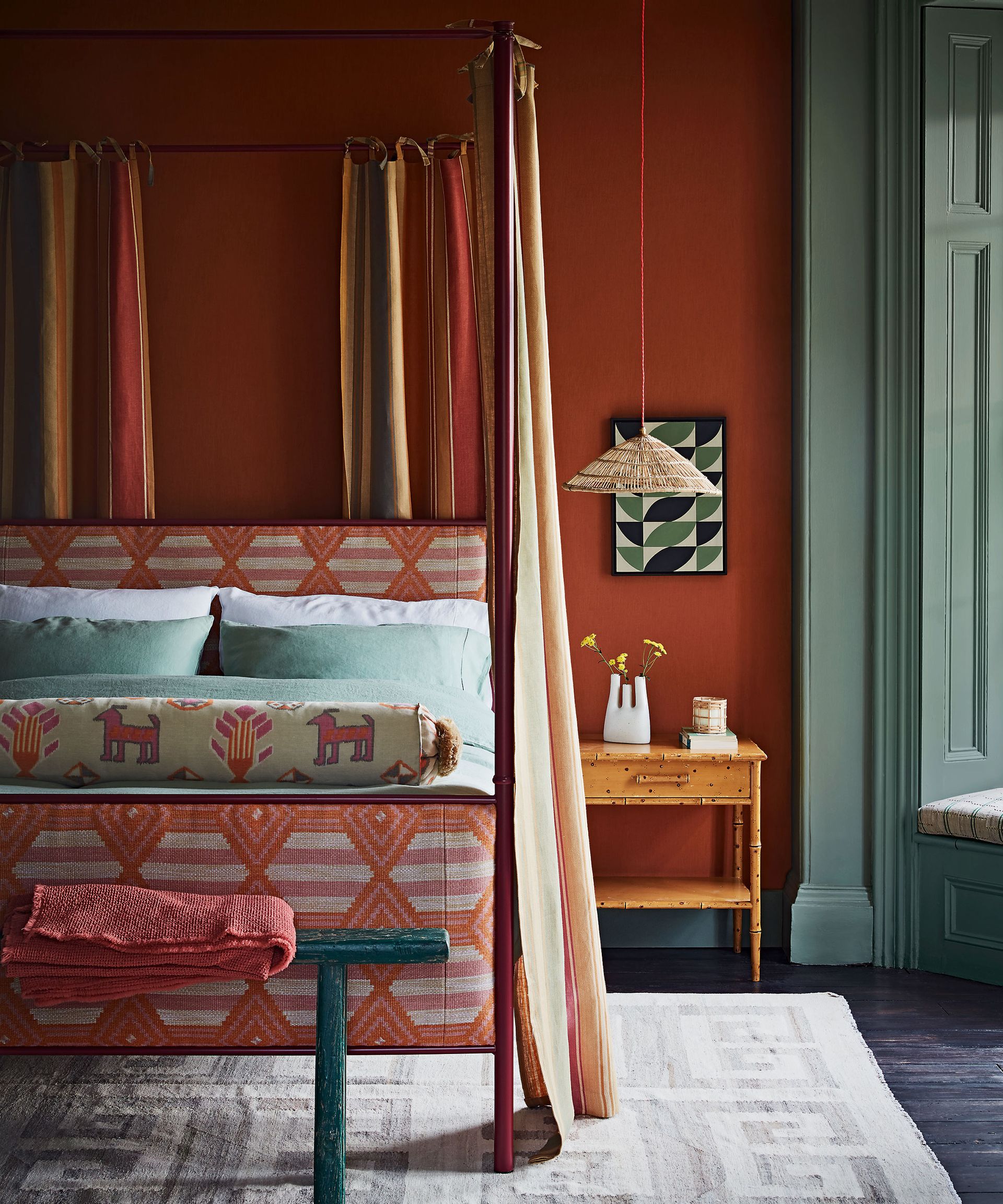 In recent years gray has been our go-to shade for almost any room in the house, bedrooms included, but now designers are saying gray has had its day. We asked our gray naysayers why they think the color is on the way out and what they would choose instead.
Ruchi A Mohan, founder of the New York-based firm Design by Ruchi, says: 'Grays are at the bottom of the pile for bedrooms, for me. Gray acts as a neutral and does not make a huge impact in current times. If I were to update a bedroom that has mostly light gray furniture and walls, I would add some color with paint or bedding and create a feature wall to update the room.'
Marina Braginskaya, who led Dubai-based studio Braginskaya & Architects, agrees that our obsession with gray has almost run its course. 'For me, one of the color schemes that we don't want to see much will be the cool shades of gray,' she says. 'Despite it being always elegant and neutral, we've seen it too much these past few years and it's definitely time for a change to softer and warmer colors.'
California-based interior designer Kriste Michelini explains the color's fall in favor 'We can observe that grays, despite being a popular choice for years, often create a somber and dull atmosphere.' Somber and dull in a bedroom? No, thank you.
2. Update a dark blue bedroom: muted greens are a relaxing choice
We've seen a lot of dark blue all over the home for many years, and it's the color we'd credit with the "dare to go dark" bedroom revolution, some nine or ten years ago. But there are plenty more blues we'd rather see for bedrooms, think aquas, cobalts, as well as the softer shades that head towards lavender. And like many of the designers we spoke to, we're also turning towards warm, earthy mid-tones, and light livable greens.
'Navy blue and saturated greens, typically used on accent walls, seem to be losing their appeal,' agrees Kriste Michelini. 'A noticeable trend is the rising popularity of soft blue grays like Farrow & Ball's Parma Gray.'
Other designers we spoke to emphasized the importance of choosing a calm scheme for a bedroom, feeling that strong dark blue paint doesn't set us up for a good night's sleep. However, this is often believed to be one of the best colors to paint a small bedroom, but do use it with caution.
'Overly energetic colors are going out of style as the color palette of 2024 embraces a more subtle range of hues,' says Santa Monica-based designer Esther Lundstrom, adding her thoughts on how to move away from an outdated shade. 'Repainting is a cost-effective way to update your space. Additionally, introducing accent colors through elements like bedding, curtains, artwork, and decorative accents can make a big difference. Consider reupholstering an old favorite in a fabric that reflects the color scheme you're going for. Yellows, such as buttermilk, and muted purples, like lavender, along with serene blues, muted greens, and earthy neutrals, are much more well received for bedrooms.'
3. Call time on taupe: sandy shades are a more interesting alternative
It's fair to say that designers don't hold back in their criticism of taupe and won't miss it if their predictions are correct and we soon see the murky shade disappearing from bedrooms.
Marina Braginskaya says: 'Taupe can look a bit of a boring choice. Additionally, it can make some rooms look smaller. I would suggest going for something in the warm sandy palette instead.'
Designer Katharine Pooley says 'I think light neutral paint colors in bedrooms, especially those in tones of stone, and ivory can read a little flat and cold. If a lighter hue is required then I much prefer a silk wallpaper or grass cloth as the texture will add interest and warmth. My mantra is if you want to use paint in a bedroom ensure there is some depth and pigment in the hue you pick.'
4. Rethink pink for bedrooms, try light salmon instead
Given the rise of the recent Barbiecore trend, the news that some designers are predicting that pink room ideas are among the bedroom paint colors going out of style for 2024 might come as a bit of a shock. Kriste Michelini explains, 'Pinks and blush tones, while visually stunning, can be challenging to live with on a daily basis due to their overpowering presence.'
Not all the designers we asked were ready to give up on pink altogether, however. Braginskaya predicts a switch from the cooler tones to the warmer pinks, saying: 'If you are not planning to design a house for Barbie, you need to be careful choosing the shade. I consider that we had enough of the cool pinks and now it's time for light salmon or peachy colors. They look richer and more sophisticated and they make an amazing background shade.'
5. Move on from pure white: swap in creams and light beige
With a whole rainbow of colors to choose from, we think cold, pure, dazzling white paint won't be featured on many bedroom walls in 2024.
Homes & Gardens' global editor-in-chief, Lucy Searle, says: 'You can achieve a much warmer, softer finish by layering creams, warm whites and light beige shades which can move into natural pale straw colors too. Add in nuances of different textures and a pale off-white bedroom becomes a cozy sanctuary, like this Ursino Interiors bedroom, above. Just stay away from the blue tones of pure bright white paint.'
6. Turn your back on black: warm mid-tones are where it's at
Let's face it, not many of us have actually dared to paint a bedroom black but for anyone who's still trying to build up the courage, the message from the designers is: don't bother. Black, they say, is another of the bedroom paint colors that are going out of style.
Interior designer Todd Prince sees the move away from black for bedrooms in the context of changing colors throughout the home. 'Currently, the once popular light, cool color schemes have fallen out of favor as bedroom paint contenders, giving way to a strong demand for warmer mid-tone neutrals among clients,' says Prince. 'However, specifically related to bedrooms, we have noticed additional movement. The latest shift is from black as a bedroom wall color, replacing it with the same warmer mid-tone colors popular in other rooms. Overall, the transformation is witnessing a simultaneous departure from cooler tones and a departure from darker shades.'
And the designer has some sage advice for any of us who throw ourselves wholeheartedly into the latest color trends: 'In times of radical color trend shifts, like the current transition from cool to warm tones, making only small adjustments to your bedroom can be quite challenging.' says Prince. 'Overall the lesson here is to not succumb so deeply to color trends… especially for items whose quality makes a real difference. Opting for white or soft off-white bedding and pillows always proves to be a wise decision regardless of the paint color in the room. In a bedroom, if the bedding is classic, everything else works.'
FAQs
What are the most relaxing colors for a bedroom
For all the discussion about the latest bedroom color trends, the last thing we want is for anyone to lose sleep over it. Bedrooms should be calm, relaxing places to be, and designing a bedroom should be an enjoyable process. Sha Wang, principal at Space 9 Interior Design has some great advice on keeping your priorities in mind. 'Designing our sleeping spaces involves a critical balance between utility and beauty, aiming to create a calming atmosphere that fosters much-needed rest,' she says. 'The upcoming trends are expected to center around colors that foster relaxation and tranquility, simultaneously elevating the room's visual allure. Anticipated popular choices include soft and soothing tones like muted blues, serene greens, warm neutrals, and gentle pastels. These colors work together to create a harmonious atmosphere that promotes a restful and peaceful sleep environment.'
Keep that in mind and you can't go far wrong.
Sign up to the Homes & Gardens newsletter
Decor Ideas. Project Inspiration. Expert Advice. Delivered to your inbox.
Karen is the houses editor for homesandgardens.com and homes editor for the brand's sister titles, Period Living and Country Homes & Interiors, and an experienced writer on interiors and gardens. She loves visiting historic houses for Period Living and writing about rural properties for Country Homes & Interiors, and working with photographers to capture all shapes and sizes of properties. Karen began her career as a sub editor at Hi-Fi News and Record Review magazine. Her move to women's magazines came soon after, in the shape of Living magazine, which covered cookery, fashion, beauty, homes and gardening. From Living Karen moved to Ideal Home magazine, where as deputy chief sub, then chief sub, she started to really take an interest in properties, architecture, interior design and gardening.