Should doors be painted the same color as walls? Yes, and here are 5 expert-approved reasons why
If you are thinking about painting your interior doors the same color as the walls, you need to start with the theory – here, experts share their wisdom about decorating with color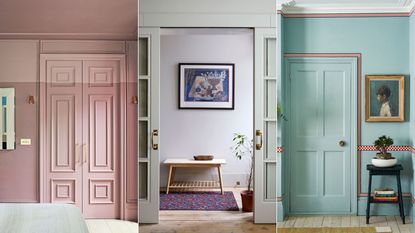 (Image credit: Susie Atkinson / Future )
Should doors be painted the same color as walls? If you're learning how to paint a wall or embarking on a house renovation, it's a question you're sure to ask yourself or your interior designer.
The short answer is: yes, you can certainly paint doors the same color as walls for a seamless, modern, and restful aesthetic. In fact, we encourage you to try this space-boosting paint idea.
'Enveloping your space in a single color is a wonderful way to create rich, engaging interiors,' says Andy Greenall, creative director of Paint & Paper Library. 'This on-trend approach to decorating incorporates doors, along with all other architectural features into your design scheme.'
Of course, there are other ways you can approach painting a room, with white doors and trims, or, of course, you can contrast the color of the door to the walls instead. There's no wrong answer. But painting doors the same color as walls is a contemporary option that will create an elegant aesthetic.
Should doors be painted the same color as walls?
'There are a variety of different approaches to painting doors and woodwork, each creating a different atmosphere in a space,' says Ruth Mottershead, creative director of Little Greene. 'For an enveloping and intimate feel, embrace the color-drenching trend and paint your doors, woodwork, walls, and ceiling in a single color.'
Not sure where to start? Belove we share five expert-approved ways to paint your doors the same color as your walls.
Paint doors the same color as walls to make the space look bigger
Small room ideas often involve creative ways to increase the sense of space through clever interior design ideas. And utilizing paint tricks is an ideal strategy to make a small room look bigger.
Patrick O'Donnell, international brand ambassador at Farrow & Ball says: 'Whilst the default setting for most woodwork in our homes tends to be a multitude of whites and off-whites, considering alternatives, especially on doors, can sometimes offer interesting options and can actually help the perception of space.
'Especially in smaller spaces, where carrying the wall color over your woodwork in a suitable wood finish can help elongate a wall. You will still get a gentle contrast due to how light responds to the sheen, between an emulsion and eggshell.
'Secondly, it can be just a case of aesthetics, for the love of 'color drenching' ie. painting all surfaces in one space the same color, but the appropriate finish for each substrate.'
Helen Shaw, Director of Marketing (International), Benjamin Moore, adds: 'Creating an all-encompassing floor-to-ceiling finish in one color, including trims, skirting boards, and doors, cleverly create the illusion of a larger space as it blurs the edges. This color drenching effect can be especially useful when working with a small space.'
Color drench for a modern aesthetic
Depending on what look you want to achieve for your living room ideas, painting the doors and walls in the same color can look particularly striking, while also being inviting and cozy.
When color drenching is combined with other architectural features, like wall paneling, the final effect is an elevated space with a high-end feel.
'Going full-out color drenching adds a feeling of grandeur and creates a bold look that provides the perfect backdrop for your favorite furnishings and accessories,' says Helen Shaw. 'This seamlessness throughout the space is ideal when working with a particularly small space as it feels more expansive.'
Little Greene's Ruth Mottershead adds: 'The color drenching approach to decorating, incorporating all elements of including doors into a space, and is well suited to living rooms, bedrooms, and entryways, delivering a contemporary and cocooning finish.'
Disguise a less favorable door
Painting doors the same color as the walls is an interior design trick that can be used to hide a door that might not be your favorite part of the room.
'If you are looking to hide a door, simply incorporate it fully into your design scheme in a tonal color or by painting it the same color as your walls, which will camouflage the door, integrating it into the space,' explains Ruth Mottershead.
'Mid-tone and darker colors work particularly well in this situation, harnessing the character and depth of a space, creating intimacy and warmth.'
Farrow & Ball's Patrick O'Donnell adds: 'Whilst a door will never disappear completely, you can soften its presence within a room by painting it the same color as your wall.'
Make a good first impression in an entrance
The entryway is the ideal place to paint doors the same color as walls and start experimenting with color drenching.
'The entrance is the room that not only greets guests entering the home but is also what usually connects one room to another,' says Benjamin Moore's Helen Shaw.
'It is also often a fairly small and sometimes irregularly shaped room, so keeping the same color throughout on the walls and doors, like a white or neutral color, creates harmony, continuity, and a sense of space.'
And Paint & Paper Library's Andy Greenall explains why entryways are a good place to begin, commenting: 'Halls and entrances are often visible through open doorways from multiple rooms, so are a great space for using a single color across all elements, including doors. This will also make it easier to choose a palette that interacts well with multiple rooms and colors throughout the home.'
As hallways are often small spaces, color drenching is a clever trick to employ to make the room look bigger.
Ruth Mottershead adds: 'This approach can be used to create the illusion of space, simply paint the doors, walls, and ceiling in the same shade to extend the walls upwards. This works particularly well as a narrow hallway idea, as these spaces are often also lacking in natural light.'
Create a sense of calm
Color drenching creates a seamless aesthetic and removes any visual jarring that can occur when contrasting shades are used. This makes painting doors the same color as walls a particularly good idea for spaces where tranquility is key, like bathrooms, bedrooms, and nurseries.
Pam Gruhn, founder, of Frenchic, says: 'Smaller bedrooms and nurseries in particular, where you may well be looking for ways to create a tranquil environment to promote relaxation and sleep, benefit greatly from a single color for trims, doors, and walls.'
She adds: 'Having doors painted the same as the walls is a simple trick for a pared-down look that makes the whole space look effortlessly sleek and chic.'
Should doors be painted the same color as walls or trim?
If you're looking for a modern, seamless, finish then doors should be painted the same color as walls and trim. This color-drenching trend can also help to make a small room feel bigger.
Frenchic's Pam Gruhn says: 'Keeping your doors and trim the same color as the walls can be a very good decision
She adds: 'You can then throw in some stunning contrasts and accents via your soft furnishings and furniture.'
What color should doors be painted?
'The color you paint your doors is a personal choice, and is dependant on the atmosphere you wish to create in your home,' says Little Greene's Ruth Mottershead.
'To create impact, opt to use one color across both walls and woodwork for a statement finish.
'If opting for a traditional white on a door, consider painting skirting and woodwork, almost framing the door, in a darker color such as Lamp Black, which will define the space.'
Farrow & Ball's Patrick O'Donnell says it's all about personal choice, adding: 'Be as demure or as fauvist as you want - your home should always speak of the people that live within.'
And Sarah Lloyd at Valspar suggests matching the door to the floor can also be a stylish option, adding: 'You can choose to match the door to flooring, for example, if you have a cream colored carpet or dark brown wood you could try and match the door with this instead, which looks great in living rooms particular.'
What color should I paint my interior doors if my walls are white?
'Even in a room with simple white walls, a door can be the perfect place to be adventurous and add a highlight color, such as a bold pink, red, or a bright joyful yellow,' says Ruth Mottershead.
However, if you're looking to attain a tranquil, elegant aesthetic, stick to neutrals. Patrick O'Donnell comments: 'Sometimes a gentle, complementary neutral can look elegant and discreet, such as Slipper Satin against our classic All White.'
And Benjamin Moore's Helen Shaw says: 'White walls provide the ideal canvas for a huge variety of colored doors and trims, from complimentary neutrals through to bold brights.
'As with all color choices however, the key is for your doors to reflect the overall feel of the room and house, so if your white walls are there to evoke a Japandi-style sense of calmness, then avoid bright, bold colors that could overwhelm the space.
'However, if you're aiming for a vibrant statement and want a pop of bright throughout the house, your doors could become a colorful focal point.'
What is the most popular color for interior doors?
White is historically the most popular color for interior doors.
Frenchic's Pam Gruhn says: 'Doors and trims are conventionally painted a different color to walls – with white or at least paler shades the preferred option.
'However, more recently, we've seen a trend of doors being painted the same color as walls, known as color drenching.'
Should doors be darker of lighter than walls?
'Whether you paint doors lighter or darker than your walls, should be determined by the effect you wish to create,' says Andy Greenall, of Paint & Paper Library.
'The beauty of architectural features such as doors or window frames is that they can provide multiple surfaces for color, allowing you to create a quirky or sophisticated design scheme.'
Creating a contrast in color between your doors and walls can depth and dimension. If you don't want the contrast to be too striking, try a tonal look within the same color palette; you could opt for light grey walls and a darker grey on the door, or vice versa, for example.
Andy adds: 'Tonal colors will create a gentle scheme that feels elegant and harmonious, whilst more contrasting colors will deliver a lively, impactful interior.'
Can I use the same paint for doors and walls?
No, you will need to use different paint for walls and doors for the most professional-looking finish.
Valspar's Sarah Lloyd says: 'Most doors are wooden so you'll need an undercoat and primer. This is also true for painting front doors.
'We would also recommend using premium wood and metal paint rather than wall and ceiling paints for your door.'
Sign up to the Homes & Gardens newsletter
Decor Ideas. Project Inspiration. Expert Advice. Delivered to your inbox.
Ruth Doherty is an experienced digital writer and editor specializing in interiors, travel and lifestyle. With 20 years of writing for national sites under her belt, she's worked for the likes of Livingetc.com, Standard, Ideal Home, Stylist and Marie Claire as well as Homes & Gardens.