When should you use a round rug? The lesser-loved shape can often be the better choice, say designers
Round rugs don't get enough credit, they make rooms feel bigger, work better under furniture, and offer a cozier aesthetic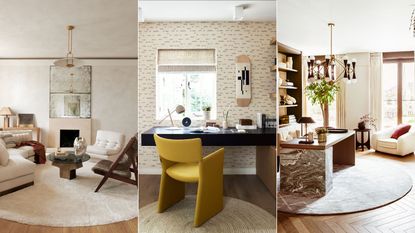 (Image credit: Micheal Sinclair/Future/Patrick Williamson)
Round rugs often fall second to rectangular rugs. But, in fact, there are many situations when a circular rug could work better than its clean-lined counterpart.
And designers agree, we are seeing more round rugs being used to ground furniture, cozy up a small room or just add a more fluid, softer shape to a room. Since 'tis the season for cozying up your home, bringing in more soft finishes and more textures, we are all for having a rug switch around and trying something new.
But when does a round rug work best, and what are the benefits of going for round over rectangular? We asked designers who are advocates for this emerging rug trend why we should be using them more.
When should you use a round rug?
'If you're working with a more confined space, a round living room rug can create an illusion of grandeur given its un-boxed aesthetic, whilst cohesively bringing together and centering surrounding pieces peppering the room, which may otherwise look scattered,' explains Eleanor Taylor-Roberts, a design consultant.
'A circular rug is equally a strong mechanism for reflecting any curved architectural detailing within a space. I always feel it's best to honor the canvas you're working with, acknowledging a building's heritage, construction, and surroundings where possible.'
'Other round rug effects include accenting a statement or circular piece – say a vase plinth combination or a coffee table sculpture – in the center of the space, as well as injecting an identity to a zone that is otherwise undefined,' she adds.
Perhaps it's because minimalism, with its clean lines and simple silhouettes, has reigned for so long in the world of interior design trends, but round and oval rugs haven't got a lot of focus. Or perhaps it's just because rectangular rugs are a safe choice as they mirror the shapes of most rooms. However, there's a shift happening and round rugs are suddenly everywhere, providing a softness and curvature that's appearing in so many trends right now.
1. To create a more cozy, coversational layout
If you are after a softer, more relaxed look a round rug can be a better choice. A round rug will instantly create a cozy, intimate feel to a room, especially if you base your layout around the shape too – which we would always recommend doing so as not to create contrasting lines within the room.
We would also always recommend going large with your round rug. This applies to any shape rug actually, but you want to ensure it's big enough so that large pieces of furniture like the couch the bed, or the dining table can comfortably sit on top. With a round rug especially it could look disjointed if the furniture doesn't comfortably sit within the rug's parameter. And if placing all your furniture within the rug's dimensions isn't practical, always have two legs on the rug.
'I love round rugs! Choosing a round rug over a rectangular one is really a matter of personal preference. Generally, I love round rugs for spaces that feel a bit cozier and that maybe have a rustic chic sensibility to them. They work really well in smaller living rooms and dens in both beach houses and mountain cabins, and they're also great for kids' rooms and nurseries,' explains designer Kathy Kuo.
2. To define a space with softer more subtle lines
Rugs are ideal for defining spaces and zoning larger rooms and going for a circular shape over a rectangle can achieve this in a softer, more organic way. Rather than blocking the space with straight lines and quite restricting angles, using a round rug will still do the job of grounding and defining a space, but the curves create a softer look.
Designer Kati Curtis explains, 'A round rug is a great tool to help define space, especially in large open seating areas. For instance, placing a round rug in a great room with multiple functions instantly distinguishes the seating area from the rest of the room.'
You could also mix and match a round rug with a rectangular rug to further define different spaces within a room. For example, if a living room shares a space with a dining room, you could go for a rectangular rug in the living space and place a round rug under the dining table.
This is also a nice way to separate a dining table from a kitchen diner. A circular dining table with a circular rug underneath instantly makes the area feel more grounded and more like it's own space.
3. To make a small room feel bigger
This is a little-known trick for making a small room look bigger. Going for a round rug can allude to more space as you don't have those straight lines mirroring the walls and enhancing the dimensions. A round rug creates less of an obvious definition and adds more interest to a room which will always distract from the size of the room.
'The use of a round rug is dependent on the space; its furniture and décor but a round rug can add interest to a space and of course texture and warmth just like any other shape of the rug,' explains Camilla Douraghy Fischbacher, creative director at Christian Fischbacher.
'They're great if you want to enhance a curved architectural bay window feature for example as they echo the shape of the wider space. The fluid curve of a circular rug will draw the eye in, encouraging it to scan the arc of the room and create the illusion of a larger space,' she adds.
4. To add something unexpected to an entryway
The go-to entryway rug is usually a rectangular one to match the often narrow, small nature. But choosing a round rug can really soften the space, and make an awkward or small entryway look bigger and more open, giving less focus to the straight edges of the room, making it feel less boxy.
'Using a round rug can help to break up an otherwise very square or rectangular space. If you have a box-like entrance, for example, placing a round rug and a circular center table are great ways to create interest. We are currently designing a space with a mezzanine gallery space and we are placing a round rug below to give the seating area a sculptural look when viewed from above,' explains Charu Gandhi, founder and director of Elicyon.
Kati Curtis agrees, agrees that 'Round rugs add softness and break up the monotony of straight lines in square rooms. In entryways, a round rug can provide a warm and comfortable landing spot and will benefit from the soft lines.'
5. To mirror circular furniture
A square dining room rug under a circular piece of furniture like a dining table or a coffee table can look jarring. Mirroring the shape of the furniture with the rug creates a really elegant, cohesive look that defines and highlights the piece.
'Round rugs can break the monotony of a space and offer a fresh perspective. They're perfect under round dining tables to enhance cohesion in design,' explains designer Artem Kropovinsky.
This is a look that works particularly well in small dining rooms. Just make sure you go big enough so that every chair can comfortably fit on top of the rug, even when they are pulled out. Going too small with a rug under a dining table can look really awkward so make sure you measure up and allow for plenty of extra room. Complete the satisfyingly symmetrical look with a statement light fixture hung in the center of the setup.
FAQs
When should you not use a round rug?
There are a few instances when a round rug would not work. However, there are certain furniture layouts and shapes that we wouldn't recommend with a round rug. For example, an L-shaped sofa would look very jarring when paired with a round rug or a large rectangular dining table would look odd. For instance, a bedroom rug would only work if you have the space to ensure it doesn't get lost within the room. Just ensure the furniture works with the curves.
Sign up to the Homes & Gardens newsletter
Decor Ideas. Project Inspiration. Expert Advice. Delivered to your inbox.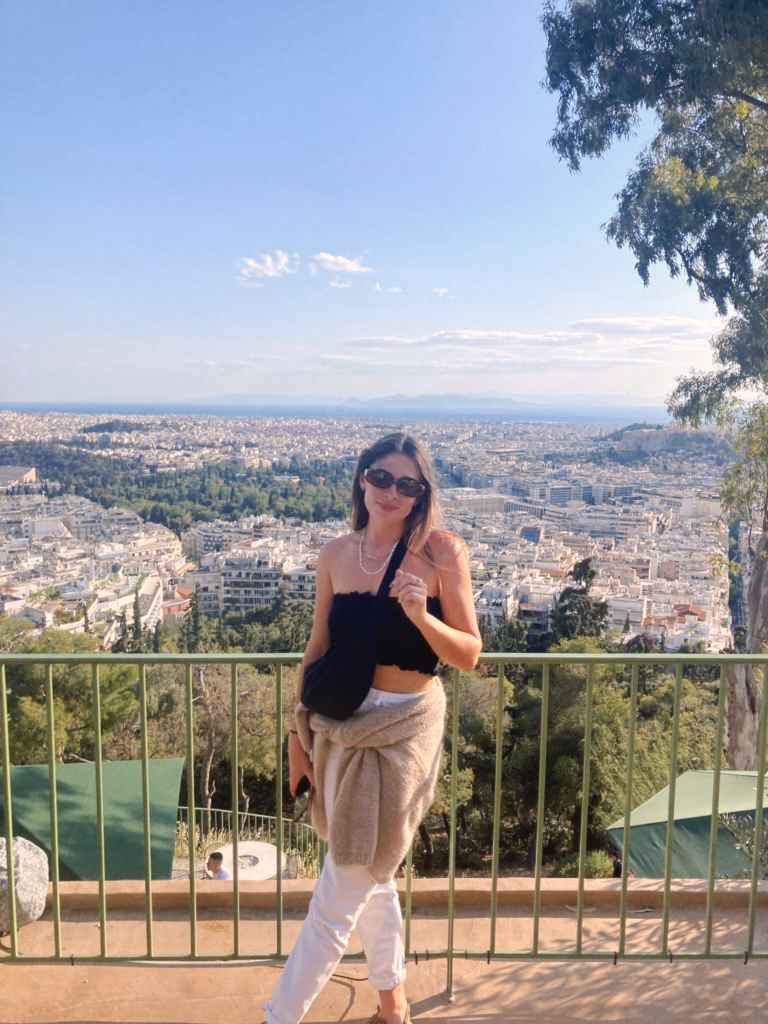 I am the Head of Interiors at Homes & Gardens. I started off in the world of journalism in fashion and luxury travel and then landed my first interiors role at Real Homes and have been in the world of interior design ever since. Prior to my role at H&G I was the digital editor at Livingetc, from which I took a sabbatical to travel in my self-converted van (not as glamorous as decorating a home, but very satisfying). A year later, and with lots of technical DIY lessons learnt I am back to writing and editing, sometimes even from the comfort of my home on wheels.