We're calling it: This kitchen island shape is set to take over in 2023 – here's why designers approve
Using curved lines within a home offers a wealth of benefits, including the potential to add both flow and dynamism. Here's why we love it...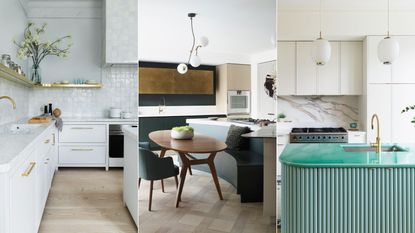 (Image credit: Thomas Richter/White Arrow / Roundhouse / Kate Feather)
Is a curved kitchen island just another passing fad? Or is the design thinking behind these cylindrical pieces of kitchen furniture aligned with a specific styling narrative? Curvaceous design is undoubtedly making a comeback, this softer, flowing, and more dynamic approach to design creates a sense of well-being and enhances the organic design, boosting feelings of comfort and ease.
Think of home design and architecture and your mind conjures up straight lines: neat walls, long tables, the straight edges of windows, desks, or doors, a curvy piece of furniture is unlikely to be a consideration. Yet research has found that curvature elicits pleasant emotions and that people prefer curves to straight lines.
Curved kitchen islands
Since, the pandemic we have re-discovered that design affects us immeasurably, and this, naturally, has seen an uptick in curves throughout design, in walls, architecture, furniture, and of course in the kitchen in the form of cabinets and islands.
But should we consider having a kitchen island with a curvilinear design? Are they more expensive, why is it important and is this just a kitchen trend or something that will become a design classic? We talk to those in the know and share the answers with you.
1. Go all out for curves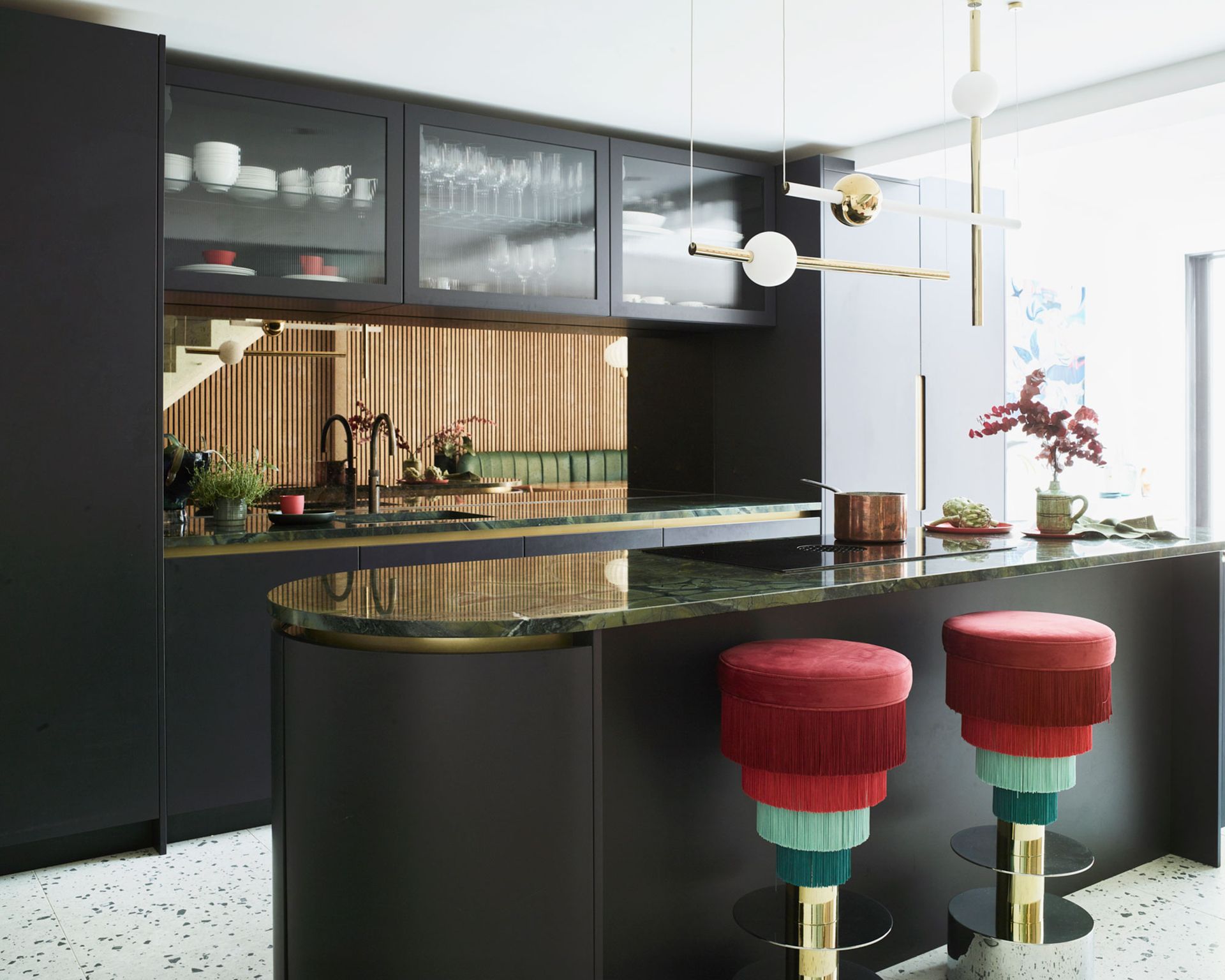 Humans are drawn naturally to a curvy shape, than a rectilinear one, so it makes sense for us to choose as many rounded objects as possible. This kitchen has taken this idea and expanded on it, the spherical curvature of the marble on the kitchen countertop of the island is reflected again in the curved cupboards underneath.
Soft round bar stools highlight the curves, the fringing below follows this form, and even the lighting choice above, as does the curved banquette just seen in the mirror, all ushers in extra rounded elements to the overall design, with soft balls of light hanging gently overhead to create a very comfortable and curvy design altogether.
2. Make it subtle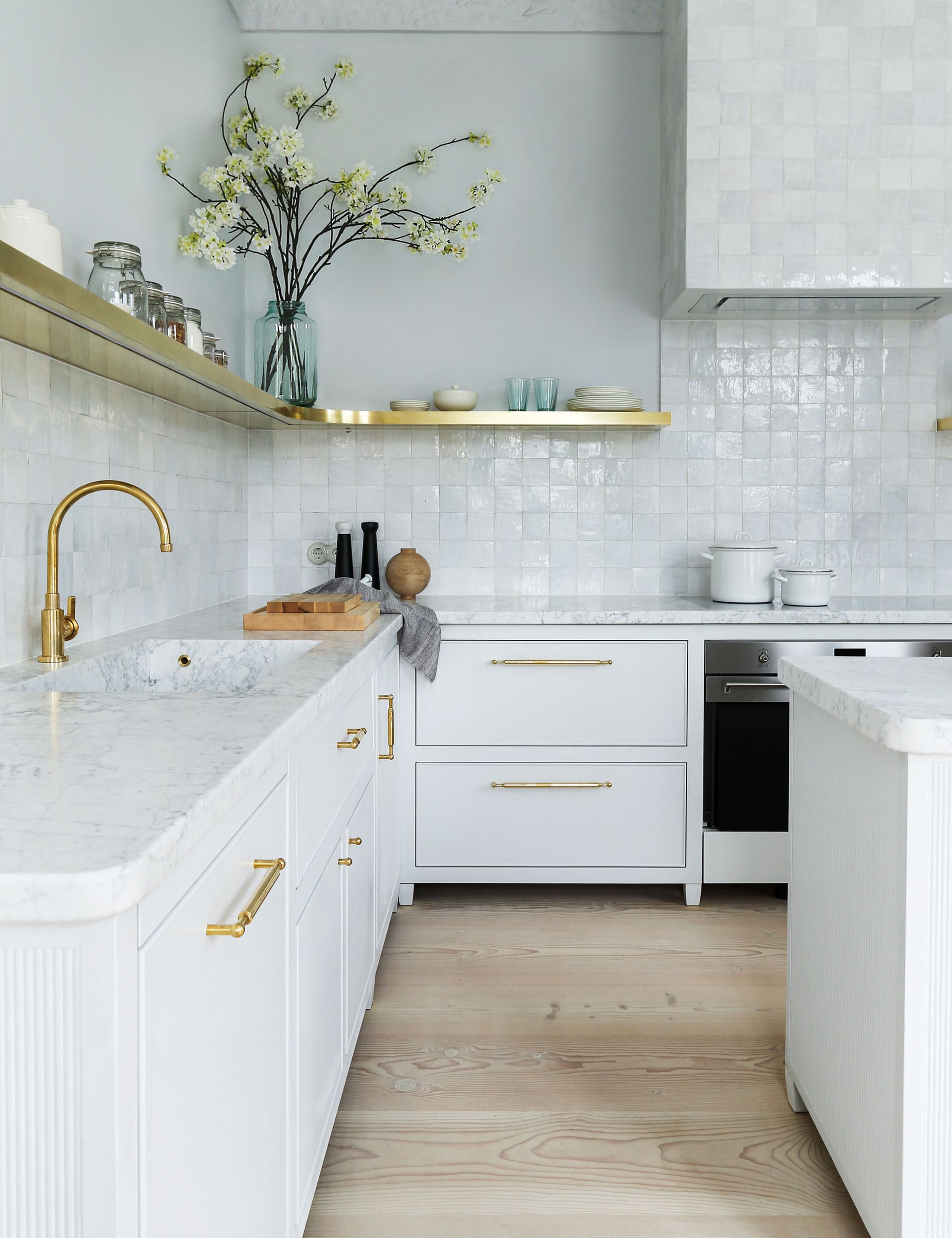 Curved edges in design do not have to be over the top and all-encompassing, a more subtle approach can be just as impactful to the overall design. In this white kitchen, Keren Richter, co-founder and principal designer at White Arrow, has softened the edges of the marble countertop, a soft stone and therefore simpler to mold into a more organic shape, the countertop is reflected back in the kitchen island which has had the same application. A brass shelf above draws on this curving element and has been gently bent around two walls to echo this subtle but chic curvaceous design feature.
'I've designed curved vanities and kitchen cabinets and softened the corners of our millwork and it adds a nice counterpoint to the more hard-edged surfaces or square windows, it can feel fun and art deco or post-modern. The curves also can help with bumping into hard edges of cabinetry in tight spaces,' explains Keren.
3. Do curves cost more?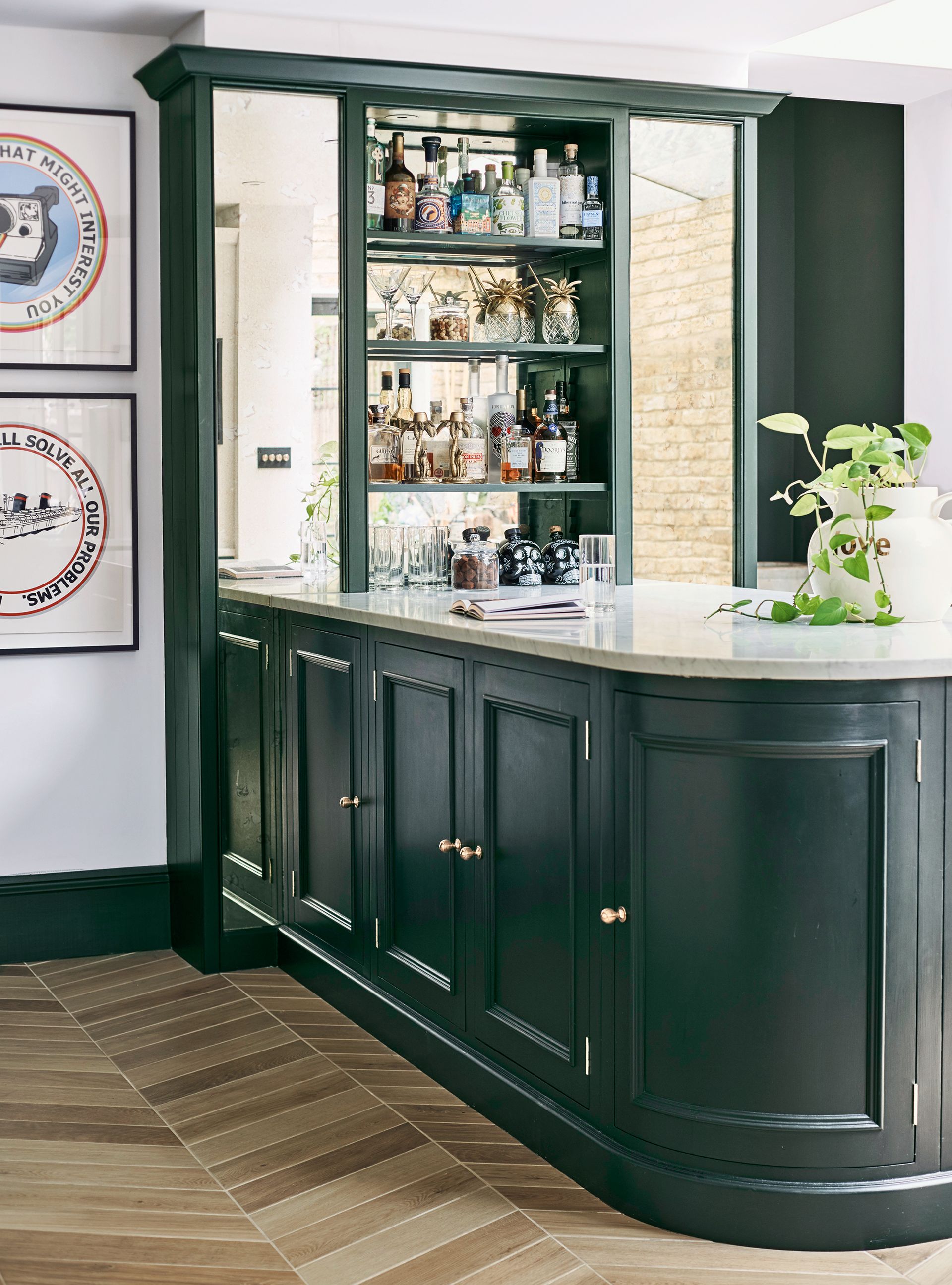 Typically, designing with curves is more complicated and thus more expensive, however, kitchen design has changed enormously in response to modern life. The kitchen is now very much the heart of the home and the most multi-functional room in the house, and ergo homeowners chose to invest more into the overall design and creation of this room.
Simon Temprell, interior design manager at Neptune, says, 'I'm not sure that curved kitchen islands ever really go out of fashion. The absence of hard edges creates a warmer, softer feel to your kitchen and promotes flow around the island. However, curved cabinetry is more expensive to make, and it could limit the amount of storage inside. But a curved island suggests classical design and will bring gravitas.'
4. Reflect original architectural curves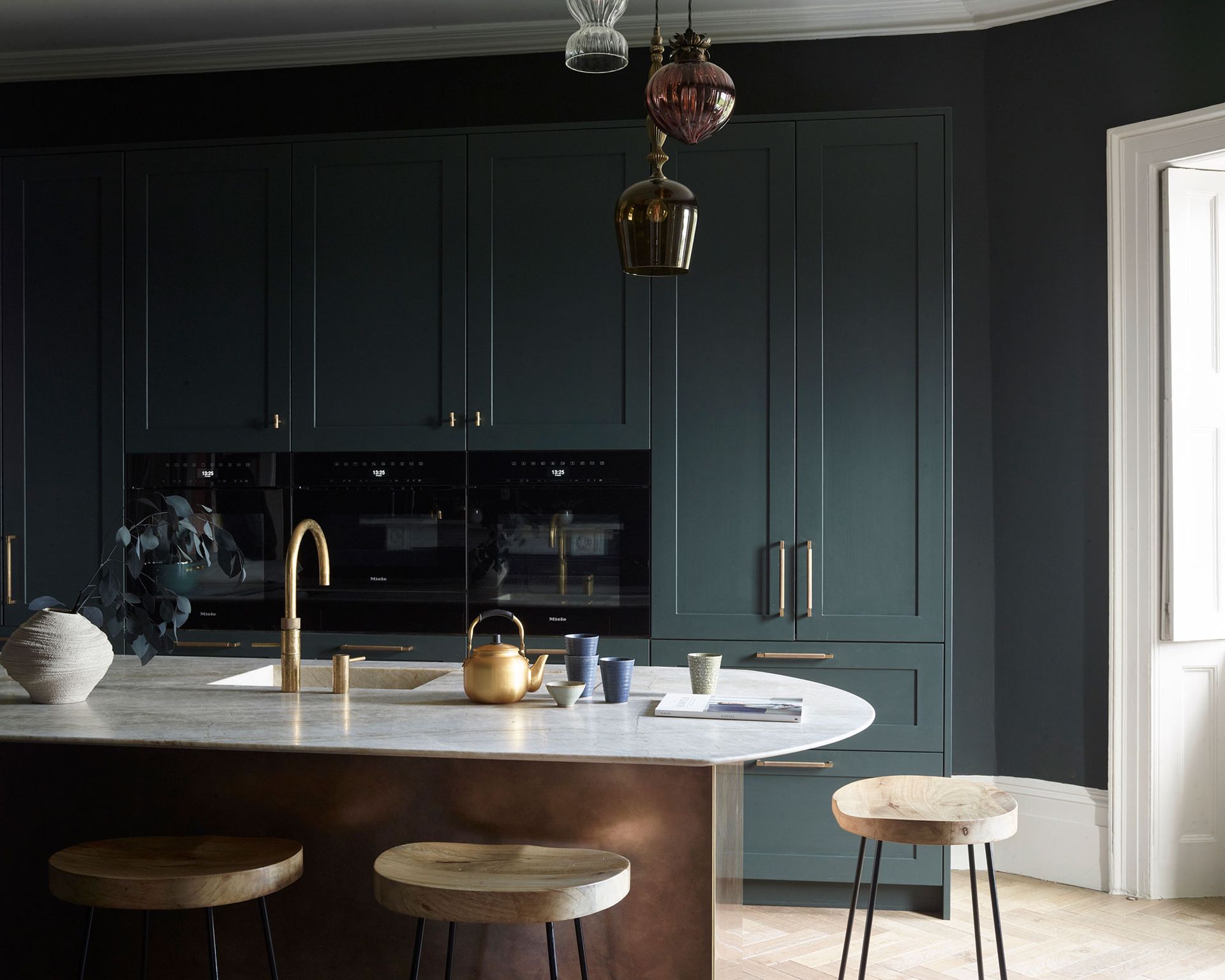 'Hard functional lines are unavoidable in a kitchen space, however, there are ways you can incorporate rounded edges to soften the look and feel of the room. This building was originally a ship masters house, dating to the 1700s, which is why the back wall is curved,' says, Sam Hart, senior design consultant at Roundhouse, to reflect the natural shape of the window, the island was rounded at the end to mirror the shape of the bay windows.
'Not only does this create an interesting feature, but it's practical, no bumping into pointed edges as you move around the room,' adds Sam.
5. Introduce color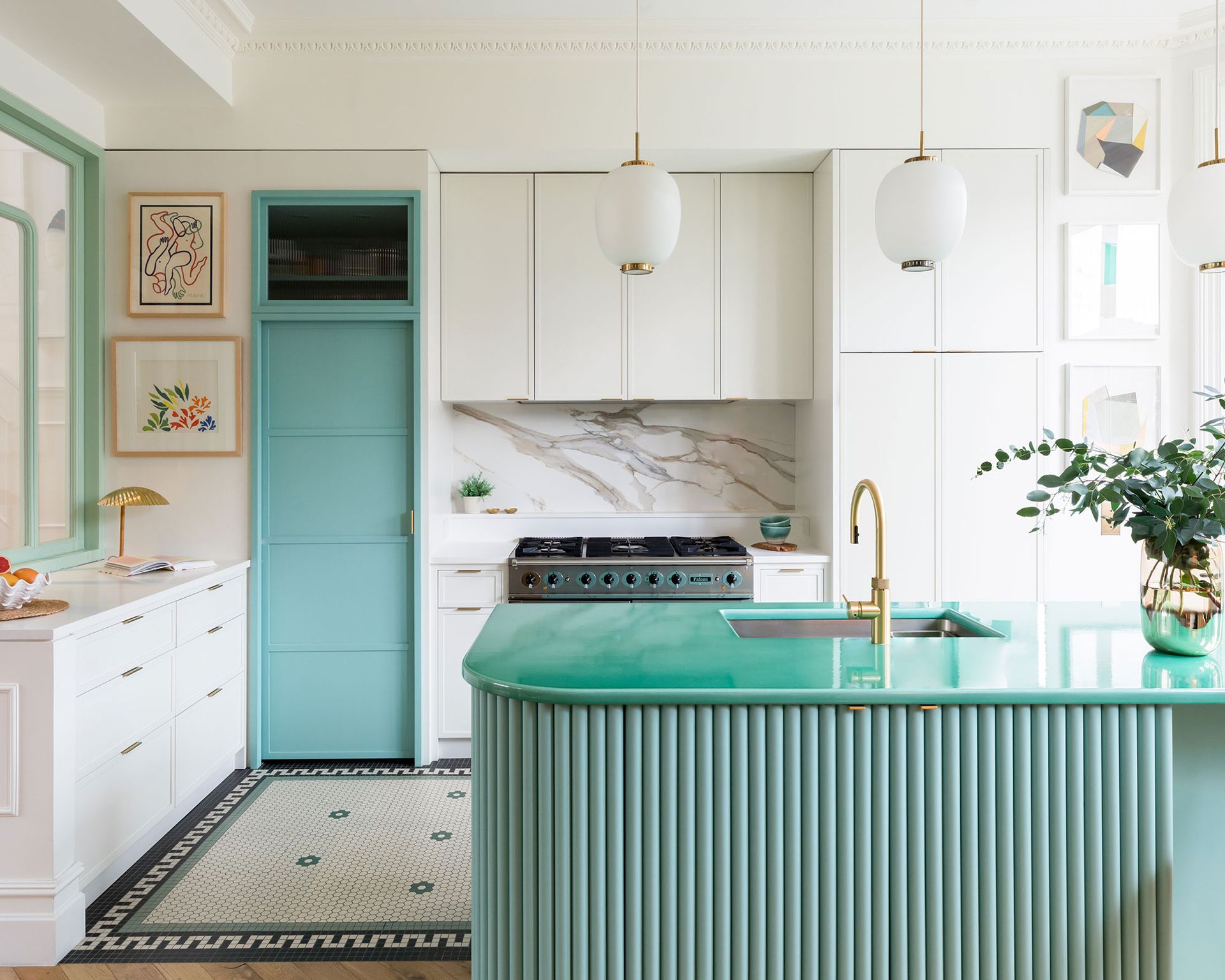 Be bold with color for a characterful kitchen, if you chose a curved island, adding rich tones to the design will lift your kitchen into a playful environment. Kasia Piorko, the founder of Kate Feather, selected a range of green shades in this modern kitchen, with the curved island highlighted in the brightest tone to bring the curvature of the design alive. The curving scheme is expanded into the fluting detail on the island and echoed in the curved window frames creating a sophisticated echoed feature.
'Curved kitchen islands are a great way of adding interest and softness to the kitchen design. A curved island can be integrated into any style kitchen and provide a solution for creating a beautiful and practical social seating area. To elevate this island, we used a strong aquamarine color.
The combination of green tones used in the design complements each other, creating separate areas of interest while pulling the design together. The focal point of the kitchen is the curved island textured with bold ribbed detail,' says, Kasia Piorko, founder of Kate Feather.
6. Integrate the curves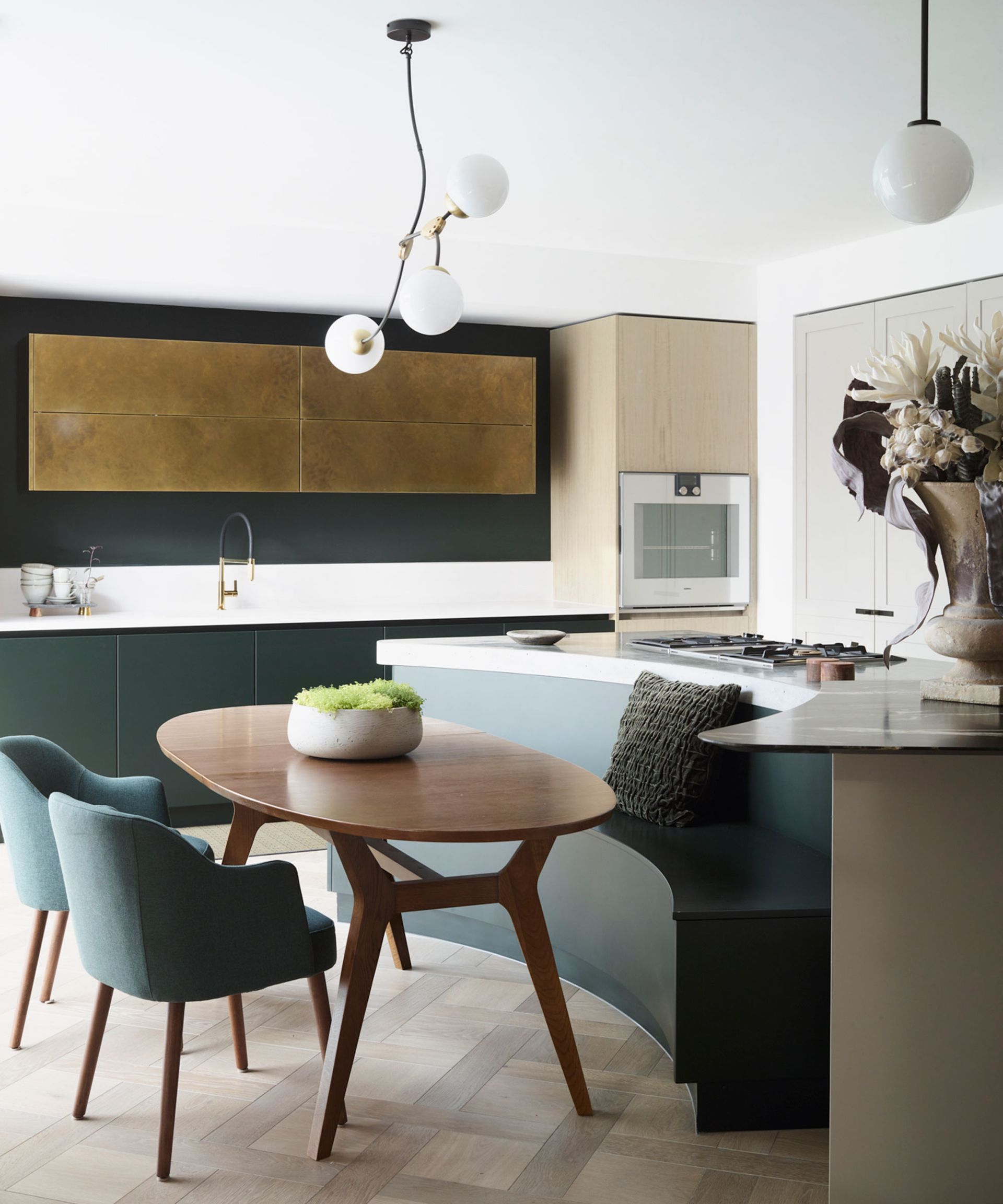 The position of a curved kitchen island can exploit further elements and introduction of more curvature in the architecture of a room, as seen in this kitchen. The designers at Roundhouse designed a deep and generous curve on this island to allow for the incorporation of a curved banquette on the opposing side.
The curves are continued with an oval dining table, to change the dynamics of this kitchen entirely and soften the dining and social space to keep it entirely separate from the design of the work and prep spaces.
This dramatic change in shape can make the room feel bigger and improve the flow of the overall space. Curves are also much safer than hard corners, so there is a huge advantage if you have young children running around in your family kitchen.
7. Mix it up to ease the flow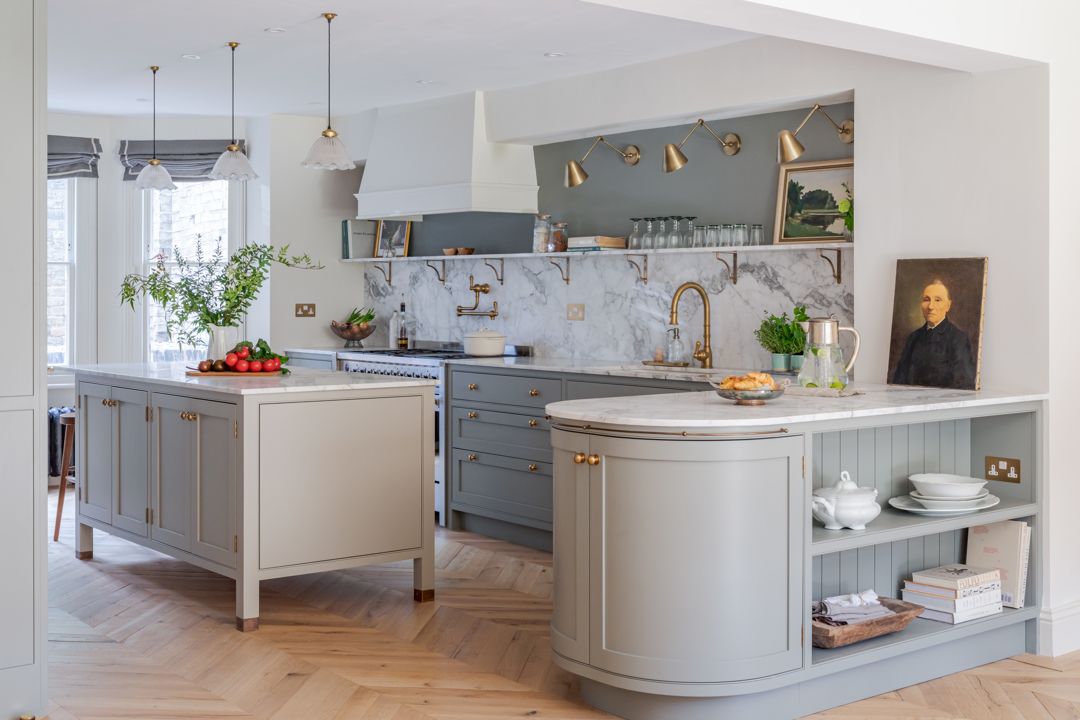 If you want to inject something a little unexpected into your kitchen, then a curved island will do just that. If an area of cabinetry protrudes into a heavy traffic zone, then a curve can soften the space, creating wider walkways and mixing in effortlessly with more traditional cabinetry and counters.
If the space in your kitchen is limited and you want to create a logical path and flow around the work area, consider curves as a way of easing the size of the space or using an oval central island in a confined space to allow easy flow without obstruction. A curved or non-rectangular island will bring an element of delight to a kitchen and is ergonomically beneficial.
8. Go for a space-saving island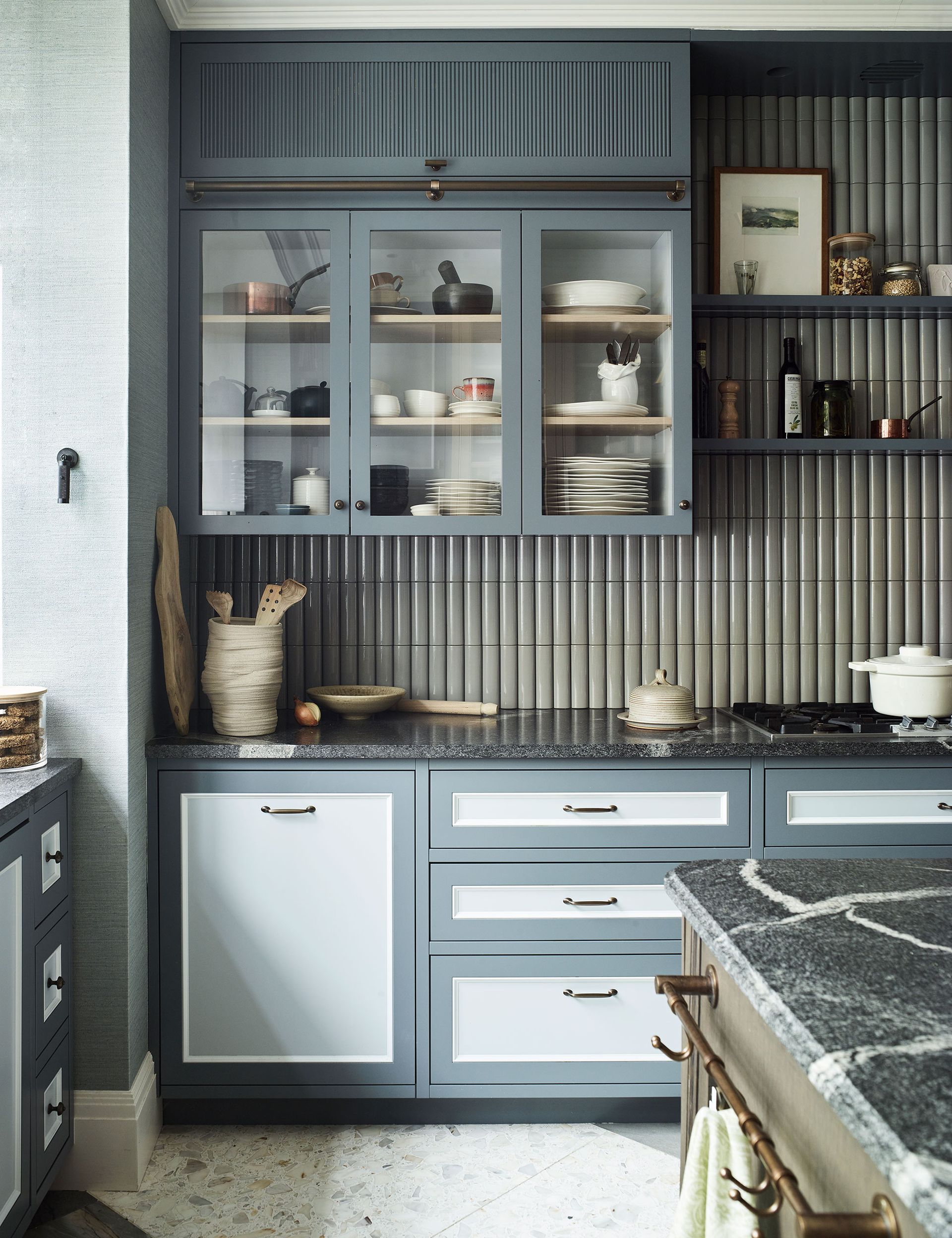 For smaller rooms, Irene Gunter of Gunter & Co, advises: 'If there is less than a meter of walkway between your island and countertop, slightly curved edges will prevent bumping and bruising, even if small children are not around. While small, curved edges on an island are not particularly expensive, a proper half-circle could be costlier and limit storage space. However, a relatively small radius won't have a significant impact.'
FAQs
Is a curved kitchen island more expensive?
A curvaceous island is a more expensive piece of furniture to buy or commission, due to the customization of the shape. However, for a more cost-effective solution incorporate curves onto the work or counter surfaces rather than the units. Curved islands are brilliant for smaller areas, they enhance the flow of the working space, create more space in the kitchen and eliminate any bumps or knocks from little children from sharp corners.
Curves can highlight and accentuate natural or period curvature in the architecture of a home, they are more appealing to the eyes and can inspire natural, biophilic design, which enhances feelings of well-being and relaxation.
Although a curved feature island feels fashionable, right now, this still is in fact historical, and timeless and will maintain its classic style, promoting fluidity and interaction for many years.
Sign up to the Homes & Gardens newsletter
Decor Ideas. Project Inspiration. Expert Advice. Delivered to your inbox.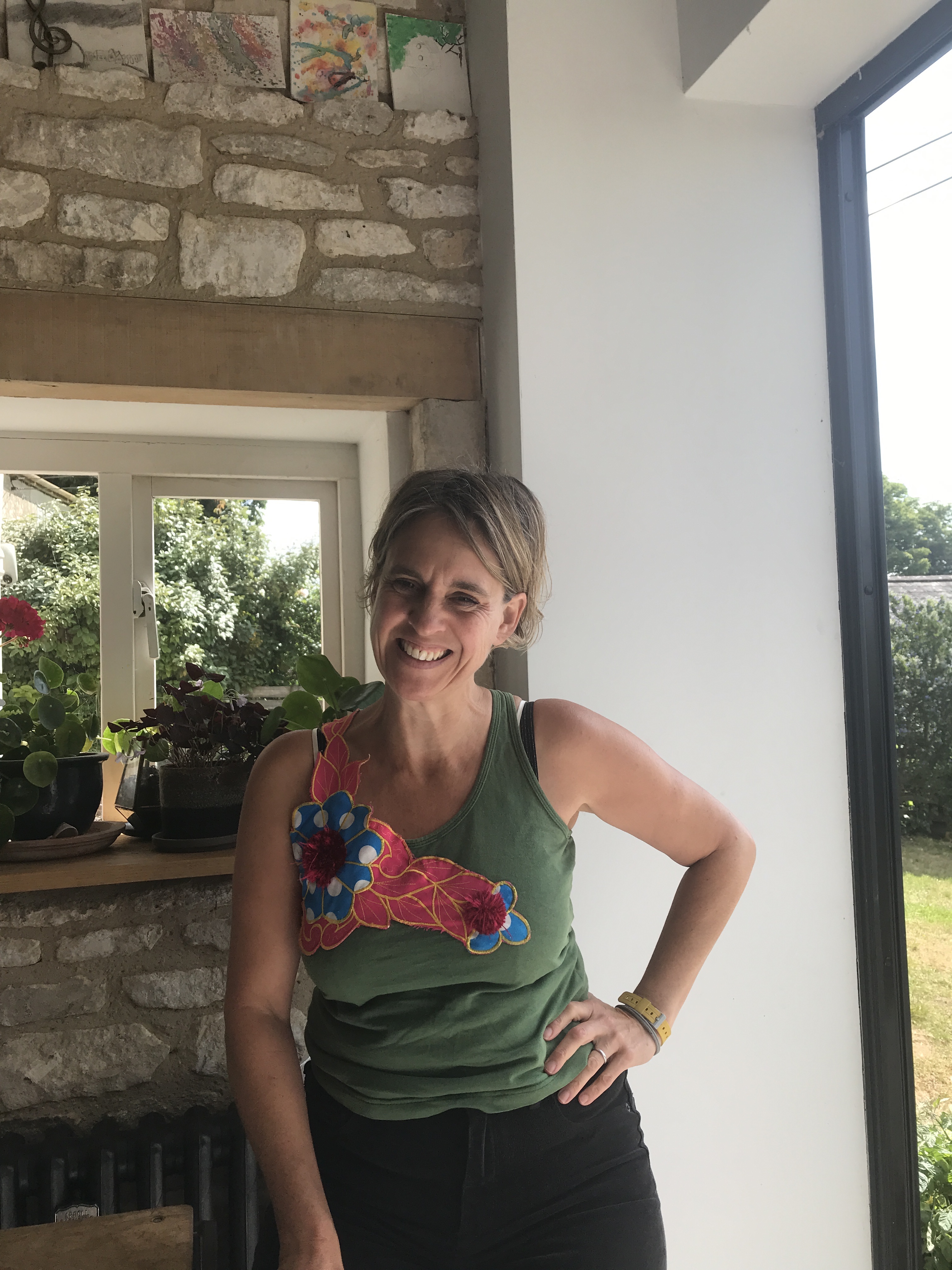 Hannah Newton is a lifestyle, interiors, travel and design journalist and editor who has been writing for the past two decades, she has written for national newspapers including The Times, The Telegraph, The Guardian and The Observer as well as interiors titles Elle Decoration and Architectural Digest in the UK and across Europe, South Africa and Australia.