How to make a kitchen feel cozy – 9 cossetting ideas for the heart of the home
As the heart of the home, the kitchen should be a room that draws you in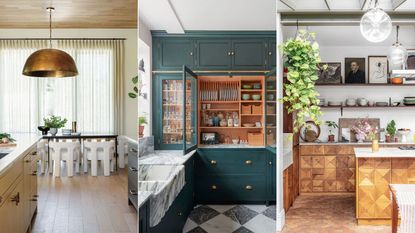 (Image credit: Lindsay Brown Photography/Annie Downing / Morris & Co / Project by Laura Jackson)
The modern kitchen has come along way from the purely practical spaces they once were. Today's kitchen are warm, welcoming and cosseting environments. They are social spaces at the heart of family life where meals are shared, homework is completed and creative ideas are hatched, so it's important to curate a cozy kitchen that is loved by all.
While there are plenty of quick updates you can add to make a kitchen instantly more cozy, there's often more to creating intimate kitchen ideas than meets the eye and fundamental design elements like layout, materials, and lighting can play an important role.
Whether you're looking to make the most of a small kitchen or make a large kitchen feel more intimate, these cozy room ideas for kitchens and expert tips are guaranteed to inspire.
1. Add a fireplace
Nothing beats a roaring fire for hunkering down on colder days. While you may not want one in a kitchen designed purely for cooking, a fireplace can provide much-needed snugness in an open-plan kitchen space. Imagine drinking hot chocolate on the island or hosting a dinner party with the lights low and flickering flames in the background.
In this cozy kitchen designed by Garde Hvalsøe, a panoramic woodburning stove allows the warmth and comfort to be enjoyed from both the kitchen and living areas. The hearth's rustic exposed brickwork adds a layer of natural texture, ensuring the hygge aesthetic burns on, even when the fire is out.
2. Mix it up
Bold kitchen color mixes and material mash-ups can triumph in the bid for coziness.
'Getting the right balance can be harder than it looks, but it helps to build it up, adding and taking away over time – don't feel pressured to do it all in one go,' advises Howard Miller, director, H. Miller Bros.
'Start by choosing the calming backdrop to your composition; there needs to be a counterbalance to the layers of richness. For example, work a heavy pattern wallpaper with block color on kitchen cabinets. Then establish the elements you are certain about, such as a special rug you plan to use in the scheme and use the colors in this to build outwards.'
3. Source antiques
Tucked into a corner in interior designer Tara Craig's Chelsea apartment, a round table provides a convivial gathering point.
'I wanted a classic look but not too kitchen-ish,' recalls the founder of Ensemblier London. 'The mahogany round pedestal table doesn't take up too much space and it's surrounded by 19th-century reupholstered antique chairs to make it soft and cozy. The clear lantern above adds a more contemporary touch.'
The kitchen cabinets are painted in a bespoke soft apricot gloss by Papers and Paints, which warms up the corner and partners beautifully with the table's rich mahogany finish.
4. Create a quiet corner
There's nothing quite like a squishy armchair tucked next to the range cooker for toe-toasting comfort on a cold winter's day. Positioned next to the bay window in this fuss-free Shaker kitchen, an old leather armchair is just the ticket. The ideal armchair will be a little battered, so nobody needs to worry about tea spills or changing out of gardening wear. Position in a quiet spot, just far enough away from the cooking area to avoid getting in the way but close enough to carry on conversation.
'Peppering shelves with antique knick-knacks and collectibles will help offset the more utilitarian kitchen features, ensuring a restful space,' adds Will Eaves, international design director, British Standard by Plain English.
5. Make it one of a kind
Introducing design details that are typically found in laid-back living rooms is a fail-safe way to increase the coziness of your kitchen.
In this project by HÁM Interiors, the painterly pattern and stepped plinths on these simple cabinets echo the look of a vintage sideboard.
'Modern kitchens should be more than just functional spaces; we aim to create a relaxed atmosphere by incorporating antiques, bespoke or unusual finds, along with a standout piece of art,' says founder and principal, Tom Cox. 'This helps to counterbalance the uniformity of built-in joinery and adds a layered, well-established feel to a kitchen.'
6. Work the windows
A simple window seat can be all it takes to make your kitchen a cozier, more inviting space.
'As well as providing a place for you and your guests to perch, it can also make an ingenious storage solution by incorporating cupboards, drawers, or a hinged lid,' says Richard Moore, design director, Martin Moore.
'A cushion or upholstered top adds a level of comfort and allows you to incorporate a splash of color. We generally think of a kitchen as being a place of cooking and standing on our feet, but often they are social hubs of households; window seats provide a place to talk, relax and fully utilize the room.'
7. Curate a display
Adorning walls and shelves with favorite artwork is a classic way to dial down the functional side of your kitchen and turn up the comfort levels. Propping can appear more relaxed than hanging and makes it easier to switch in joyful new finds or change up the frames.
In this cozy kitchen in presenter and podcaster Laura Jackson's London home, the top shelf is dedicated to art, in a mix of mediums and periods, that helps strengthen emotional connections with the space. Combined with stacks of everyday crockery and serveware on the shelf below, the aesthetic is eclectic and carefree.
8. Shut out the world
When a kitchen starts feeling a bit too crisp and austere, curtains can soften the edges and create a cozier vibe.
'The kitchen typically doesn't call for as much privacy as a bedroom or living room, so let the natural light flow and go for something unlined or maybe even sheer,' suggests US designer Annie Downing, who introduced linen sheers to dial down the bright Texan sunlight in this cozy kitchen.
'There's really no limit to what kind of fabric works best in a kitchen, although I often recommend clients dare to go for something vibrant since drapery is quite easy to swap out over time.'
9. Encase in color
Tones from the warm side of the color wheel can have transformative powers on the cozy front. Herringbone took a full drip approach on this soul-warming kitchen, with cabinetry in a muddy, plummy red called Kanreki by Atelier Ellis and walls in a paler version called Angelico Pink by Francesca's Paints.
'Using different tones of a warm color can envelop the space, creating a coziness that almost acts like a hug,' says Herringbone's owner, William Durrant. 'Use wooden accents on a kitchen island, open shelving, or flooring to create an extra warmth. Lock down the right combination by putting samples together and assessing them in different lights at different times of the day.'
Sign up to the Homes & Gardens newsletter
Decor Ideas. Project Inspiration. Expert Advice. Delivered to your inbox.
Linda graduated from university with a First in Journalism, Film and Broadcasting. Her career began on a trade title for the kitchen and bathroom industry, and she has worked for Homes & Gardens, and sister-brands Livingetc, Country Homes & Interiors and Ideal Home, since 2006, covering interiors topics, though kitchens and bathrooms are her specialism.