Modern utility room ideas – 10 ways to a sleek, efficient and organized space
Create the perfect engine room for the home with these modern utility room ideas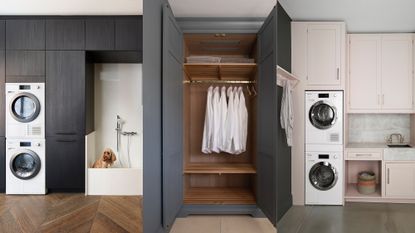 (Image credit: Design Space London / Humphrey Munson / Roundhouse Design)
Sign up to the Homes & Gardens newsletter
Decor Ideas. Project Inspiration. Expert Advice. Delivered to your inbox.
Thank you for signing up to Homes & Gardens. You will receive a verification email shortly.
There was a problem. Please refresh the page and try again.
Modern utility room ideas will give this space 21st century style as well delivering when it comes to functionality. These hardworking, practical spaces for household chores like laundry also provide storage for house cleaning essentials including vacuums mops, and buckets, cleaning products, and large items used infrequently in the kitchen, but there's no reason why they can't look great, too.
Utility room ideas often have to serve additional functions as well, from providing space for a pantry and extra food prep through to floristry. And if there's no space for a separate mud room, the utility serves as an area to store boots and coats. They're increasingly used for pet care, too, with dog showers and built-in dog beds proving increasingly popular.
Whether you're embarking on a new utility room design, looking to update an existing space with some clever utility room storage ideas, or just want to make the decor more up-to-date, these modern utility room ideas are packed with inspiration.
Modern utility room ideas
Designing modern utility rooms can be tricky as they may need to encompass a range of functions, but the key is to plan carefully and examine what you will do in the space and what you need to store.
'The role of the utility room has changed over the last 30 years,' says Dave Young, founder of HUSK Kitchens. 'Originally just a place for laundry, it is now a place to store the recycling, wash the dog after a muddy walk and keep kids' sports clothes and kits. So, as an important multifunctional space, it needs to be 100 per cent practical as well as stylish and well designed.
'The key to a good utility room is to plan the space well. You need plenty of room to easily unfold the ironing board and store dirty laundry. Lots of cupboard storage is essential to hide the washing machine and dryer, but also build in handy, easily cleanable storage for the recycling too so it isn't cluttering up the kitchen.'
1. Plan plenty of cabinetry
With more of us embracing clutter-free, open-plan living the utility room is working harder than ever and being used to house all the things we don't want to see in the main living area, so when designing a modern utility room it's important to maximize every inch of space. Opting for bespoke cabinetry designed and built around your architecture and what you need to store and do is often the best way to create ample storage and the ultimate utility room layout.
'You need to allow enough space for a broom cupboard, washing machine, dryer and sink cabinet. You must measure and allocate space for these items when in the planning stages as they can take up more space than you might think,' says Allison Lynch, senior design consultant at Roundhouse.
'An organized run of tall units is essential to house the broom, mop, bucket, vacuum cleaner, ironing board and cleaning products. Also, consider the items you don't need to have on hand in the kitchen and if there is space, allow for a shelved cupboard for water bottles, lunch boxes and Tupperware, bags, and household items like shoe polish, light bulbs, tools, vases, bbq items etc,' she says.
2. Think carefully about appliances
When designing a modern utility room it's important to factor in space for appliances. Ideally, front-loading washers and dryers should be placed next to one another so that washing can be transferred easily.
'Doubling up on appliances is also very in right now – we often incorporate two washing machines and two dryers,' says Richard Moore design director, Martin Moore.
While doubling up may be a good solution for a busy household with a large utility room, small utility rooms and narrow utility rooms need other solutions. 'Think about stacking the washing machine and tumble dryer – it's an easy win in terms of gaining extra storage space and no less convenient,' says Louisa Eggleston of Humphrey Munson. Alternatively, invest in a combined washer and dryer.
When thinking about layout, sufficient space is crucial. 'Allow space for freestanding appliances, keeping in mind that you must leave extra space to remove them with ease when they need to be serviced or replaced. Therefore, you should allow for a 24in (605mm) gap for both the washing machine and dryer,' says Allison Lynch of Roundhouse.
3. Choose sleek cabinet doors
The style of door you choose for your cabinets will have a big impact on the feel of the space. For a modern utility room opt for bespoke cabinetry that fits flush with the architecture of the room and try sleek doors with discreet or invisible handles to help make the space feel minimalist and clutter-free.
Opting for dark colors such as this black wood laminate by DesignSpace London (above), teamed with a sleek and easy-to-maintain Caesarstone countertop, is guaranteed to bring a contemporary, sophisticated feel.
If you already have utility room cabinetry that is sturdy and in good condition then updating the doors with contemporary versions can be a great way to modernize a utility room. Companies such as Husk and Superfront offer an array of sleek and stylish door designs that can be fitted onto standard Ikea kitchen ideas.
4. Make it a place for pets
Many modern utility room ideas include space for companion animals. 'In terms of new features, many of our clients are now incorporating practical areas for dogs within their utility rooms, such as dog showers and dog sleeping nooks,' says Richard Moore of Martin Moore. 'These are often sited by the door leading out to the garden – preventing mud etc being trailed through the house.'
5. Create space for laundry
While modern utility rooms serve all sorts of functions, laundry room ideas are likely to be key to the design.
'Good storage is the goal – clients don't want cleaning supplies and detergents laying around so providing a beautiful cabinetry design that holds and hides all the necessities is important,' says Anissa Zajac, CEO and lead designer at House Seven Design.
'We like to provide as much open space as possible in a laundry room. I love a deep basin sink right next to the washer and dryer for rinsing soiled items. We love a large counter or table across the room or in the center. It can also be used as a multifunctional area for crafts or flower arranging. We also like to have laundry carts stored under the counter which is not only functional but also great at hiding all the laundry you haven't had a chance to wash yet!'
Ankie Barns of architecture firm BarnesVanze recommends, 'A utility sink for soaking stained items is key and if big/deep enough, can double as a dog wash. Use cabinets above, not shelves, since detergents etc are always messy to look at. Lower cabinets can be set up to store extra linens with bin drawers for folded towels, sheets etc.'
6. Introduce adjustable laundry rails
As well as thinking about utility room shelving ideas, bear in mind that every modern utility room needs space to drip dry clothes and where floor space to put a dryer or clothes horse is limited this can be a challenge.
To maximize every inch of space consider adding tall adjustable laundry rails such as the BOAXEL from Ikea (above) which can be altered depending on what needs drying. Unlike bespoke cabinetry, these modular systems can be easily repositioned should the function of the room need to change.
7. Bring in personality with color
Being relatively small spaces you don't spend huge amount of time in, utility rooms can be a great place to introduce some bold decor ideas. Gone are the days when utility rooms were drab, monochrome spaces.
Today more and more people are growing in color confidence and designing their utility rooms with vibrant colors, often in playful contrast to more timeless kitchen color ideas. This bold yellow painted kitchen cabinet idea by British Standard by Plain English is guaranteed to raise a smile even when there are chores to be done.
'The kitchen is soft and very calming whereas this utility is bold and uplifting; the addition of the cupboard skirt adds a playful touch,' says Adrian Bergman, design manager of British Standard by Plain English.
8. Add a drying cupboard
One of the modern utility room ideas that's in demand? 'The must-have accessory for Humphrey Munson clients is a drying cupboard – single or double width – but this is the space to dry clothes that cannot go in the tumble dryer such as cashmere and silk,' says creative director Louisa Eggleston.
'It means you don't need washing drying in the open and it keeps the space feeling clear and uncluttered. The drying cupboards are thermostatically controlled and can be programmed according to the day/time so they're really practical and flexible all year around.'
9. Go for a 'bootility'
In homes with no porch or separate boot room, utility rooms are increasingly being used as 'bootility' rooms, especially if they have an outside door, and are being fitted with coat hooks or closets and seats to take shoes off, as well as drying and storage space for muddy boots.
'Bespoke cabinetry will help to build a room that is both a utility room and a boot room, creating a seamless transition in a shared space,' says Tom Howley of the eponymous kitchen brand.
'A boot room should include practical storage solutions such as built-in bespoke shelving and coat hooks. Bespoke joinery may cost a little more, but it does mean that the design will be perfectly suited to the space. Do try to combine seating and storage as well a basket for each member of the family to store items of outdoor clothing,' adds Louise Wicksteed, design director of Sims Hilditch.
10. Factor in clever storage solutions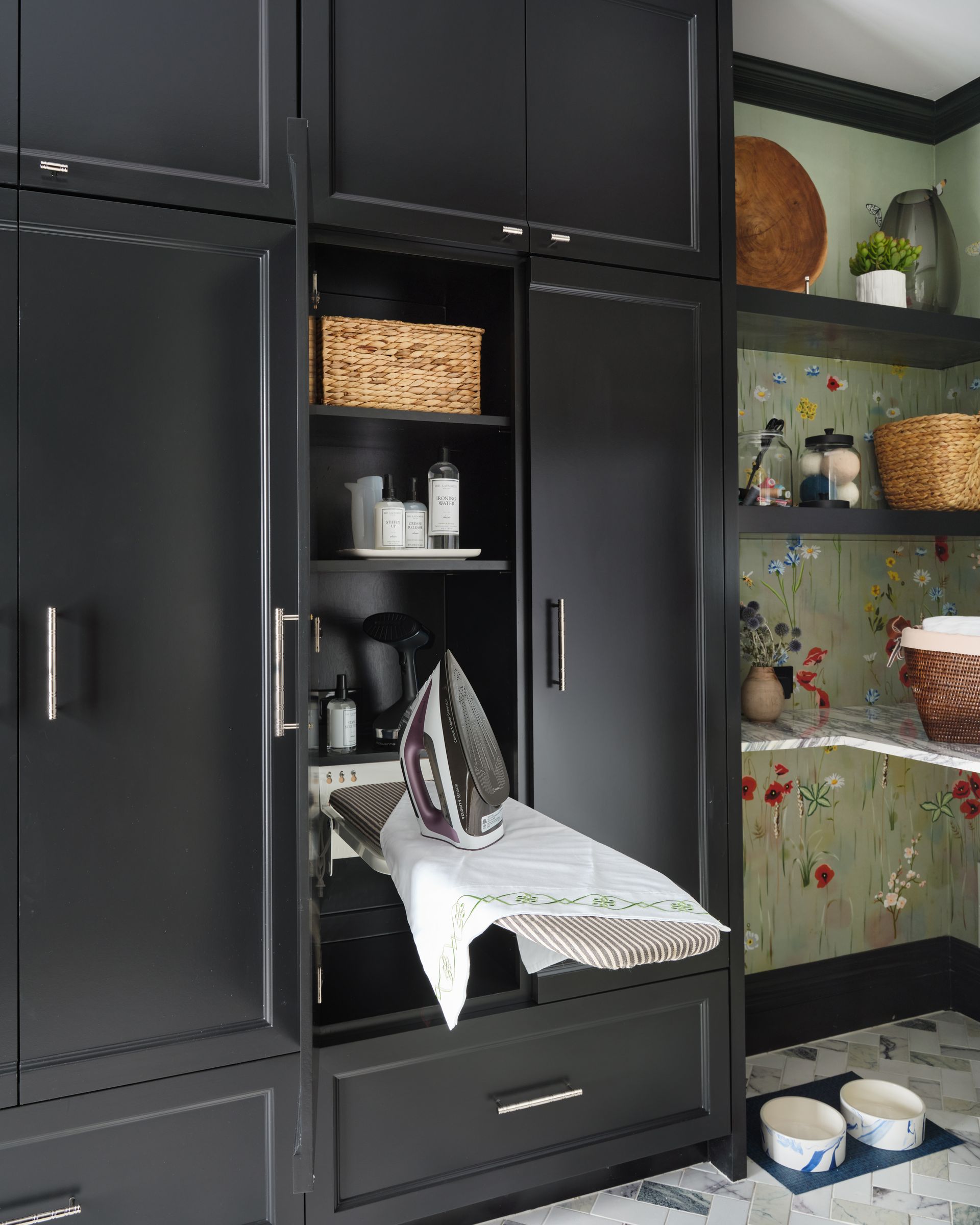 Closed, floor-to-ceiling cabinetry is a great way to keep utility rooms and laundry rooms neat and tidy, concealing all sorts of household items out of sight, plus there are all sorts of handy internal storage ideas that can be built in to suit your needs. If space is tight, why not consider a fold-down ironing board like the one pictured here in Kathleen Walsh's stylish laundry room?
'A combination of deep and shallow drawers and open shelving is usually the best way to maximize the space available,' says Richard Moore, design director of Martin Moore. 'Plinth drawers, double-layered drawers, corner solutions and other modern space-saving mechanisms, are all possibilities worth exploring and exploiting.'
How do you modernize a utility room?
Updating cabinetry with new contemporary doors is an easy way to make a utility room look more modern. if the carcasses are sturdy and in good condition then simply adding new doors can give the space a whole new lease of life. Alternatively, you could repaint the doors in a bold, edgy color such as yellow or black. You could also add a statement tiled backsplash.
What should be kept in a utility room?
A basic utility room should include a washing machine, dryer, a tall unit to store mops and brooms, an ironing board as well as a sink and a shelved cabinet for cleaning products.
'A large sink is useful and we nearly always try to get it under the window if there is one,' says Louisa Eggleston, creative director at Humphrey Munson. 'If not we often design wall cabinets or open artisan shelving above for extra storage. Baskets are a godsend for keeping utility rooms tidy and clutter free,' she adds.
'Don't forget to make provision for your utility appliances – the vacuum cleaner in particular needs a home, and if it's chargeable make sure to allow for an electric outlet in the cupboard so you can mount it and keep it tucked out of the way.'
Sign up to the Homes & Gardens newsletter
Decor Ideas. Project Inspiration. Expert Advice. Delivered to your inbox.
Pippa is Content Editor on Homes & Gardens online contributing to Period Living and Country Homes & Interiors print issues. A graduate of Art History and formerly Style Editor at Period Living, she is passionate about architecture, creating decorating content, interior styling and writing about craft and historic homes. She enjoys searching out beautiful images and the latest trends to share with the Homes & Gardens audience. A keen gardener, when she's not writing you'll find her growing flowers on her village allotment for styling projects.