What is a wet-dry kitchen? Designers reveal the benefits of this divided layout
Constantly running out of space when cooking? A wet-dry kitchen may be for you, experts say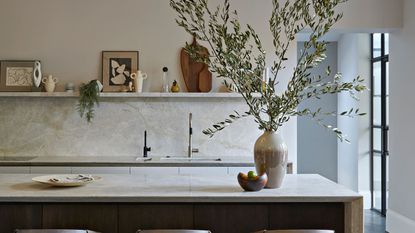 (Image credit: Cherie Lee)
Sign up to the Homes & Gardens newsletter
Decor Ideas. Project Inspiration. Expert Advice. Delivered to your inbox.
Thank you for signing up to Homes & Gardens. You will receive a verification email shortly.
There was a problem. Please refresh the page and try again.
If you have heard the term wet-dry kitchen and been left puzzled, you are not alone. After all, aren't all kitchens made for wet and dry activities like cooking and washing up?
It turns out a wet-dry kitchen is a type of kitchen layout perfect for those more intensive home cooks who need a little extra prep space, hosting space, or even that little bit more storage.
We asked designers and kitchen planners for their thoughts on wet-dry kitchens to learn more about this layout type and who it benefits the most.
What is a wet-dry kitchen?
Certainly a more luxury kitchen layout idea and dependent very much on the space you have in your home, a wet-dry kitchen creates two cooking spaces – one with actual cooking in mind and the other mainly for show.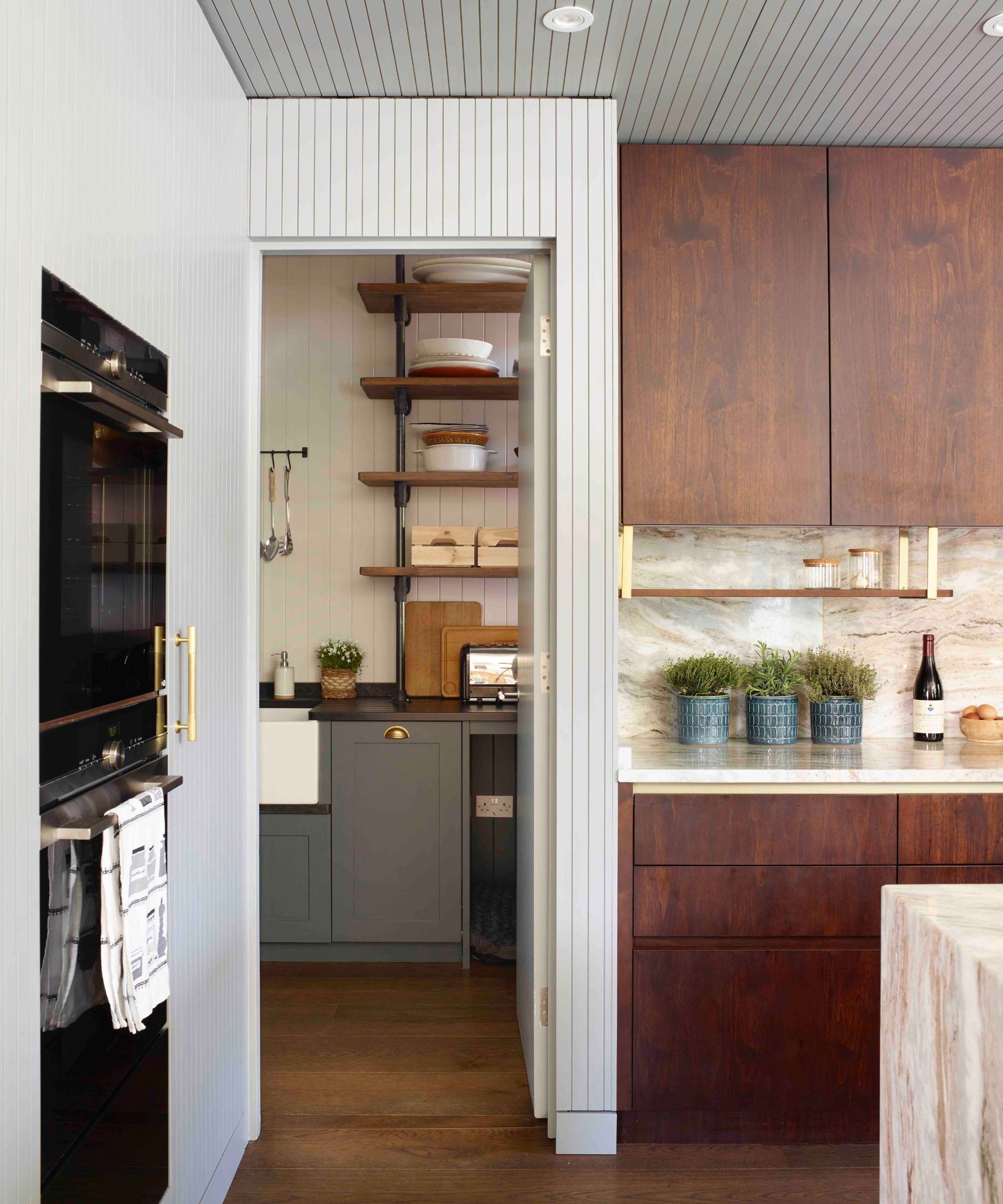 'Wet-dry kitchens are a recent trend that derives from the Far East in order to avoid the smell of cooking from entering the entire house,' explains Niko Rasides, design director at Nicholas Anthony. 'Devoting a small wet kitchen, or Chef's kitchen as it is also known, that is connected to the main kitchen provides homeowners or hired chefs with dedicated spaces for food preparation. The (main) dry kitchen will most likely possess an island or breakfast bar and very few appliances on show.
'This kitchen is here for socializing and entertaining, whereas the wet room, often separated from the main kitchen by sliding or bi-folding doors, gives chefs the space and privacy to prepare meals.'
The difference between the wet kitchen and dry kitchen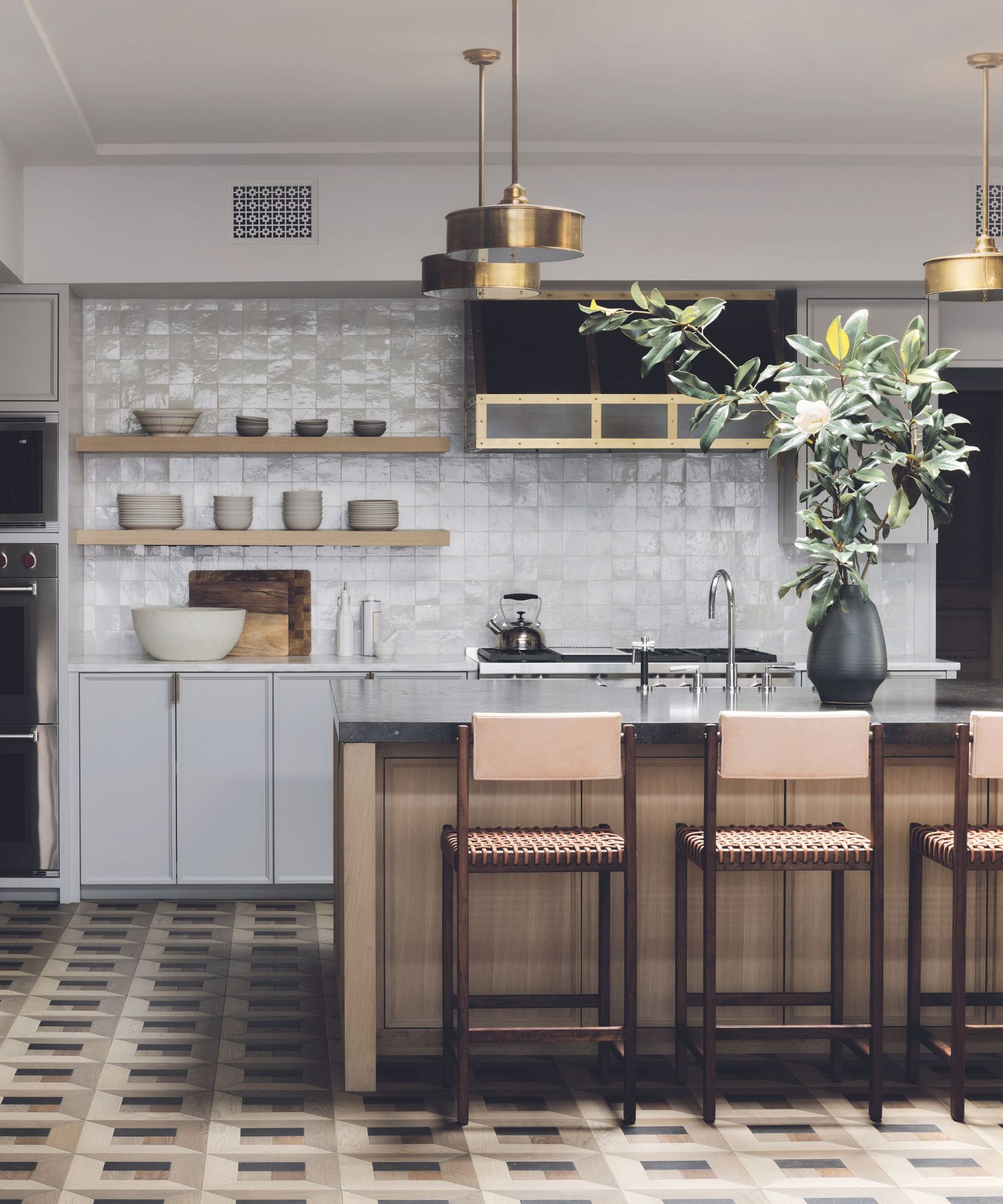 The main visual difference between the two spaces is the fittings and kitchen appliances, continues Ron Shimek, president at Mr. Appliance, a Neighborly Company:
'In the wet area, essential components include sinks for food preparation and cleaning, stovetops or cooktops for cooking, ovens or microwaves, and dishwashers for easy cleanup. Adequate counter space is crucial for meal prep, as are ventilation systems, such as range hoods – essential for removing cooking odors and maintaining air quality. Additionally, a water supply system must be in place to support the wet area's needs.
'In the dry area, on the other hand, you'll need cabinets or storage units for storing dry goods, utensils, and cookware, as well as a refrigerator to keep perishables fresh. Proper lighting and electrical outlets should be incorporated throughout to ensure functionality and safety, and a second sink wouldn't go amiss to help with washing hands, or fetching drinks.'
You may also wish to add in some kitchen seating such as a kitchen island, or a banquette for hosting purposes.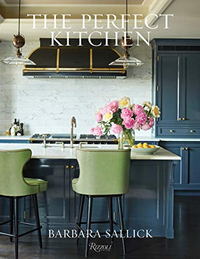 Do I need a wet-dry kitchen?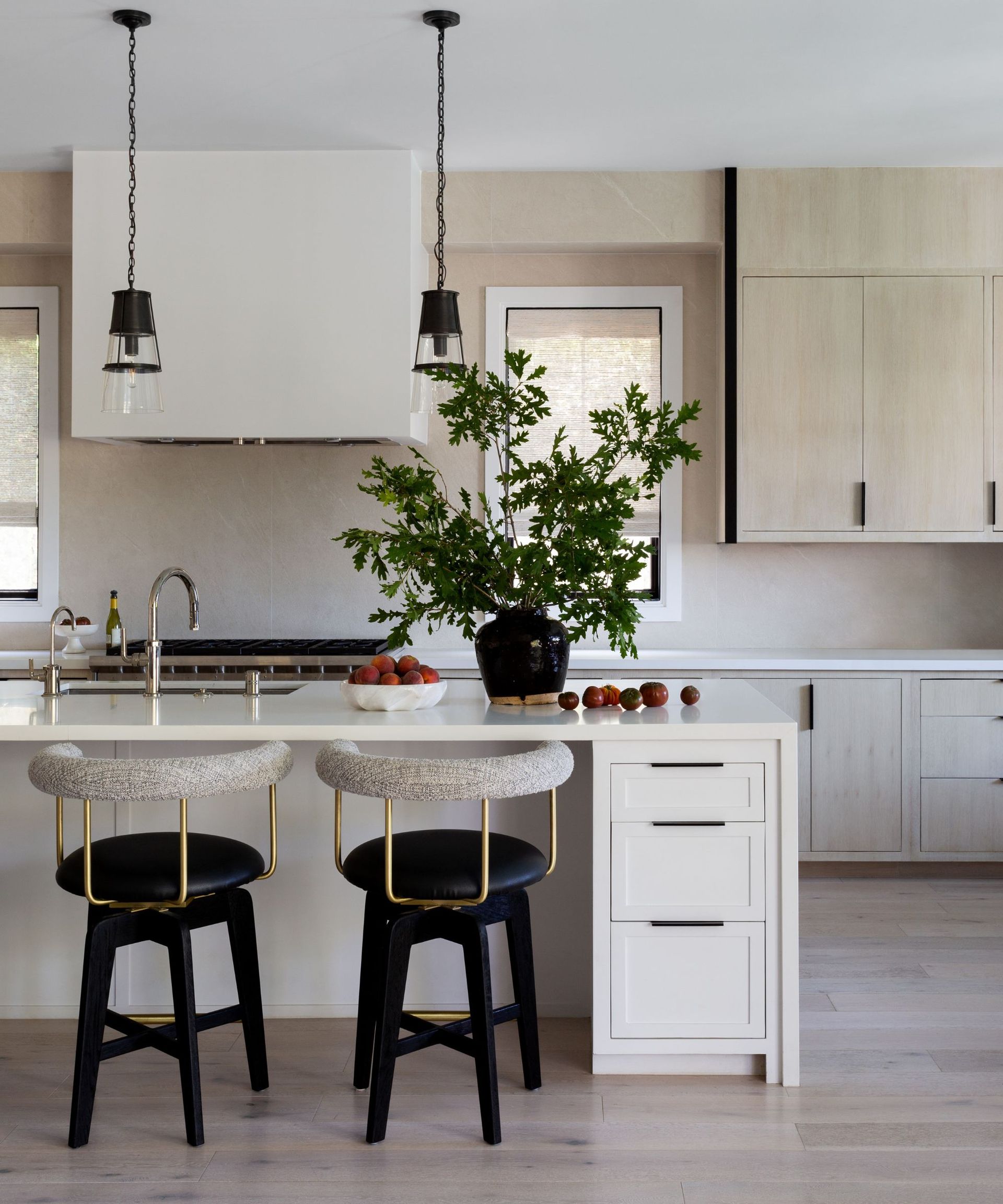 Of all the kitchen ideas out there, these are certainly much more of an investment and are not needed in every home.
Artem Kropovinksy, interior designer and founder of Arsight, suggests that these large-scale kitchen remodels are better suited to households who are 'culinarily inclined.'
He says, 'These spaces create a streamlined workflow, allowing multiple individuals to work seamlessly without treading on each other's toes. For residences often hosting gatherings, it's a game-changer. One can keep the messier aspects hidden in the wet section while maintaining a pristine presentation in the dry zone.'
Based in New York, Artem Kropovinsky, founder of Arsight, has a decade of extensive and considerable global design experience. Prioritizing minimalism, sustainability, and authenticity, Artem, alongside his team of professionals, works on projects in the US and worldwide.
FAQs
How do you make a wet and dry kitchen?
When planning a wet-dry kitchen renovation for your home it is best to work with a professional who can work out the intricacies for you. In a very simple sense, the process involves breaking one big space into two or connecting two adjacent rooms together to form the two kitchens.
Where do you keep a refrigerator in a wet-dry kitchen?
A fridge is typically kept in the dry kitchen, to make it simpler to prepare lighter meals such as sandwiches and snacks and make it easier to retrieve drinks. That being said, it is not uncommon to have a small fridge, perhaps attached to a freezer in a wet kitchen to keep meat and other items that need to be cooked before consumption.
---
If you have the luxury of a wet-dry kitchen, your dry kitchen can often be an opportunity to go all out with decorative kitchen ideas, adding in decor and furnishings that may not be suitable for a room with cooking odors and condensation, designers say.
Consider how you can make the space warm and welcoming with soft furnishings and places to sit or host guests, thinking of it more as a social space than an overwhelmingly practical one.
Sign up to the Homes & Gardens newsletter
Decor Ideas. Project Inspiration. Expert Advice. Delivered to your inbox.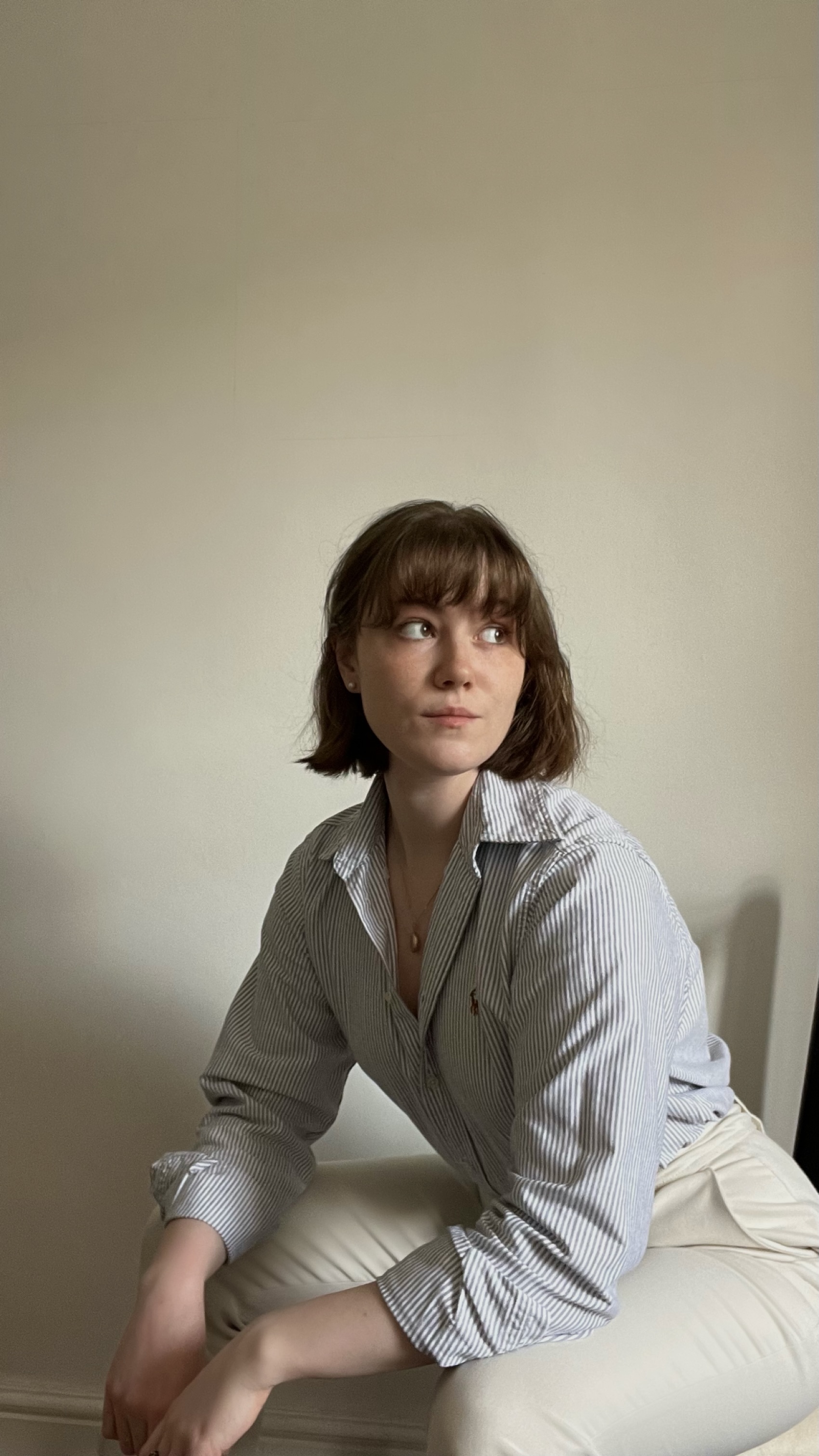 Chiana has been at Homes & Gardens for a year, having started her journey in interior journalism as part of the graduate program. She spends most of her time producing content for the Solved section of the website, helping readers get the most out of their homes through clever decluttering, cleaning, and tidying tips – many of which she tests and reviews herself in her home in Lancaster to ensure they will consistently deliver for her readers and dabbles in the latest design trends. She also has a first-class degree in Literature from Lancaster University.