9 clever ways professional organizers store Christmas decorations – to make decorating easier next year
Expert home organizers share nine ways you can organize Christmas decorations for storage that are guaranteed to make decorating easier next year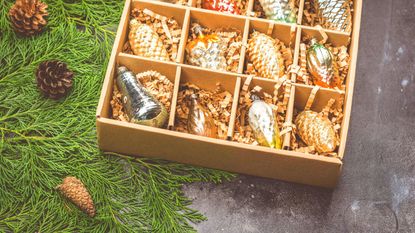 (Image credit: Alamy)
As fun as Christmas can be, it is refreshing to put all of the decorations away and finally have space in our homes again. Packing away decor can be irritating at best, especially if you have splashed out on more decorations through December.
How to get around this logistical nightmare? According to top home organizers and decluttering experts, planning a packing routine helps to mitigate Christmas decor storage blunders. And yes, that includes storing fairy lights properly too!
'We all spend ages decorating the tree and putting up the outside lights but when it comes to taking them down and putting everything away it is a real chore!' says Marie Bateson, APDO's volunteer director and founder of Cut the Clutter. 'To make it easier and quicker, be prepared – decide when you are going to take everything down.'
How to organize Christmas decorations for storage
Here, we pick the minds of four expert home organizers to learn their top Christmas decor storage tips.
1. Start with the right tools to make the process smoother
As with any decluttering task, starting off with all the right tools will help get your Christmas decor down smoothly without having to stop and start.
'Arm yourself with screwdrivers, the box or container in which you keep your batteries, and the boxes that ornaments and baubles are stored in,' Cut the Clutter's Marie Bateson suggests. 'Make sure you have strong tape to hand too. Tissue paper or newspaper, cardboard, and a bag. If you have ornaments with batteries in them, don't forget to take them out. Having the screwdrivers and battery tin to hand saves time scrabbling about trying to find one.'
2. Declutter as you go to save storage space
One of the best storage tips any professional organizer will give you is to declutter your belongings as you pack them away. This saves time in the future and space in your storage areas.
'Keep decluttering in mind when setting up and when taking down decorations,' suggests Jamie Hord, founder of Horderly Professional Organizing. 'If you're purchasing new items, consider following the one-in-one-out rule and let go of something old in exchange for bringing in something new,' he adds. 'This way your decorations are staying maintained and never overflow the space you have to store them in.'
'When you are packing up your decorations it is a great time to make sure all your items are in good condition. At the end of the season, there is a chance that something may have chipped or broken so it's a great time to either fix or donate,' Janelle Cohen, founder of Straighten up by Janelle suggests. 'Secondly, decide if an item is still your style. Before packing it up, decide if you are going to want to put it up next year when the holidays roll around. Think of your decorations as a curated display of things that get you in the holiday spirit. If a specific item has lost its holiday excitement, toss it.'
It is also a good idea to try to be ruthless when storing your decorations too, Kate Ibbotson, APDO member and founder of A Tidy Mind encourages. 'Think about whether scraggy tinsel and dried-up wreaths and worth keeping for next year. To see what you have and make decisions more easily, categorize similar items (baubles, etc). Donate anything usable and next year your future self will thank you.'
3. Consider special containers for ornaments, but a shoe box will do in a pinch
Given that Christmas ornaments are vital for Christmas decorating each year, keeping them protected in storage is something worth investing in where you can.
'Avoid broken ornaments and keep them lasting a lifetime with proper storage. What's great about these drop-in ornament trays [from The Container Store] is that they work in our favorite Container Store weathertight bins and you can pull out an entire row if you need to access the bottom,' says Jamie Hord.
'There are also some useful specialist storage containers available for wreaths and trees plus boxes with compartments for baubles,' adds Kate Ibbotson, founder of A Tidy Mind. 'You can also make do with what you have so be sure to keep and reuse large boxes and wrapping that arrive in the post if useful.'
'If you don't have the special containers with sections for baubles, use empty shoe boxes or maybe some boxes from presents you have received,' Marie Bateson suggests. 'Pack them in using tissue paper or newspaper. 'Clear plastic stacking boxes are great for the loft or garage, allowing you to see what's stored there. '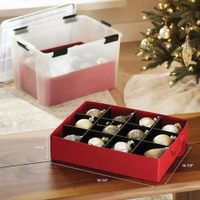 Bin Drop-In Collectible Tray in Red – $11.99 at The Container Store
With our Bin Drop-Ins, it's easy to store and protect large holiday decorations including ornaments, garlands, nutcrackers, candle-holders, collectible figurines, tree toppers and other keepsake decorations. Each bin is constructed to be sturdy yet lightweight and stackable.
4. Pack ornaments by color for a super organized storage corner
Grouping items by color is a common home organizing idea that works as well for Christmas decorations as they do books on shelves. Not only does it help make a storage corner look more aesthetically pleasing, but makes decorating tastefully for Christmas next year much easier.
'Pro tip: packing by color is a great way to make unpacking the next year easy!' Janelle Cohen says. 'If you like to rotate your color theme each season, color packing will help enable you to be able to find what you need the following year.'
5. Make plans to dispose of or safely store your tree
Once your ornaments are safely tucked away, you can get rid of your Christmas tree and finally start to reclaim your home's footprint.
'If you have a real Christmas tree, make a note of your local collection dates for trees. You may need to book this in advance and make a small payment but it is worth it to avoid the needle-filled boot of the car and the queue at the recycle center,' Cut The Clutter's Marie Bateson recommends. 'Book it for the day. You will take the decorations down if possible but if it isn't, put them outside where they can be collected as they often don't mind if it gets wet.
'If it is an artificial tree and you have the box, dismantle it and when it's safely packed, tape the box to make it secure, dust free, and easier to carry - or you could get a tree bag to make it even easier,' she adds.
'Most people store Christmas trees in the basement, attic, or garage so it's important to cover them well to avoid any pests,' Jamie Hord, founder of Horderly suggests. 'Depending on what size tree you have, there are different products that can protect your tree for the years to come. A tote like this on The Container Store is a great option for a smaller tree and there are wonderful bag options to accommodate larger trees.' A good option is this Quilted Extendable Tree Bag from The Container Store.
X-Large Premier Modular Tote
Organize and store the big stuff, including garden or sports gear, large decorations, large collections, or craft supplies – any number of items. Built strong for dependable storage, the handles lock the lid in place while the wheels make for easy moving.
9' - 12' Expandable Quilted Tree Bag
Designed with true attention to detail, this Christmas tree bag makes holiday decorating and clean-up easier for everyone. Its durable construction includes a large easy-load zippered opening, a convenient handle, and built-in wheels for effortless roll-away storage.
6. Carefully pack away wreaths and garlands to keep them in shape for next year
If you have faux Christmas garlands and Christmas wreaths then packing them away properly can help extend their life span and keep them as Christmas centerpieces for years to come. Luckily, there are two ways to do this.
'Wreath storage is a must,' says Jamie Hord. 'Everyone has experienced a squished wreath and it's no fun trying to get it back to life. You most likely end up getting a new one, wasting your time and money. Use these round bins [from The Container Store] to keep your wreaths in tip-top shape.'
Alternatively, you can pack like objects together into storage to help keep them in shape. 'To make sure that your wreath keeps its shape, store it with other bulky items like faux garlands,' suggests Janelle Cohen.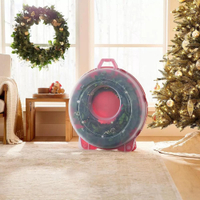 30" Wreath Storage Box – $34.99 at The Container Store
Keep your wreath looking new season after season with our 30" Wreath Storage Box. The extra-large size and inner hub keep wreaths secure. The clear lid allows you to see what's inside at a glance. Feet allow it to stand upright, or you can hang it by the handle for storage.
7. Tackle light tangles by storing them wrapped around cardboard
Christmas lights are infamous for tangling up in the box throughout the year – even when you tried to wrap them in a careful loop. Packing them properly in storage containers at the end of the holiday period is a great way to save some frustration when Christmas comes around again next year.
'The lights from the tree can be wrapped around a piece of card or an empty kitchen roll tube,' Marie Bateson, founder of Cut the Clutter explains. Consider using cardboard left over from Christmas gift packaging for a cost-effective storage solution.
An equally cheap way to store your lights using things already around your home is to use bands to hold lights in place together. 'A technique that I like to recommend for storing your lights neatly, is to secure all your light cables with a rubber band,' Janelle Cohen shares.' There is nothing more frustrating than pulling out tangled lights. Rubber bands are a simple, cheap, and easy way to keep lights wrapped securely and individually.'
If you want a more permanent storage option, then investing in a light box will help make sure your lights remain intact year after year. 'This weathertight bin from The Container Store not only stores your lights but also keeps them organized inside with spools to wrap them around,' Jamie Hord of Horderly Professional Organizing says.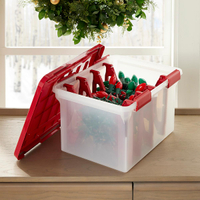 Weathertight Light Storage Box With Inserts – $24.99 at The Container Store
Store light strands tangle-free with this rugged storage box. Inside, four removable inserts let you gently spool lights or garland while integrated channels keep reels in place – like hanging folders for Christmas strands. With an airtight, watertight foam seal under the lid, this storage container protects against dust, insects, and humidity whether in a garage or basement.
8. Recycle what you can as you organize your decorations to make space
Given that Christmas is such an indulgent time, it is important to consider some ways to be sustainable at home to offset mass consumerism. Making sure you recycle what you can and dispose of other materials properly will help to do this.
'Bear in mind that many types of Christmas cards and gift wrap are not recyclable,' says the founder of A Tidy Mind, Kate Ibbotson. 'Do the 'scrunch test' on paper (if it doesn't stay scrunched up in a tight ball then it's not recyclable). Plus, cards with glitter and embellishments are not recyclable.
'Since it only gets ripped off anyway and doesn't need to look perfect, consider reusing wrapping paper for next year or you could use it to protect breakable decorations when you pack them away.'
Make sure regular cardboard and plastic packaging are separated from your regular waste.
9. Wait until everything is organized and packed away before cleaning around your house
If you have already undertaken a deep pre-Christmas clean, then the chances are you will only have to do a quick tidy-up once all of your decorations have been stored away to remove pine needles, glitter, and fake snow remnants.
'A good dust round and the home will be back to normal, although it does always look bare for a day or two!' Marie Bateson says. 'If they are around (and old enough), get the children to help and sweep or vacuum where the tree was standing to make the task easier and get them involved when you can.'
Vacuum the house, mantle piece, and furniture to get rid of any Christmas remnants before putting your normal home decor pieces back. It may also be a good opportunity to clean any usually hidden spots such as behind sofas and under coffee tables if you are rearranging furniture after the festivities.
What is the best way to store Christmas decorations?
One of the best ways to store Christmas ornaments is to keep the original boxes, or invest in ornament storage containers, to prevent precious decorations from being damaged or becoming tangled in storage over the year. 'It's essential to store your holiday decorations properly in the off-season,' says Jamie Hord, founder of Horderly Professional Organizing, 'this will make setting up and putting away holiday decor a breeze!
How do you declutter Christmas decorations?
One of the best ways to declutter Christmas decorations is to consider each piece as you put them out for the holidays and when you go to put them away to avoid having to unpack your decor from storage in the middle of the year.
'If you find you are not excited to put a decoration on display, get rid of it,' says Lucy Searle, editor-in-chief of Homes & Gardens. 'Conversely, when putting your decor away, discard any decor pieces you found yourself getting tired of throughout the month, or pieces that don't really fit in with your scheme for a tasteful, timeless look next year.'
Sign up to the Homes & Gardens newsletter
Decor Ideas. Project Inspiration. Expert Advice. Delivered to your inbox.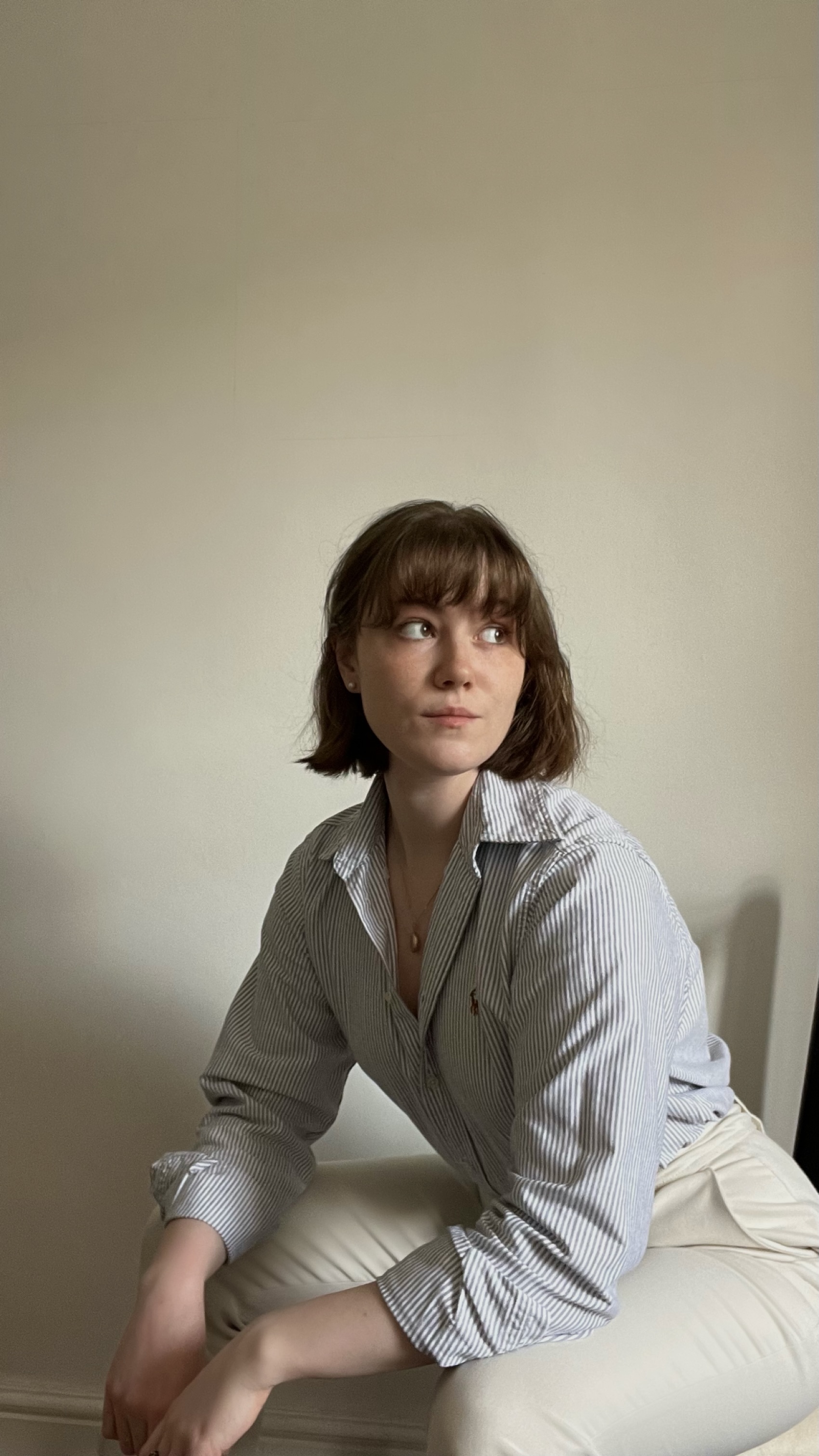 Chiana has been at Homes & Gardens for a year, having started her journey in interior journalism as part of the graduate program. She spends most of her time producing content for the Solved section of the website, helping readers get the most out of their homes through clever decluttering, cleaning, and tidying tips – many of which she tests and reviews herself in her home in Lancaster to ensure they will consistently deliver for her readers and dabbles in the latest design trends. She also has a first-class degree in Literature from Lancaster University.