5 essential rules for decorating a fireplace for Christmas, as revealed by a specialist
Antiques and fireplace expert Owen Pacey shares his five rules for decorating a fireplace for the holidays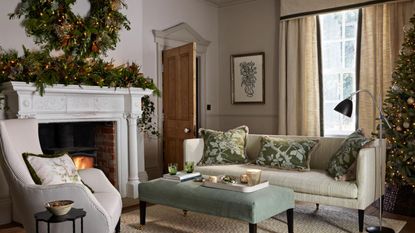 (Image credit: CHRIS EVERARD)
A festively decorated fireplace is just as iconic as a Christmas tree, or at least we think so and, while it is easy to hang up some stockings and call it a day, there are some rules you can follow for the perfect holiday hearth.
We sat down with Owen Pacey, founder of Renaissance London, antiques and fireplace specialists, to learn his tips and tricks for decorating a fireplace with Christmas foliage ideas.
'Especially at Christmas, fireplaces really bring a room into its own,' Pacey says. 'Generally, architectural furniture like this acts as a focal point in the room, so it's important to get the decorations right.'
Owen Pacey is the founder of Renaissance London in Shoreditch, specializing in antique fireplaces and architectural salvage, launched over 30 years ago. Renaissance London has built a unique reputation as one of the foremost dealers, restorers, and experts in antique fireplaces, specializing in Victorian and Georgian marble fireplaces, French and Italian stone fireplaces, and other fine architectural pieces in East London.
5 rules to follow when decorating a fireplace for Christmas
Below, we list five of the most important rules for decorating a fireplace for Christmas according to Owen Pacey of Renaissance London.
1. Forage for living greenery to enhance your Christmas fireplace decor
In the height of winter, Christmas garlands are a wonderful way to bring a touch of life into a home – along with a living Christmas tree, of course. Adding real foliage to the tops of mantles can help bring any space whether it be the living room or the Christmas dining room to life.
For Pacey, it is all about finding foliage that is close to home. 'Get into the garden and forage for the best evergreen you can find and just trail it along your mantle,' he suggests.
If you perhaps do not have a garden or local woodland that you can readily borrow greenery from there are some more unexpected additions that can create a similar appeal. 'For a twist on the traditional, throw in something unexpected like this oversized potted houseplant,' adds Pacey. Consider a Christmas cactus or one of the best winter houseplants like a jade plant or a poinsettia to spruce up the space while remaining seasonal.
You might want to try decorating your houseplants for Christmas if you want to put your existing collection to good use.
2. Use minimal decorations on ornate fireplaces to enhance to architectural features
Christmas decor can very easily become overwhelming. When deciding on your Christmas fireplace decor, then, finding balance is often key to creating a timeless scheme.
'For particularly ornate fireplaces, minimal decorations that let the sculpture of the mantelpiece sing is best, while pared-back models benefit from a slightly more creative direction,' Pacey explains. 'Think boughs of holly and pine, some candles in antique candlesticks, and of course, a stocking or two.'
If you do have a plainer-looking fireplace, then you might be able to afford a more flamboyant setup to make your mantle into a more worthy centerpiece. Consider oversized garlands with dried flowers, pine cones, and cinnamon sticks, or even pair a large garland with a matching, oversized wreath to make a statement on the wall above and draw the eye up.
3. Incorporate variety to make a statement
Adding garlands and foliage is a great way to dress a fireplace traditionally for Christmas, adding variety is essential to creating a unique scheme according to Pacey.
'Fill in any gaps with taper candles at varying heights – we love the trend for more unusual candles at the moment like twisted designs or colorful patterns,' he explains. 'It adds that all-important height and throws off the symmetry too, to give this classic look a more contemporary feel.'
Another way to add variety to your Christmas mantle decor is to use a range of different foliage with large and small florals, or add dried flowers and stems to break up fresh greenery. You may also want to add other, non-living additions such as baubles and bows in different sizes for a difference in texture.
4. Consider what you hang above the fireplace and change out art work
Decorating for Christmas doesn't have to stop at the mantle piece itself, Pacey remains us. Look up to the wall space above and consider what can be used to draw the eye and stay on theme.
'My absolute favorite thing to hang above a fireplace is a piece of artwork,' Pacey reveals. 'I have pieces from Tracey Emin, Mariano Vivanco, and Calum Colvin in my house above my fireplaces that I love to change around. The right piece of artwork will bring a fireplace to life.'
If you already have framed work, consider switching it out at Christmas, or even changing it for a Christmas wreath that you have made yourself for a homemade touch.
'Although, what is an absolute no-no in my books is a TV above the fireplace,' he adds. If you do have a television about your fireplace, consider setting it to have a Christmas-themed image when not in use or when guests are around. If you don't have a framed TV, this can be done by searching for static image videos on YouTube. Just don't pull up a video of a roaring fireplace – you already have one directly below, remember?
5. Always make sure decor is safe on a fireplace by avoiding loose or overhanging pieces near flames
While decorating for Christmas is all fun and games, the most important rule when decorating a fireplace for Christmas is ensuring that your decorations are safe and are not likely to cause a fire.
'Be careful of placing anything on the mantel that could potentially roll down the front of the mantel and hang in front of the fire, like a scarf,' Pacey warns. 'Fireguards will act to prevent anything nearing the flames and fitted wooden beams and surrounds often remain at a distance far enough to allow a small and simple lining of a pine garland – so long as it is heavily secured.
'If you plan to have decorative candles on your mantel, use wide candleholders to reduce the possibility of a fire. By using wide candle holders, you'll prevent the flames from reaching the needles on the garland if the candles happen to burn down all the way.'
If you have narrow candle holders already and don't want to switch them out, consider adding candlestick liners like these at Amazon to prevent hot wax from dripping on foliage, or even some glass candle guards, also at Amazon] to contain your candle completely and prevent the risk of low burning candles setting fire to garlands and decor.
How do I make my fireplace look Christmassy?
It is simple to make a fireplace look Christmassy. The easiest way is to use a real foliage garland with cuttings such as fir or pine, holly, and eucalyptus before adding embellishments such as dried citrus slices, berries, and lights to bring the garland to life.
How do you decorate a cozy fireplace?
You can make a fireplace look cozy by adding piles of wood surrounding or besides the stove to give it a rustic look. This is ideal if your fireplace is functional as it creates practical decor without compromising on aesthetic. Adding candle sticks, family photos, or a vase of dried stems to the mantle piece will also improve the overall look of your mantle too. The burning logs in the stove will often do most of the work when trying to make a fireplace look and feel cozy.
If your fireplace is not functional and is purely decorative, consider adding candles around or inside the stove in place of a fire.
Chiana has been at Homes & Gardens for six months, having started her journey in interior journalism as part of the graduate program. She spends most of her time producing content for the Solved section of the website, helping readers get the most out of their homes through clever decluttering, cleaning, and tidying tips – many of which she tests and reviews herself in her home in Lancaster to ensure they will consistently deliver for her readers and dabbles in the latest design trends. She also has a first-class degree in Literature from Lancaster University.