Blue is the most popular color of 2021 – but here's why you may have trouble finding it
Manufacturers are sounding alarm bells on the availability of blue paint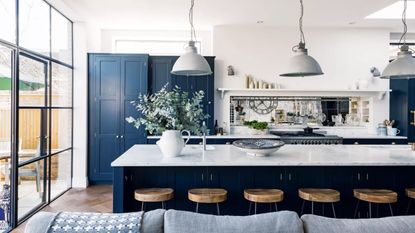 (Image credit: Future)
It's on of this year's most popular colors of 2021, recommended for everything from bedrooms to kitchens. It sells houses faster and for more money; paint a bathroom this color, and you can safely expect offers that are higher than expected. And yet, you soon may have trouble sourcing the color blue for your paint ideas.
Blue paint is the latest unexpected shortage to hit the consumer market, continuing the bizarre list of items that have been difficult to get hold of, from building materials to swimming pool chlorine. So, if you're set on blue room ideas this season, you may find it difficult to find blue paint, depending on your chosen brand and shade.
Why is there a blue paint shortage?
As with other product supply issues this year, there is more than one factor at play. The biggest problem is the shortage of some of the additives used in making blue paint specifically. A spokesperson from Dutch paint maker Akzo Nobel told Insider that 'to make paint you would need between 50 and 60 ingredients' and some are 'extremely difficult to get' at the moment. This includes the color tint used to make blue paint.
Then there is the problem of the rising costs of raw materials. The cost of making paint has increased by over $323 million in just one year because of these rising costs.
And to add insult to injury, paint manufacturers are having trouble sourcing the tinplate necessary for making the metal cans, so that paint cans have to be shipped from one location to another to coat them.
The result? A shortage that the company says will last well into 2022. And it's not just the Dutch manufacturer that's been affected. Sherwin-Williams is experiencing similar problems. The company's CEO told CNN that 'the persistent and industry-wide raw material availability constraints and pricing inflation we have previously reported have worsened, and we do not expect to see improved supply or lower raw material pricing in our fourth quarter as anticipated.'
Can I still buy blue paint?
It's highly unlikely that there won't be any blue paint left, but you may notice that some shades of blue are temporarily out of stock. According to Akzo Nobel, this is a 'transient situation' that should be resolved in six to nine months.
What you may notice is the rising cost of paint, and that won't just apply to blue paint colors, as companies experiencing shortages are likely to rise all their paint prices.
Anna K. Cottrell is now a freelance writer, having previously been a Content Editor for Future's homes titles. She writes about interior design, property, and gardening. On H&G, she specialized in writing about property – buying, selling, renting – sustainability and eco issues.