5 Christmas tree ideas we've copied from the Obamas – and how to recreate them
Undecided how to style your tree? Take inspiration from the Obamas' Christmas tree ideas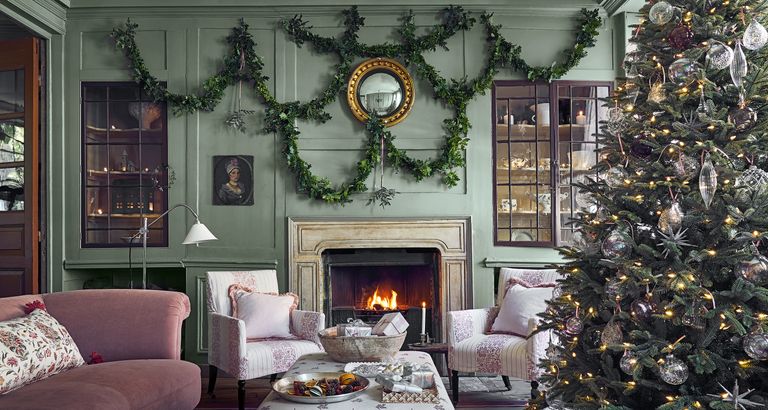 (Image credit: Future)
During the years the Obamas were in the White House, one of the things we looked forward to most every year were the holiday decorations, specifically the Christmas tree ideas that they displayed.
This year, we're looking back at some of the key themes Barack and Michelle put together to decorate those hallowed halls for the festivities, and how they worked these onto the trees.
We'll explain how recreate these Christmas tree ideas in your own home.
For even more inspiration, make sure to take a look at our guide to the Christmas tree trends of 2020.
1. Farmhouse
For December 2009, the Obamas' first year in the Presidential home, the theme was a very warm and welcoming farmhouse look. The many trees were covered in bows, white fairy lights, and a mixture of pretty baubles.
To recreate this vibe at home, remember that you want to echo the feel of a farmhouse interior – classic, warm and comforting.
Mix and match baubles and accessories to create that lovely homey feel, and add in touches of patterns like tartans, which you would expect to see in farmhouse decor.
2. Traditional
In 2010 President and First Lady opted for what is effectively a more tailored look than in the previous year.
Traditional trees and garlands were displayed prominently throughout the White House, dressed with care and class.
Perfect for a home with with a classic look, to design a traditional tree, stick to the iconic colors of Christmas - golds, greens and reds. For garlands to accompany your Christmas tree, echo the Obamas and choose options laden with luscious foliage.
3. Modern
No surprise for such a cool family, but when Christmas came along in 2011 Barack and Michelle opted for a sleek and modern style.
There are many contemporary Christmas tree ideas you can take inspiration from, whether a modern reinterpretation of the tree entirely, like this metal design, or the papier-mâché designs the Obamas went for.
If you're not going for a super minimalist modern Christmas tree then another road to go down in a cool feel that's unique and full of personality. The Obama family went in this direction, too, by adding in artistic sculptures of First Dog, Portuguese Water Dog, Bo.
4. Colorful
By 2013 the First Family decided to make a statement of pure fun, but decorating with all-out color.
Interior design guru Karen Clough is famous for her love of bright colours in interior design, 'for me, living in colour is a mood booster and is crucial to my mental wellbeing,' she says.
'When it comes to decking the halls, I go for complimentary colours to that space so it does not look like Christmas was an afterthought but rather, a cohesive and well thought out decision.'
5. Scandi
For their final year in the White House, the Obamas decided to choose a winter wonderland, Scandinavian look.
Mimic these Christmas tree ideas by doing the same as the Obamas by opting for simplicity. Thin white lights, natural, tactile materials and glints of metallics.
While the President and his family were able to line whole hallways of the White House with trees decorated in this way, one perfectly designed, minimalist tree will add a sophisticated focal point to your festive decor.
Read Michelle Obama's amazing biography
Becoming, Michelle Obama's autobiography, on sale at Amazon
In her memoir, Michelle Obama chronicles her life, from her childhood on the South Side of Chicago to her years as an executive balancing the demands of motherhood and work, to her time spent at the world's most famous address. She describes her triumphs and her disappointments, in a way that's warm, wise and revelatory.View Deal
Thanks to Karen Clough and Bankrate for the expert commentary.