Cox & Cox sale - grab a pre-Christmas bargain with this handy discount code
Want to make an early start on your Christmas shopping list? Use this special discount code to get 20 per cent off everything at Cox & Cox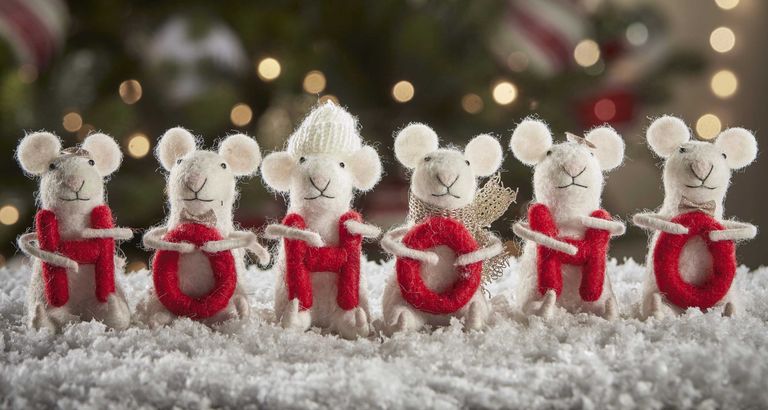 (Image credit: Cox & Cox)
While it's fair to say that everyone's attention has been focused on the English lockdown or the ever-eventful aftermath of the US election, did you even realize that there are only four weeks left till Christmas? 
Thankfully, Cox & Cox has decided to make the shock of finding out just that little bit easier with a generous 20 per cent off discount code to those in the know.
So whether you're getting ahead on your present shopping, want to add some sparkle to your festive decor or you need to upgrade your home in time for the holidays, it's definitely worth beating the (virtual) crowds and taking advantage of Cox & Cox's gorgeous ranges.
Simply use the code EM1120 to get 20 per cent off. Simply apply the code at checkout stage and save while you spend.
Want a taste of what's on offer? Take a look at our pick of the best festive treats for your home or family.

Cox & Cox sale - Homes & Gardens top festive picks
Don't forget to use the special discount code EM1120 to get up to 20 per cent off any of these delightful products in the Cox & Cox sale.
1. DIY Personalised Christmas sack
DIY Personalised Christmas sack, £35, Cox & Cox
Perfect for Santa's delivery year after year, this classic sack comes with iron-on letters for you to personalize in the comfort of your own home.View Deal
2. Three tealight houses
Three tealight houses, £50, Cox & Cox
Make this Christmas that little bit more magical by decorating with plenty of twinkling lights. 
These three individual lanterns are ideal for adding to the festive atmosphere and will delight people of all ages.View Deal
3. Wooden dolls house
Wooden dolls house, £175, Cox & Cox
This classic doll's house is super easy to assemble (without need for nails or screws) so you can build it in a flash on Christmas morning. 
It features eight rooms, a handy carry handle on the top and is perfectly proportioned for Sylvanian Families-sized toys. View Deal
4. DIY Personalised pet stocking
DIY Personalised Pet Stocking, £30, Cox & Cox
Much like the Santa present sack listed above, this bone-shaped stocking comes with iron-on letters so you can easily add the name of your furry friend to it in your spare time.View Deal
5. Soft Gold Glittered Christmas Tree
Soft Gold Glittered Tree, £395, Cox & Cox
This real fir-look tree features nearly 2000 soft gold tips to ensure it glitters beautifully in low light. 
It comes in three separate sections to make it easy to store and the individually hinged branches are both wired and posable for a super realistic look.
6. Luxury Handmade Splatter Crackers
Luxury handmade black and white splatter crackers, £50, Cox & Cox
These contemporary monochrome crackers would make any table look effortlessly chic this Christmas. 
Each one contains a joke and a hat, as well as one of the following gifts: a miniature grater, a pack of British wildflower seeds, a mini strawberry jam, a honey dipper, a star cookie cutter or a sachet of hot chocolate.View Deal
7. Sumptuous Sheepskin Double Beanbag 
Sumptuous Sheepskin Double Beanbag in Ivory, £1,350, Cox & Cox
We challenge anyone not to want to dive face first into this super-soft bean bag. 
But be warned, you may have to join a queue as kids and adults alike will all want a go at relaxing in this cloud-like seat this Christmas.View Deal
8. Deco Curve Petite Sofa
Deco Curve Petite Sofa, £1,295, Cox & Cox
Need extra seating for the festivities? This chic, contemporary-styled two-seater is upholstered in a classic grey velvet - ideal for blending with any colour scheme.
9. Deco Cocktail Trolley
Deco Cocktail Trolley, £275, Cox & Cox
'Tis the season after all, so why not treat yourself to this stylish drinks trolley? Perfect for keeping your most-used cocktail kit, alcohol and mixers to hand, it's beautiful as it is useful. View Deal
Happy Shopping!
Hello there, I'm Ginevra Benedetti, 
Associate Editor on the Homes Content Team at Future. 
I've been fortunate enough to have been writing about interiors for the past 16 years on the majority of Britain's monthly interiors titles, such as Ideal Home, Country Homes & Interiors and Style at Home, as well as Livingetc and of course, Homes & Gardens. 
This naturally feeds into writing for wonderful websites like HomesandGardens.com and IdealHome.co.uk.
Over the years, I've interviewed some of the most talented designers in the business and I've pretty much written about every area of the home, from shopping and decorating, appliances and home tech, wallpaper and fabric, kitchens and bathrooms, even extensions and conversions.  
I never tire about reading or writing about interiors, from classic timeless designs to innovative smart tech - the subject is always evolving, just as our homes do, year after year.