Experts reveal the 6 elements every country kitchen should have
Does yours?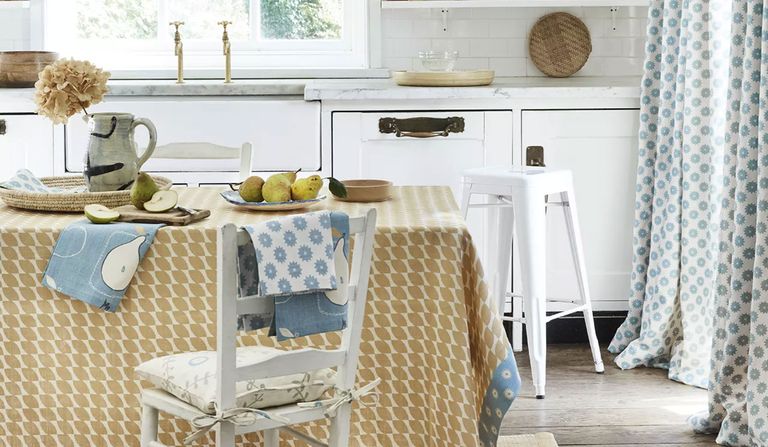 (Image credit: Vanessa Arbuthnott)
Has lockdown got you itching to escape to the country? Do you just love country style? Have you been browsing country kitchen ideas? If you have, you might have noticed a whole range of styles – from farmhouse to contemporary country – and be wondering what the main design elements of a country kitchen are.
With so many elements to consider, from layout and storage to wall colors and finishing touches such as drawer handles, and Pinterest and instagram throwing up thousands of beautiful schemes, it's easy to be left baffled about where to start. So, we asked the experts for their take on what truly makes a country kitchen. Read on to find out.
1. Beautiful, handmade cabinetry
For creative director of deVOL, Helen Parker, it's all about simple, handmade timber cabinetry such as timeless Shaker style. 'Splash out on the important stuff, no buts!' She says, 'Spend your money on really good cupboards, better to have fewer cupboards but really nice ones. Country kitchens are no longer regarded as a frilly eighties thing.
'Rustic country, modern country – it's all about beautiful handmade super stylish, simple designs and what makes it so appealing is that it is not a mass-produced, generic look anymore.'
2. A rustic kitchen table
Add to that a rustic country kitchen table and chairs, as she continues to explain, and you've got the foundation to the perfect space. 'The charm of country kitchens is often the quirky and eclectic mix of old and new that gives the feeling of a cozy and welcoming space. A vintage kitchen table and chairs is a must, all country kitchens need a spot for chatting and drinking tea and the ubiquitous jug of wild flowers.'
See: French country kitchen ideas – take a rustic approach to fixtures and furnishings
3. Warm wood
When asked for his one key piece of advice for creating a country kitchen Adrian Bergman, senior designer at British Standard by Plain English kitchens, revealed: 'The most important design element in a country kitchen is the use of wood, whether that be your painted joinery or your rustic worktop, it gives an instant warmth and a timeless feel. We would recommend a responsibly sourced hardwood like our douglas fir, iroko or oak which we sell by the meter.'
4. A larder or pantry
Ask any kitchen designer the most important component of a good kitchen design and storage is high on the agenda. For Neptune, the pantry leads the way. 'Effective storage is another simple way to create a happy and homely kitchen. By including a single piece of furniture, like our Suffolk larder, you can completely transform your kitchen, by creating more surface space and keeping clutter out of sight.' Nerine Vacher, Kitchen Designer at Neptune Fulham.
See: Pantry ideas – versatile storage that's equally suited to modern life
5. A country dresser
Another key piece of furniture has to be the iconic country dresser, a must for a country kitchen. 'Proudly displaying your aged pieces like mismatched glassware and china, copper saucepans and other nostalgic pieces can help to add character to your kitchen, and by using open shelves or glass cabinets,' says Meaghan Hunter, Stylist at Neptune.
See: Country kitchen diner ideas – open plan spaces with a rustic feel
6. Pretty textiles
Cabinets, storage, layout, materials are all in the running when it comes to those crucial country kitchen design elements, but it's important not to forget the finishing touches, too, as Vanessa Arbuthnott explains: 'Kitchens are where we spend most of our time, so it's important to include Interesting and sympathetic fabrics to make spaces happy.
'Color and pattern can have a big impact on a room' she explains. 'In this rustic kitchen I have used four different coordinating fabrics with different sized prints. The larger pictorial design Apples and Pears is the hero giving the 'washer-upper' lots to look at. The whole look is soft and gentle, with the Straw coloured Sepals and Petals making a really warm and welcoming table cloth.'
Lover of all things vintage, floral and country, Pippa has been working in interiors media for 10 years. A graduate of Art History, and Style Editor for Period Living magazine, she is a nostalgic soul who is passionate about historic architecture and traditional craftsmanship. When she's writing about homes and gardens you'll find her pottering on her gloucestershire allotment, Pippa's Plot, where she grows flowers for styling her own home and interiors shoots.