The one thing you should never do to hardwood floors – restoration experts reveal this damaging mistake
If you're planning to restore hardwood floors to their former glory, this advice will make you think twice about how to do it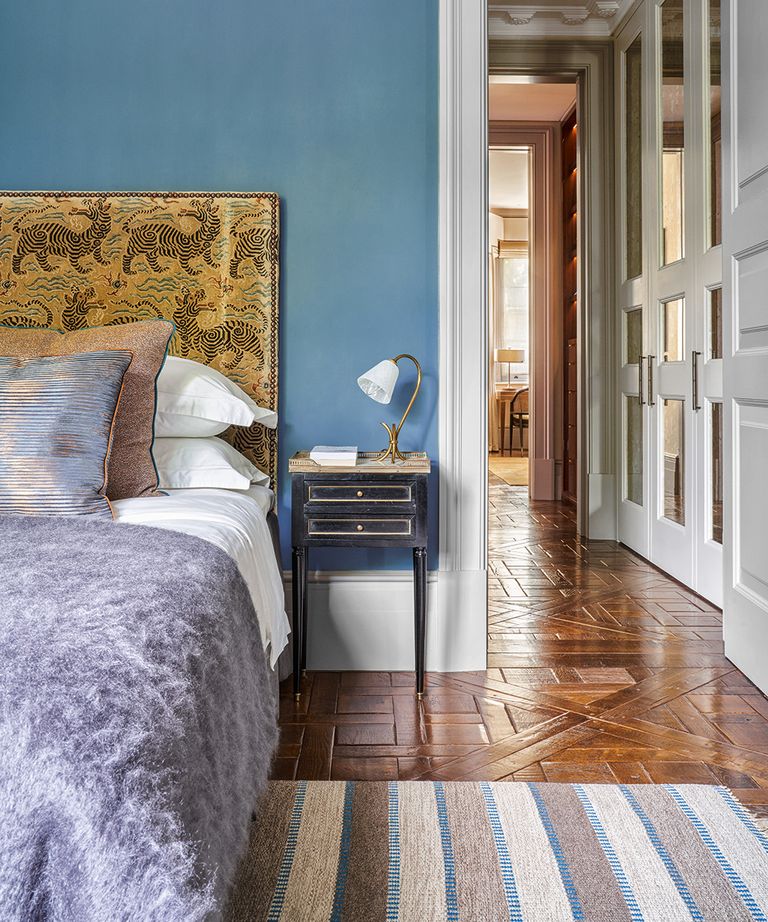 (Image credit: Davide Lovati)
Knowing how to restore hardwood floors properly is vital in a property restoration. Hardwood floors are a hugely desirable feature in any home, but are a particular selling point for characterful period properties.
When renovating, it can be tempting to completely strip back and refinish every surface as part of a drive to create a blank canvas for your new décor.
Hardwood floors are often sanded back to expose new sections of the timber and make them look brand new. But before you reach for the power sander – or have your carpenter reach for it – first consider if this is really the right thing to do for your home, because there are important exceptions to the rule.
'Wooden floors nearly always exhibit an attractive surface patina built up through the passage of feet and time,' says Roger Hunt, renovation expert and author of Old House Handbook.
'This is worth respecting and is often much more appealing than the appearance of floors that have been newly stripped or sanded to remove old finishes.'
Original features that reveal a home's history are an intrinsic part of its appeal, and love-worn wood floors – whether hardwood like oak or softwood like pine – make it feel warm and cozy.
But loss of charm aside, being overly eager with sanding can actually cause irreversible damage to the floor.
According to official guidance from the Society for the Protection of Ancient Buildings (SPAB), 'Not only is there loss of original surface, toolmarks and patina, but sanding machines often cut across and through the grain. In the latter case, especially with older pine, the process can destabilize the surface.'
SPAB also warns that sanding can result in a reduction in thickness of boards, leaving them too thin to carry heavy loads.
If that wasn't enough to make you think twice, bear in mind that sanding can also create a lot of unpleasant dust, which irritates the lungs, creates mess and requires a rigorous approach to health and safety.
If your old hardwood floors are finished with wax or oil, first try giving the boards a good clean to remove any residue, along with stains. Any repairs can be also be made, and where necessary, gaps filled to reduce drafts.
However, on less characterful boards or those that are heavily damaged and stained, sometimes sanding is a sensible course of action. For example, where boards are varnished or lacquered and heavily scratched, it will not be possible to patch repair them, so the best solution may be to sand them back or paint them.
If you do decide that sanding is the best option for your floor, consider hiring professionals who will take care to get the best result and minimize health and safety risks to your family.
As editor of Period Living, Britain's best-selling period homes magazine, I love the charm of older properties. I live in a rural village just outside the Cotswolds, so am lucky to be surrounded by beautiful homes and countryside, where I enjoy exploring. I am passionate about characterful interiors and heritage-inspired designs, but I am equally fascinated by a house's architectural elements – if I spot an elegant original sash window or intricate stained-glass front door, it fills my heart with joy. It's so important to me that original features are maintained and preserved for future generations to enjoy. My other passion is my garden, and I am slowly building up my planting knowledge, and becoming more confident at experimenting with growing my own. As well as editing Period Living, I am also co-editing the Country Channel of Homes & Gardens. In my previous roles, I have worked on Real Homes and Homebuilding & Renovating, writing about modern design and architecture, so my experience is broad – but my heart belongs to period homes.