Accent walls are making a comeback, says Emily Henderson – here's how to get them right
The rules, the dos and the don'ts to getting accent walls spot on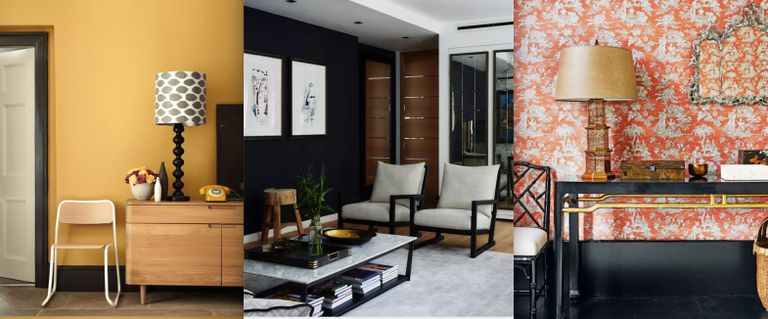 (Image credit: Future)
Accent walls – or feature walls as they're also known – are having a moment again, having faded in popularity after their last moment, back in the early part of the 2000s...
'These babies have a new grasp on life,' says uber-designer Emily Henderson, while quite rightly acknowledging that 'they aren't your '00s accent walls. Instead, what I'm seeing done really well is accent walls with a purpose.'
In other words, accent walls are at their very best when they're performing not just one function – namely, to show off a fabulous paint color or wallpaper design – but when they're performing two.
That second function can totally define your space; it can be used to indicate different zones, such as a dining area within a combined kitchen-dining space; to highlight existing architectural features or to correct awkward ones you'd rather hide.
Below, we list some of our – and Emily Henderson's – favorite ways to use accent walls, and highlight a few design dos and don'ts so you can ensure you get yours just right.
See: Accent color ideas – how to use them and why they are important
Accent walls: ideas to make yours high-functioning
Accent walls can be created with paint or wallpaper – with paint the handy quick fix that is often useful to try first – and wallpaper the more permanent option. Here's how to use accent walls to best effect.
1. Use an accent wall to zone a space
As Emily Henderson says in her blog, one smart application for the accent wall 'is to carve out a"purpose" for a portion of a room without having to put up any walls or get too creative with furniture.
Henderson highlights the room above by @marionalberge, the dining area of a larger, open-plan. living space. 'The slight alcove was the perfect opportunity to do this, so if you have awkward little spaces like that, you might want to consider going the accent wall route,' she says.
2. Add contrast with an accent in a plain space
While we're huge fans of space-enhancing, light-reflecting white in decorating schemes, some rooms will be better off with an accent wall that can introduce a contrast – like in this room.
'Black creates the most stark of contrasts, obviously, but it's also a wonderful complement to wood, really allowing its warmth to shine in comparison,' says Lucy Searle, Homes & Gardens Editor in Chief.
See more living room paint ideas if you're revamping right now.
3. Highlight an architectural feature with an accent wall
An accent wall needn't be a broad space – or even dominant within a room. And it definitely does not need to be the obvious wall to highlight or paint. However, if it's an architecturally interesting element of a room, why not draw attention to it?
'Using paint to highlight an architectural feature like a fireplace, a special room shape, molding... will always get a thumbs up from me,' says Emily Henderson.
An accent wall needn't be limited to walls, either. 'Painting built-ins as your "accent wall" helps to pull all the attention... Whether cabinets or bookcases, make sure to paint any wall bits that show up,' continues Henderson.
This cabinet, above, is the perfect example of a subtle approach, while the one below is much more about color blocking than subtle highlighting.
4. Or use an accent wall as a disguise
'If you live in an old home with quirky architectural, using an accent wall approach to highlight anything that's funky or awkward makes the most of your home's uniqueness,' says Henderson.
This might be a crooked chimney breast or even just a low ceiling, like in the room above. Putting the black on the lower part of the wall and the white above draws attention to the bottom half of the wall, while the bright white blends into the ceiling to create an impression of a room that's taller than it is.
5. Make a transition space special with an accent wall
Hallways are often overlooked decoratively – whether entryways or upstairs corridors. Using a stand out paint color or wallpaper to decorate just one wall in the space can create the best of impressions – plus you can use decorative tricks to make more of their proportions.
How? A dark color at the end of a long, narrow corridor will make the space feel less elongated; a bold color on the back of the front door and the wall it sits in can be a quirky surprise; an architecturally characterless hallway can become bright and characterful with the use of a bold paint color or wallpaper.
See: Wallpaper ideas in our dedicated feature
Accent walls: the color and texture rules
There are no hard and fast rules for which colors to use for accent walls but here's how to make the right choices:
Bold colors and accent walls can work but it's important to tie the color used on the wall to other small-scale, subtle elements of the room, such as a pattern within a vase, for example. This will also have the effect of making the contrast between your accent wall and the rest of your scheme less jarring, helping you to create a unified space.
Neutrals and accent walls are perfect if you are looking to zone a space subtly, such as an open plan kitchen diner. Even picking a color for your accent wall that's a tone or two darker or lighter than that of your other three walls can make an impact. Or, you can take the approach we've mentioned above, using black or dark brown or grey to create a neutral but dramatic contrast.
Textures and accent walls are often overlooked in their labelling – but they're important to factor in. An exposed brick wall is an accent wall, as is a wall of bookshelves or art. Bear in mind that if you have a room with a wall that's busy with books or artwork, you're unlikely to need another accent wall in that space.
Which wall should be the accent wall?
The wall that 'should' be the accent wall is traditionally the focal wall of a room – so the chimney breast of the living room or the wall behind the headboard of a bed, for example. It may even be a wall of windows that's your accent wall.
However, the location of an accent wall is often best decided by the effect you want to create – to highlight an architectural feature or to add contrast in a plain scheme, for example; the walls either side of the accent wall are important too – they need to be decorated to allow the accent wall to shine rather than jar.
Accent walls needn't always be walls, as we've highlighted above, but don't forget your fifth wall: the ceiling. This can, indeed be used as an accent wall: painted or wallpapered a deeper shade than your walls, it will have the effect of creating a cozy space – making it perfect in particular for bedrooms with high ceilings that hitherto have felt unwelcoming or living rooms, like the one above, that you want to feel inviting.
How many accent walls is too many?
No room should have more than one accent wall – any more than that is too many. Accent walls are a decorative highlight, perhaps even the star of the show, and getting them to share that with another wall will create a scheme that feels busy and overpowering. And, in our opinion, one accent wall per floor of a house or per apartment is enough.
Do accent walls make rooms smaller?
Accent walls painted or wallpapered in dark colors can make walls visually advance, which can make them feel smaller, so if you are decorating a room that you want to feel spacious, stick to light colors.
'Adding a feature wall to a room is a great way to inject color and personality, but the entire room doesn't have to be bold and bright to make a statement,' advises Jody Hudson, Stylist and James Hughes, In-House Decorator at Graham & Brown. 'A neutral palette can be enlivened with an accent wall displaying a contrasting texture or pattern.'
Another option is to choose a metallic or reflective finish for your feature wall – think a wallpaper with a pale background but metallic touches within the motifs.
When to avoid an accent wall?
'Avoid creating a feature wall in an already crowded environment as this will simply feel cluttered and chaotic,' continues Jody Hudson. 'The wall should be the centre of interest, without struggling for attention amongst competing elements.'
Jennifer is the Digital Editor at Homes & Gardens. Having worked in the interiors industry for a number of years, spanning many publications, she now hones her digital prowess on the 'best interiors website' in the world. Multi-skilled, Jennifer has worked in PR and marketing, and the occasional dabble in the social media, commercial and e-commerce space.
Over the years, she has written about every area of the home, from compiling design houses from some of the best interior designers in the world to sourcing celebrity homes, reviewing appliances and even the odd news story or two.