Kim Kardashian shows off her minimalist bathroom – and it's surrounded by Christmas trees
KK's Christmas tree decor perfectly matches her minimalist aesthetic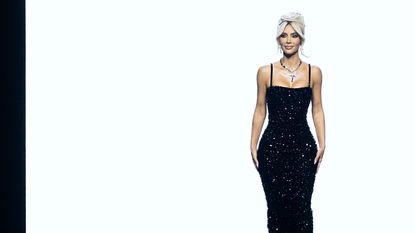 (Image credit: Alamy)
As celebrities take to social media to share their Christmas preparations, Kim Kardashian has outdone many with a recent Instagram story flaunting multiple Christmas trees surrounding her bathroom.
Though the reality show star's Christmas tree ideas, created with stylist and friend Jeff Leatham, are the focus of much attention, for us, it was the glimpse into her bathroom that is really interesting.
With a sunken-look, contemporary square tub, pared-back pale wood floors, vast walk in shower and a sleek double vanity, it is incredibly minimalist; in fact, she has, in the past, called it her home her 'minimal monastery'. It's no surprise – considering her SKKN by Kim concrete home accessory range.
And while there is usually a view over lush, tropical vegetation through the floor to ceiling doors, Christmas trees bring in a festive feel. However, like the rest of Kim's interiors, the outdoor trees are minimally decorated, too.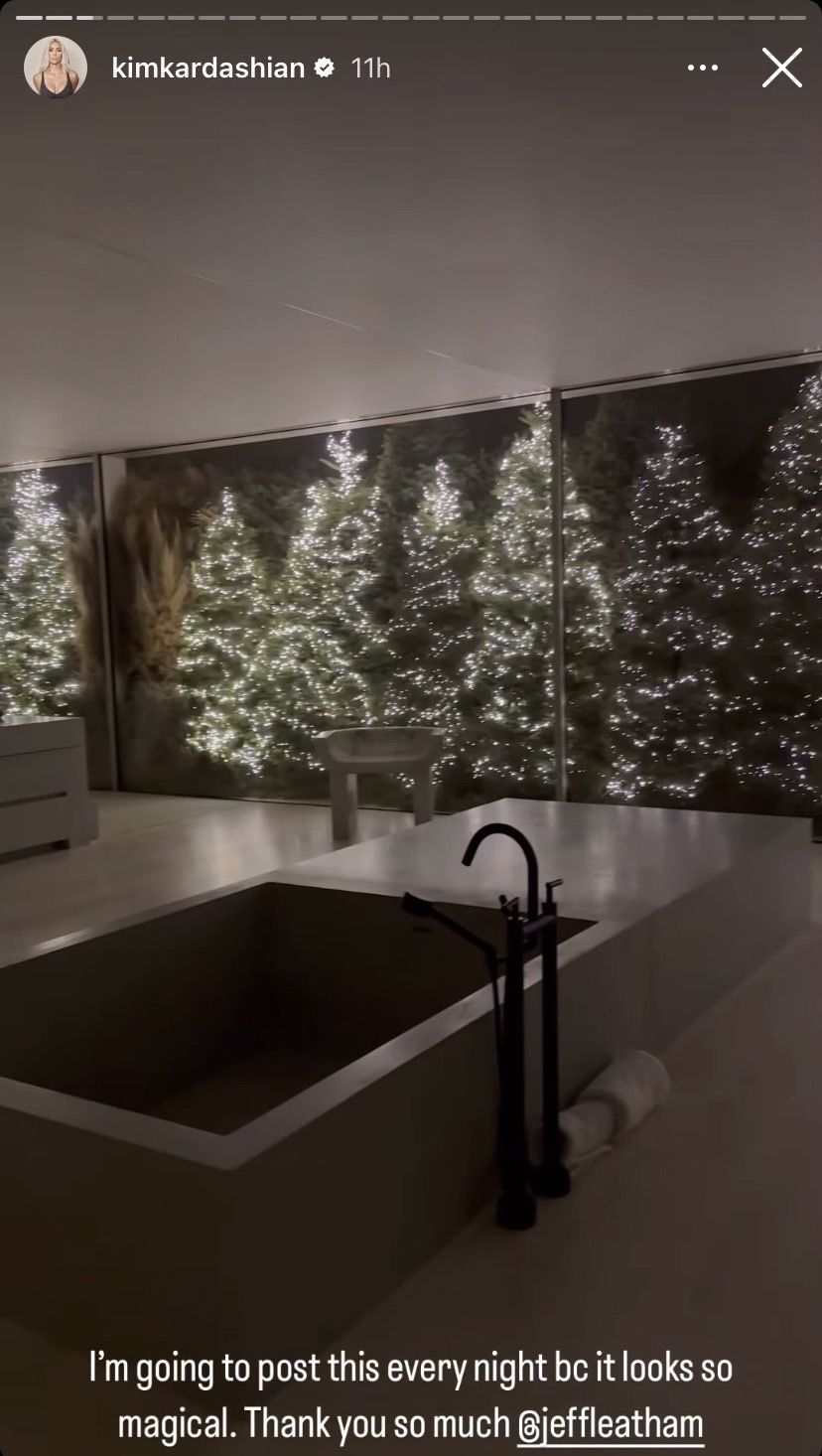 While this year's Christmas trends are all leaning towards traditional design and home comforts, Kim has decided on a very different direction for her various Christmas displays.
Created with friend Jeff, the same designer who helped to create Kylie Jenner's Christmas tree, which is far more traditional by comparison, the nine or so lit-up trees outside provide some wonderful Christmas light ideas for her bathroom. However, they are noticeably lacking in decor.
While the lack of decorations may be considered bleak by some, the trees are in keeping with the rest of Kim's design choices, with minimalist themes dominating most of the star's decorating decisions across all of her homes.
In the Instagram story, the mom-of-four said that the trees made her 'so happy' as she shared her plans to gaze at the trees every night as she 'love[s] them so much'.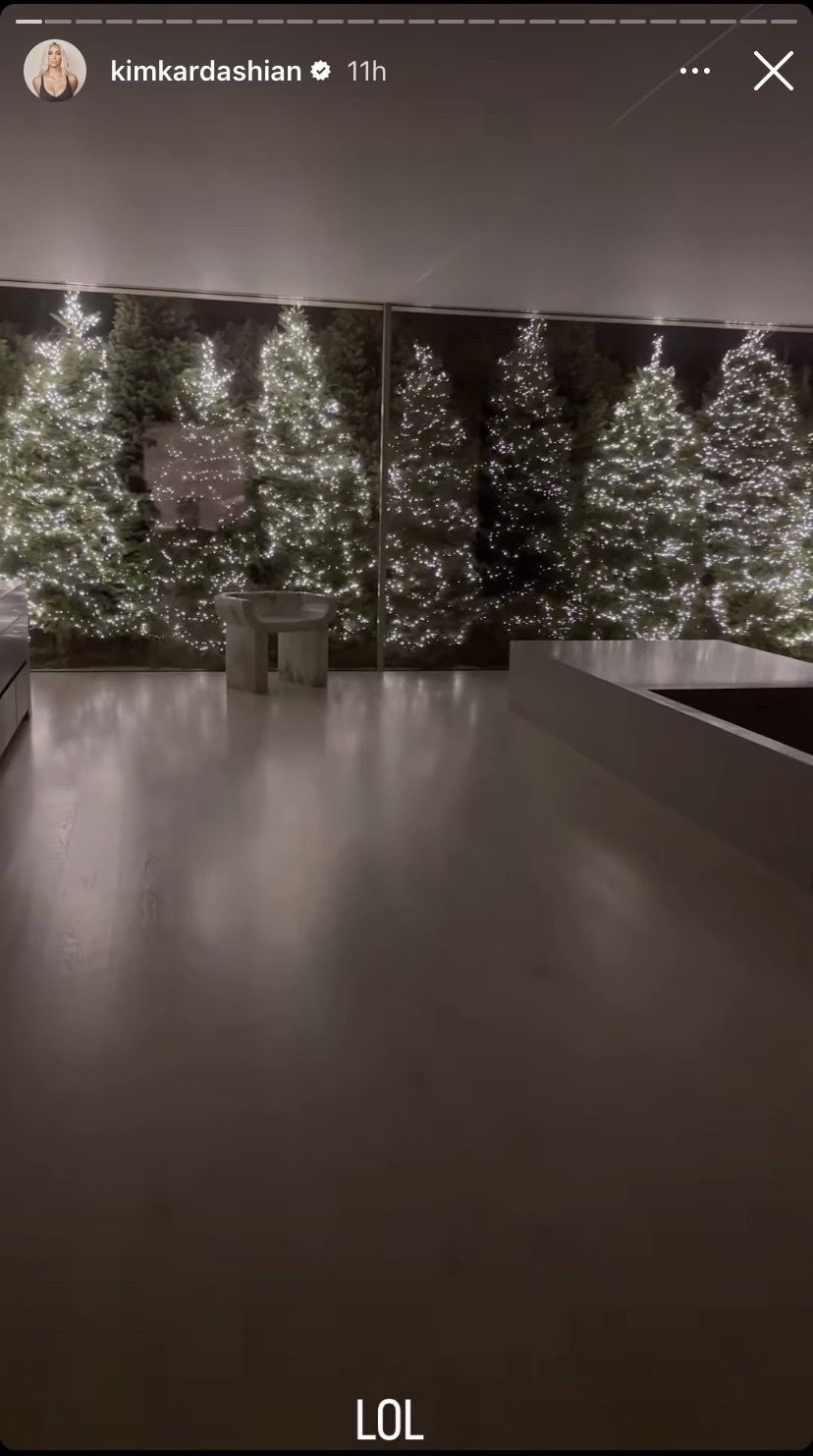 Kim's home does have more colorful Christmas decor ideas inside, however. First, there's the vast silver tree (below). With no Christmas ornament ideas, the towering tree is adorned with only simple warm-white cluster lights.
The result is some stunning indoor Christmas lighting ideas, with the tree looking less like a tree and more like an (admittedly oversized) custom sculptural floor lamp.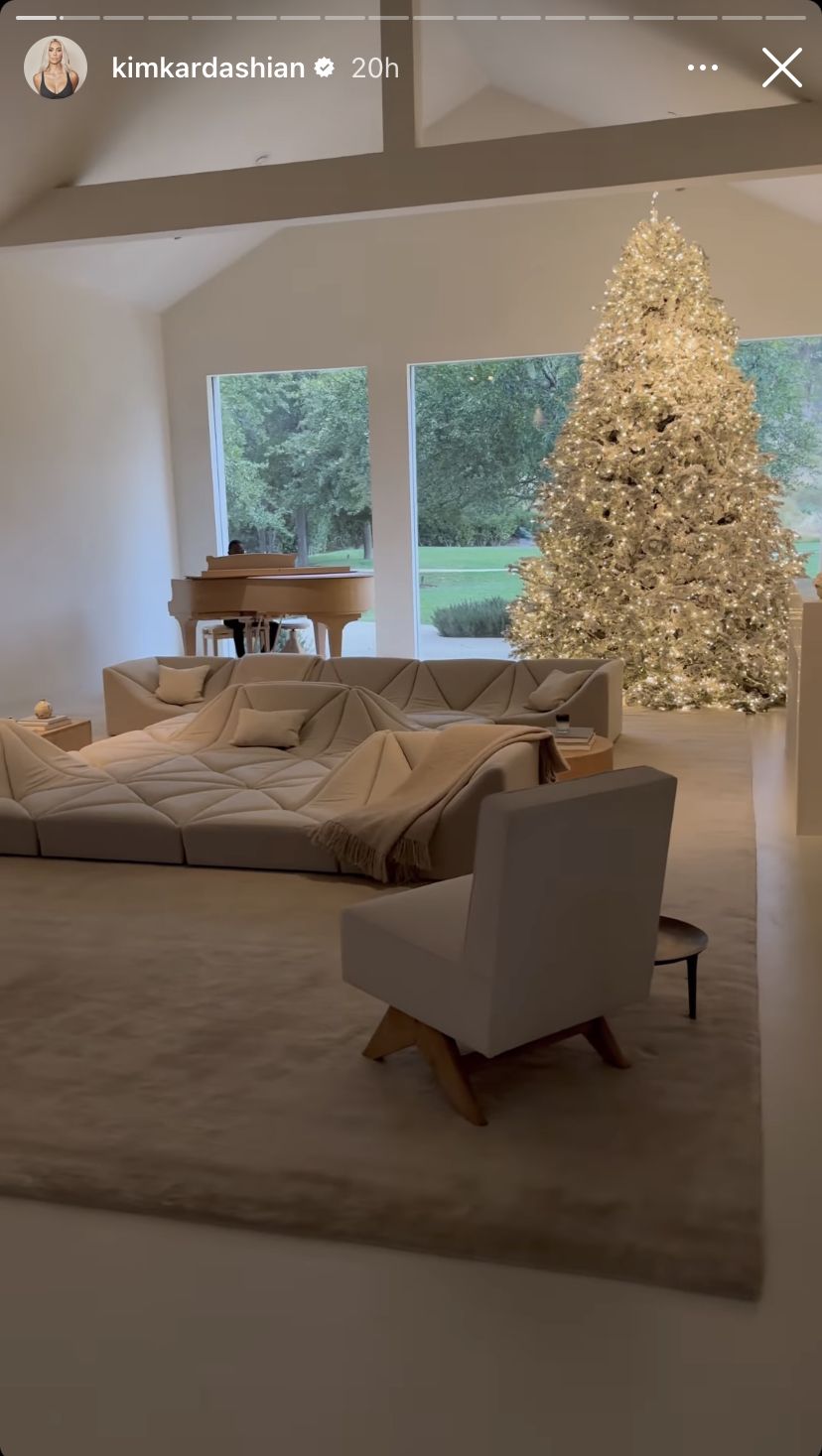 Then there's a more eccentric take, which her daughter North West showed off on the mother-daughter TikTok earlier this week.
The tree, decorated by North herself, is still not the traditional tree Kylie opted for, however, with decorations including cameras, bows, bags of money, and allegedly real $100 bills hung on the smaller tree – very on brand for the fashion mogul and her children.
Kim has all three Christmas trees: minimalist, over-decorated or somewhere in between. Which do you prefer?
Chiana has been at Homes & Gardens for six months, having started her journey in interior journalism as part of the graduate program. She spends most of her time producing content for the Solved section of the website, helping readers get the most out of their homes through clever decluttering, cleaning, and tidying tips – many of which she tests and reviews herself in her home in Lancaster to ensure they will consistently deliver for her readers and dabbles in the latest design trends. She also has a first-class degree in Literature from Lancaster University.