The three kitchen features most likely to add value to your home – and buyers love them
If you want to maximize the value-adding potential of an updated kitchen, focus on these areas...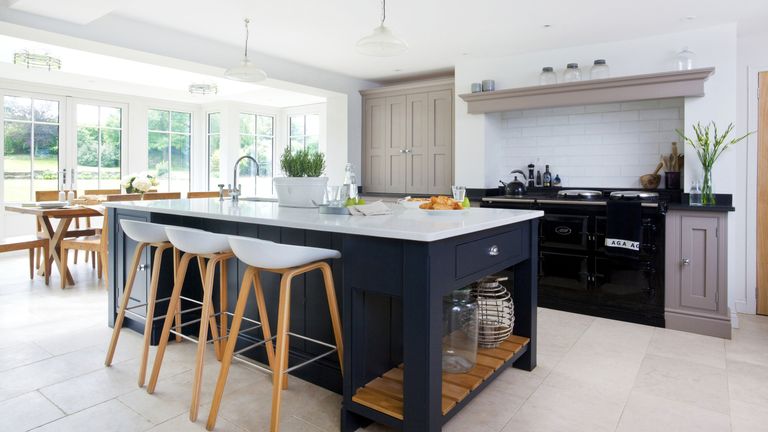 (Image credit: Future / Richard Gadsby)
A brand-new, professionally remodelled kitchen will add value to your home. In fact, time and time again, updating the kitchen proves to be one of the best investments for recouping at resale. However, like all other areas in the home, kitchen designs date quickly, and what buyers want today isn't necessarily what they wanted five or even two years ago.
If maximizing the resale potential is your top priority, then you need to focus on specific areas that make a kitchen attractive to buyers. We've spoken to real estate experts – they advise to concentrate your efforts on the following areas.
See: Kitchen ideas – decor and decorating ideas for all kitchens
1. Open up the layout if at all possible
If you have any scope for changing the layout of your kitchen to a more open plan –go for it, without hesitation. Realty ONE Luxury Agent, Suzi Dailey, says: 'Invest in an open floor plan. This design trend allows family members to see each other without being in the 'same' room. The previous trend was to have two steps down into your family room, but now people want one large level. 
The big appeal of going open-plan is for the kitchen and cook to be part of the action when entertaining and, on a day to day basis, for the whole family to be together – in this time-pressed age, it's a real boon to be able to offer help with homework while preparing the evening meal.
Betsy Ronel, a Licensed Real Estate Salesperson with Compass in Westchester County, New York, agrees: 'Open a wall, if you can, to embrace the room adjoining the kitchen to make a family kitchen eating area, which is very popular amongst buyers these days.'
See: Open-plan kitchen ideas – clever ways to create a hub for your home
2. Invest in a granite countertop
Granite is definitely having a moment in kitchen design, as are other luxury worktop materials. Samantha Odo, Realtor at California-based Precondo, says that a full granite slab countertop 'will be an investment but is also a great way to elevate the entire kitchen, and elevate the price and feel of your entire home. Buyers love granite countertops and are often willing to pay more for a house that has them, so they're a great way to add value and upscale your home.'

Jeff Johnson, a real estate agent and owner of Simple Homebuyers, agrees: 'Countertops are the first thing a person looks at when they enter a kitchen. They need to be eye-catching in order to add resale value to the kitchen. Granite and marble are the most popular choices, but can be very expensive and difficult to maintain. Those looking for cheaper options can go for quartz and concrete, which are stain and scratch resistant.'
See: Kitchen countertop ideas – worktop inspiration in marble, granite and composite materials
3. Get the best possible appliances for your home price range
If your kitchen has outdated appliances, you'll definitely need to replace these prior to selling – and real estate experts insist that you mustn't scrimp on the quality. The golden rule, according to Betsy Ronel, is to choose the very best appliances to the price range of your home. 'Appliances should be high end, as again, the more high-tech the kitchen, the more likely the house will sell.
If houses in your neighborhood trade for under $600,000, then consider purchasing from brands, such as KitchenAid and GE. If they trade $750,000 and above, then you need to considering investing in luxury appliances, such as Sub-Zero, Wolf, Viking, Gagneau.'
There is simply no way high-end appliances will scare away buyers, and Betsy stresses the importance of not going cheap in this area: 'The higher the home price point, the higher level the appliances should be. The one piece of advice I stress to all sellers: spend as much as you can afford when designing a kitchen. Kitchens sell homes!'
Anna Cottrell is Consumer Editor across Future Plc Home titles. She has a background in academic research and is the author of London Writing of the 1930s. She writes about interior design, property, and gardening.