Launer, the Queen's favorite handbag brand – and star of The Crown – is on sale at Selfridges
Famed the world over, Launer handbags are a staple of Queen Elizabeth II's wardrobe – and they are on sale at Selfridges now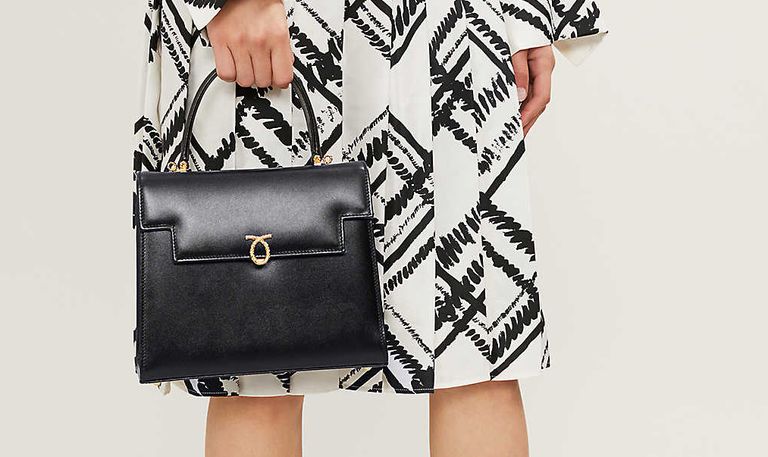 (Image credit: Launer at Selfridges)
By Lucy Searle published
Launer handbags play a starring role in the Netflix sensation, The Crown, which has led to a renewed interest in the leather goods brand favored by Queen Elizabeth II – indeed it has a royal warrant – and former British Prime Minister Margaret Thatcher.
Both women have been famous for their handbags for decades, and Launer already had an unrivaled reputation throughout the world for its incomparable quality and workmanship, but its regular appearances in The Crown's fourth season have brought it an entire new fanbase.
'We are jubilant that Launer has a starring role in the most talked about show of the season,' says Launer in a statement on its website. 'The Crown Season 4... features three of our handbag designs, in four colorways through their association with Her Majesty The Queen and Margaret Thatcher. The Traviata, Bellini and Olympia look resplendent and can now be ordered in the same colors or customized to create your own.'
The excellent news? Launer handbags are on sale at Selfridges – with up to 20% off – so if you are thinking of gifting a Launer handbag to someone special (or perhaps even yourself...) this Christmas, now is the time to shop.
Below, we have listed our favorite picks from the range, plus the shopping code you will need, both for the US and UK.
We wonder if Her Majesty might take advantage? Happy shopping.
H&G Editor's pick of the best Launer handbags at Selfridges today
Best Launer handbag at Selfridges USA
Launer Traviata Leather Top Handle Bag, was $2,125, now $1,700
We love the branded popper-clasp closure and adjustable and detachable shoulder strap in red of this handbag. As with other classic Launer designs, it has a top handle, flap closure, gold-toned hardware, tonal stitching, a back slip pocket, two internal compartments, an internal zip pocket, an internal slip pocket, suede lining, and comes with dust bag. It is approximately 19cm tall.
Best Launer handbag at Selfridges UK
Launer Traviata faux lizard leather tote bag, was £1,920, now £1,536
The leather effect and deep forest green of this this Launer leather top handle bag make it a really special buy. It features the classic push clasp flap closure, the detachable and adjustable shoulder strap, top handle, gold-toned hardware, tonal stitching, back slip pocket, two internal compartments, internal zip pocket and internal slip pocket.
Launer's Royal Warrant
Royal favor has for centuries been sought by crafts and tradespeople. Back in 1155, Henry II of England granted the earliest recorded Royal Charter to the Weavers Company. Royal Charters were granted to livery companies, formerly known as trade guilds.
Royal Warrants are granted as a mark of recognition companies – or individuals – who have supplied goods or services to the Queen, the Duke of Edinburgh or the Prince of Wales or their households on a regular basis.
Launer's Royal Warrant was awarded more than 50 years ago, ever since Launer began supplying Her Majesty with handbags and small leather goods. In 1992, the Queen even visited the Launer factory.
The history of Launer
Launer was founded in the 1940s by Sam Launer. Mr Launer had sought refuge in the UK from his native Czechoslovakia. He brought his wife and two sons with him, leasing a small workshop in Soho to make handbags.
Over time, he built a reputation for exceptionally crafted structural handbags in the finest of leathers. These soon became popular amongst the great and good, including royalty – and it is a relationship that has endured.
My first job was writing a DIY column for a magazine for the over 50s (which seemed a long way off back then). I then moved to a DIY magazine as deputy ed, then freelanced my way around the homes departments of most women's magazines on the market before working on Your Home and Family Circle magazines as homes editor. From there, I went to Ideal Home magazine as associate editor, then launched 4Homes magazine for Channel 4, then the Channel 4 4Homes website before going back to freelancing and running a social media business (you can see where I had kids from the freelancing gaps!). I was tempted back to the world of big business by the chance to work with the great team at Realhomes.com, where I was Global Editor-in-Chief for two and a half years, taking it from a small website to a global entity. I've now handed the reins of the website to our American managing editor, while I take on a new challenge as Editor-in-Chief of Homes & Gardens.