This unusual kitchen color combination is trending – and it's appearing in the world's most beautiful homes
Green kitchens get an upgrade with 2023's hottest trending color scheme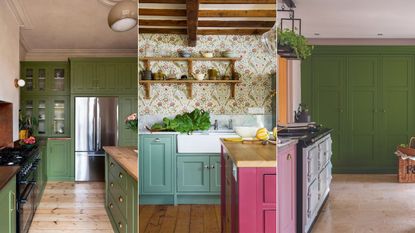 (Image credit: deVOL / Future)
Sign up to the Homes & Gardens newsletter
Decor Ideas. Project Inspiration. Expert Advice. Delivered to your inbox.
Thank you for signing up to Homes & Gardens. You will receive a verification email shortly.
There was a problem. Please refresh the page and try again.
Green kitchens have been popular since Dakota Johnson debuted her olive-colored kitchen in 2020. Now, the popular kitchen color trend is joined by an unlikely mate: pink. Recently, the British paint brand Farrow & Ball posted a fabulous grouping of green and pink kitchens. The caption read: '4 spaces which prove a pink and green kitchen scheme is always a good idea,' announcing the luxury brand's approval of the kitchen color combination. We couldn't agree more.
The post shows four kitchens with green cabinets and pink walls, or in one case, a green island with pink cabinets. The stylish interiors use various combinations of pink and green paints from Farrow & Ball. The first slide is by Danielle Edwards. This personal favorite features bright Emerald Green cabinets with Setting Plaster walls. This kitchen's whimsical color scheme is grounded by black window hardware and a subtle gray marble countertop.
Farrow and Ball's second photograph shows a room designed by Emma Louise Home Design with a kitchen island painted in Beverly with Templeton Pink colored built-ins. In this room, gray marble again acts as a grounding force. The next photo features Mizzle cabinets with Calamine walls by Sascal Studio and finally an Olive and Barr kitchen with Breakfast Room Green cabinets and Setting Plaster walls.
Below, Interior designers and color specialists explain why the unique color combination works, why the pink and green scheme is so perfect for a kitchen, and how to properly pair the wildly different shades.
Why does a pink and green color combination work so well?
Design experts love this color combination for its organic, calming properties. 'Pink and green work so wonderfully together as they replicate the color pairings we find in nature for a calming and restful space. We can learn a huge amount from the great outdoors, where colors harmonize and work naturally together all around us.' says Charlotte Cosby, creative director at Farrow and Ball.
Charlotte has been at Farrow & Ball for almost 17 years as both a Creative Manager and as the Head of Creative. She is part of the team that creates new colors, which she always likes to see in person before they are released as part of the F&B palette.
Aside from their natural inspiration, pink and green create a fabulous color equilibrium in a room. Amber Clore Morales, interior designer at A. Clore Interiors states 'the unexpected combination creates a harmonious and fresh color scheme with a balance of femininity and nature-inspired vibrancy, resulting in a playful and visually appealing space.' This color scheme is at once fresh and relaxing, creating the perfect balance. Charlotte Cosby adds that 'pink and green when taken in the context of the color wheel, are complementary colors, sitting directly opposite each other and will create schemes with maximum contrast for a dynamic and exciting kitchen.'
Amber Clore Morales is a registered Interior Designer who has been
practicing Residential and Commercial design for over two decades. After
earning her Bachelor's degree from Florida State University and growing her
Interior Design passion into an award-winning business, Amber quickly
discovered a gap in the interior design marketplace. Her youthful energy
and mature sense of style has created a niche in Central Florida and in the
design world.
What makes a pink and green color combination perfect for the kitchen?
Brynn Valentine, a trends researcher at Stylus, reports that the interest in green kitchens has to do with the positive psychological effects of these colors. 'Kitchens are a hub in the home dedicated to food and family – such colors reconnect homeowners with a sense of nature, wellness and replenishment' she states. Brynn continues 'the uptick in soothing pinks and striking French greens in kitchen design portray the romantic allure of gardens. This unanticipated, yet charming combo has the power to bring a dreamlike botanical feeling into the home that especially suits the kitchen.'
Brynn analyzes emerging trends for retail and brand communications. During her year at Stylus, Brynn has worked on numerous reports, breaking down Gen Z mindsets, storefront designs, rising internet trends, metaverse maneuvers, and more. Prior to joining Stylus, Brynn pursued her education at Oxford University, obtaining a Master's degree in Anthropology with a focus on economic attitudes in relation to gig economies and neoliberal ideologies.
Amber Clore Morales agrees, stating that 'pink and green work well together in a kitchen because they can create a lively and invigorating atmosphere, evoke a sense of freshness and add a touch of personality and warmth to the space.' A kitchen is a space where you and your family will likely spend copious amounts of time, so making this a happy space is paramount to creating a functional design. The pink and green kitchen is a 2023 interior design trend that is sure to last.
How do I pick out the perfect pink and green pairing?
Though pink and green are complementary, choosing the correct shades for a visually appealing kitchen can be more difficult than it appears. Charlotte Cosby states 'using these two shades for a kitchen scheme is all about finding balance. Look for shades that feel a similar weight or a few shades lighter, or darker, than one another, such as Setting Plaster on kitchen cabinets and Calke Green for a pop of color on a kitchen island. Alternatively, the other route is to go much, much deeper so that one shade almost becomes the neutral backdrop to the other, such as the soft blush of Pink Ground on walls, with deep Duck Green on cabinets for a calming effect.'
If painting entire cabinets or walls is too much of a commitment but you still want to create the warm and calming effects of these shades, Amber Clore Morales recommends that designers 'use them in moderation as accents or focal points.' She goes on to say 'select complementary shades, balanced with neutral tones, and incorporate timeless elements for long-lasting appeal.'
Given the beautiful, naturally inspired, and calming properties of pink and green kitchens, it is no wonder that this style has become one of the biggest kitchen trends of 2023. We can't wait to see the fashionable look in even more spaces as the year goes on.
Sign up to the Homes & Gardens newsletter
Decor Ideas. Project Inspiration. Expert Advice. Delivered to your inbox.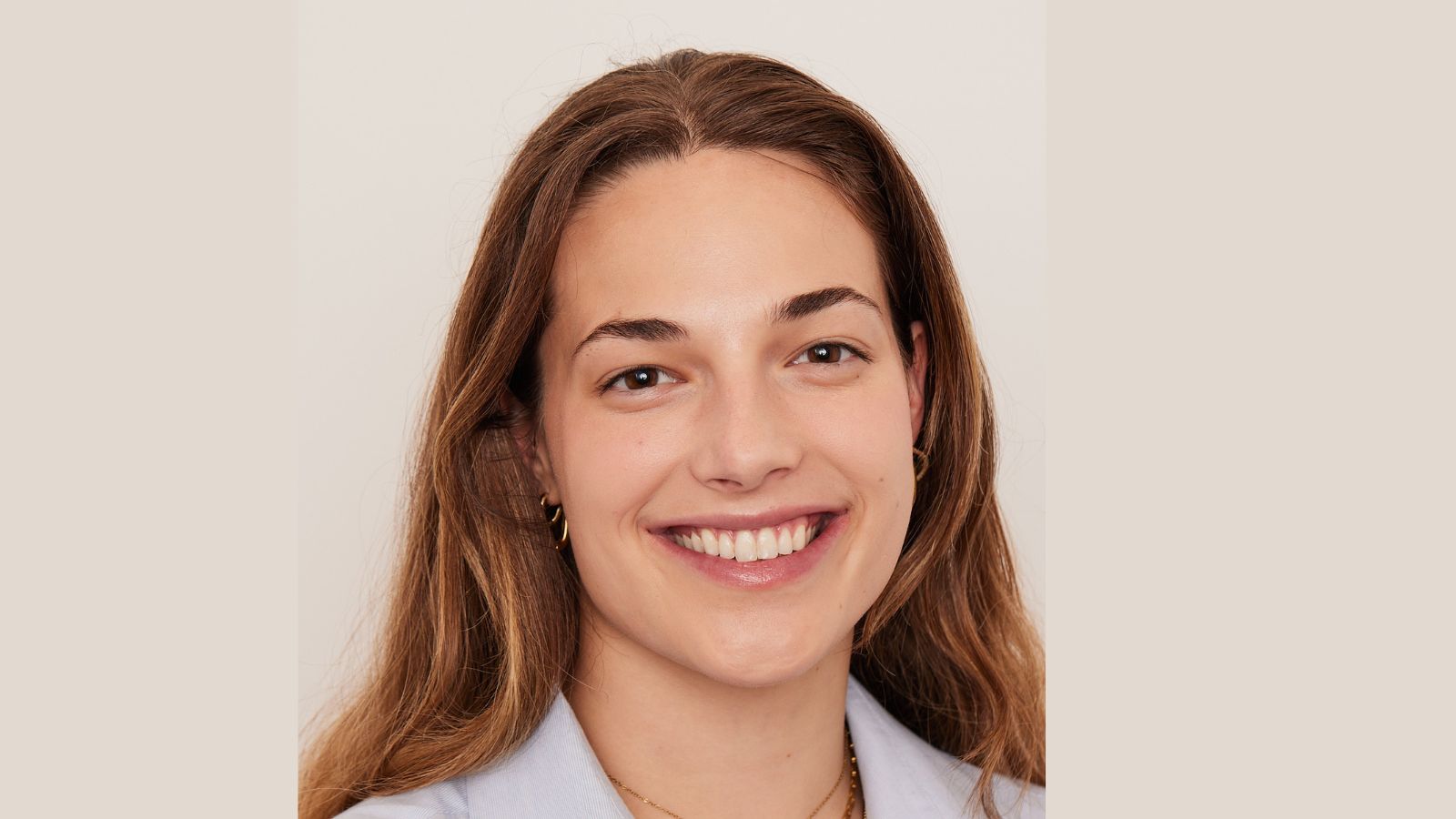 I am a London-based News Writer at Homes & Gardens. My interests lie at the intersection of design and popular culture with a particular focus on trends and celebrity homes. Before joining Future, I worked as a Content Writer and Communications Lead for Fig Linens and Home, a luxury linens and home interiors brand based in Fairfield County, CT. I have a BA in Creative Writing from Sarah Lawrence College in New York and an MSc from the Oxford University Department of Anthropology.