iRobot Roomba Cyber Monday deals – money off our top tested Roomba
Shop iRobot Roomba Cyber Monday deals to save money and automate your cleaning routine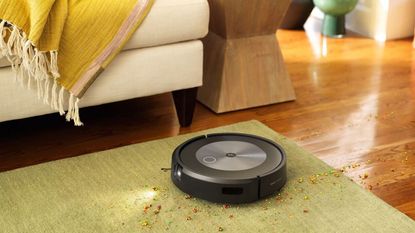 (Image credit: iRobot)
The iRobot Roomba Cyber Monday deals are the perfect way to buy some of the best robot vacuums at a bargain price.
iRobot offers many of the best robot vacuum cleaners in the market. I've tested several Roomba models and everyone is simple to use, can tackle rooms of all shapes and sizes, and best of all provides a superb clean.
There are some amazing deals available across many Roomba models this Cyber Monday, so if you're on the hunt for a new vacuum, and have had your eye on a Roomba, now's the time to buy.
Roomba Cyber Monday deals
You can shop Roomba Cyber Monday deals by retailer or via our top H&G picks.
---
Are Roombas worth it?
Our in-depth tests mean it's hard for us to fall for gimmicks and brand names, so you know that I mean it when I say that iRobot produces innovative, effective vacuums. Roombas have become a household icon and that status is entirely justified.
Roombas do a brilliant job of cleaning hard floors and carpets. They're simple to use, and you can even control them with your smartphone. Automatic cleaning cycles mean you can to set them to run while you're at work in bed, so you can always guarantee clean floors without lifting a finger.
This of course comes with a cost - Roombas are at the pricier end of the market. However, I think they're worth the price tag. What's more, Black Friday and end-of-year Roomba sale deals mean that you can save a lot of money while guaranteeing quality.
Which robot vacuum is best?
It's a tough call, but my best advice is to go all in on the iRobot Roomba j7+. It's not only iRobot's best product, but the best robot vacuum on the market. It offers iRobot's latest technology, including object recognition.
However, if you're after sheer power for a home heavy on the carpets, the most powerful in terms of absolute suction is still without a doubt the iRobot Roomba S9 series.
Which Roomba is best for pet hair?
The iRobot Roomba j7+ is once again a fantastic option. It's tough on pet hair and made short work of a high-traffic area on my rug where my dog likes to sit and watch TV. It goes further than this, however - it's great for pets more generally. The j7+ automatically recognises dogs and cats, so it won't bump into them, but it also recognises pet droppings, so it won't drive through them and make a mess. iRobot are so confident about this that they've introduced a Pets Owner Official Promise (P.O.O.P.), so if your Roomba ever failed to identify an accident they'll replace the unit for free.
Can a Roomba handle stairs?
While a Roomba can't clean stairs, as they run on wheels, there's no danger of it falling down them. Every Roomba series has Cliff Detect sensors that keep it from driving over the edge of landings and steps.
What is Black Friday?
Often hailed as the biggest shopping day of the year, Black Friday falls on the last Friday of November, which this year means Black Friday will fall on Friday 25th November 2022.
The term Black Friday originated in the US to denote the first day following Thanksgiving when retailers would cut prices to draw holidaymakers to shop their store's sales. Driven by global brands, the price-slashing event soon became a worldwide phenomenon, and now Black Friday - closely followed by Cyber Monday - is one of the globe's biggest consumer extravaganzas.
The event has also spread to encompass more than one day, with many retailers starting their 'Black Friday' events earlier and earlier to try to get ahead of the competition.
What is Cyber Monday?
Cyber Monday falls directly after Black Friday and is the conclusion of the shopping event, with many online-only deals. This year, Cyber Monday falls on Monday, Nov. 28th.
More iRobot deals