I'm a kitchen appliances expert – these are the best Amazon Prime Day KitchenAid deals
I've combed through all of the Prime Day KitchenAid deals, so that you don't miss them. Here are the best, iconic appliances, reduced at Amazon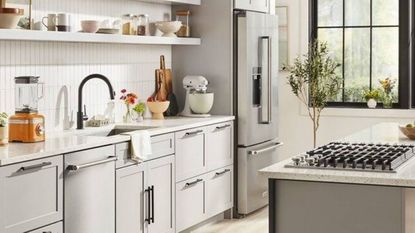 (Image credit: KitchenAid )
Sign up to the Homes & Gardens newsletter
Decor Ideas. Project Inspiration. Expert Advice. Delivered to your inbox.
Thank you for signing up to Homes & Gardens. You will receive a verification email shortly.
There was a problem. Please refresh the page and try again.
If you already own a KitchenAid, you'll know why Prime Day KitchenAid deals are so exciting. Whether you're looking for the best stand mixer, hand mixer, or ice cream maker, KitchenAid are market leaders and for a good reason too.
Our team of experts has taken range of KitchenAid products to our test kitchen, and rigorously used and tested each appliance on basic functions all the way to tricky tasks, so that we can give you a comprehensive and accurate review. Even against market leading and specialist brands, KitchenAid is always at the top of our lists.
As a premium brand, KitchenAids aren't often reduced. However, for Prime Day, Amazon are reducing a range of KitchenAid products. I've scoured Amazon, as well as other sites, for the best KitchenAid deals and I don't think you'll find anything better than these KitchenAid deals on Amazon.
Best Prime Day KitchenAid deals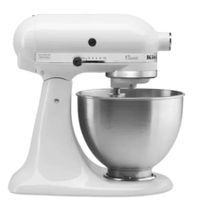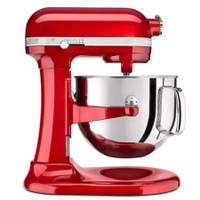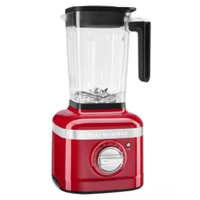 KitchenAid K400 Blender | was $299.99, now $219.99 at Amazon
This was the best looking blender that we tested, but it's also proof that practicality can look pretty. The 56 oz glass pitcher is big enough for the whole family and it was really powerful, easily crushing ice, fibrous vegetables, and seeded fruit.
You can read more in our KitchenAid K400 Blender review.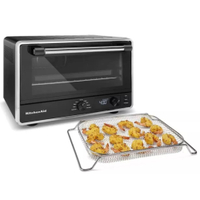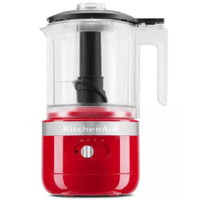 KitchenAid 5 Cup Cordless Food Processor | was $99.99, now $84.99 at Amazon
You don't realise how limiting a corded food processor is until you use a cordless. Our tester, Camryn, enjoyed 'moving around the kitchen with complete freedom'. She even took it out in her back yard to make a salsa by the barbecue. The battery will last long enough for plenty of use too; Camryn didn't have to charge it once.
You can read more in our KitchenAid Cordless 5 Cup Food Chopper review.
KitchenAid 5 Ultra Power Hand Mixer | was $59.99, now $43.79 at Amazon
With nine speed settings, great power, and a sleek design, it's hard to resist this hand mixer, especially on Prime Day. Our experts thought it was smooth to use and loved the range of settings for whipping cream, mixing pancake batter, and kneading dough.
You can read more in our KitchenAid Ultra Power Hand Mixer review.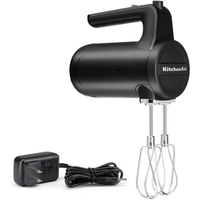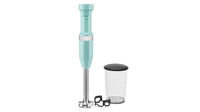 KitchenAid Immersion Blender | was $99.99, now $84.99 at Amazon
This is another one of KitchenAid's cordless feats. Having a hand blender, liberated from a cord, makes blending super easy. It only takes two hours to charge and can run for 20 minutes at full power. It comes with lots of gadgets too.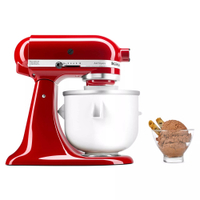 KitchenAid Ice Cream Maker Attachment | was $99.99, now $69.95 at Amazon
I tested this ice cream maker out really recently and instantly fell in love. It was easy to use and made the best ice cream, sorbet, and frozen yogurt of all the machines that we tested, even using non-dairy products. I've added it to my kitchen essentials list.
You can read more in our KitchenAid Ice Cream Maker Attachment review.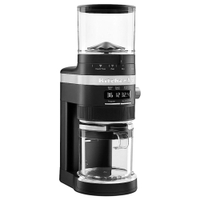 KitchenAid Coffee Grinder | was $199.99, now $149.99
When we tested this grinder, it was love at first grind. Although KitchenAid aren't coffee giants, they made one of the best coffee grinders we tested. It's user friendly and made impressively consistent coffee grounds.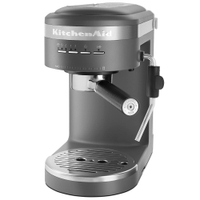 KitchenAid Semi-Automatic Espresso Machine | was $349.99, now $298.99 at Amazon
We're in the process of testing this espresso machine, but we like what we have seen so far. It's easy to use, makes great coffee, and looks slim and sleek on the countertop. It's a great investment for coffee-making novices.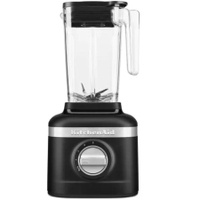 KitchenAid K150 Blender | was $109.99, now $99.99 at Amazon
For a high-quality, low cost blender, this is ideal. We made a thick smoothie, crushed through ice, and whizzed up tough skin and seeds with no trouble at all. The 48 oz makes this exceptional value, even more so on Prime Day.
You can read more in our KitchenAid K150 Blender review.
FAQs
When is Prime Day?
Amazon announced that Prime Day 2023 will span June 11-12, until midnight. They'll give us early Prime Day deals and discounts and offers after the second day has ended.
You'll want to balance snapping up a good deal before it disappears with waiting for the best price because Amazon sometimes does lightning deals at the end of the sale. We'll be your eyes and ears for the best time to buy.
From last year's experience, we're expecting another Amazon Prime Day to be in October too. In 2022, Amazon announced a second Prime Day termed 'Prime Day early access sale', with similar offers across some of the best home products.
Do I need an Amazon Prime account to buy on Prime day?
No. We recommend having a Prime account, because you can save a lot of money on postage. However, you'll still have access to these incredible deals, with or without a Prime account.
What's the best KitchenAid deal?
The stand mixer deals are always really good, because are almost never reduced. KitchenAid looks expensive compared to other stand mixers, but they're worth the investment. When you can get a little money off, don't blink twice.
Do I need a KitchenAid appliance?
True to their name, KitchenAids are a big help for busy bakers and enthusiastic chefs. All of the appliances that we've recommended have been tried and tested by our team of experts. We wouldn't include anything in our guide that we didn't think was excellent, so you can trust us when we say that these are good investments.
---
Our Verdict
I'll keep updating all the Amazon KitchenAid deals so that you don't miss a steal. The Prime Day discounts might look like they've started small, but that's because KitchenAid don't often discount. I think there are some great deals in the pipeline, I just hope that stocks last long enough for everyone to get their hands on one.
Sign up to the Homes & Gardens newsletter
Decor Ideas. Project Inspiration. Expert Advice. Delivered to your inbox.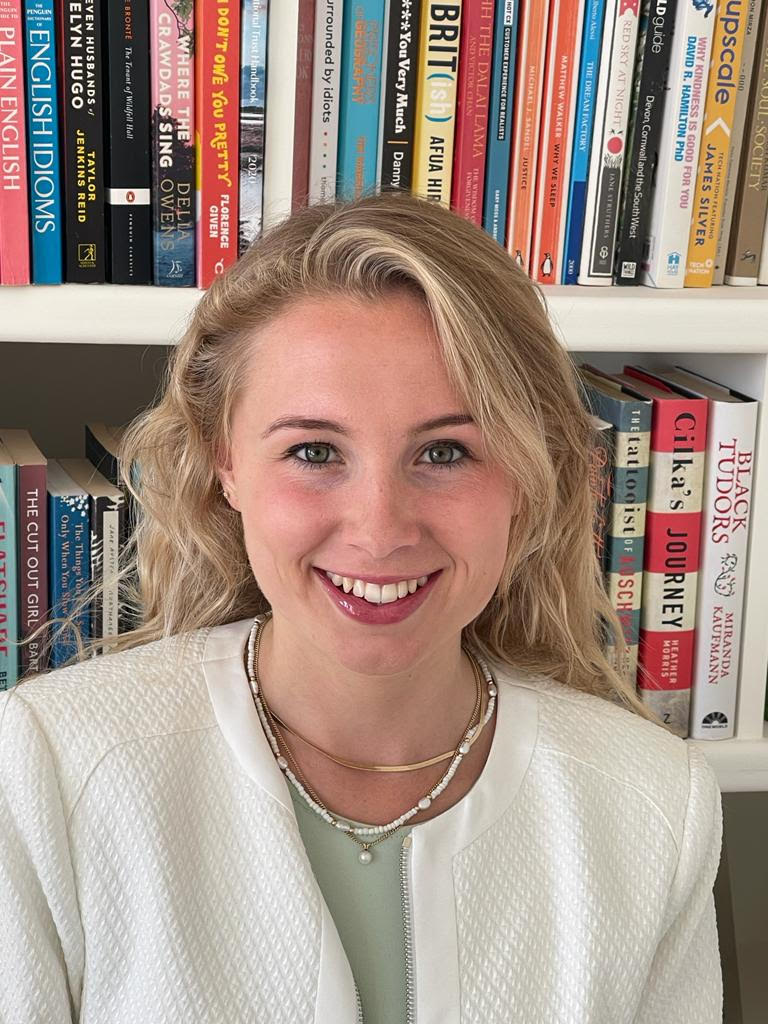 Laura is our eCommerce editor. Before Homes & Gardens she studied English at Oxford University. Alongside her studies, she qualified as a barista and trained as a master perfumer. This makes her our certified expert for all things coffee, candles, and fragrance. She has passed our five-step tests to become a certified Customer Advisor, making her our resident expert. Laura has worked for luxury retail brands, reinforcing the importance of quality and style over quantity and fads. She looks for products which have been designed with thoughtful finishes.