The best indoor Halloween lights to buy right now – for unique seasonal character and cozy appeal
From traditional jack-o-lanterns to string lights, pumpkins and more, elevate your Halloween scheme with the best indoor Halloween lights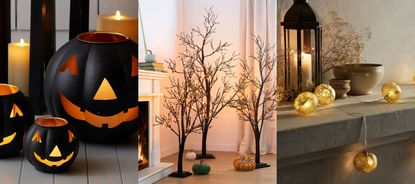 (Image credit: Pottery Barn | Balsam Hill | Terrain)
The best indoor Halloween lights needn't be kept for All Hallows' Eve, they can be used throughout your home in the lead-up to Halloween, making your interior space feel more cozy, warm and in sync with the spooky season.
When planning Halloween decorating ideas, the right lighting can make all the difference in taking your Halloween decor from simple to show-stopping – and as the days get shorter and the nights longer, we think the more cozy (and spooky) lights you have in your home – the better.
Our favorite indoor Halloween lighting ideas
Just like our round-up of the best indoor Halloween decorations, we've searched high and low for the best indoor Halloween lights from some of our favorite brands.
Halloween lights can not only bring beautiful seasonal decorations into your home, they can work to create a wonderfully inviting and cozy atmosphere – and they're an easy way to make your home feel more unique and special for Halloween.
Style your space with plenty of pumpkin lights
Of course, pumpkins and classic jack-o-lanterns are traditionally associated with outdoor Halloween decor, (we explore some of our favorite pumpkin picks for outside with our best outdoor Halloween decorations), but that doesn't mean they can't be used inside, too.
Decorating with pumpkins will always prove a timeless decor idea for Halloween, so why not unite tradition with modern illumination and style your space with some of our favorite pumpkin lights?
1.
Metal Jack-O-Lantern Candleholder
This metal jack-o'-lantern can take flameless candles or string lights to bring a little hocus-pocus to your Halloween decor.
2.
These more contemporary lit wire pumpkins can be an easy way to light up a space, and they can be used outdoors, too; perfect for a more minimalist Halloween scheme.
3.
Mercury Glass Light up Pumpkin
Add a touch of glitz and glamor to your Halloween scheme with this elegant, hand-blown Mercury glass pumpkin. Available in a selection of finishes.
Create a cozy appeal with lanterns
Similar to pumpkins, lanterns are often used for Halloween door decor and Halloween porch decor, but they can also create a wonderful glow when placed inside, too. Ideal for placing on an inside window ledge, or for when decorating a mantel for Halloween, lanterns can create a more homey, traditional lighting atmosphere.
4.
Halloween Metal Lanterns with LED Candle, Set of 3
These lanterns can be used both indoors and outdoors under-cover. We think they're perfect for positioning in a window, or beside a fireplace, or on a mantel.
5.
Candle Impressions Set of 3
For this lantern, you can choose between bats, fall leaves, pumpkins, stars and more for your chosen impression. Each design comes with a flameless pillar candle.
6.
Metal Slat Black Halloween Decorative Lantern
Bring a more subtle, spooky glow to your Halloween setup with this stylish 13.5" light-up lantern, we love how the design can be used throughout the year, too.
Adorn windows, walls and more with string lights
Pretty string lights are perfect for more subtle Halloween decor ideas and can bring twinkling light and elegant decoration to your inside space for the season. Ideal for enhancing an empty wall, hanging in a window, or even as part of your Halloween table decor, they make for a highly versatile addition to your decoration collection.
7.
Glowing glass pumpkins make up this autumnal garland; perfect for adding a seasonal touch to the mantel, tabletop, and beyond.
8.
A cauldron of bats takes flight on this four-strand garland of lights, which features a timer and dozens of energy-efficient fairy lights.
9.
Lights4fun Hanging Window Light Decoration
Featuring traditional Halloween motifs, these string lights are perfect for hanging in a window or across a wall, adding fun character and cozy lighting to your space.
Embrace more unique lights and decorations
Halloween is all about embracing fun and creative decor that you would never normally use at any other time of year – skeletons in spring anyone?
There are so many creative lighting designs that double up as fun ornaments that you can use to decorate the inside of your home. From modern neon signs to lights that can be used for your fall decor ideas, explore some of our favorites below.
10.
Lit Halloween Glitter Twig Tree
Available in three different sizes, this light-up tree can bring the beauty of the outdoors, indoors, for your fall and Halloween decor. Also available in a tabletop version.
11.
We love that this skull is creepy wall decor and a light all at once, perfect for putting on a wall or in a window to fright trick-or-treaters.
12.
For a more modern Halloween decoration for your inside space, we think these graphic neon signs are perfect.
Create a special, seasonal ambience with unique light bulbs
And finally, if you're looking for a super easy way to transform the look, feel (and color) of your home for Halloween, then swapping out regular light bulbs for bulbs that can create colorful and unique lighting effects can establish a wonderfully unique atmosphere – a great option to consider for Halloween party decor, guaranteed to create a talking point for your guests.
13.
GE Flicker Flame LED Light Bulb
This decorative light bulb simulates dancing warm candle light, perfect for creating an enhanced cozy vibe in your home for fall and Halloween.
14.
Droiee Dimmable E26 LED Light Bulb
Transform your interior space with the flick of a switch with this colorful light bulb. Featuring 16 color changing modes, we think this is a wonderfully fun addition to your home if you're hosting for Halloween.
15.
LOHAS Halloween Orange Purple LED Light Bulbs
Enhance your home with a traditional Halloween color scheme with these orange and purple light bulbs – these bulbs can also be used outdoors.
FAQs
How do you light your house for Halloween?
As we have explored in this piece, lighting the inside of your home for Halloween is just as important as lighting the outside.
From simple, small additions such as string lights, to lanterns, glowing pumpkins and fun decorations, illuminate the areas of your home in which you spend the most time, and where you can really appreciate the seasonal designs. Living rooms, dining rooms and entryways are our suggested spaces.
You can also light up both the inside and outside of your home with Halloween lighting placed in your windows. Light-up garlands and the best Halloween wreaths work wonderfully hanging in a window, as well as ornaments and decor placed on your inside window-ledge.
---
One other way you can light the inside of your home for Halloween is with candles. Whether you explore the best candles, perfect for using all year round, or shop for new, seasonal scents – we love Magnolia's Gathered Candle, candles can create a warming glow as well as an inviting scent and can be placed all over the home to create a more cozy, inviting and relaxing ambiance.
Sign up to the Homes & Gardens newsletter
Decor Ideas. Project Inspiration. Expert Advice. Delivered to your inbox.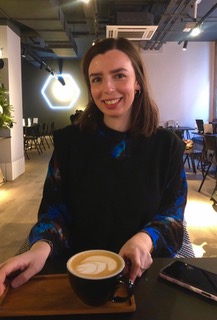 Zara joined Homes & Gardens in February 2022 as a Content Editor. After studying English Literature at University, she worked as an Ecommerce Website Editor, Content Writer and Buying Intern at multiple independent businesses within the luxury retail and lifestyle sectors. Her role at Homes & Gardens unites her love, experience and passion for the world of design and desire to create inspiring written content. She enjoys nothing more than discovering new trends, brands and products, whether that be in fashion, interior design or lifestyle.