Children's book storage ideas – 7 creative ways to keep them neat
Keep on top of your little one's library with book storage ideas as fun as they are functional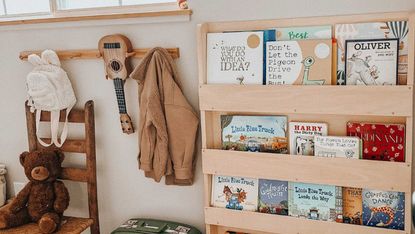 (Image credit: Tidy Books)
It's not just the books you choose, but how you choose to store them that can make all the difference to how often – and how willingly – your child reads. As any expert will tell you, neat, visible and easy-to-access storage ideas are the best way to ensure a fairy-tale ending, every time.
How you organize children's books will depend on a few things, such as how many you have and how old your children are, as well as what room they're stored in – solutions to suit your kid's room or playroom ideas might not look quite so 'stylish' in your living room! Regardless of how and where you choose to store them, the main thing, according to the pros, is to ensure your child can access their books independently.
'The phrase "out of sight out of mind" certainly rings true when it comes to children. Whether it's toys or books, they're much more likely to pick something up if it's right there in front of them. Whether you opt for baskets or caddies, cabinets or front-facing bookshelves, keep books within easy reach at all times if you want to encourage a love of reading', says Millie Hurst, Solved section editor at Homes & Gardens.
Millie Hurst is Section Editor at Homes & Gardens, overseeing the Solved section, which provides readers with practical advice for their homes. Millie has written about and tried out countless cleaning and DIY hacks in the six years since she became a journalist, and has worked in both London and New York.
Children's book storage ideas
Our minds automatically go to neatly-stacked shelves, but there's all manner of imaginative book storage ideas you could employ – if you can't get a little creative when organizing a kid's room, when can you? We've put together our favorites along with some top tips from the experts on organizing a bookshelf so it appeals to little ones.
1. Sort before you store
The golden rule when it comes to any home organizing idea is not to waste space (and money) storing items you no longer want or need. If you haven't decluttered your child's books in a while, chances are you've got a fair few that could be moved along, so start with a good sort out, donating wherever possible.
At the same time, group books into categories. Depending on which book storage ideas and organizational systems you employ, you may want to store different categories in different ways, or different areas of the home or room. Reference and activity books near to a study area, chapter and picture books next to a reading nook, for example. It's also worth sidelining your child's current favorites, so they can find them quickly without having to rifle through their entire collection.
As your children get older, group chapter books together by series and the remainder of the books either by genre or authors last name', says professional organizer Lauren Saltman, founder of Living. Simplified.
For Professional Organizer Lauren Saltman of Living.Simplified., decluttering and organizing is how she lives her daily life, whether she is organizing her home, a friend's office, or a client's garage, her resourceful approach yields happy clients who learn to incorporate techniques for a happier and more simplified lifestyle.
2. Zone your book storage according to how your child plays
'Rather than having one storage space for books, consider integrating storage into different areas of the home, depending on how your child plays. For example, the role play kitchen could have recipe books nearby, as well as menus, recipe cards, shopping lists, etc. Do the same for different themes, construction, small world, music, and so on', says professional organizer Kathryn Lord, author of There's More to Books than Reading.
3. Pick a child-friendly bookcase
Choosing bedroom bookshelf ideas for children, particularly younger ones, is a little different to how you would do it for yourself. Unlike adults, they tend to recognize books by the shape, size and cover, rather than the title on the spine, so if you're investing in new kid's bedroom storage ideas, experts recommend you opt for a front-facing design in place of a traditional bookcase.
'I love small canvas sling bookshelves (like this one, from Target). They are the perfect height and it's easy for kids to see the cover of each book! This makes the books much more inviting and easier to reach, giving your little ones a chance to build their independence,' says professional organizer Rachel Timmerman, founder of lifestyle blog, The Analytical Mommy.
When designing a child's bedroom layout, be sure to position your bookcase considerately, so sitting down with a book feels inviting for your child; 'I like to set them next to a comfy chair, in a special reading nook or at the end of the bed, so they can curl up and relax – the less formal, the better,' says professional home organizer Britnee Tanner.
If you're organizing a bookshelf used by multiple members of the family, perhaps in a living room or open plan space for example, reserve low-level storage so that children can get to them without your help.
4. Group books into baskets and bins
Give children the freedom to choose books themselves by storing them in open-topped baskets and bins somewhere they can easily access, on the floor or inside a cubby-style storage unit for example. Grouping them by theme makes it easier to find what they want – using color-coded labels can help with this.
For more reluctant readers, Kathryn suggests combining book storage with toy storage ideas; 'creating themed book baskets with puppets and small world toys brings learning to life and encourages engagement,' she says. 'Rotate the boxes according to the child's interests and only keep out one or two at a time to avoid overwhelm.'
5. Let books double up as decoration
Retain space to play in your child's bedroom by mounting bookshelves on the wall, instead. Narrow picture ledges are a neat, space-saving idea, and books can be arranged with covers facing outwards to create a colorful display.
How you arrange your bookshelf ideas is important. 'Position books you don't want your child to have access to without supervision – think noisy books, heirloom books, or those with moving pieces and flaps – up high, then mount shelves lower down the wall to keep everyday books accessible,' says Kathryn.
6. Make the most of cubby-style storage units
Cube-style storage units are great for organizing toys in general, but particularly for books, as they can be slotted in sideways so you can clearly see the spines. If you've got the space, you could categorize cube boxes by theme, or age, if you have multiple children.
'Children's books come in all shapes and sizes, so be sure to measure up before you invest in book storage ideas of any kind. You can buy cubes individually in differing heights and sizes, to suit your requirements and create a bespoke look', says professional organizer Vicky Silverthorn, founder of You Need a Vicky.
Vicky Silverthorn has been a professional organizer for over 10 years, helping people from all walks of life to declutter and organize their homes. As an expert in the industry, she believes that your wellbeing starts at home; if your home is in shape, other elements of your life will follow. Vicky has written Start with your Sock Drawer, an Amazon bestselling book on living a less cluttered life.
7. Designate space for overflow books
If you're organizing a small kid's bedroom, or you've got a particularly big book collection and don't want them all out at once, dual-purpose furniture with closed storage built-in is a good way to go – think cubby-hole storage which doubles as a seat for reading, desks and bedside tables with cabinets, and cabin beds drawers underneath.
Whether it's a sideboard, tv-unit or kitchen island cabinet, closed storage is an effective solution when storing children's books in other areas of the home, where you need to factor in good looks as well as practicality – just be sure your child knows where their books are located, as they won't be obviously on show.
8. Create opportunities to read anytime, anywhere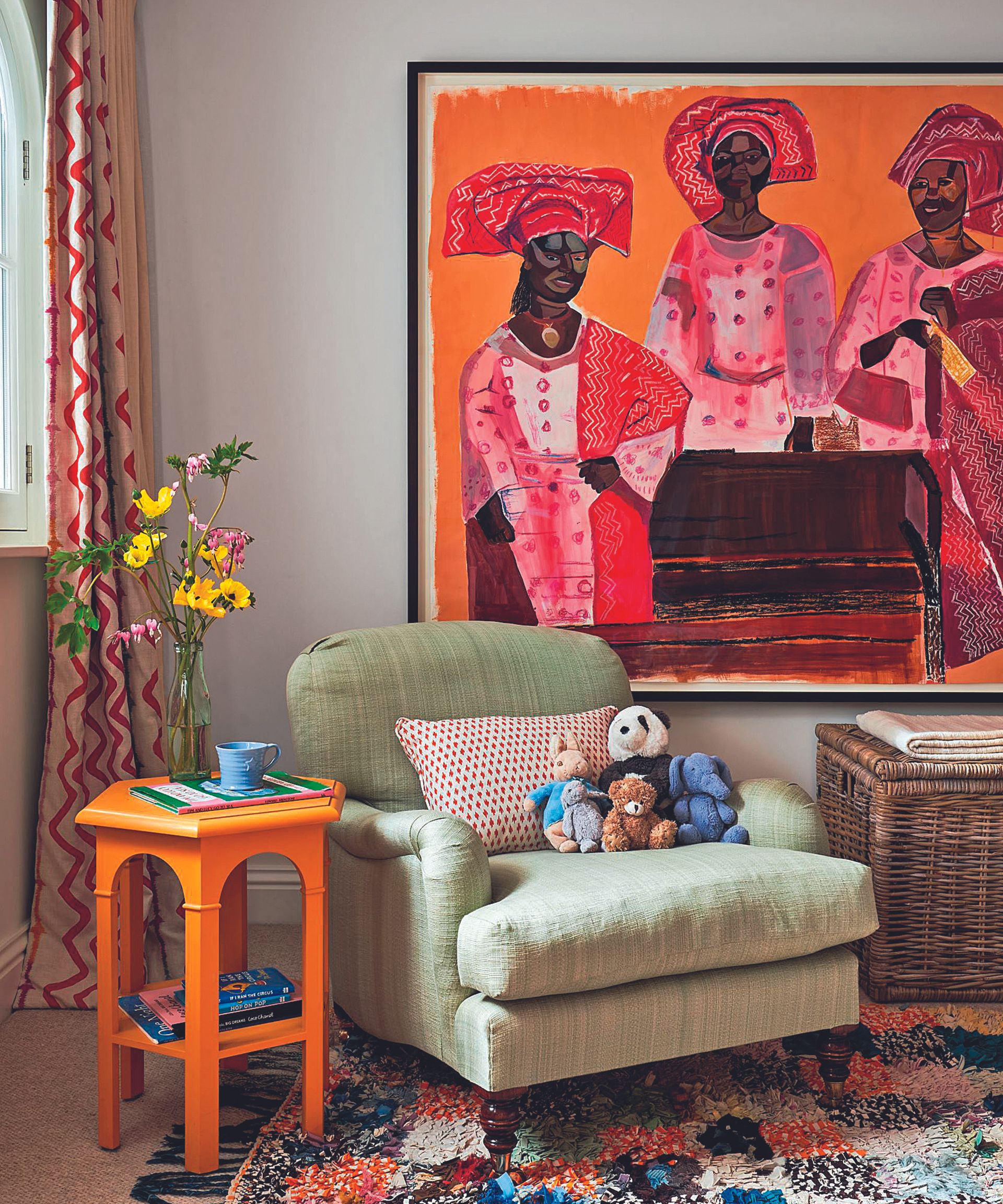 To keep your home tidy, you'll want a central space to store children's books, but that doesn't mean children should feel restricted in where and when they can read. A portable book caddy or rolling cart, like this one from Amazon, can be filled with books and moved around the house as they please, a bit like a mobile library! Alternatively, place a small basket of books in each room of the house and swap them out regularly, depending on your child's (ever-changing) interests and preferences.
FAQs
How do you store kid's books without a bookshelf?
A bookshelf isn't necessary for storing kid's books – ensuring they're accessible however, absolutely is. Your child's age will have some bearing on the solutions you choose. Babies and young children do well with open-topped baskets and bins positioned on the floor, as it gives them the freedom to choose books themselves.
Ideally, you want them in view (out of sight, out of mind, when it comes to children) but if you want to maximize on playing space, cubby-style storage units are a good alternative. Position boxes inside so they can be easily pulled out and rifled through.
Wall-mounted shelving is another alternative; slim picture ledges make for the most space-savvy solution. Display your child's favourites on low-mounted shelving for easy access, or create a stylish, decor-focused display higher up.
---
Creative children's book storage ideas not only makes them easier to organize, but makes keeping them neat and tidy much easier on your little ones, and you, as a result! Don't feel constrained by shelving, as you can see, there are plenty of options to choose from – just be sure to always keep accessibility and visibility in mind.
Sign up to the Homes & Gardens newsletter
Decor Ideas. Project Inspiration. Expert Advice. Delivered to your inbox.
For 10 years, Tara King worked as a Content Editor in the magazine industry, before leaving to become freelance, covering interior design, wellbeing, craft and homemaking. As well as writing for Ideal Home, Style at Home, Country Homes & Interiors, Tara's keen eye for styling combined with a passion for creating a happy – and functional – family home has led to a series of organization and cleaning features for H&G.