Things you can do to improve your bedroom for under $100
Make an impact with these 8 low-cost ways to upgrade your bedroom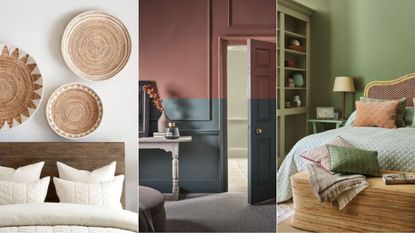 (Image credit: Pottery Barn / Fenwick & Tilbrook / Birdie Fortescue)
Your bedroom should reflect your personal style more than any other room, but many homeowners often feel they can't achieve their ideal bedroom without breaking the bank – when in fact, there are plenty of bedroom upgrades that can be done for under $100.
Often, when deciding how to improve a bedroom, homeowners find themselves deciding between spending their interior design budget on a statement piece that does little to transform the room, or many lower-cost pieces that change their bedroom aesthetic but aren't to their exact tastes. For this reason, we have explained the top ways you can elevate your bedroom to align with your tastes without overspending.
If you're stumped on how to improve your home for less than $100, our experts have suggested their favorite ways to upgrade your bedroom.
Things you can do to improve your bedroom for under $100
There are a number of DIY and low-cost ideas that, with a bit of styling, can transform your bedroom into your personal haven, without leaving you unable to invest in any other room. This is especially handy if you know a move is imminent, to make sure your temporary space is up to your standards.
1. Choose statement bedding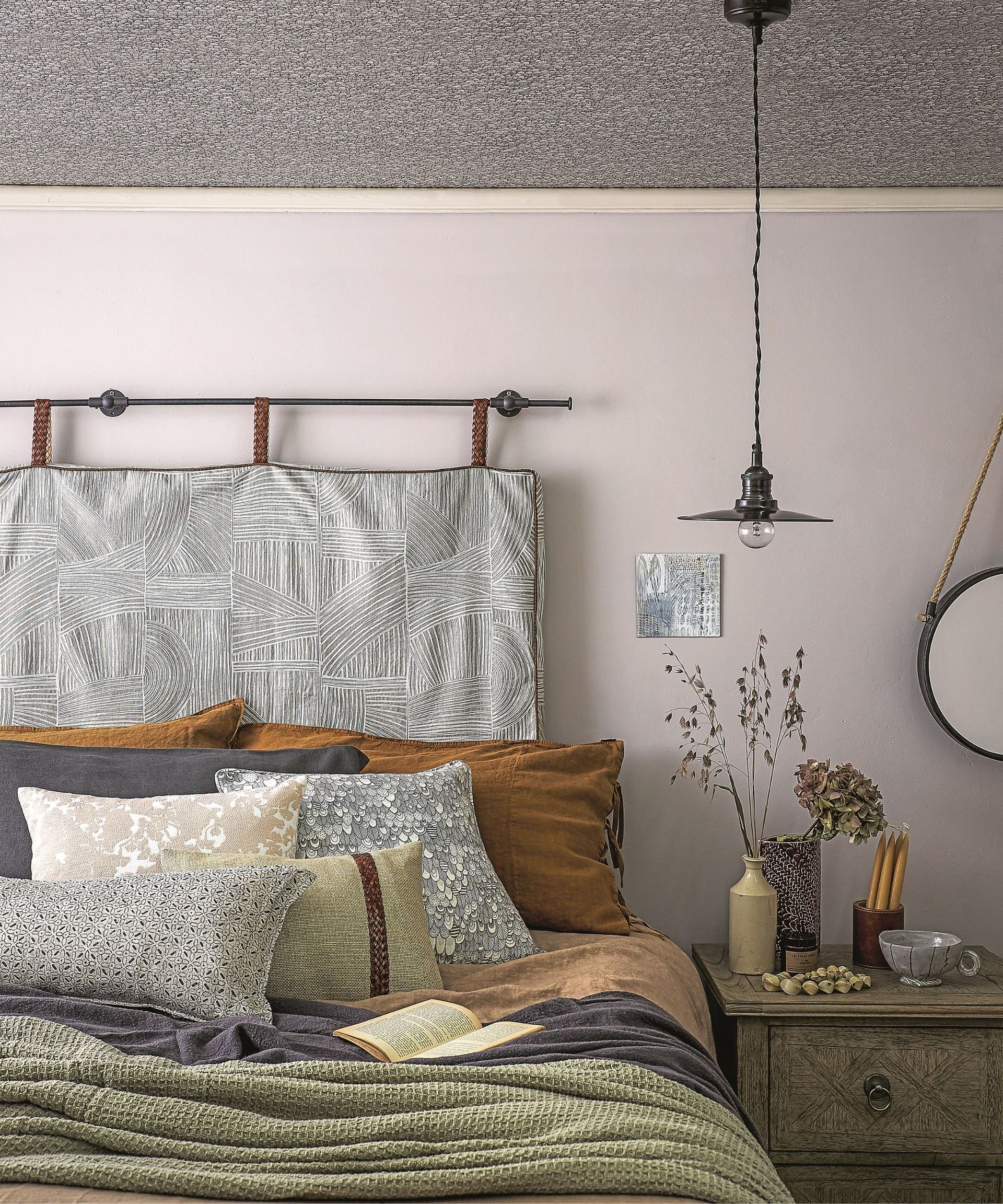 Texture and color play pivotal roles in setting the mood in a room, and aside from painting walls, your bedding can be perhaps the most eye-catching piece in a room, so why not improve your room with some statement bedding?
Shayne Marie Jeramos, cleaning specialist at Bright Cleaners suggests, 'Invest in new bedding and textiles to instantly refresh the look and feel of your bedroom. Look for affordable sheet sets, duvet covers, and pillowcases in your desired color or pattern. Consider adding decorative throw pillows or a cozy throw blanket to add texture and style to your bed.
'You can find high-quality, budget-friendly bedding options online or at discount stores.'
If you opt for a color or pattern design for your bedding, choose those that suit the atmosphere you are trying to create or according to the season. For example, if you are trying to create a cozy and relaxing atmosphere, or decorating your bedroom for fall, opt for a warm and earthy color palette inspired by fall foliage. Use hues like deep oranges, rich browns, warm yellows, and rustic reds as the base colors for your bedding and pillows, which can also be reflected in your decor accents. For a bright and airy feel, light and cooler colors can make your room feel fresh and summery.
The impact your bed sheets, blankets and cushions colors, pattern and texture can have on your room should not be underestimated.
Best affordable cooling
Sijo AiryWeight Eucalyptus
$85.50
The Sijo AiryWeight sheets feature in our guide to the best bed sheets, as they are feel cool to the touch – making them certainly worth the spend. These sheets come in eight different colors.
Classic Cotton Velvet Pillow Cover
$39 - $89
Add some color to your living room with these classic velvet pillow covers.
2. Decorate with wall accents
'Enhance the visual appeal of your bedroom by adding wall art or decor,' says Hashi Mohamed, president of Ivy Cleans. 'You don't have to spend a lot to find beautiful posters, framed prints, or wall decals that reflect your personality and taste. Consider creating a gallery wall with a collection of smaller pieces or opt for one larger statement piece to serve as a focal point. Wall decor can add character and a personal touch to your space.'
My personal favorite fail-safe wall decoration that can easily create a display wall is hanging woven baskets. You can find sets of these in a range of colors and designs to create visual interest above your bed or over a fireplace. This is a nice alternative to artwork which can be more pricy.
If you get tired of having these baskets hung up after some time, they can be repurposed as decorative baskets on a table or adorning a shelf or mantlepiece.
3. Paint furniture
An easy and affordable way to upgrade and revamp your bedroom is to add a fresh coat of paint to furniture.
Amy Kleppinger, owner of The Home Green says, 'Painting a nightstand, bedframe, drawers, or cabinet can give your room a whole new look. Just make sure to buy no-VOC paint so you're not breathing in paint fumes while you sleep!'
Painting wood furniture can add a dramatic burst of color to your bedroom, adding a new color theme, for example, you can paint a nightstand, mirror frame, and lamp base the same color to tie together the items, or just update furniture with a new coat for a refreshed and clean look.
4. Construct a shelf arrangement
Styling your shelves with a carefully curated arrangement of decorative items can transform your bedroom. This can be a low-cost method to create a visually stimulating centerpiece that you don't even necessarily need to spend any money on provided you can find some key items in your house to use.
Decorating shelves gives you the opportunity to display your favorite items and hone the theme of your bedroom. My bedroom shelves are easily the most eye-catching part of my room. Over time I have continued to add to the shelves, arranging my favorite plants, baskets, wooden boxes, decorative bowls, framed pictures, candle stick holders candles, vases, and other decorative objects.
Really, this space should be a reflection of your own interior design tastes, but be sure to create a well-balanced display by following some cardinal rules of decorating shelves. For example, ensure the display remains balanced and never overcrowded since the key to constructing a beautiful display is ensuring it is purposeful and cohesive. You should also add depth with items of different sizes as well as ensure it is in keeping with the style and colors of the rest of your bedroom.
'Be sure to use objects and ornaments of different sizes across the shelving so you have movement,' advises Emma Deterding, founder and creative director, Kelling Designs. 'Grouping a larger item with a medium and smaller item will not only keep the grouping balanced, but will create a flow for your eyes to travel with.'
5. Create a DIY canopy bed
'One of the biggest trends in bedroom design right now is canopy beds, and you can easily create your own for under $100,' suggests David Mason, interior designer and the founder of Knobs. 'All you need are some curtain rods or wooden dowels, sheer curtains, and some string or hooks to hang them from the ceiling. This adds a touch of luxury to your bedroom without breaking the bank. These are also great for creating a cozy and private space within a shared bedroom.'
Alternatively, you could decorate a four-poster bed by hanging a decorative curtain over the back poster of the bed.
6. Put up stick-and-peel wallpaper
One of the simplest low-budget ways to transform your bedroom is to put up some peel-and-stick wallpaper. This is ideal for homeowners looking for wallpaper ideas that won't break the bank. This can be used on an accent wall or to make the back of cabinets more interesting.
You can find affordable peel-and-stick options and supplies for under $100, such as this subtly textured grass cloth peel-and-stick wallpaper from Wayfair.
7. Use storage solutions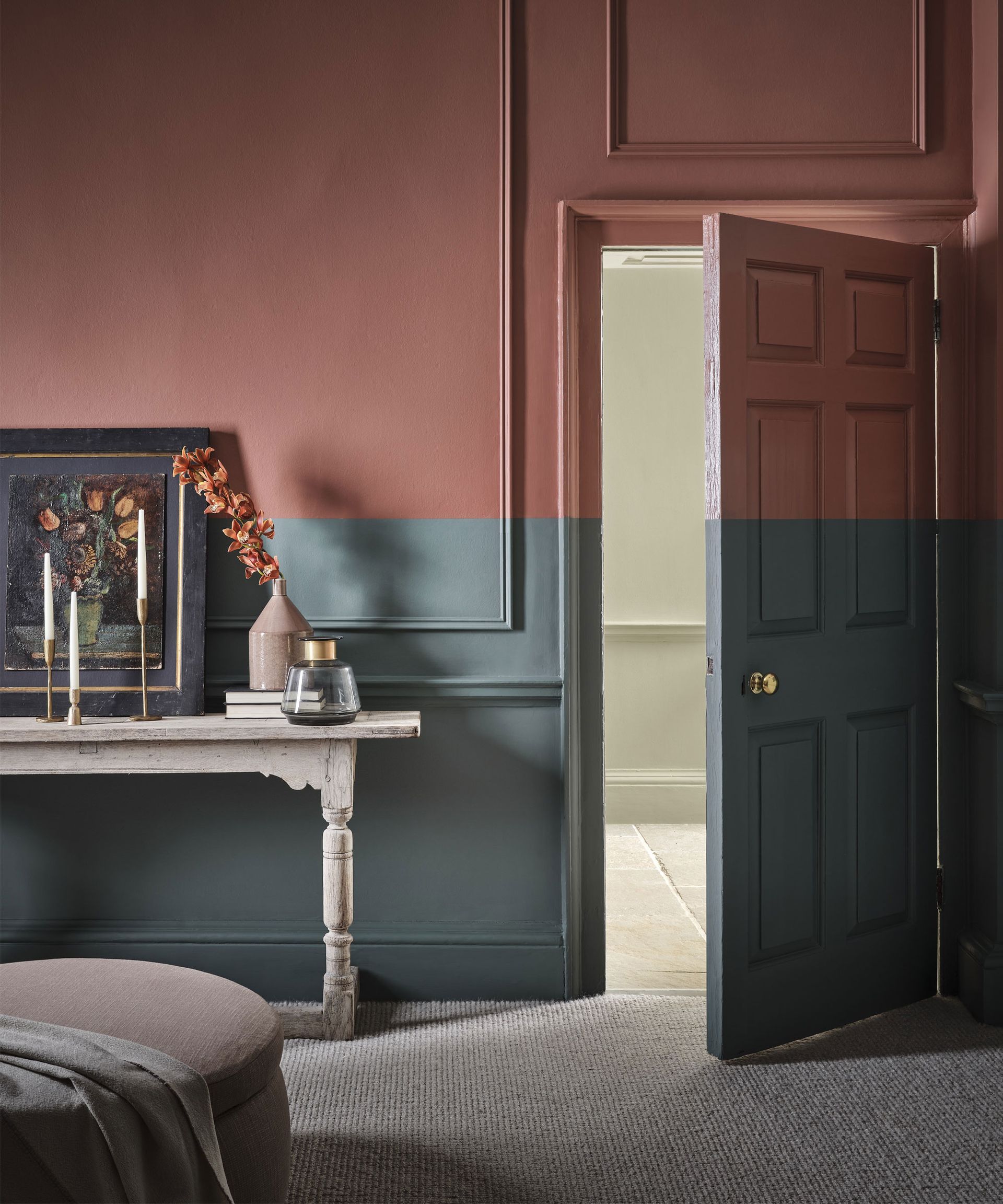 'An organized bedroom can feel more spacious and relaxing. Invest in budget-friendly storage solutions to declutter your space,' recommends Shayne Marie Jeramos. 'Consider purchasing under-bed storage bins or baskets for extra linens, shoes, or seasonal clothing.
'Wall-mounted or floating shelves are inexpensive ways to display decor items and keep essentials within easy reach. You can also add adhesive hooks for hanging jewelry, hats, or bags.'
Finding shelves for your room can also be an opportunity for you to get practical to save money while taking the opportunity to exert your personal style, for example, you can spruce up an old ladder which can become a trendy shelf with just a coat of paint.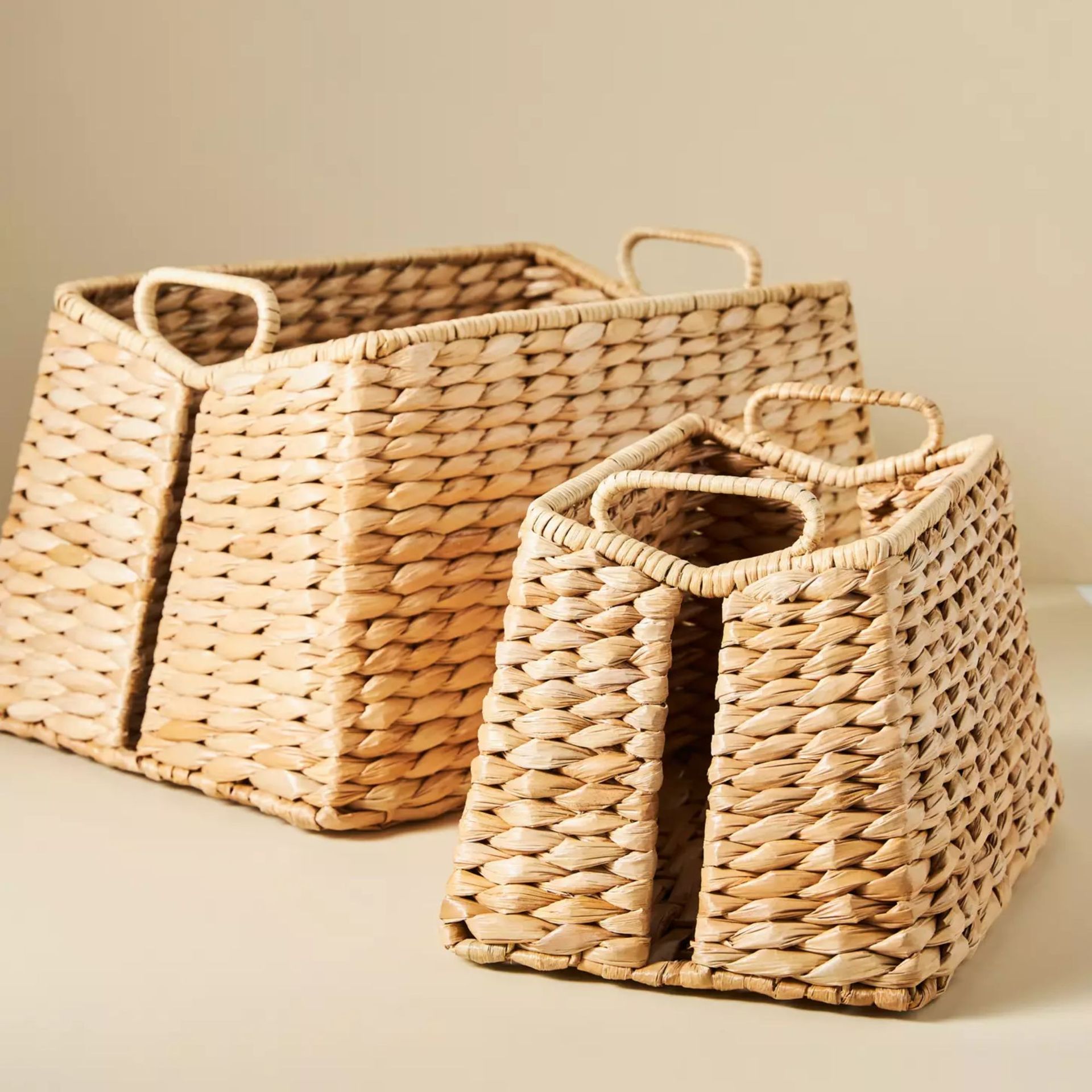 $179.95
These two baskets are a great addition to a bedroom, perfect for books or miscellaneous items.
Modern Weave Rattan Baskets
Was $40 - $170, now $24.99 - $136
These rattan baskets are a practical and stylish way to keep a bedroom feeling organized.
8. Add greenery
'Incorporating indoor plants or succulents into your bedroom can bring life and vibrancy to the space,' says Mohammed Ahmed, founder of The Home Guidance. 'Look for low-maintenance options to keep costs down.'
The best bedroom plants for adding a statement decorative element include taller plants to adorn the corner of your room, such as peace lilies, or a Madagascar dragon tree, from Walmart.
For shelves and fireplaces, I love to add depth by choosing plants that drape down to connect different levels, such as string of pearl succulents. You can find artificial versions if you don't want to maintain a real plant, such as this artificial string of pearl plants, from Walmart.
Mohammad Ahmed is an Interior Designer and Home Expert. He did his bachelors degree in Interior Designing at the University of Minnesota in 2013 and since then has worked as an interior designer in various companies, designing functional and beautiful spaces for clients.

In addition to his interior and exterior design skills, Mohammad is also Home expert with a talent for creating bespoke furniture and other accessories. He has been featured in popular publications such as Forbes, Yahoo, Realtor, Real Homes, Bustle, and Living etc. for his exceptional design tips.

FAQs
How can I upgrade my bedroom with lighting?
Having ambient and relaxing lighting in your bedroom can be transformative for the atmosphere. Mohammed Ahmed recommends, 'Upgrade your bedside lamps or swap out lampshades for a new look. Consider adding string lights or LED strips for a cozy ambiance.'
Aside from using stylish lamps and lampshades, you can experiment with different lighting by decorating empty fireplaces with different-sized large candle sticks, or wrapping string lights around a bed poster can add visual interest to your space.
---
Remember, improving your bedroom doesn't have to be expensive, you can always improve your room by attempting some DIY to revamp old items.
Sign up to the Homes & Gardens newsletter
Decor Ideas. Project Inspiration. Expert Advice. Delivered to your inbox.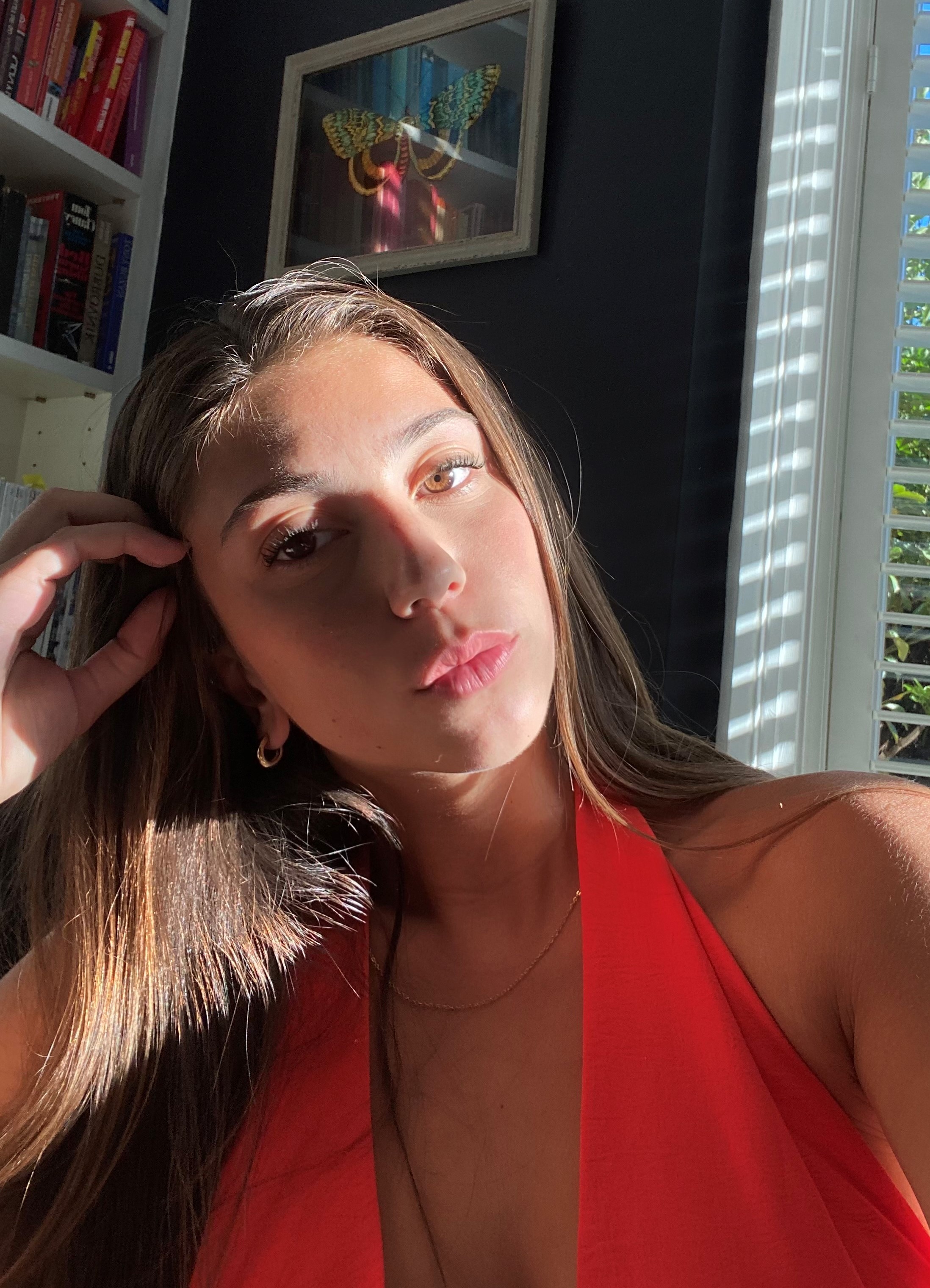 Lola Houlton is a news writer for Homes & Gardens. She has been writing content for Future PLC for the past five years, in particular Homes & Gardens, Real Homes and GardeningEtc. She writes on a broad range of subjects, including recipe articles, reviewing products, writing 'how to' and 'when to' articles. Lola now writes about everything from organization through to house plants. Lola is a graduate student, who completed her degree in Psychology at the University of Sussex. She has also spent some time working at the BBC.