How to organize a closet if you don't have seasonal storage space
Seasonal storage can be a luxury – here's how to arrange your closet without it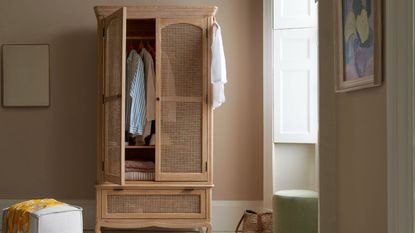 (Image credit: Loaf)
Sign up to the Homes & Gardens newsletter
Decor Ideas. Project Inspiration. Expert Advice. Delivered to your inbox.
Thank you for signing up to Homes & Gardens. You will receive a verification email shortly.
There was a problem. Please refresh the page and try again.
Not all of us have the luxury of space for plastic bins and vacuum-sealed bags to stow our off-season clothes away when we aren't using them – so how do you organize a closet without seasonal storage?
Much like organizing a small closet with lots of clothes, the trick is to work with smart space-saving techniques and intuitive dividers to help section what space you do have.
We asked some professional home organizers for their best tips on how to organize a closet with all of your clothing to keep the space functional.
How to organize a closet if you don't have seasonal storage space
Whether you are organizing a hall closet, or tackling your dressing space, these five simple tips should have your seasonal clothing shining in no time.
1. Purge and declutter
Decluttering, although tedious, is essential if you have limited space to work with, and there are some great decluttering tips to steal from professionals if you are stuck on what to cut back on.
Meg Wendt, professional organizer and owner of Roaming Darling recommends going for a 'capsule wardrobe' approach and limiting the very seasonal items:
'One great recommendation that I've been giving to clients lately is when they are decluttering and if they are investing in new clothes is to value seasonless pieces. For example, what are the basics that they can carry through all seasons? The idea of a capsule wardrobe is definitely something that helps in a closet where you have limited storage.
'Obviously, there are non-negotiables, like a heavy winter jacket if you live in the North East, or swimsuits, that are season specific, but limiting the very seasonal stuff to a few items really helps when trying to get organized and declutter. Think, do you really need five pool cover-ups? No, you can definitely go a lot further investing in one that can also be worn as a maxi dress in the winter with a sweater over it.'
Meg Wendt has owned Roaming Darling, LLC since 2019. Her company helps families and businesses with everything from decluttering to move management.
2. Use dividers to split up seasons on a rail
One of the best closet organizers you can invest in if you have to store all your clothes in one place is dividers.
Whether you are hanging your clothing up on rails or organizing a dresser, dividers can help to visualize different items in one glance – I particularly like using them to organize a closet I share with a partner.
Although it is more usual to split up tops from skirts from dresses, dividers can break clothing down seasonally too, one for each of the four and an additional section for clothing that can work no matter the weather. I love these labeled dividers from Amazon for the closet.
3. Style out a seasonal shelving system
Shelving may not be the easiest of things to help organize clothing, but with some smart folding and shelf dividers, like these from Amazon, it can be an effective way to stow seasonal clothing out of the way, says Danielle Dorn, creative director at mDesign.
'It is important to be sure you have a good shelving system. If your closet doesn't have one built-in, you can create your own with items that work for your space such as fabric hanging organizers and storage bins that are either clear or have a window so you can see what's in them.'
From there, we recommend trying out file folding to keep your items in neat packages where possible and stowing them stacked up between dividers to keep them all in one place and easy to look through.
4. Be smart with space-saving hacks
There are several space-saving closet techniques out there to help double your storage space on a small footprint, such as hanging multiple items of similar clothing on one hanger or using layered hangers to store multiple pairs of pants without taking up all the rail space, suggests Millie Hurst, Solved section editor at Homes & Gardens.
'Just be sure to invest in quality hangers so that clothes don't fall off everywhere, and they don't bend under the weight,' she adds.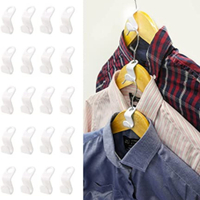 Clothes Hanger Connector Hooks | Was $12.99, Now $7.99 at Amazon
These small hangers are ideal for stacking clothes in small closets, preventing the need to fold, relocate, or force clothes into small spaces.
Millie Hurst is Section Editor at Homes & Gardens, overseeing the Solved section, which provides readers with practical advice for their homes, from organizing and decluttering to spring cleaning. Millie has written about and tried out countless cleaning and DIY hacks in the six years since she became a journalist, and has worked in both London and New York. She is currently completing a diploma in interior design with the Interior Design Institute.
5. Keep accessories elsewhere to save space
Accessories are usually worn year-round, with the exception of some winter hats and scarves, so can be stored together for most of the year. The trick, Danielle Dorn, creative director, says, is to keep them away from your clothing to make priority space for pieces that need to be hung.
'Use hooks and pegs on walls, doors, or even over the door hooks to hang items like bags, hats and organize belts. This prevents these items from taking up closet space and gives them a dedicated place so they don't end up misplaced or left in a pile.'
FAQs
What is the best order to organize a closet in?
When organizing a closet with all of your clothes, it can help to split them up by season, and then further break them down into garment types. For instance, start with your summer clothing and organize by tops, pants, skirts, and dresses, before moving on to fall clothing and following the same order.
What are seasonal clothes?
Seasonal clothing is any garments you can only wear in one or two seasons, but are impractical for others – such as a thick woolen jumper that is great for fall and winter, but horrible to wear in summer. These pieces are best taken out of your closet and rotated in the off-seasons, but it is possible to keep everything together with smart storage tricks such as dividers.
---
It can sometimes be simpler than you think to create space for seasonal storage around your home, especially if you invest in good home organizing ideas such as multi-functional storage furniture like a storage ottoman at the end of your bed, picking a bed with storage built-in or a bed with space beneath for storage boxes.
We recommend storing seasonal clothing in unused luggage when you are not away on trips.
Sign up to the Homes & Gardens newsletter
Decor Ideas. Project Inspiration. Expert Advice. Delivered to your inbox.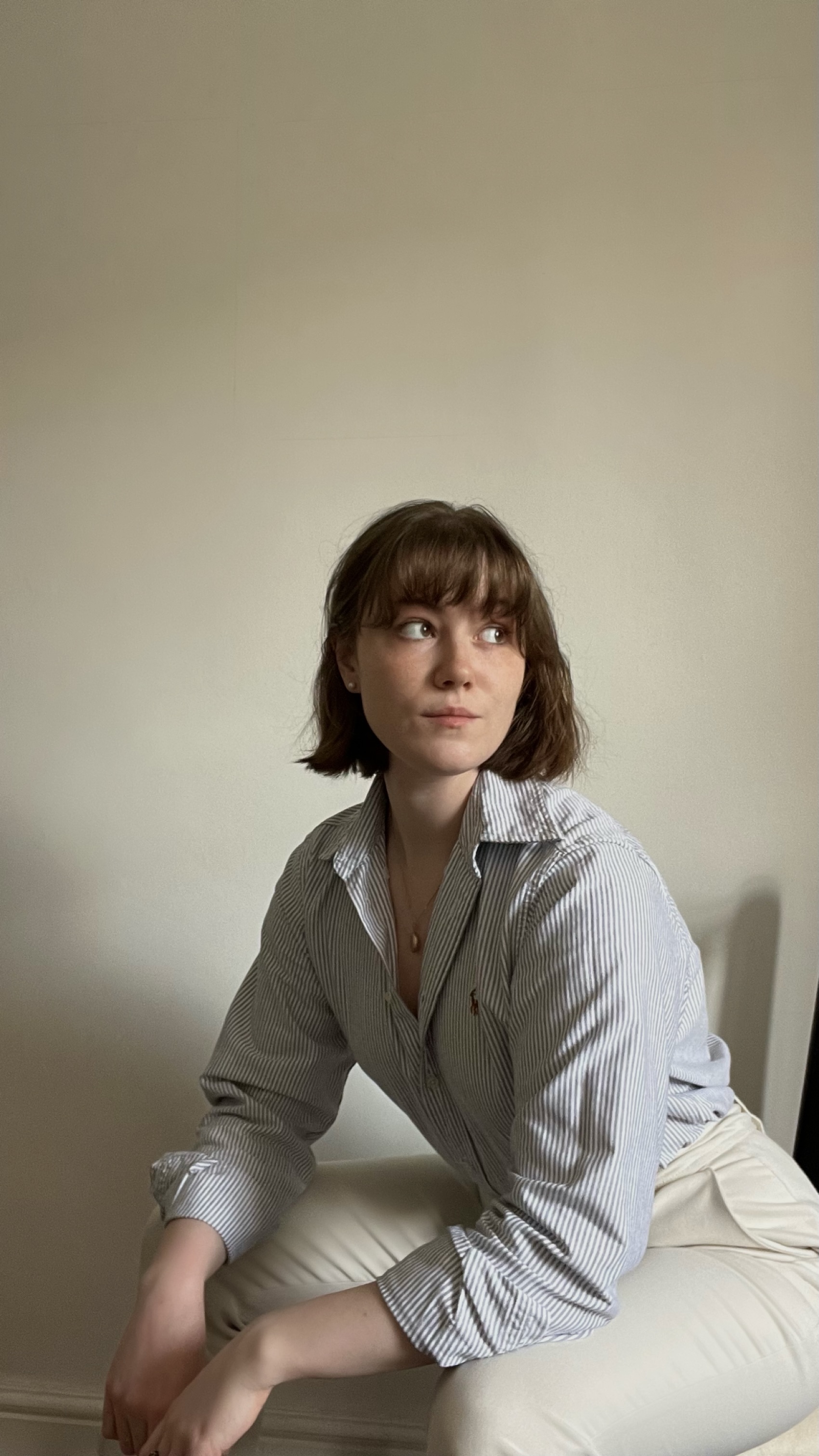 Chiana has been at Homes & Gardens for a year, having started her journey in interior journalism as part of the graduate program. She spends most of her time producing content for the Solved section of the website, helping readers get the most out of their homes through clever decluttering, cleaning, and tidying tips – many of which she tests and reviews herself in her home in Lancaster to ensure they will consistently deliver for her readers and dabbles in the latest design trends. She also has a first-class degree in Literature from Lancaster University.