How to organize kitchen island drawers – 9 ways to boost practicality
Expected to house all manner of items, kitchen island drawers are prone to messiness – here's how to keep them organized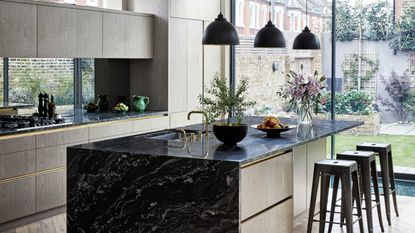 (Image credit: Future PLC)
Naturally the heart of the kitchen, a kitchen island makes both cooking and socializing a real joy, not to mention offers all manner of extra storage opportunities. While there are a few standard rules to follow when organizing kitchen island drawers, how to put them to best use depends on a few variables.
Generally speaking, kitchen island ideas aren't short of kitchen island storage, but don't be fooled into thinking that's enough to make them functional. Alongside cabinets and open shelving, drawers need to be individually addressed when organizing a kitchen island, not just with kitchen layout in mind, but the individual needs and preferences of your household, too.
How to organize kitchen island drawers
When designing a kitchen island, or rearranging drawers in an existing one, you first need to think about the role your kitchen island is going to play in relation to the rest of your kitchen.
'How you organize kitchen island drawers will depend very much on how you use your kitchen island from day to day,' explains professional organizer Bonnie Borromeo Tomlinson, author of Stop Buying Bins. 'If you entertain frequently, you'll likely fill drawers with serving platters, cutlery, and table linens. If you're a keen baker, you'll want to stash baking supplies there to ensure easy access for kneading and rolling, for example,' she explains.
Having this in mind before you begin – along with our expert-approved tips on how to organize kitchen island drawers – will make the whole process a lot easier. Let's get going…
1. Work out what you want to store in your kitchen island drawers
When organizing kitchen drawers of any kind, it's always best to start with a good declutter. Pulling everything out will give you a clear idea of the space you have to work with, and makes it easier to work out what to put where. Go through each item and ask yourself whether it needs to be located in your kitchen island drawers specifically, or whether it can be positioned elsewhere; refer to our six zones of kitchen organizing if you're not sure.
2. Group items into categories
Once you've established the main use of your kitchen island, it's time to start grouping those items you plan to store there into categories; bakeware, serveware, table linens, cook books, utensils, and so on. That way you'll always know where to find things, and you can plan your kitchen drawer storage – and your kitchen organizers – accordingly.
3. Zone drawers to suit your kitchen layout
Think about organizing kitchen island drawers a bit like organizing a small kitchen and store like-items together, within their categories. Where you position them will depend upon which kitchen 'zone' your drawer falls into, so take the time to assess your kitchen layout.
'The side facing your refrigerator could hold a beverage or vegetable drawer so it's easy to unpack groceries, while the side facing the kitchen table could hold table linens and serveware, for example', explains Jan Arkwright, president of Before & After Organizing.
Jan is a professional organizer with over 10 years experience offering custom sustainable organizing solutions for homes and offices. She loves working with clients to help declutter and maximize their space and storage. Jan is also on the board of National Association of Productivity & Organizing Professionals, as well as the Institute for Challenging Disorganization.
4. Think about the size of your drawers
As much as positioning items according to zone is useful, you are a little constrained by the size of drawers available to you. There's no point trying to cram oversized cooking utensils into a slim drawer just because it's next to the hob, for example – it's counterproductive.
'Look at the range of sizes and dedicate items appropriately. Cutlery, utensils, napkins, tea towels and table linens all sit well in slim drawers, while bespoke inserts allow smaller, more awkward items such coffee pod refills, spice jars, foils and films to be stored neatly, too. Deeper drawers are great for organizing pots and pans, plates and glassware, or for storing larger appliances and pantry staples decanted into containers', says Jennifer Ebert, editor at Homes & Gardens online.
Jen is the editor of Homes & Gardens online. Before starting this position, she had completed various interior design courses at KLC Design School, as well as working across Ideal Home, LivingEtc, 25 Beautiful Homes and Country Homes & Interiors as an interiors writer.
5. Give often-used items top spot
Drawers at waist height are usually considered prime storage space as you can see and access everything without bending or stretching. With that in mind, reserve counter-high drawers in your kitchen island for the items you'll need access to often, whether that be kitchen utensils for cooking, cutlery for entertaining, books and laptops for home working or a combination of things.
'As a general rule you'd then work down from there, with your lesser-used items at the bottom. However, even the bottom drawers of a kitchen island are still considered prime storage space within a kitchen as they're positioned so centrally, so be sure you're not cluttering it with items you never use', says Millie Hurst, Solved section editor at Homes & Gardens online.
Millie Hurst is Section Editor at Homes & Gardens, overseeing the Solved section, which provides readers with practical advice for their homes. Millie has written about and tried out countless cleaning and DIY hacks in the six years since she became a journalist, and has worked in both London and New York.
6. Store items vertically
You'd be surprised at the amount of kitchen items that are better off stored vertically; baking trays, chopping boards, cooking utensils and crockery, even cookery books and placemats. Not only are they more accessible, they take up less space, too. Depending on what you're storing, inset vertical dividers, racks or heavy-bottomed containers into a deep drawer – be sure to use a non-stick liner so items stay in place as the drawer opens and closes.
Keep pot lids, chopping boards and baking trays in one place with this space-saving plastic organizer.
Chrome Roll-Out Lid Holder
This chrome roll-out lid holder stores six lids, and reviews say it glides out smoothly for easy access.
7. Utilize drawer dividers
Drawer dividers are your best friend, particularly when it comes to organizing kitchen utensils. However hard you try to keep things neat, it's impossible to sort your spatulas from your slotted spoons without something in place to corral them! Compartmentalizing will instantly bring order to whatever it is you're storing. Slimline trays or containers work well, but adjustable dividers to make the best use of space. These durable versions at Wayfair are made from plastic, so are super easy to clean.
'Arrange items within your dividers based on their frequency of use, placing those most-used items towards the front of the drawer for easy access. Consider labeling each section or using transparent containers so you can quickly identify the contents within each drawer', says organizing pro Joshua Haley, founder of Moving Astute.
8. Convert shelving into pull-out storage
'If your kitchen island has cabinets only, consider installing pull-out shelving to recreate the accessibility that drawers provide. You'll find it much easier to reach things right at the back, and you're less likely to forget about things, too, particularly important if you're using your island to store food', says professional organizer Lauren Saltman, founder of Living. Simplified.
Going bespoke is the best way to maximize the space you have, but there's plenty of scope with store-bought options, too. Be sure to measure up properly before investing to ensure you're not left with any dead space. You'll also want to give some thought to what you're storing; single racks work well for organizing spices, while a two-tier pull out shelving system like this one at Amazon will allow you to fit more when organizing long and narrow cabinets, for example.
For Professional Organizer Lauren Saltman of Living.Simplified., decluttering and organizing is how she lives her daily life, whether she is organizing her home, a friend's office, or a client's garage, her resourceful approach yields happy clients who learn to incorporate techniques for a happier and more simplified lifestyle.
9. Give yourself some space
Just like when organizing drawers in general, try not to cram your kitchen island drawers full. It makes it much harder to see what you need if you've got pots and pans stacked on top of each other, or whisks and potato mashers piled on top of cutlery.
If you're struggling for space, first consider whether you've decluttered your kitchen as ruthlessly as perhaps you could. Freeing up space in other, less prominent storage areas allows you to be a little more free and easy with how you arrange items in your kitchen island drawers.
Also think about ways you could free up space by storing designated 'drawer items' elsewhere. 'We've noticed visible plate racks are making a comeback, or you could consider wall-mounted knife blocks and ceiling-hung pan racks for a classic, homely feel, says George Forsyth, founder of Forsyth & Co.
FAQs
What should go in kitchen island drawers?
There's no 'right' answer to this question, it varies from household to household. To work out what would best suit you, you'll first need to think about how you personally use your kitchen island. For cooking? Or for entertaining family and friends? Do you sit there to work? What about the rest of the family? How might your children use it? Once you've got a good idea of its main purpose, you'll be well placed to work out which items are drawer-worthy.
If it's primarily for cooking, you'll want to prioritize drawer space for utensils, chopping boards, pots, pan, small appliances, prep bowls and the like. Similarly for baking, too. You could even think about designating a deep drawer to ingredients, assuming they've been properly decanted and contained. Similarly for entertaining; crockery, cutlery, glassware and table linens should take priority.
If it's a combination of a few different things, divide your drawer storage accordingly, taking the size and position of your drawers into account. Those nearest the cooker should hold cooking items, cutlery and crockery in those nearest the dishwasher, and so on.
---
When deciding what goes where, it's important you also take kitchen island seating into account. 'You won't want to store items you use often right in front of a guest's feet, for example', adds Matthew Morris of Go Cleaners London.
Sign up to the Homes & Gardens newsletter
Decor Ideas. Project Inspiration. Expert Advice. Delivered to your inbox.
For 10 years, Tara King worked as a Content Editor in the magazine industry, before leaving to become freelance, covering interior design, wellbeing, craft and homemaking. As well as writing for Ideal Home, Style at Home, Country Homes & Interiors, Tara's keen eye for styling combined with a passion for creating a happy – and functional – family home has led to a series of organization and cleaning features for H&G.