The 6 key zones of kitchen organizing – for a space that stays tidy
A cluttered kitchen makes cooking a chore, but establishing these key zones of kitchen organizing makes all the difference – here's how you do it, according to the pros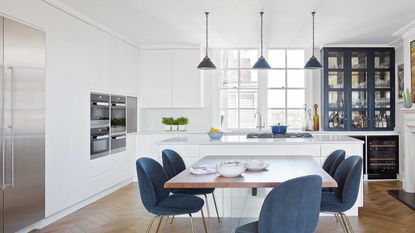 (Image credit: Future PLC)
Sign up to the Homes & Gardens newsletter
Decor Ideas. Project Inspiration. Expert Advice. Delivered to your inbox.
Thank you for signing up to Homes & Gardens. You will receive a verification email shortly.
There was a problem. Please refresh the page and try again.
A sleek and streamlined kitchen can make a huge difference to day-to-day life, but if you want to achieve it, you'll need to think beyond a quick tidy up – there are six key zones of kitchen organizing you'll need to master.
If you're in the midst of organizing a kitchen, or planning a kitchen layout, you've likely heard of the 'kitchen triangle'. This age-old design rule is based around the positioning of three main working zones; cooking, storage and cleaning. Organize these properly, and you're setting yourself up for successful kitchen ideas, so they say. However, if it's a well-organized kitchen in the modern world you're after (think open-plan living, home working, sleek culinary equipment etc.), you'll need to up your zoning efforts – quite literally.
'These days, a kitchen serves so many different purposes that if you didn't zone, it would be almost impossible to find what you need, when you need it. Think about how you use your kitchen and employ common sense as to how you go about it. Whether it's cooking, washing up or entertaining guests, it's all about streamlining so your daily routines take 30 seconds, not five minutes!' says professional organizer Laura Price, founder of The Home Organisation.
Luckily, we've done the hard work for you. Along with help from the experts, we have compiled the six key zones of kitchen organizing you'll need to tackle if you want to maximize productivity and minimize chaos – or stand the best chance of it, at least!
The 6 key zones of kitchen organizing
Accommodating six zones within your organization system sounds like a lot, particularly if you're organizing a small kitchen, but in this case, size really doesn't matter. In fact, a zone can be as concise as a single cabinet. The key is to ensure that the items it holds are accurately assigned and well-suited to the way you use your kitchen, as well as kept neat, tidy and well-ordered.
Laura Price is the owner of The Home Organisation. Laura Price's goal is to help others experience the benefits of living an organized life after discovering that organized homes brought her peace when raising three children in a hectic home. Hence the birth of The Home Organization, a dedicated team of professional organizers.
1. The 'food storage' zone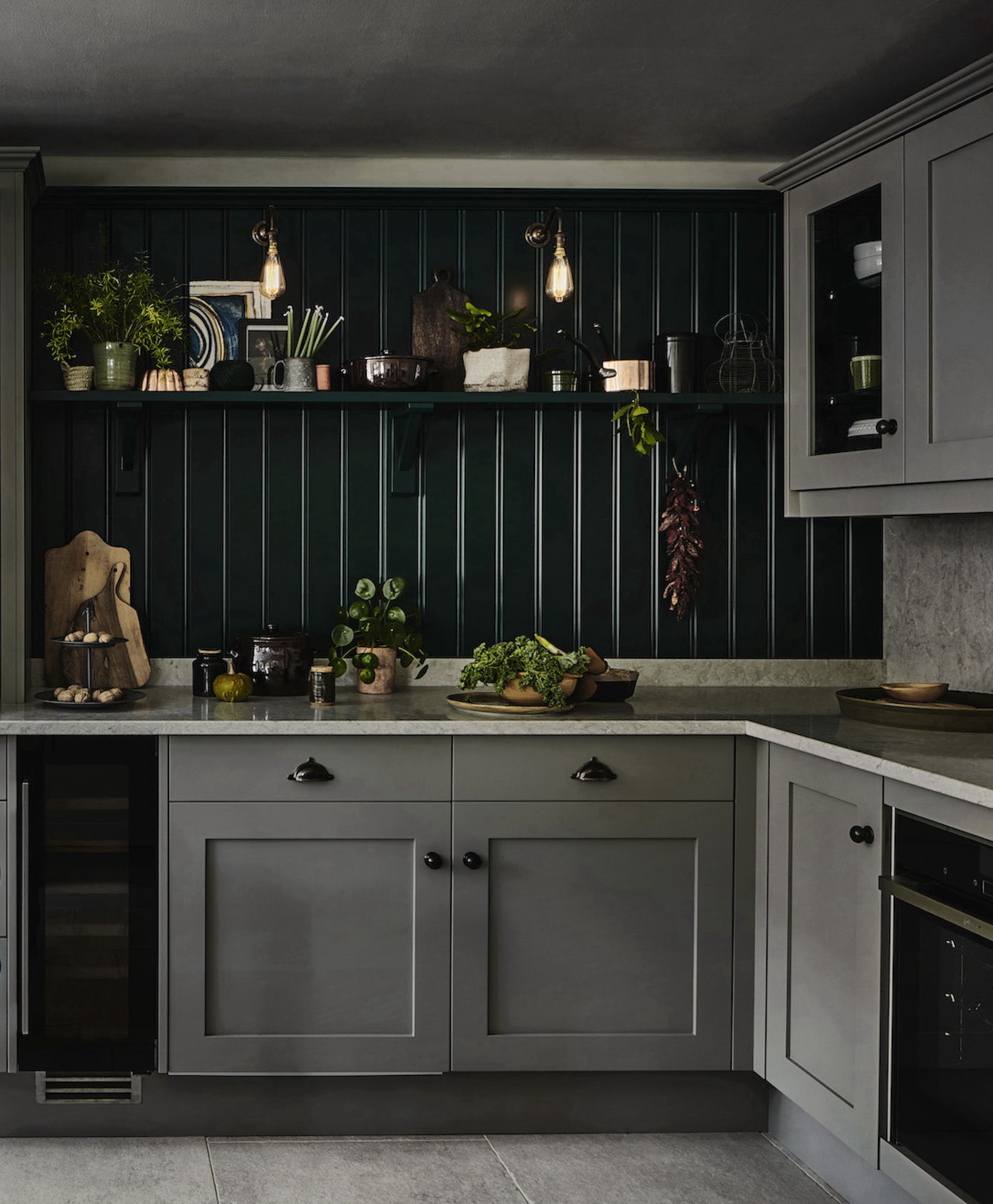 Perishable food of course lives in the fridge, but you'll want to position the rest of your food items together, either as part of organizing a pantry, or organizing cabinets and/or drawers close to your food prep zone (the only exception is essentials, such as salt, pepper, oils and spices that you need easy access to while cooking; these should be positioned as close to the stove as possible).
When it comes to organizing food of any kind (including organizing a chest freezer and a refrigerator), it makes sense to group items by category so you can access what you need quickly and easily. These categories will vary from household to household; keen cooks might have more than those who prefer simple evening meals, for example. Reserve easy-access shelves and drawers for everyday ingredients and use the higher shelves for categories you don't use as regularly.
'If you're organizing a small kitchen or you generally want to utilize space, consider removing packaging from the food items stored on deep pantry shelves. Cut out the product name, nutritional facts and expiration date, and tape them to the inside of a clear jar or container so you've got all the information you need', says professional organizer Laura McHolm, co-founder of LA-based moving and storage company, NorthStar.
Arranging items in height order allows you to see what you've got more clearly, and helps to avoid knocking things over when you're reaching in. Professional organizer Brenda Scott of Tidy My Space, also reminds us to be conscious of food waste; 'Think: "first in first out" – when you purchase an item it goes to the back of the grouping so the item with the nearest expiration date always remains at the front,' she says.
Brenda Scott is passionate about home organizing, decluttering, and creating a safe home. At Tidy My Space, she helps people to keep their homes tidy when life gets busy. Brenda shares useful tips and gives practical help with sorting and editing her clients' spaces, leading them to feel less stressed and bringing the luxury of time to be spent with family, friends, or on themselves.
2. The 'cooking' zone
From organizing pots and pans to utensils and baking dishes, the kitchen storage ideas around your stove have a lot to accommodate; items of all different shapes and sizes, too.
Investing in sensible kitchen organizers is the best way to adapt the space you have to whatever it is you need to store, and ensure you can reach it quickly without having to move too far from the hob.
Placing vertical separators inside long and narrow cabinets in the kitchen (usually integrated either side of the stove) is sensible when storing larger items such as chopping boards and baking trays and for keeping pan lids in check. Alternatively, consider installing a 'hidden' drawer underneath the oven for these. Pull out mechanisms make accessing heavier, or more bulky items inside cabinets much easier, particularly when dealing with kitchen corner cabinets. For versatility, we like the ROOMTEC pull out cabinet organizer.
Ideally, you'll want to keep the worktops, at least on one side of your stove, as clear as possible for serving up (you don't want to have to carry hot pans too far), but there is a case for leaving a few items out within the 'cooking zone' – a canister of essential cooking helpers (spatulas, wooden spoons, tongs etc.), or oils and seasonings, for example. Bear in mind that grouping smaller items on a tray reads as one item as opposed to several, which makes for a less cluttered feel overall.
3. The 'food prep' zone
When establishing your food prep zone, decluttering countertops is job number one – a clear space is much easier to work on, and easier to clean down afterwards, too. How you assign work surfaces will depend on your kitchen layout, but ideally you'll want to designate those adjacent or as close to the cooking zone as possible so you're not having to carry ingredients across the kitchen.
The drawers and cabinets underneath these surfaces should contain all those items you use to prep ingredients before they move into the 'cooking zone'; measuring jugs, weighing scales, garlic presses, potato mashers, prep bowls, and so on.
Drawer dividers are really useful for corralling these items into categories, but if you're wondering where to put utensils in a kitchen without drawers, we'd advise thinking vertically; a magnetic wall-mounted knife rack or a hook and rail, for example. 'If you can adjust your shelving inside a cabinet, create space so you can store utensils horizontally in sturdy, cylinder-style containers, like heavy-based designs from Amazon', adds professional organizer Mary Jo Contello, founder of Organized by MJ.
4. The 'cleaning' zone
The kitchen sink, bins and the dishwasher (if you have one) are usually located in close proximity to each other, which makes assigning a cleaning zone pretty easy. Organizing under the sink isn't quite so easy, however; with lack of shelving and pipes to work around, you'll need to be pretty strict on storage if you want to keep cleaning supplies neat and accessible.
Start by grouping cleaning supplies by use (dish soap, sponges and dishwasher detergent together, surface cleaners and washcloths together etc) into containers – clear plastic ones are a good option as they're easy to clean and prevent spills, plus you can see clearly what's inside them', says professional organizer Reba Bassett, founder of Revelation Organizing.
If you're dealing with an open space, consider adding bespoke shelving or adding shelf risers to give yourself another layer of storage. Over the door racks can be useful for clearing unsightly cleaning essentials from the countertops. We like the mDesign over cabinet stainless steel organizer.
5. The 'kitchenware storage' zone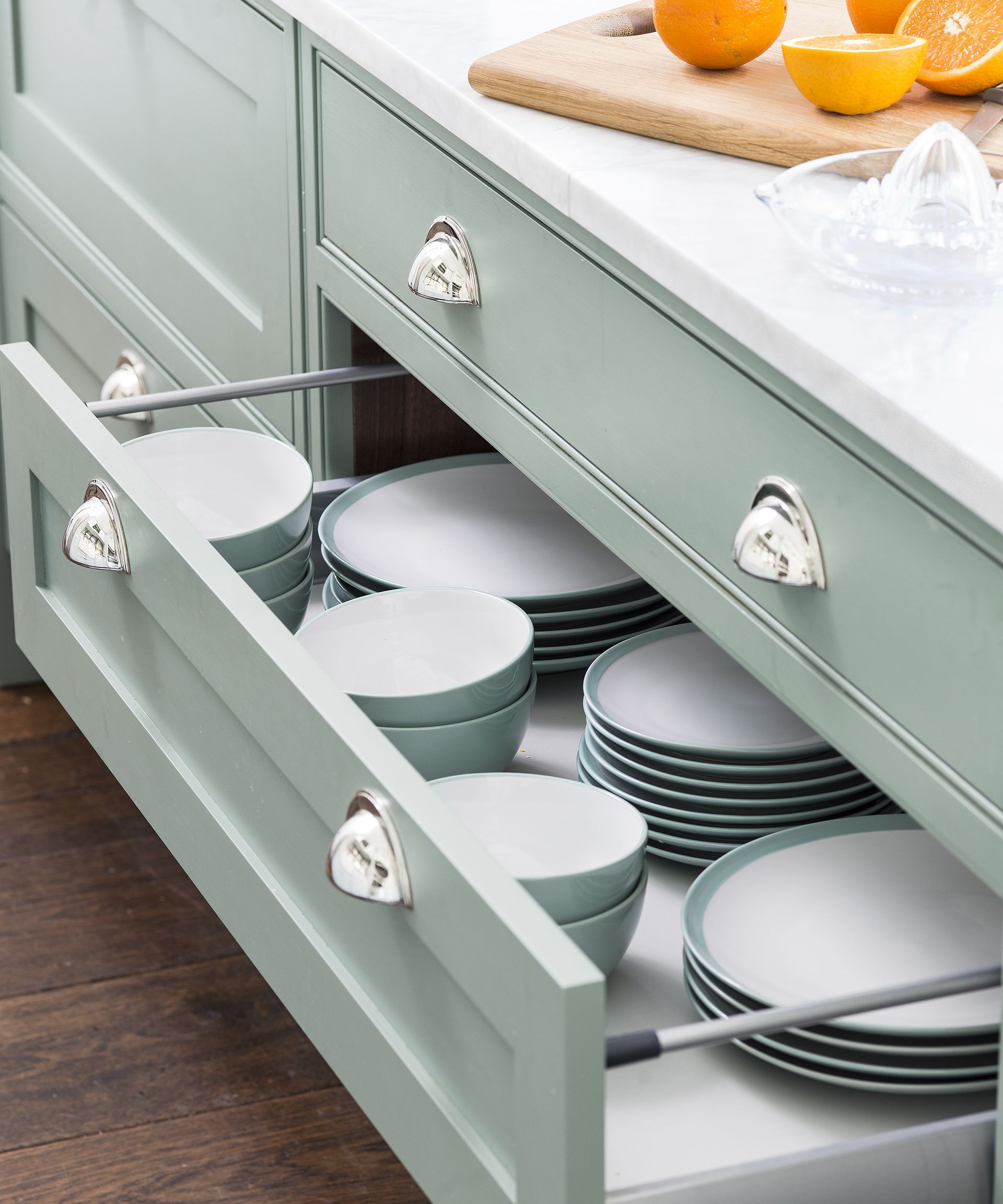 How you organize the rest of your kitchenware comes down to the space you have and how you use it, so make decisions based around your specific routines. If you regularly have hot drinks throughout the day, you might want to locate mugs, filters and coffee beans next to the coffee machine, for example. If you love a leftover, you could organize tupperware, plastic bags and foodclips near the refrigerator – you get the idea.
As a general rule, it makes sense to position crockery, cutlery and glassware you use everyday within easy range of the sink and/or dishwasher, so it's quick and easy to put them away.
'In reality, homeowners use such a small amount of their kitchen paraphernalia, it can make sense to have an accessible cupboard of items that are used on a daily basis. For example, if you're a couple, having four plates, four mugs, two wine glasses etc in one cabinet right next to the dishwasher can make life really easy,' says Richard Davenport, managing director of Davonport Kitchen & Home.
Items you use less regularly – serveware, appliances and seasonal items, for example can be located outside of the kitchen altogether to free up space.
With a Distinction in Furniture Design and Cabinet Making, and knowledge from his father Aubrey Davonport, an honorary member of the British Woodcarvers Association, Richard went on to set up his own workshops and later, the Davonport brand, who specialize in creating bespoke kitchen furniture.
6. The 'entertainment' zone
Open-plan or 'entertainment kitchens' often play host to a number of very different activities, from home working and children's play to entertaining guests, so it's important to identify a separate area to avoid the space feeling cluttered and confused. Consider installing a kitchen island or breakfast bar to section off the cooking zone from the entertainment zone.
How you organize a kitchen island will help to define the boundaries. You'll need to ensure there's enough space for guests to sit comfortably without getting in the way of the cook, whilst allowing counter space so the chef can still socialize with guests as they prep. You'll want to organize kitchen island drawers and cabinets accordingly, too; position working elements along one side of the island so you don't constantly have to walk around it.
'The side facing your refrigerator could hold a beverage or vegetable drawer so it's easy to unpack groceries, while the side facing the dining table could hold glassware, serveware and table linens, for example', says professional organizer Jan Arkwright, founder of Before & After Organizing by Jan.
Jan is a professional organizer with over 10 years experience offering custom sustainable organizing solutions for homes and offices. She loves working with clients to help declutter and maximize their space and storage. Jan is also on the board of National Association of Productivity & Organizing Professionals, as well as the Institute for Challenging Disorganization.
FAQs
How do I decide where to put things in my kitchen?
To decide where to put things in your kitchen, start by mentally dividing the room into zones. These will help you decide where the different categories of items should be located within which kitchen storage ideas.
'If you're not sure where to start, write down categories (such as plates, cleaning products, dried good etc.) onto sticky notes and place them onto cabinets and drawers in accordance with how you use your kitchen over a few days. By the end, you should have a good idea of how to zone your kitchen to best effect,' advises Mary Jo.
---
These tried-and-tested rules should apply to most kitchens, but as with any home organizing idea, it's really down to what works best for you and your household. Figuring out the right zoning techniques for you and your family takes time and patience, and perhaps involves even breaking the rules a little (don't worry, we won't tell). When spending time in your kitchen becomes a joy, not a chore, you'll know you've cracked it. Good luck!
Sign up to the Homes & Gardens newsletter
Decor Ideas. Project Inspiration. Expert Advice. Delivered to your inbox.
For 10 years, Tara King worked as a Content Editor in the magazine industry, before leaving to become freelance, covering interior design, wellbeing, craft and homemaking. As well as writing for Ideal Home, Style at Home, Country Homes & Interiors, Tara's keen eye for styling combined with a passion for creating a happy – and functional – family home has led to a series of organization and cleaning features for H&G.