What color curtains make a room look cozier? Interior designers have their say
Creating a cozy space ultimately comes down to your room's textiles – and that includes picking the right curtains, designers say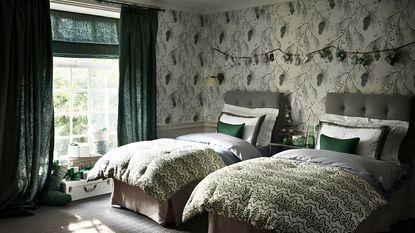 (Image credit: Future)
Sign up to the Homes & Gardens newsletter
Decor Ideas. Project Inspiration. Expert Advice. Delivered to your inbox.
Thank you for signing up to Homes & Gardens. You will receive a verification email shortly.
There was a problem. Please refresh the page and try again.
We often focus on our throws and pillows, and maybe switching up our color scheme too, but ultimately it could be your curtains that make or break your cozy scheme.
Whether trying to actualize some cozy living room ideas ready for fall hosting, or wanting to create intimate cozy bedrooms, picking the right color, material, and length of your curtains all play a part in the overall ambiance of your space – and are often overlooked.
But what color curtains make a room look cozier? And what should we be avoiding?
What color curtains make a room look cozier?
When choosing curtain colors for any room, it helps to have some idea of what ambiance you want to create in mind. If you are looking to make a house look cozy, then this will usually mean selecting dark or warm tones, grounded in earthy or jewel shades, begins Madison Popper, interior designer and founder of Chill Casa.
'Darker hues like a rich deep blue or earthy brown create warmth and intimacy, which in turn creates coziness, making the space feel more inviting. It will also absorb the majority of light which emulates a cocooning effect,' he adds.
Based in Miami Beach, Florida, Madison Popper is the founder of Chill Casa Home, a leading interior design studio focusing on luxury residential design.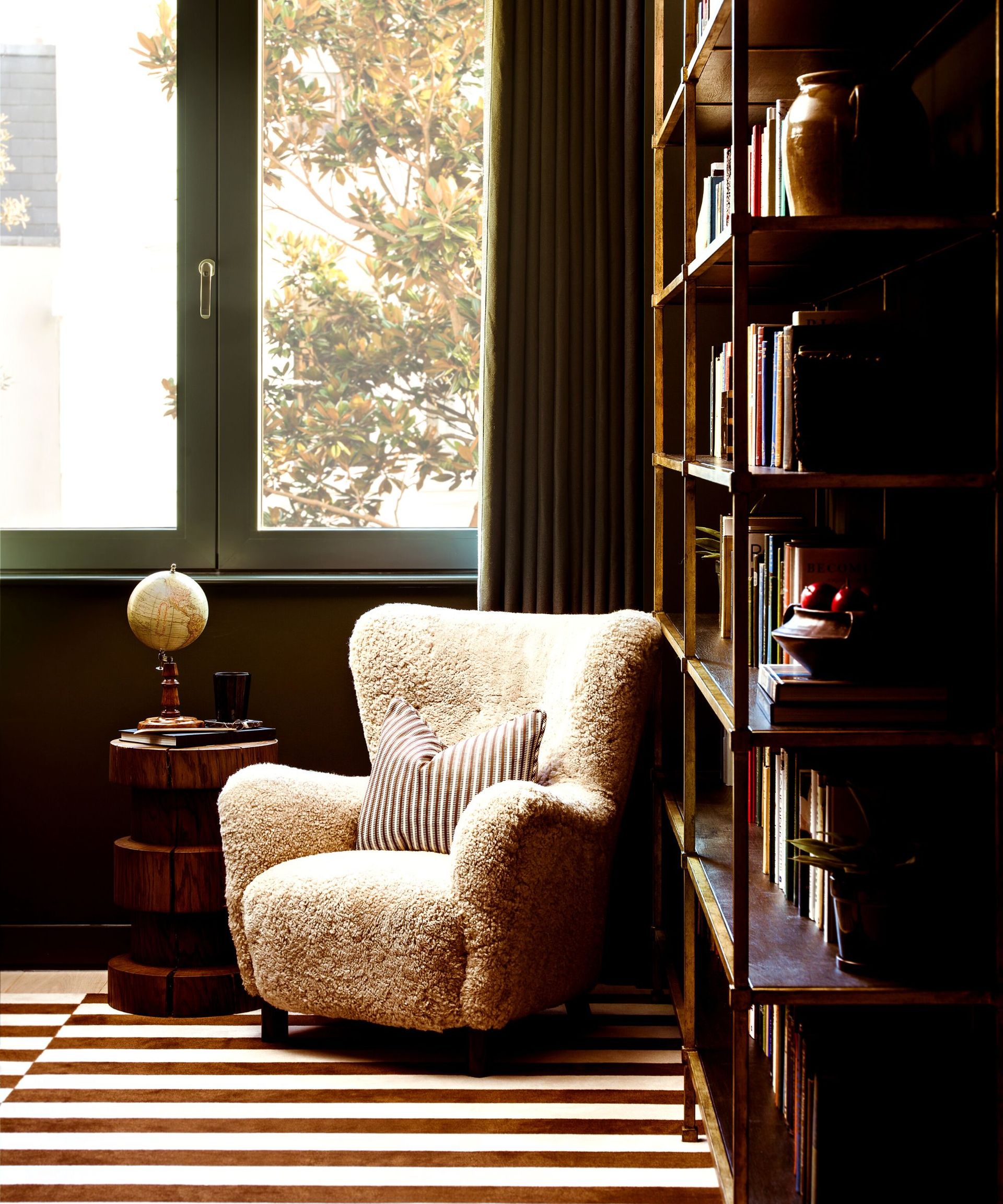 A similar effect can be achieved using warm-toned neutrals, too, if going bold is not to your taste, adds Artem Kropovinsky, interior designer and founder of Arsight: 'Colors such as beige, cream, and ivory stand as timeless choices as they exude a soft and welcoming aura. These are optimal for making spaces feel more expansive and open,' he suggests. 'Brown, tan, and olive encapsulate the essence of the earth and foster a calming, tranquil ambiance.'
Like Madison, Artem also suggests using richer shades to add some drama to the space. 'Emerald green, burgundy, and sapphire blue offer a touch of luxury,' Artem says, but he warns us to tread lightly, as these colors can become overwhelming and dominate the space if it's on the smaller side, or if not used carefully and balanced with the rest of your decor.
Artem Kropovinsky, an interior design expert with a decade of experience, is the founder of Arsight, a New York City-based design firm specializing in residential and commercial interior design. Known for his award-winning work, Artem's projects range from new construction and extensive residential renovations to restaurants and retail stores.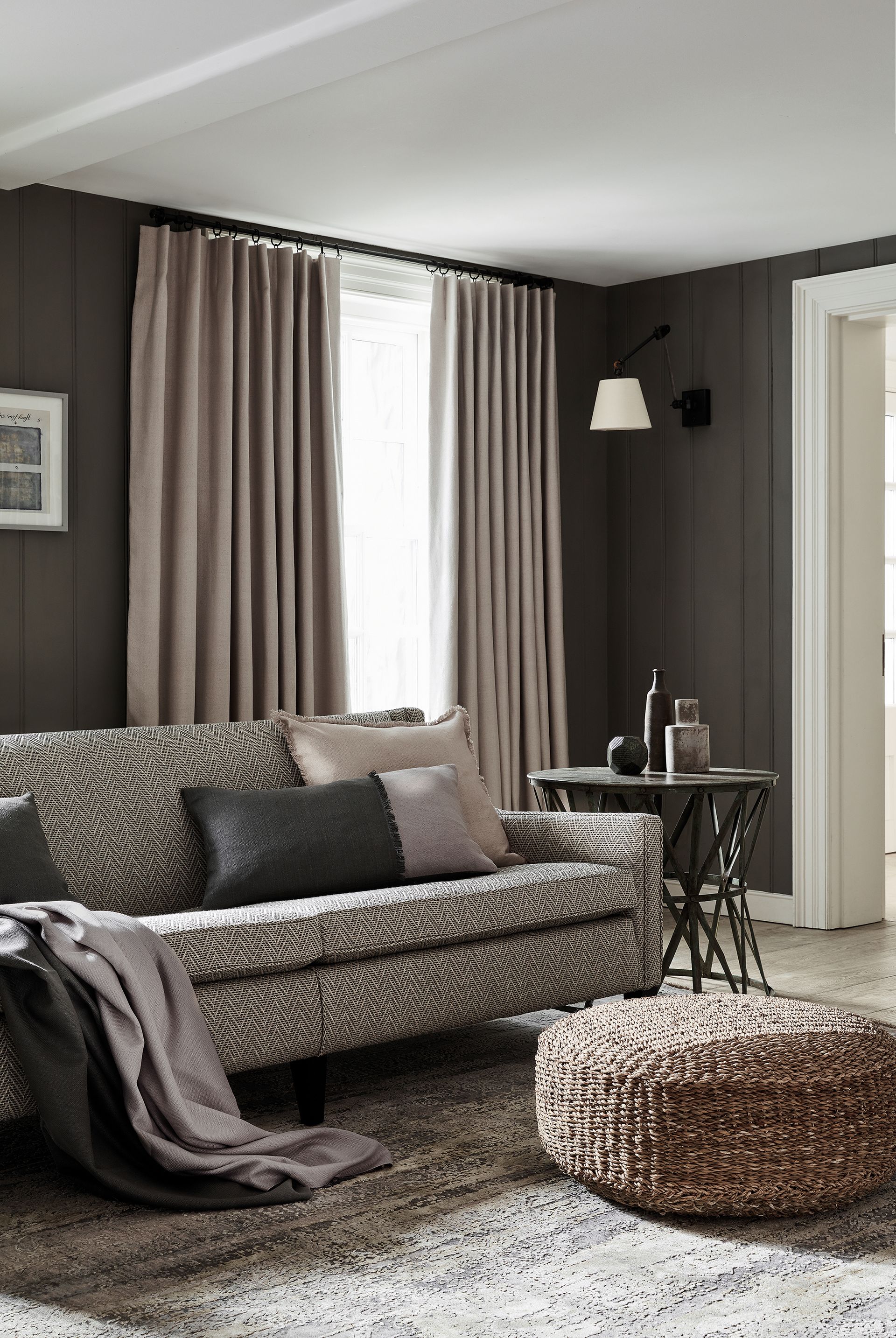 When trying to make a small room look cozy, it is important to strike a balance between snug and claustrophobic when picking curtain colors and window treatments. More often than not, it is a safer idea to go for a warm-toned neutral in a cozy fabric if you want to make a small room look bigger and maintain the illusion of space, as interior designer and founder of Interiors By Bridget, Bridget Desroches does:
'I tend to lean towards creams, off-whites, and taupe when creating this feeling in a space,' she shares, 'but I will not use busy trims to distract that feeling. Instead, I tend to use fabrics that feel soft – a wool blend is my favorite because it hangs well, pleasing the eye, and is soft to the touch. These more luxurious materials help a room look finished, add warmth, and create privacy as they reduce noise from outside and inside the home,' she explains.
With that in mind, unlike picking curtains to make a small room feel bigger, you want to avoid selecting sheer drapes that expand the space. This includes materials such as linen which is more reminiscent of the light and airy summer months.
Bridget Desroches has a degree in residential interior design and launched an e-design business in 2013, whereby clients can virtually design rooms and order all of the elements to bring their designs to life. Interiors by Bridget has since evolved into a full-service interior design firm with a strong technical foundation, focused on creating functional, contemporary spaces with a bright and sophisticated aesthetic.
Wool is not your only option for cozy curtains, however, as designer Madison Popper continues.
'Warm-toned curtains look their best in heavier fabrics such as velvet that offer tactile comfort and contribute to the overall vibe, he says. 'I also like to consider decorating with patterns and picking out a plaid or herringbone – patterns reminiscent of blankets or sweaters, which only amplifies the coziness.'
Dark Teal Organic Cotton Velvet Curtain
Rich in color with a subtle luster, organic cotton velvet drapery frames windows in lush warmth. The panel darkens the room while offering a soft, smooth hand and vibrant color.
Velvet Louise Curtain Panel
Available in a range of colors, the Velvet Louise Curtain is a great way to warm up any space on a tighter budget.
FAQs
What color curtains go with everything?
It may be an obvious answer, but neutral-colored curtains are a great option if you want timeless curtains that will go with anything. This includes shades of ivory, cream, and beige, but you may also get away with using light browns and grays too. It also helps to pick plain curtains if you want them to stand up to frequent decor changes too, with patterns sometimes limiting you to what you can add or take away from the space without the curtains looking out of place.
Should curtains be lighter or darker than your paint?
When picking curtains for a painted room, it is often suggested you should go darker than the color of your walls to help make a statement, however, ultimately it doesn't matter too much. So long as you do not pick a color that clashes with the color of your walls, there are very few other rules, making it simple enough to just select the curtains your heart desires.
---
While the color of your curtains has an effect on how cozy your room feels, it is important to make sure they match the rest of the space, reminds designer Artem Kropovinsky. 'Try blending the curtains in with the rest of the space by infusing warm tones on walls and ceilings for enveloping warmth,' he recommends. 'If you are looking for a less intensive, permanent make mover just for the cooler months, then enliven spaces with color pops through cushions, throws, and decor items, include natural elements like wood, stone, and leather to elevate warmth and authenticity, and play with textural layering with velvet, linen, and cotton crafts depth and intrigue,' he concludes.
Sign up to the Homes & Gardens newsletter
Decor Ideas. Project Inspiration. Expert Advice. Delivered to your inbox.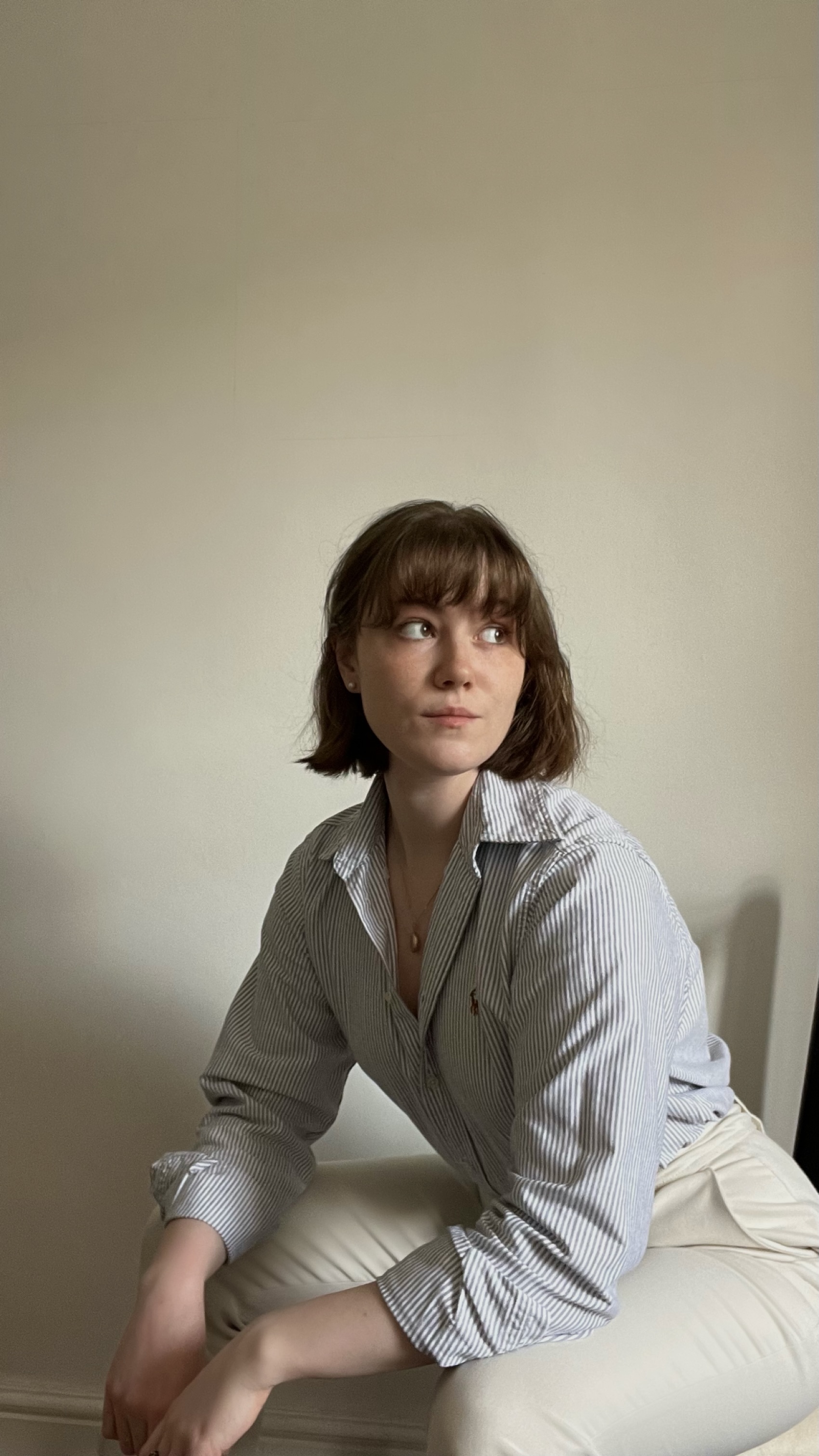 Chiana has been at Homes & Gardens for a year, having started her journey in interior journalism as part of the graduate program. She spends most of her time producing content for the Solved section of the website, helping readers get the most out of their homes through clever decluttering, cleaning, and tidying tips – many of which she tests and reviews herself in her home in Lancaster to ensure they will consistently deliver for her readers and dabbles in the latest design trends. She also has a first-class degree in Literature from Lancaster University.