Kitchen extensions – how to plan, design and build out for more entertaining space
Max your space and create a brand-new kitchen extension that works for you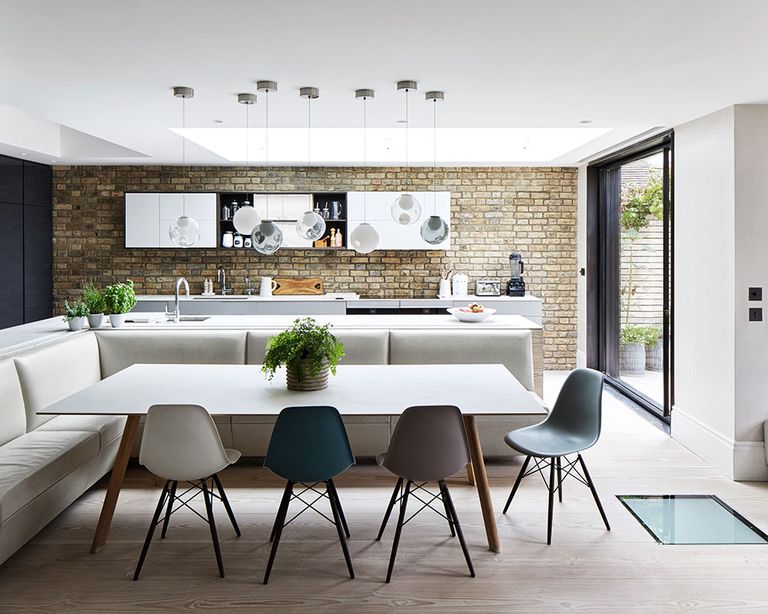 (Image credit: Davide Lovatti)
Creating a new kitchen extension will cleverly maximize your space, ensuring a streamlined cooking and eating area where all the family can gather.
State-of-the-art appliances, designer units and ergonomic layout have always been popular kitchen ideas. But what we seem to crave more than ever these days is space.
No modern home is complete without a dynamic open space that's so much more than just a space to cook. The kitchen extension easily tops the list of domestic projects commissioned from architects. Meanwhile, realtors see it as the single most desirable feature in any home.
Some say that in a family home, it's essential. The 'living kitchen' as it is often now to be called, has come of age.
Most homes have the potential to bring that dream closer to reality, by removing internal walls, adding a sun room or an extension, or even digging deep to add a basement. And it seems the inevitable disruption is worth the pain. A new kitchen alone can increase the value of your home by 4 per cent, the Royal Institute of Chartered Surveyors (RICS) reports.
The benefits of a living kitchen are clear. It makes it easy to keep an eye on young children or help older ones with homework while you cook, and enables you to catch-up with other members of the family and with guests - no cook will ever feel banished to a back room, leaving guests to entertain themselves.
A certain amount of 'keeping up with the Joneses' comes into play here, too, as extensions and folding glass doors appear up and down the country, bringing centuries-old housing stock into the 21st Century.
Where should I start my kitchen extension?
Start by speaking to the professionals. 'Some builders can design a three-metre extension but that doesn't mean that's a good thing', says architect Brian O'Tuama. An architect will not only design your space creatively – professionals are adept at solving problems you may not have spotted. And they will ensure that any work carried out will benefit the whole house.
Most architects have a signature style, too - look for one whose ideas and approach gel with yours and who has worked on similarly sized projects with similar budgets. Interview several architects before making your decision and take a look at RIBA's online guide, Working with an Architect for your Home.
When you are commissioning an architect, the look of the extension will be key. Will it blend quietly or be defiantly dramatic to the rest of the house? Choosing a local practice has benefits in that the architect will have a feel for the current mood of the planners.
'Often my designs are in complete contrast to the existing building but planners these days tend to favour that,' says David Hingamp of Ar'Chic. 'Planners like to be able to see clarity in the historical reading of a home.'
'Most projects will need planning permission but not all will, particularly if you have not extended your home before and the changes fall within permitted development rights.'
See: Hiring an architect – get the right results when remodelling your home
How much does a kitchen extension cost?
The choice of materials is fundamental to the design as it's the element that brings the structure to life. For traditionally designed extensions to blend easily with the existing building, the materials used play a vital role.
'Matching the joinery colour to that of the house, as well as the brick (using, if budget allows, reclaimed ones), stone or render colour, will help the new addition blend in,' advises Jeremy Preston-Jones of Malbrook Conservatories.
As a rule, you can expect to pay anything from around $2,000- $3,400/£1,500-£2,500 per square metre depending on your choice of materials and finishes. Factor this into your overall budget and add on an extra 10-15% as a contingency to cover any unplanned costs.
How long does a kitchen extension take?
'Planning a realistic kitchen extension timeline can help to visualise the project and make sure every aspect of it is being taken care of to avoid any inconvenience further down the line.
'Timings largely depend on the type and size of the project you are working on, but on average, building a kitchen could take between three and five months. For a thorough and precise kitchen installation, you should allow at least four weeks, especially if it includes hand painted cabinetry,' says Matt Baker, Kitchen Designer at Harvey Jones.
How big should a kitchen extension be?
The type of extension you choose is dictated by the size and the shape of your outdoor space.
Single-storey and rear extensions are two of the most popular designs, as they are built in the leftover space at the back of Edwardian or Victorian houses. L-shaped additions are also common, particularly if the aim is to create an open-plan room that's easy to use. A layout plan that is too complicated can be awkward when it comes to designed what goes into it.
How do you plan an extension?
Adding an extension not only automatically gives you more space. It also changes the flow and use of your existing ground floor, and sometimes beyond. For example, do you need a separate dining room, or could this be put to better use? Perhaps as a playroom, study or even a extra bedroom?
An extension doesn't need to be enormous to bring big benefits either. Most are no more than 3m deep and even a 1.5m side return extension can radically change a room. Remember that proportion – the balance between floor space and ceiling height – is critical in creating a successful outcome.
Essential services like heating, plumbing and extraction should all be considered at an early stage of your design if you want to achieve a sleek, high-performance finish. With fewer walls for radiators, underfloor heating is a natural partner for a living kitchen.
When building an extension, a wet system, using hot water pipes concreted into the floor, is the gold standard. It is more efficient than an electric mat system, particularly if teamed with a solar water-heating system to provide hot water.
During the upheaval of building an extension, it is worth looking at the plumbing to see how this can best serve your new kitchen layout. Consider adding an extra sink for prep, a boiling water tap and don't get caught off guard by appliances such as fridges and steam ovens that may require a water supply.
Good extraction, too, is essential to keep steam and odours at bay. You will need something powerful but quiet in an open-plan space, so consider one with an external motor. The combined noise levels from appliances such as fridges and dishwashers soon builds up. Opt for ratings of 50 decibels and below on all you buy.
What are the rules for extensions?
In the UK, some extensions are allowed without a planning application under permitted development.
Current legislation allows for a single-storey rear extension with a maximum height of 4m. This must not extend beyond the rear of the original house by more than 3m for an attached house or by 4m for a detached property (for more details, visit the Planning Portal).
If a scheme has to go through planning, the only reliable rule is that there is no rule, says Jeremy Preston-Jones. 'Some planners and conservation officers are a law unto themselves and almost impossible to second-guess.'
'Sometimes they will prefer the new extension to blend in with the architecture of the area. Other times, the exact opposite is welcomed and a very modern or minimalist design is preferred.'
In the case of listed buildings, it's vital to get the design balance right when adding modern glass extensions. 'Planners are starting to favour the marriage of old and new with glass boxes just "kissing" the original building,' says Mark Caulfield of The Caulfield Company.
ArchitectGregory Phillips agrees. 'I've learned that when designing an extension for a grand Victorian building, the architecture needs to have some gravitas. Otherwise it runs the risk of looking like so many other ill-conceived additions. Or worse, pastiche. Having something bold and modern doesn't compete with an older building – it accentuates it,' he says.
See: Kitchen ideas – expert ideas for planning the perfect kitchen
To alter the facade of a listed property, or one that is in a Conservation area, you'll need permission. Search the national heritage list for England (english-heritage.org.uk) to find out if your home is listed. Or visit your local council's website for details of conservation areas.
'In theory, the rules on external alterations should be uniform. But they can vary between authorities,' says Peter Bell of the Listed Property Owners Club (LPOC). 'In broad terms, any changes you make should not detract from the character of a building,' he adds. 'For some councils, this might mean you can't change a door knocker, but others might be more tolerant'.
Unless they are of exceptional interest, most post-Edwardian buildings are not listed. So even in built up areas, it can be easier than you think to modify that lackluster 1970s townhouse.
Whatever changes you are contemplating, planning expert Nigel Lewis of Space & Style says: 'Explore your local area – look to see who's installed a flat roof or a rear extension, it will give you an insight into the council's stance on alteration.'
Planning rules governing properties in cities or built-up areas will limit the options open to you. But, thanks to conservation lobbyists, the contemporary approach to traditional buildings is to revive (rather than obscure) original features using sympathetic materials.