Emma Sims-Hilditch's top tips for transforming small bathrooms
The interior designer reveals the tricks she uses to enhance a bathroom that's tight on space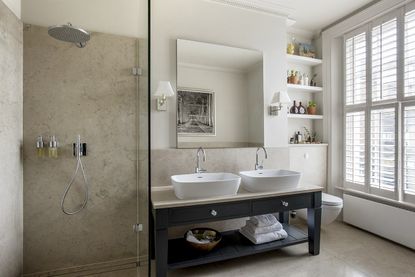 (Image credit: Sims Hilditch)
Many of us have bathrooms that are more compact than we'd like – but with clever design you can create a beautiful, neat space that really maximizes its potential.
So, if you are looking for small bathroom ideas, take heed from interior designer Emma Sims-Hilditch's top tips below.
'A small bathroom doesn't have to be a bland space which is prone to clutter,' says Emma. 'At Sims Hilditch we specialize in devising creative solutions which make the most of small and awkwardly shaped rooms. The result is a functional bathroom interior which maintains the inviting and attractive aesthetic achieved throughout the rest of the home.'
1. Trick the eye
The first trick Emma has to impart is about knowing how to make a small bathroom look bigger.
'To give the illusion of space, we recommend hanging a large mirror in your bathroom. A round design works well, creating a nice contrast to the sharper lines of a vanity or glass shower,' she says.
Clever bathroom vanity ideas are vital to maximize storage, while decorating with mirrors can enhance both light and the illusion of space. Here, mirrors combine cleverly with storage.
'A double sink basin with a mirror above each creates a user-friendly and practical space. The mirror(s) will reflect light around the room making it feel brighter and larger than it is,' she comments.
2. Create intelligent storage
Small bathroom storage ideas that are really well-considered and, where possible, built in, can stretch space brilliantly.
'Consider how you might best use the space in your bathroom, replacing freestanding cabinetry with bespoke smart storage. Shelving recessed into the wall (above) can work well for storing candles of even books, and a medicine cabinet disguised as a mirror above the sink is a great place to put toiletries (as in tip one).
'Another great space saving solution worth considering is opting for a smaller freestanding bathtub (see below).'
3. Hang eye-catching wallpaper
When it comes to bathroom wall ideas, few of us consider wallpaper, but Emma insists that it can really transform a small space.
'It is sometimes said that too much pattern and color can overwhelm a small space. While there is some truth in this, there is no reason why you can't use colored designs on the walls of your bathroom,' says Emma.
'A soft blue or green floral wallpaper is a lovely way to create a tranquil aesthetic within the space, while a moodier, darker design adds a touch of drama.'
4. Install a wet room
For anyone with a compromised bathroom, considering wet room ideas is a great way to max out space.
'A wet room can work well in a smaller bathroom,' says Emma. 'Rather than taking up precious space, the shower becomes part of the room.'
If you are considering walk-in shower ideas, Emma has this advice for creating a further illusion of space:
'We often use the same floor tiles in the shower and the wider bathroom, creating a feeling or continuity and flow. A limestone design works particularly well. Building a wet room is also a clever way to make use of a bathroom with an awkward pitched ceiling.'
Founded in 2009, the Sims Hilditch design practice has become one of the most trusted and respected in the industry. Its couture approach combines interior architecture, interior design and procurement management within one concept-to-completion, fully bespoke service. Creative Founder, Emma Sims-Hilditch is passionate about her belief that good design can transform not only how people live but also how they feel.