Front porch design — charming ideas for every type of home
Boost your home's curb appeal with our front porch design advice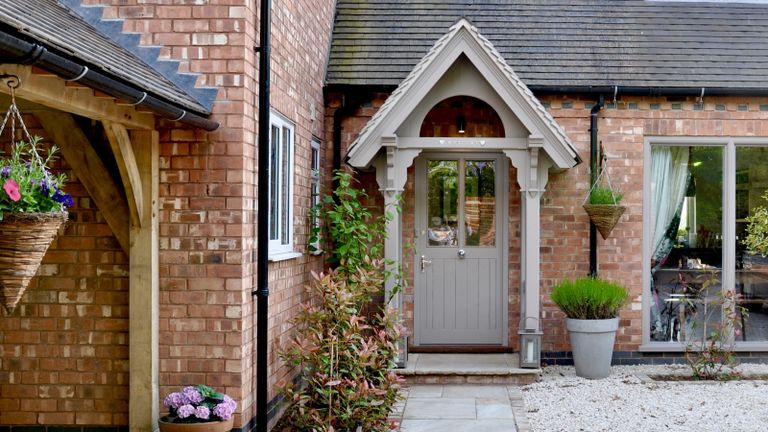 (Image credit: The English Porch Company)
When you're looking at front porch design, there are a number of factors to consider.
Do you want an open or closed porch? What materials will you use? And how do you ensure it enhances your property, so that it adds to its charm rather than taking it away?
We've spoken to the experts and taken a look at the fronts of houses, large and small, to find the best front porch ideas to suit a country property.
Front porch design: what you should consider?
Start by thinking about how you intend to use it. An open porch generally consists of a roof installed onto the exterior of your property and offers shelter and a place for storing boots and logs, but little in the way of weather protection.
A fully enclosed structure is a mini extension to the front of your property. It offers aesthetic impact and can be double-glazed, insulated and heated to create an additional, functional space in your home.
Insetting a porch within the footprint of the house is another idea, although this can impede on floor space.
Before making your final decision, take proportions into account; a large enclosed front porch design on a modest home will look out of place, for example.
It's also important to consider front porch lighting ideas and how you will illuminate the space.
When you should choose a canopy porch design
If you have limited space at the front of your property and want some protection from the elements whilst still employing some attractive front porch decor ideas, a canopy porch is ideal.
Designed to sit neatly above a door, a canopy porch offers the simplest and most cost-effective alternative 
to a heavier-looking design.
Options include scoop and arch canopy designs, with optional side supports generally made from durable galvanised solid 
steel. These can often be adapted to accommodate architectural features.
Choosing materials for your porch
The materials required to build your porch depend on the design and how well you want to match the construction of your property.
While enclosed designs tend to require brick or stonework, the most common materials for open porches include timber, steel and aluminium, with the former preferred for rustic country style.
'Cedar looks great for contemporary porches, while green oak is a nice fit for traditional designs,' says David Sutton, owner and designer at The English Porch Company. 'A strong wood with a high moisture content, green oak will develop cracks as it shrinks and dries to a silvery shade – all part of the charm.
'If you're opting for a painted finish, a pre-treated softwood is adequate.'
Matching the porch design to the style of your house
If you're wondering how to decorate a front porch, it's important to ensure the porch you choose is sympathetic to your property, particularly if your home 
is close to other houses.
Typically, this will involve using the same materials, although contrasts can work well in some cases. A timber porch set against stone walls with 
an aged flagstone floor can be a magical addition to a country farmhouse, for example.
Always 
bear in mind that the porch roof should reflect the style of that on the house, with a visual break between the porch ridge and the first-floor windowsill.
Thatched roofs can also look charming when scaled down 
to porch size.
How to add character with a porch
Attention to detail on the posts, brackets and sides can make for a unique finish, while incorporating architectural features is a clever way of ensuring a stylish porch that's consistent with the look of a period property.
For example, porches or porticos with classical-style architrave and columns are particularly associated with Georgian houses.
Think about color, too. Brightly painted front door ideas will work well with a complimentary shade on your porch structure or a natural finish.
Finally, flooring. Traditional floor tiles that are suitable for exterior use can be run from the porch across the threshold and into the hallway without any worry of damage by 
the cold weather.
Will you need a new front door?
You won't necessarily need a new front door when you install a porch. Often, with an enclosed design, the existing front door can be moved to the exterior face of the porch with a new interior door installed to create a draught lobby.
It might also be possible to incorporate glazed side panels into veranda-style porches; a clever way of counteracting heavy timber designs. These protect the front door while still allowing light to stream through.
Getting consent to add a porch
A front porch can usually be built without planning permission, provided that it does not exceed a maximum area or height, and does not restrict a sidewalk or highway.
Check with your local planning department, particularly if your property is listed or in a historical conservation area.
Employing an architect to design a porch: do or don't?
An architect is not generally required to design a porch. However, be mindful that a poorly constructed porch can detract 
from a property.
Many porch suppliers will be able to give advice and some also offer a bespoke design service. Porch kits are also 
an option.
Front porch foundations
A new porch may require foundations, depending on its design and the ground it is sited on.
Factors to consider include soil conditions, whether the ground is sloped and the combined weight 
of the frame and roofing materials. Your architect or builder will be best placed to offer advice based on your individual circumstances.
How a porch can affect your property's value
'A well-designed and professionally finished porch can add significant appeal to a property, making it 
more stylish, practical and desirable,' says David Sutton at The English Porch Company.
'All these elements contribute to 
a property's value and it is generally considered that a beautiful porch 
will make a future sale more likely.'
I've been immersed in the world of homes, interiors and lifestyle since my first job in journalism, on Ideal Home. I went from women's magazine Options to Frank, a brand new title from the publishers of The Face and Arena. From there it was on to the launch of Red magazine, where I stayed for 10 years and became Assistant Editor. Two children and a move to the coast meant it was time to shift into freelancing, and I spent 14 exciting years writing for everyone from The Telegraph to The Sunday Times, Livingetc, Stylist and Woman & Home. When I was offered the job as Editor on Country Homes & Interiors, I couldn't resist – and now I combine that role with developing the H&G Country channel.