How to set the perfect Christmas table – step by step
Plan your holiday tablescape. This is how to set the perfect Christmas table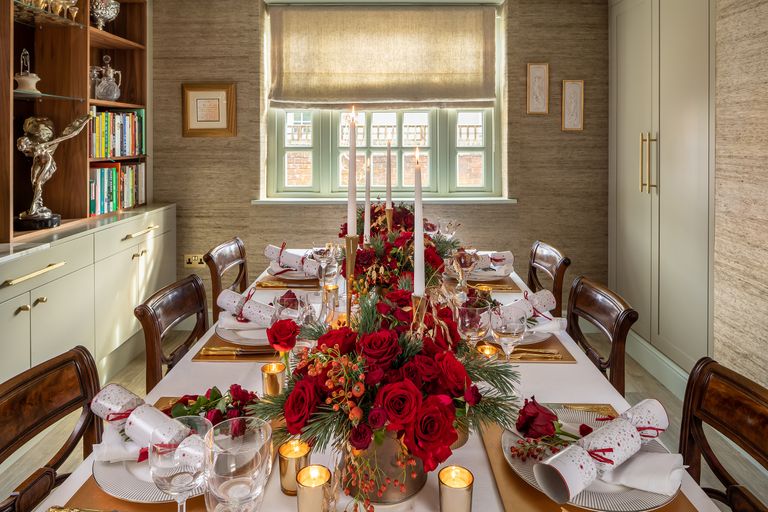 (Image credit: Ward & Co/Jonathan Bond Photography)
Wondering how to set the perfect Christmas table for the family to gather round? Creating an elegant tablescape makes the setting as special as the food being served and celebrates the presence of all in your home for the holidays.
A Christmas table setting can be as individual in its style as you choose with rustic, contemporary or traditional looks realized in a color palette of your preference to create a cohesive look all possibilities. For our steps, we've selected a red and gold combination that has timeless elegance and can complement any dining space for the holidays.
But whatever your theme or Christmas table ideas, these steps will serve as a guide to the perfect Christmas table. And there's expert advice, too, to help you realize your plans.
How to set the perfect Christmas table
Think about how to set the perfect Christmas table, and a red and gold tablescape may be the first in your mind's eye. The combination has a sense of occasion, and creates a rich and colorful backdrop.
Rosie Ward, creative director of Ward & Co Interiors (opens in new tab) designed this elegant setting. She says: 'For this particular table we wanted red to be the standout color and to make the flowers the focal point with soft gold tones supporting it. It was important to consider the exact tone of gold to complement the red – it shouldn't be a yellow-toned gold as this can look too dominant.
'As you can see, the central space in this tablescape is the only element of red so it really stands out and "pops", drawing your attention, and is balanced perfectly with the gold mats and cutlery which surround it.'
If red and gold isn't your preference, pick two or three alternative hues that match your Christmas dining room decor for a pulled-together look. Snowy white with red, wintery pastels, or natural tones are among the possibles.
Follow these steps to set your own perfect Christmas table.
2. Prepare the canvas
On the day – or better still, before, if the room won't be used again before Christmas – the first step in setting the perfect Christmas table is to prepare the backdrop. And to make the colors of the setting pop, use a crisp white tablecloth.
'I would always recommend a washable linen and, for a look like this, I would invest in a thicker, cotton tablecloth,' says Rosie. 'I do love the linen tablecloths from Volga Linen (opens in new tab) which are very luxurious.'
The tablecloth should be generous in its proportions. 'Be careful to measure. The tablecloth should be large making sure you cover the full table, and it drapes elegantly off the edge of the table,' explains Rosie.
2. Prepare the floral decorations
While it isn't the first element on the table, when it comes to setting a Christmas table, it is better to prepare the floral arrangements the day before so they can simply be positioned at its center on the day.
Here, to generate maximum impact, just one type of flower has been used with Red Naomi, Black Baccara and Red Piano spray roses then teamed with gold grasses to add texture and movement. Red berries and blue and Weymouth pine complete the arrangements.
Follow the lead of this design by opting for a series of vases rather than a solo centerpiece or garland-style version, setting aside some stems for each of the place settings.
Why opt for individual vases? 'Multiple arrangements allow you to adapt the table setting and other family members or friends staying with you for the festive period can easily help you to put them together,' explains Rosie. 'The individual arrangements also create more space for candles and dishes if serving at the table itself.
'The other reason why I am inclined to have individual arrangements is that they can be much more easily re-used or repositioned in other areas of the house for the rest of the Christmas period, lighting up a side table in a hallway, for example, when not on your main dining room table.'
3. Create place settings
When considering how to set the perfect Christmas table, it is the place setting for each of the diners that comes next, as well as the addition of candlesticks (here from the Muse Design (opens in new tab) collection) for the table center. In gold, the candlesticks continue the color theme, with white candles to complement the tablecloth. They're slim enough to avoid obscuring views across the table.
'For me, candles and tealights in this look should always be white,' says Rosie. 'It works well when they blend in and create a warm, soft ambience. A tip to consider is to buy good quality candles as they are likely to be lit for a long time and shouldn't then burn out too quickly. Be careful with the placement of your candles as you don't want to set any of the foliage alight.'
Use a placemat at each setting (these are from Posh Trading Company (opens in new tab)) and on top, layer a plate and set the cutlery to either side. Again, it's gold here to continue the tablescape's combination.
Set a folded white napkin on top of the plate. It's at this stage that you can add a few floral stems tied informally with ribbon. If you're pulling crackers (like these from Nancy & Betty (opens in new tab)) before dining, one of these can be set on the plate as well to create a V-shape with the napkin. However, if they're to be enjoyed later, set them to one side.
Set glassware for each diner, too, including a glass for water as well as the number of different wine glasses required.
Cutlery and plates, Jones Hire (opens in new tab)
4. Position the floral centerpiece
Add the floral arrangements to the center of the table. Be conscious that diners should be able to see across the centerpiece. 'The number one rule with floral arrangements is not to add too much height and therefore block your guests' views,' says Ming Veevers Carter, founder of Veevers Carter (opens in new tab).
'When organizing your arrangement, sit down in a chair so you can see clearly and gauge the right height.'
Use tealight holders to fill the gaps between the individual floral arrangements and to add soft illumination at a lower level of the table.
Tealight holders can continue the table's palette, and if you're replicating this color scheme, be aware that it's important to make sure all the golds of the table are of the same shade for maximum impact. Antique, 24 carat, or bright golds are much better than lighter, more tinny tones.
For consistency, you might want to use gold spray paint on existing tealight holders, use it on dried grasses, and for flower vases, too. Gold leaf is also an option.
What should be on a Christmas table?
A Christmas table centerpiece will create a sense of occasion – if you don't have a side table to take serving dishes, you can remove it once guests are seated. Other musts to include are candles – never to be left unattended, but vital for creating a festive mood; if youngsters are at the table, battery-operated tealights in pretty sconces can safely perform the same function. Crackers and festive napkins are a must-have, too.
Where do crackers go on a Christmas table?
Christmas crackers are usually placed to the left of the place setting, either on or next to the side plate you might serve bread on to. If there is no space to the left, the crackers can be place above the dessert cutlery, which is positioned at the top of the place setting, above the plate.
Sarah is a freelance journalist and editor. Previously executive editor of Ideal Home, she's specialized in interiors, property and gardens for over 20 years, and covers interior design, house design, gardens, and cleaning and organizing a home for H&G. She's written for websites, including Houzz, Channel 4's flagship website, 4Homes, and Future's T3; national newspapers, including The Guardian; and magazines including Future's Country Homes & Interiors, Homebuilding & Renovating, Period Living, and Style at Home, as well as House Beautiful, Good Homes, Grand Designs, Homes & Antiques, LandLove and The English Home among others. It's no big surprise that she likes to put what she writes about into practice, and is a serial house renovator.