KitchenAid vs NutriBullet: choosing the right appliance for the best blending
Our experts help you decide between KitchenAid and NutriBullet blenders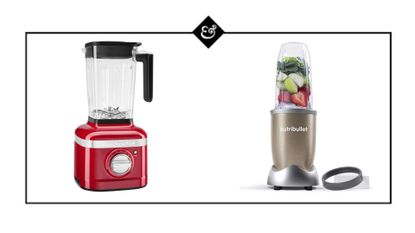 (Image credit: KitchenAid/Nutribullet)
KitchenAid and NutriBullet are both big names in the world of blenders. Reliable, powerful, and attractive, these appliances are some of the best blenders that you can buy.
Each brand prioritizes different features, so you'll want to think carefully about your blending needs when making a purchase. That's why we entrusted Millie Fender, our appliance expert and Head of Reviews, to put two of the biggest names in blending to the test. She gave the Nutribullet Pro 900 Series Blender and KitchenAid K400 various tasks and found they suit quite different kitchens.
Whether you're a solo shake maker or trying to efficiently feed a family, we've got hands-on experience with these appliances. From soups and smoothies to ice cones and cocktails, we've evaluated these blenders to find the right one for you.
KitchenAid vs NutriBullet - Overall
Sturdy and stylish, KitchenAid and NutriBullet seem to have it all: they look the part, work effortlessly, and are straightforward to use. Both companies offer a range of colors, to match any kitchen décor. They're both easy to use and powerful when it comes to blending and pulsing.
From the get-go, the NutriBullet is a great blender for smoothies. With one, standard, 900-watt power output, kale stems and frozen blueberry skins whizz into a smooth mix. For more varied tasks, the KitchenAid steps into the spotlight. Its 1200 watts of power and five speed settings are betting for blending ice, cauliflower, and vegetables for soup.
It's clear that the NutriBullet suits smaller households; it comes with 18 and 32 ounce cups. The KitchenAid has a much larger 56 ounce capacity pitcher.
NutriBullet Pro 900 Series Blender
Capacity: 32 oz.
Pitcher: Plastic
Dimensions: 12.01 x 7.72 x 15.94 inches
Power: 900W
RRP: $119.99/ £90
For
Made very smooth drinks
Can power through tough ingredients easily
The controls are straightforward
It won't take up too much space
Attachments for taking your drink on the go
Reasonably priced
Against
Limited size
Blades can't go in the dishwasher
Single blend setting
Not appropriate for hot ingredients
Capacity: 1.4 ltrs/ 56 oz.
Pitcher: Plastic (Glass in the UK)
Dimensions: 9.02 x 7.59 x 15.8 inches
Power: 1200W
RRP: $299.99/ £299
For
Very powerful
Handles seeds well
Adjustable dial
Range of pre-set powers
Heat-safe pitcher
Range of colour options
Against
Control dial is sensitive
A little tricky to clean
The lid requires some muscle to remove
KitchenAid vs NutriBullet - which is better at making smoothies?
WINNER: NutriBullet
The ultimate test for any blender is a smoothie. The KitchenAid K400 blender can blend frozen fruit, leafy greens, and oats in under a minute, with only a few of the toughest oats left behind. With a special, timed smoothie setting, it's a hands-off blending experience: just choose the setting and the blender does the rest. If you want a little more control, the variable dial means that you can manually adjust the thickness and texture of your smoothie.
The NutriBullet slots in, pushes down, twists, and blends away. Even with kale stems, this gave a wonderfully smooth result, powering through the tough bits which escaped the KitchenAid. The smaller cup capacity targets single users, who can slot the removable handle around the blender for a grab-and-go container.
For batch smoothies, use the KitchenAid. If you're making them for yourself, or one other person, you'd be better off using the NutriBullet for an out-of-this world texture.
KitchenAid vs NutriBullet - which is better at making soups?
WINNER: KitchenAid
There's no battle here. NutriBullet warns against using hot contents inside the blender. The KitchenAid's plastic jug, although a little tough to open, was a success when making soups. Our expert, Millie, gave the KitchenAid fibrous ginger and tough vegetable skins to blend. The result? Enough smooth soup to serve four to six people. Only a few small fibers and skin pieces weren't blended.
If soup is going to be your speciality, it's worth reading Millie's review of the Vitamix A3500 Ascent Series Smart Blender, which is better than either of these for making soup.
KitchenAid vs NutriBullet - which is better at crushing ice?
WINNER: KitchenAid
With a special ice-crushing setting, the KitchenAid blended ice into a fine and even texture in under 30 seconds, perfect for snow cones. However, bear in mind that it's very noisy, though this is to be expected. On the other hand, the NutriBullet can chop through ice, but is less consistent and might need a little shake to redistribute the shards.
KitchenAid vs Nutribullet - which is easiest to clean?
WINNER: KitchenAid
Neither are particularly difficult to clean. Adding warm water and dish soap with a few pulses effortlessly clears the worst of the mess. Both the lid and jug of the KitchenAid can go in the dishwasher too, but the NutriBullet's blades cannot. If you want the most effortless clean, go for the KitchenAid.
KitchenAid vs NutriBullet - which looks best?
Smart and sleek, both blenders are well-designed for a variety of interior styles. In a wide range of colors, both NutriBullet and KitchenAid can be styled for subtle color synergy or stand-out kitchen statements. KitchenAid's range of kitchen appliances offer the opportunity for some kitchen coordination between your blender and mixer. The sheer 12 pound weight of the KitchenAid means that it's probably best to leave it on the countertop or in lower cabinets. The NutriBullet can be compactly stored, but is equally discrete on a countertop.
KitchenAid vs Nutribullet - which should I buy?
It depends on your circumstance and lifestyle. For versatility and larger quantities, the KitchenAid K400 is a reliable blender. With five power settings, a large jug, and more power, it's designed with busy homes in mind. Bear in mind that the nature of a versatile appliance is that you inevitably compromise on specific features: blenders with thinner blades will suit soups and smoothies, but struggle more with crushing ice.
If you're a solo smoothie fanatic, the NutriBullet Pro 900 Series is for you. The finer blend is a real gift for those who appreciate a smooth texture, especially if you want to start making your own non-dairy milks and cold blends. We love the easy-to-use handle which converts your blender into a cup to take with you on the go.
See Millie's KitchenAid K400 Blender and her NutriBullet Pro 900 Series review for a full evaluation of the blenders.
Are these the best blenders KitchenAid and NutriBullet make?
We chose these two blenders because they are a fair comparison. We think that they are the best on the market from each brand, but, if you want to save a bit more, you can buy alternate versions. For example the KitchenAid K190 has less power, but comes with a much smaller price tag.
What is the best blender?
If you asked our expert, Millie, for her overall favourite, she would pick a different model entirely: the Vitamix A3500 Ascent Series Smart Blender. Both the NutriBullet and KitchenAid are great options for different reasons, but in our roundup, this one pipped them both to first place.
How to choose a blender
You'll want to think about what kind of blending you'd be doing. Whether your speciality is soups and smoothies, crushed ice, or cauliflower rice, the blades and size of your blender will vary.
Power
Depending on what you'll be blending, you'll want to think about power. Frozen fruits, tough vegetables, and ice need more powerful motors for a satisfying result.
Programs
Some blenders will have automatic programs, so that you don't need to do much guessing when blending.
Some people like to have manual control if they plan on blending different ingredients or are looking for some variety. For example, if you prefer your soups a little thicker.
Features
These are a luxury rather than a necessity. The more you pay, the more versatile. For example, some blenders can heat your ingredients, so that raw ingredients can be piping hot soup in a few minutes.
Capacity
This is one to watch. If you're a large household, you'll want a large jug so that you don't end up having to blend in batches. If you'll be blending for one, you're better off with a smaller jug. The NutriBullet has accessories to suit a single drinker, as the removable holder encourages you to take it on the move.
If you want to put your blender into a pan, take a look at our immersion blender reviews.
Do I want a glass or a plastic pitcher?
Most blenders are made from plastic. It works well, is less likely to break if dropped and will weigh a lot less. People still make glass pitchers, because they are harder to scratch when crushing ice, for example. Or, if you're using ingredients that will stain, glass is less likely to take on the colour.
Which blender is the quietest?
Blending is a noisy activity. Noise tends to correlate to what you're blending and the power of the blender. If you end up going for a smaller, quieter appliance, be ready to compromise on results.
What appliances come with the NutriBullet?
The NutriBullet K900 Pro comes with the essentials: a power base, extractor blade, cup and lip ring (for sealing your blender). It'll also have a larger cup, flip-top lid and stay-fresh lid.
What appliances come with the KitchenAid?
The KitchenAid K400 comes with a jar, lid and cap. Simple as that. You can buy different sized jugs, a citrus press, and a bottle from the KitchenAid website.
Written by
As eCommerce editor, Laura is always eager to offer her perspective on which appliances are worth the investment. She's an avid baker and cook at home, so has experience using different blenders and food processors. She is inseparable from her NutriBullet and isn't quite sure what that says about her life choices.
Reviewed by
Millie Fender is Head of Reviews and has written for Homes and Gardens since 2021. She specializes in cooking appliances, and is a whizz when it comes to blenders. She uses these blenders both in our dedicated testing kitchen and in her day-to-day life at home. From smoothies to soups, she knows what good looks like, so is a source of blending wisdom.
Sign up to the Homes & Gardens newsletter
Decor Ideas. Project Inspiration. Expert Advice. Delivered to your inbox.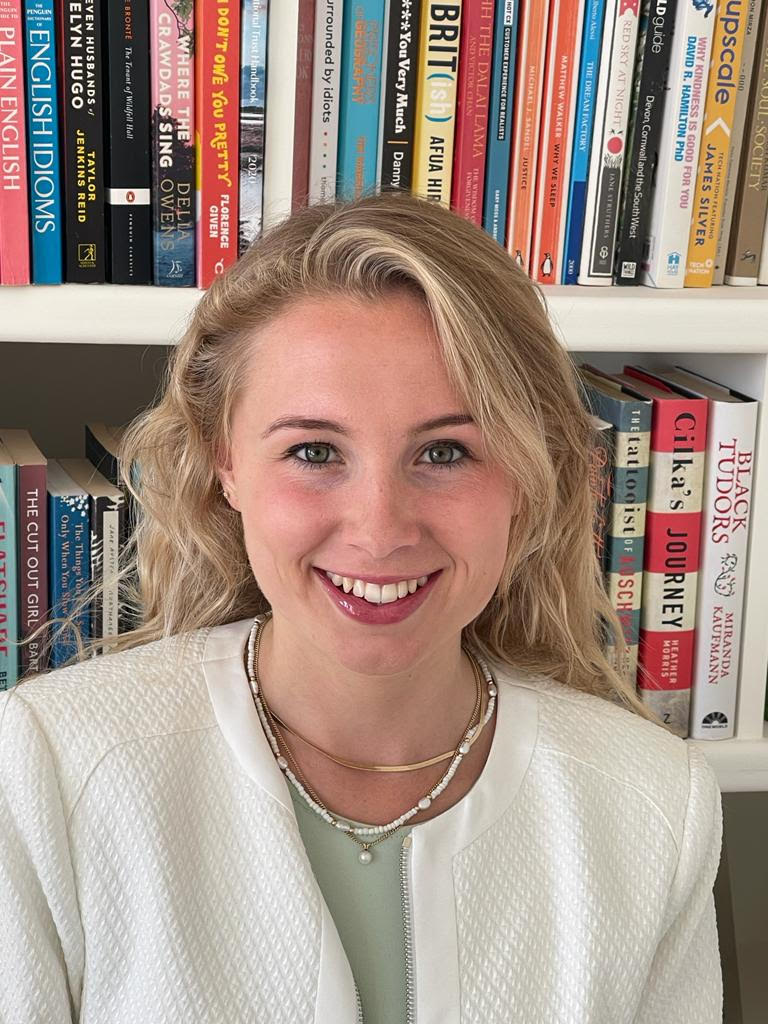 Laura is our eCommerce editor. As a fully qualified barista, she's our expert in all things coffee and has tested over thirty of the best coffee makers on the market. She has also interviewed Q-Graders and world-leading experts in the coffee industry, so has an intimate knowledge of all things coffee. Before joining Homes & Gardens, she studied English at Oxford University. Whilst studying, she trained as a master perfumer and worked in the luxury fragrance industry for five years. Her collection of home fragrance is extensive and she's met and interviewed five of the world's finest perfumers (also known as 'noses'). As a result of this expansive fragrance knowledge, she always puts quality and style over quantity and fads. Laura looks for products which have been designed simply and with thoughtful finishes.